SPLINTERLANDS | My current stake and thoughts on SPS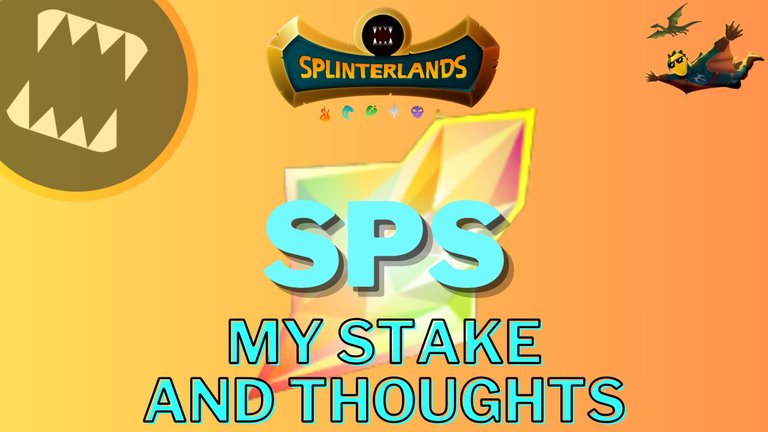 What's up my fellow Splinterlands players!
I hope all of you are having an awesome day with your friends and family and also enjoying the game at its best. Also, last night, the splinterlands team released their updated TOS and if you have opened your splinterlands account after it, you must have seen the notification already and accepted the terms in order to be able to continue playing. With this much-awaited and discussed topic of the TOS update that finally came in place, the era of botting or using battle helpers in this game has stopped at last and I think it will also confront any usage of such things in the future as well. As per the new rule, using bots or battle helpers is now only limited to wild ranked and can not be used in modern ranked, tournaments or brawls. So the human-only gaming environment is the new normal in splinterlands now and many players and investors are celebrating this update while some others are criticising it. For me, as an old player, I think it's for the greater good of both the product and the whole community. Splinterlands is a wonderful strategy card game and very unique and fun to play, with every match you have tons of possibilities and options to make your lineup but while it can be challenging at the human level to rightly predict and make a perfect lineup every time, for programs or bots it becomes easier to do so and hence, a human can't simply play like a bot and the balance breaks, so removing bots from most of the game became a necessity at a point. However, though the two public services that were offering such bot services have terminated their services already, I am still confused about how the private bot owners will react to this and if they will actually stop using those helpers or come out with another plan. On the other hand, what steps the official team will take to detect any type of such activity to catch those who are using bots or helpers is also an important thing here, but I support this wise decision and hope this decision becomes fruitful ASAP.
---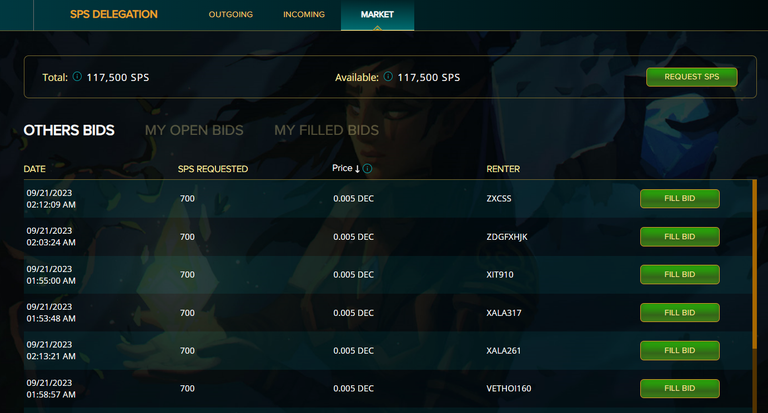 ---
Now, let us move on to SPS and see how it is performing in the market right now. For those who don't know, SPS aka Splintershards is the in-game reward token and also the governance token of this game unlike the previous DEC token, the total number of SPS is finite which is very important for any token and its economy to run well. Not only we can sell this in-game reward token for money, but there are 2 more important uses of this token that make it more valuable to hold. First, staking SPS in a splinterlands account will help you earn staking rewards in terms of liquid SPS and voucher tokens and the current APR rate is 15.19% years which looks good to me. Another great use of this token for players is that the more SPS tokens you have staked in your account, the more rewards you can earn while playing the game in the form of ranked matches win SPS as it increases the reward multiplier. For those who don't actually play the game and are just collectors or holders, can also earn extra on top of staking rewards with their SPS by simply renting it out to other players. As of the current time, the lowest price for renting SPS is listed at 10% APR, so SPS stakers can earn this amount as extra with of their SPS staking rewards, while Players can rent in SPS to increase their in-game rewards earnings, to me this new economy system is amazing and creates a win-win situation here.
---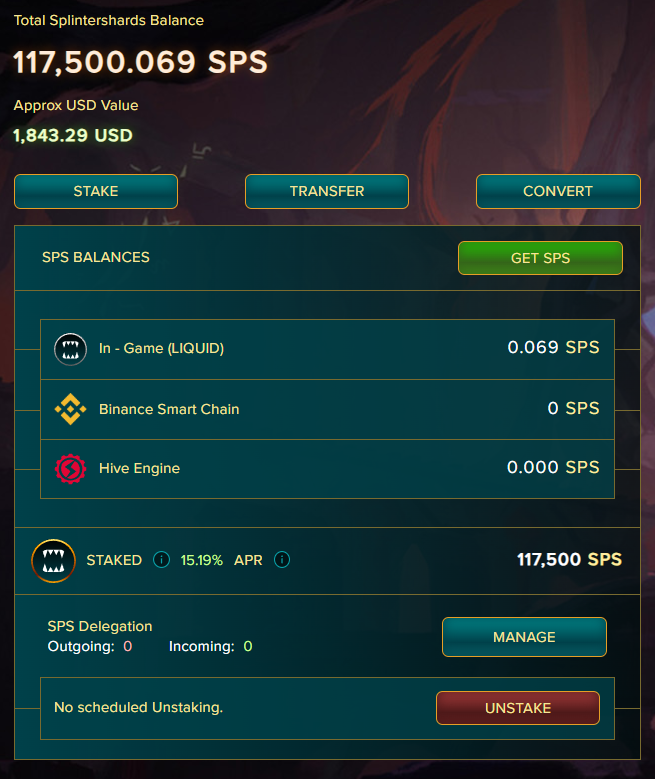 ---
As for my personal stat, I am a long staker of SPS and have been staking this token since it's airdrop launch. Not only that, when the year long airdrop stopped, I kept on staking SPS by transferring all my in-game SPS rewards back into my staked wallet and also re staking all my SPS staking earnings as well. As of writing this post, gladly I just crossed staking a total of 117,500 SPS in my in-game account and am feeling very happy right now to come this far. My current goal is to make a total of 200k staked SPS collection in my account and I am slowly moving towards my goal by simply re-investing all my in-game and staking earnings and hope I reach at least 150k staked before the year end.
---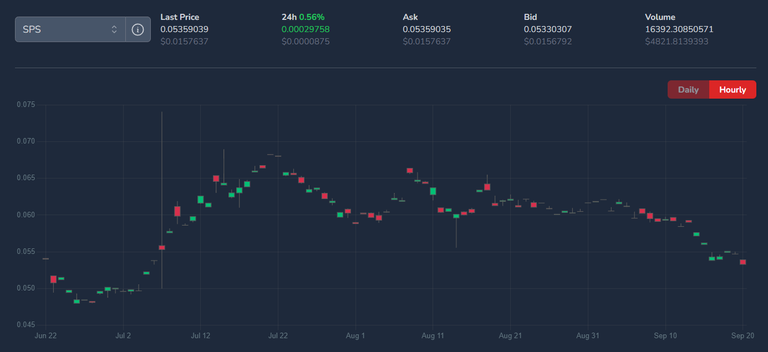 ---
During the recent update into this game where the old mana rule was replaced by the new and easier energy system and also the reward multiplier system got introduced in the game economy, in which players need to stake SPS to earn better from the game. This update will help SPS in long term to gain real value and players & investors will also try to hold SPS more now to earn better rewards. After these update, the SPS price began to rise and increased high to it's recent high of 0.023$ per unit, but then it again got into a correction probably because if the bear phase and right now has come down to it's all time low value and right now being traded for only 0.0157$ per unit. Due to this price change, my SPS Portfolio has also seen a decrease in value snd 117.5k SPS is inly showing value of 1,843$ currently, which is such a painful scene to experience. But as a believer of this project, I do know that things will change will better from here and the team behind this amazing game has proven their worth multiple times in the past.
---
This is certainly not a financial advice, but I personally think that if anyone wants to invest in this project or have been thinking to increase his/her SPS stack, it is probably the most right time for it but during this hard times, especially when the bear season is ongoing for more than 500 days now, nothing can be predicted with a certainty, so please do you own research before investing. I hope all of you liked reading my post, let me know what's your current SPS stake in the comments below and I will be seeing you all in my next post.
---
---

Wish you all good luck on all of your future Splinterlands matches.
Thanks for visiting my post, Please come again!
Stay well and keep playing Splinterlands!
Want to start playing Splinterlands? Click here
Posted using Splintertalk
---
---