My performance in the last season with rewards showcase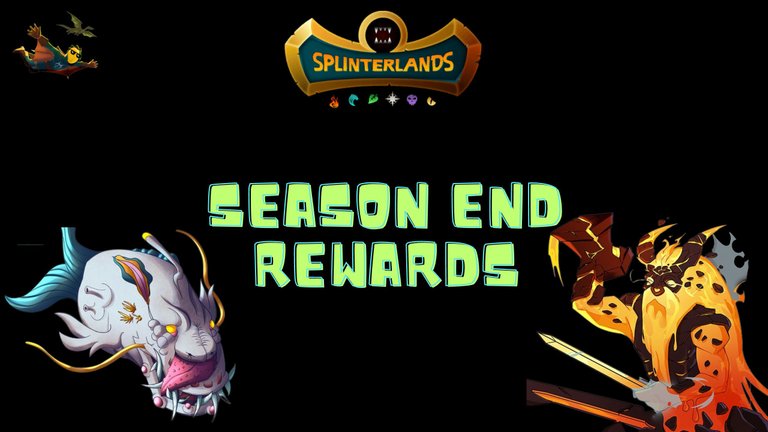 What's up my fellow splinterlands players!
I hope all of you are enjoying the day with your loved ones and also waiting eagerly for the upcoming weekend. Well, for us splinterlands players this weekend will be enjoyable because the last ranked season just ended snd the pressure is now abut less. I think all of you have already opened your season reward chests by now and collected your hard earned rewards and now getting ready and warming up for this current season which has started already. Looking at the timer right now, we have a long period of 14 days and some hours again for this ongoing ranked season and I wish you all get better rewards in this one. However, the last season went decently good for me and if you have been reading my previous sl posts, I have already told there that in the last season I have quit playing in Diamond league and climbed up to the Champion league to see how I perform in the top most league in this game. I was playing in Diamond for quite a long time by now and I used to run for the leaderboard every time and sometime I used to get fortunate enough to get a place in the top 10 and a few times in top 3 as well. So, playing in Diamond league and collect as many of both those daily focus chests and season reward chests were my priority and of course the leaderboard war during the end season time. But, I used to get much less SPS per ranked match win than in Champ and I always felt jealous about how easily champion players are grabbing 10-14 SPS for every win while I am still stuck around 4 SPS per win. That's why I thought to put some changes in my strategy and decided to go up in champ.
---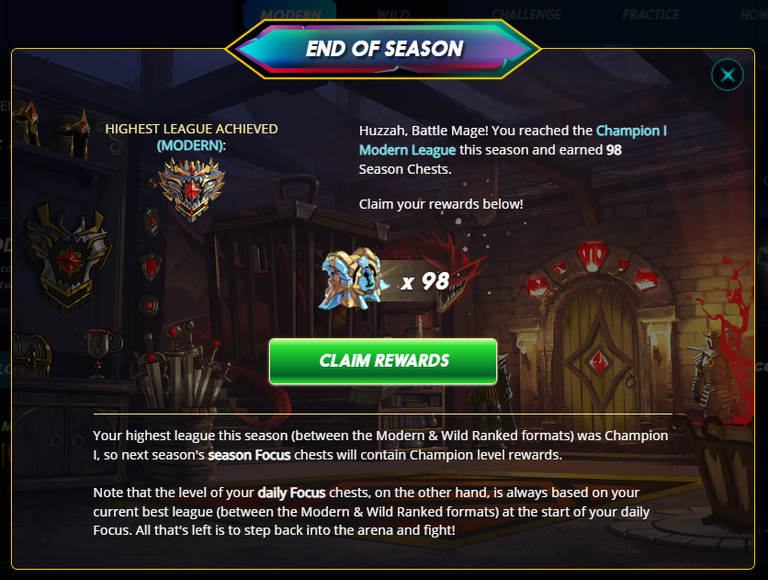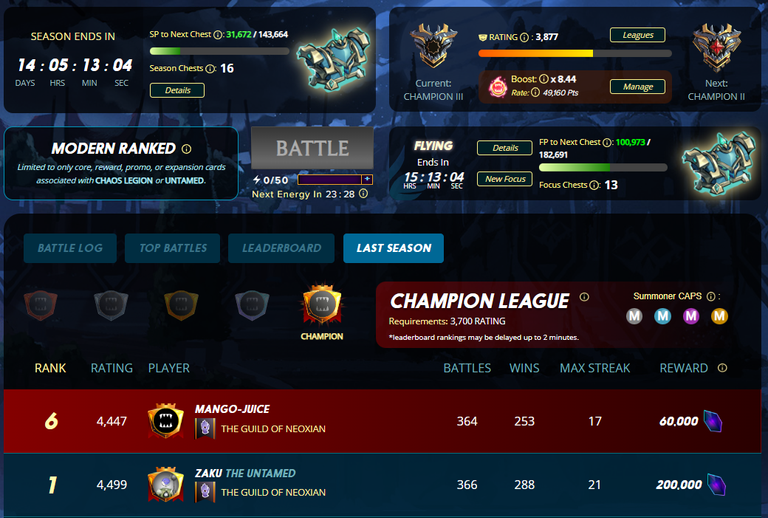 ---
Well, as I did so and played my first season in the Champion league, I would say that the results were slightly better than playing in Diamond league. As you can see from the above screenshot, I finished playing the season while at Champion I tier and collected a total of 98 season chests. But, those chests are of Diamond league level because of the previous season which I played in Diamond league. I finished the season with 4,447 trophies and also was able to acquire a spot in the top 10 leaderboard place in Champion league which got me a whopping 60k dec as leaderboard rewards. But, I have to admit I had to spent a lot of dec as well after renting cards in this season which I am missing in my collection. But not only the rented cards helped me get a good place in the leaderboard, but they also helped me to get more focus and season chests and more SPS win from ranked matches, so overall, its a win win situation here I think and thou I haven't calculated, I think overall I am in gain in this season. The war in the champion league is hard I must admit and my win rate also got affected while playing in Champion league in this last season. Not only I spend after renting a bunch of good cards but I also bought energies to play more in the last days of season end, without which, I Wouldn't have got to this place. But I also want to say that I enjoyed every bit of playing in this season as its an honour to play against the real OGs in this game and learn new tricks and lineups.
---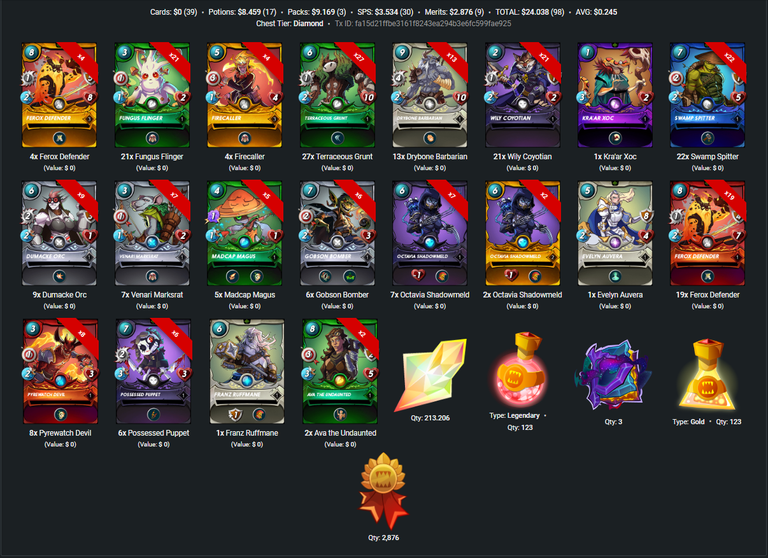 ---
Now, let us move towards the main topic of this post - season rewards. I have shared my season pull at the screenshot above and as you can clearly see, the season chests didn't bring anything jaw dropping this time, I think that's because the season chests were diamond level, but as ai finished the last season in Champion, hopefully the next season reward pull may be bigger and better than this one. However, looking at the rewards, I got a total of 213.2 SPS from those season chests, 3 chaos legion packs, 2876 merits and over a hundred of both potions and for cards, the best I got were the total 8 gold foil common and 2 gold foil rare cards, 2 regular legendary and 1 epic cards along with a bunch of rare and common cards from those season chests. I am happy to see that at least I have got 2 legendary cards and some good gold foils which is better than average at least.
---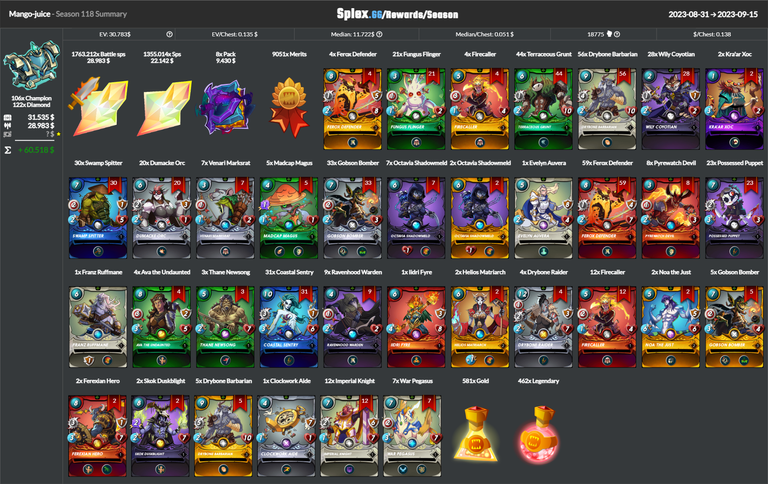 ---
Now, at the above screenshot, I have shared the total incoming rewards from the last entire ranked season including all the focus and season reward chests and also the SPS I won from playing ranked. As you can clearly see from above, I have got 1,763.212 SPS from only winning ranked battles and the amount is a but more than the last time I played in diamond league. But however, I got only 1,355.014 SPS from all types of those reward chests throughout the season which is a but less than the previous season. Apart from that, I also won total 8 chaos packs, a total pf 9051 merits, a big bag full of potions and packs. In this season, the best cards that I receive from all of those reward chests were the 2 gold foil epic cards, some gold foil rare summoner cards and a bunch of legendary cards, but my hunt to get gold foil legendary is still not having any positive result. But I am not complaining here and instead, Let's just try to perform better in this season and see what it offers me!
---
I hope all of you liked reading my post and also loved seeing the rewards. What's the best reward that you pulled in throughout this last season, let me know in the comments below and I will be seeing you all in my next season.
---
---

Wish you all good luck on all of your future Splinterlands matches.
Thanks for visiting my post, Please come again!
Stay well and keep playing Splinterlands!
Want to start playing Splinterlands? Click here
Posted using Splintertalk
---
---