My season rewards ! Opening 54 reward chests in Champ II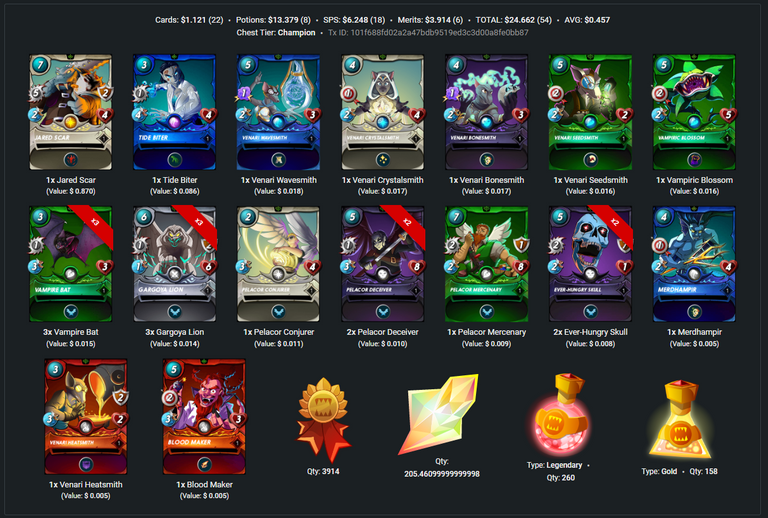 What's up my fellow splinternerds!
I wish you all a happy weekend and hope you all are enjoying the winter season with your family and friends. For us splinter players, a new season has begun already and I hope all of you have opened your season Reward chests by now. Well, this was the 100th ranked season in splinterlands and I guess not many knows about it. I started playing this awesome #NFT game since October 2018 and even after playing for years, I am still pretty addicted to it and splintering thus became one of my hobbies.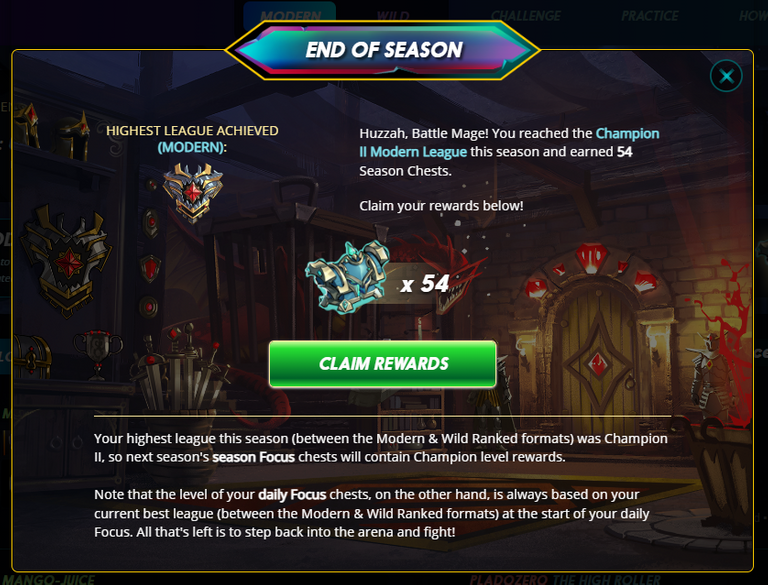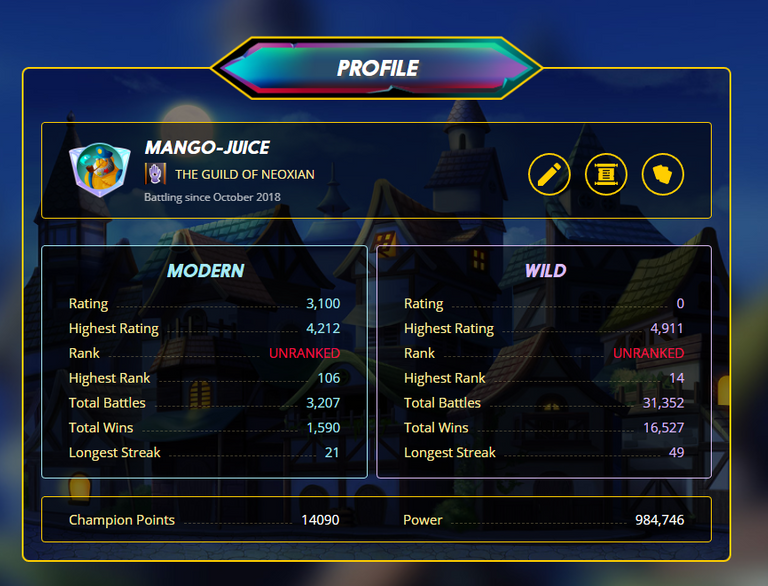 Season Rewards
This season, I reached 4,212 trophies and with a thin difference, I sneaked into the Champ II tier this season. The last season day was a pure bloodbath for me and I fought dozens of matches just to reach the last 100 trophies that I required to enter Champ II. But however, I accomplished that right before the end time and reached C2 when it was only half an hour left. But, after the season reset, the whole SL transacrions got delayed due to overload and even after waiting for like half an hour, I still didn't see the season rewards claim button. After 2 weeks of hard work and reaching my goal spot of C2 while sitting on 54 season chests, I was eagerly waiting and passing every second. But anyways, It finally appeared after some time and I immediately clicked on the Open All button! At below I am sharing the outcome with a Peakmonsters screenshot.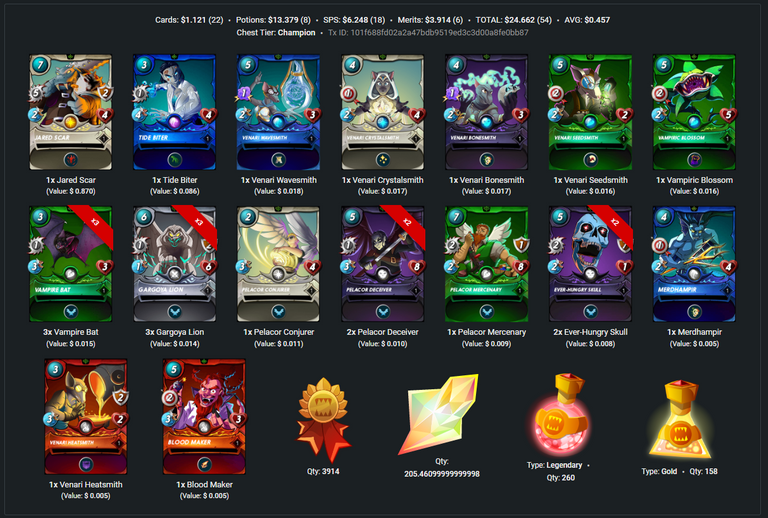 As you can see from above, this season rewards are pretty average for Champ II and I am okay with the outcome but clearly not satisfied. From those 54 champ boxes, I got only a legendary card Jared Scar, one epic Tide Biter, 5 rare cards and 15 common cards snd not a single gold foil. I also got total 205.46 SPS, 3924 merits and of course 260 legendary and 158 Alchemy potions. I wished at least a handful of them to open magically and give me a good bag of SPS or gold foil cards, but clearly my wish hasn't granted for this season.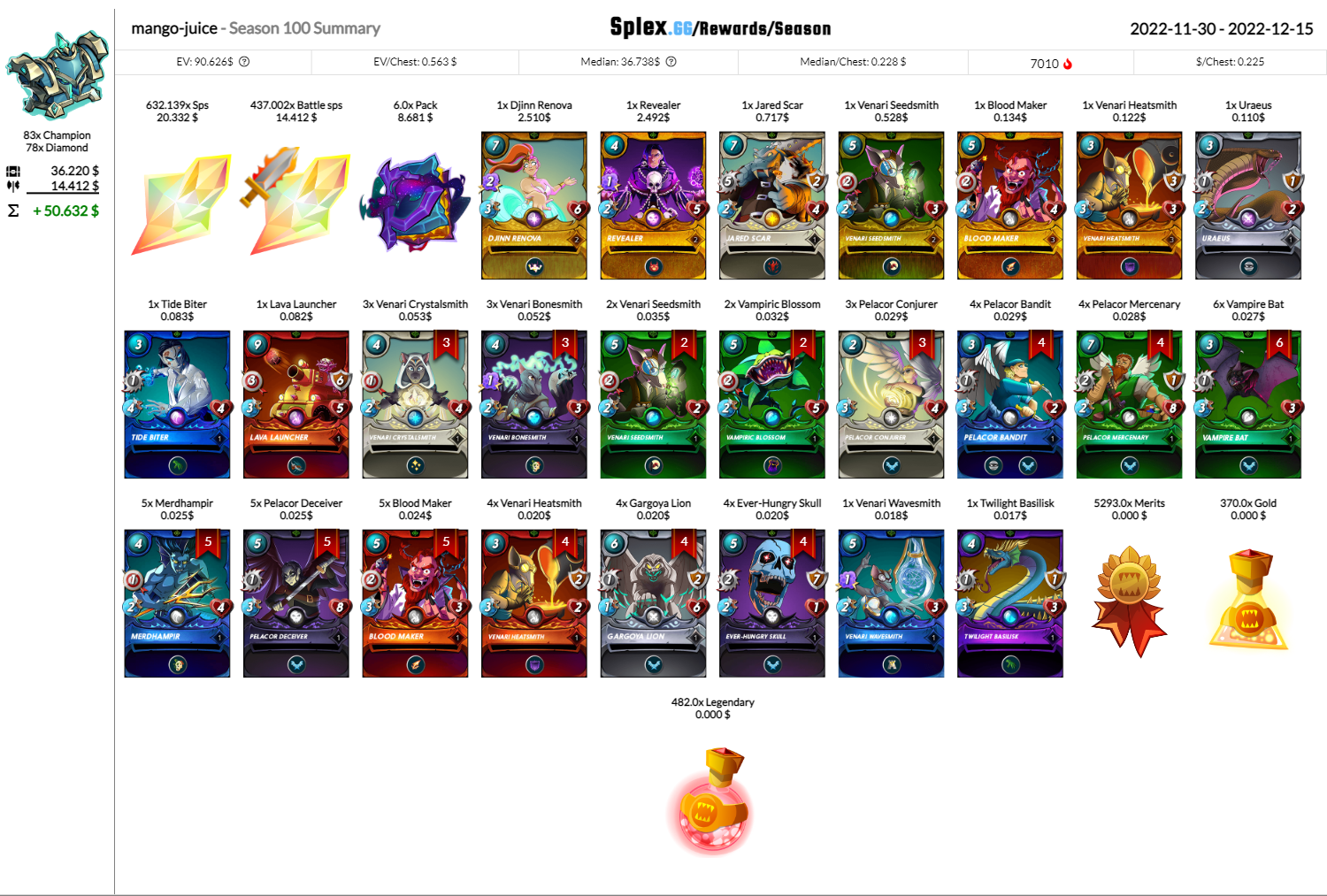 Total Season ranked earnings
However, after experiencing a bad trip with the season outcome, I then travel to Rent Golem website and opened up my season rewards summery page to view what I earned throughout the season. It displays all the SPS, cards and other assets that you get from all the focus chests and season chests that You got in that season and also your total SPS earnings from ranked battles. As I looked into it, my mood got a little positive vibe with the first glance as I remembered I received 2 gold foil epic cards this season from focus chests. According to it's data, I made total 632.139 SPS from reward chests and 437 SPS as ranked battles win rewards. I also got total 6 chaos packs, 2 gold foil commons and 1 rare, 1 legendary, 3 epics and a small but good collection of rare and common reward cards. Not to forget that I also received total 5293 merits along with 370 gold and 482 legendary potions in this season.
Splinter Shopping
Due to the ongoing bloody dip, the splinterlands tokens and assets are dropping value everyday and my precious SPS has come even below 0.03$ which I didn't expect at all. The cards market is also on sale and not only rewards, but chaos and even some rift cards are selling for lucrative discounts. No doubt it's the perfect time to accumulate cards make your playing and renting collection more and more stronger and I am also doing the same and buying Rift and some gold foil cards. The chaos pack burning event has started already and daily 25,000 chaos packs are being burned. Surely this will crunch the oversupplied card market and Chaos packs on hive-engine on long term. Rift cards are already far lesser in count that chaos so I am pretty bullish on Rift cards.
For my latest splinterlands shopping, I chose to Make some max level gold foil reward cards in my collection mainly to increase my RP earnings in ranked matches. I was looking into the market for good deals and got my eyes stuck at a max level Pelacor Conjerur which was available for only 13.36$. I immediately filled my account with enough splinterlands credits and bought it using the monstermarket.io website in order to get the instant 3% dec cashback and got about 542 DEC.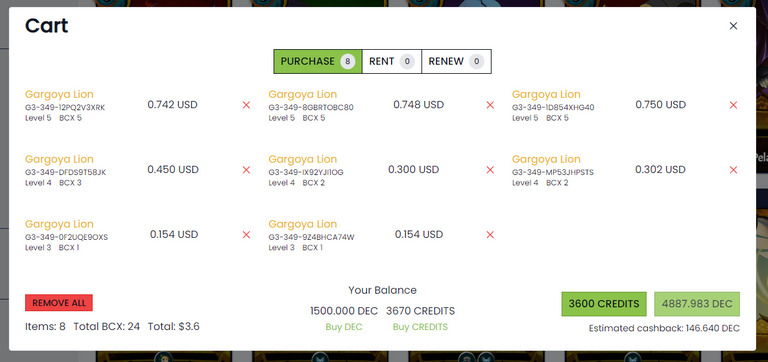 I also had some Gargoya Lion in my renting account which I received from reward chests. I counted and find out that I need another 24 Gargoya Lion to make a max gold foil card. Luckily, Gold foil Lions are selling for dirt cheap right now so I only spent about 3.6$ to buy those 24 BCX required and made myself a max gold Lion. This time, I received 146 approx DEC as my cashback from monstermarket.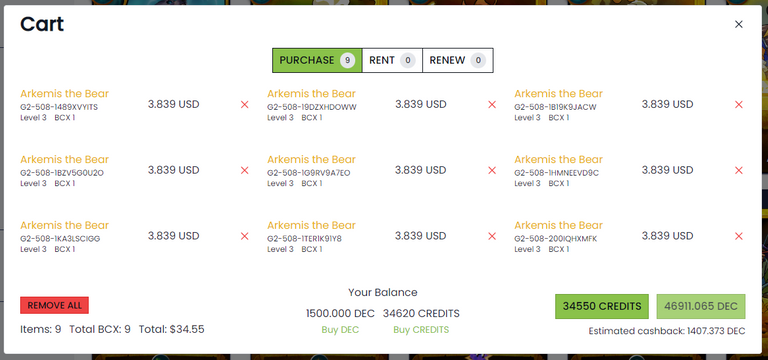 The bear fever is hyping right now in splinterlands and obviously I didn't want to miss out this card. So I also jumped into the Bear sale and bought myself 9 BCX gold foils of this hairy due and made a level 6 for renting. I also bought some normal BCX cards but will give priority after the gold foil first to make it max level before the price shoots up.
I hope you liked watching my season end rewards, overall season earnings and reading my post. Now, let me share your thought in the comments below and I will be seeing you all in my next post. Until then..
---
---
Wish you all good luck on all of your future Splinterlands matches.
Thanks for visiting my post. Please come again!
Stay well and keep playing Splinterlands.
Want to start playing splinterlands? Click here
---
---
Posted using Splintertalk
---
---