Reached Diamond league faster this time - Soulbound reward card talk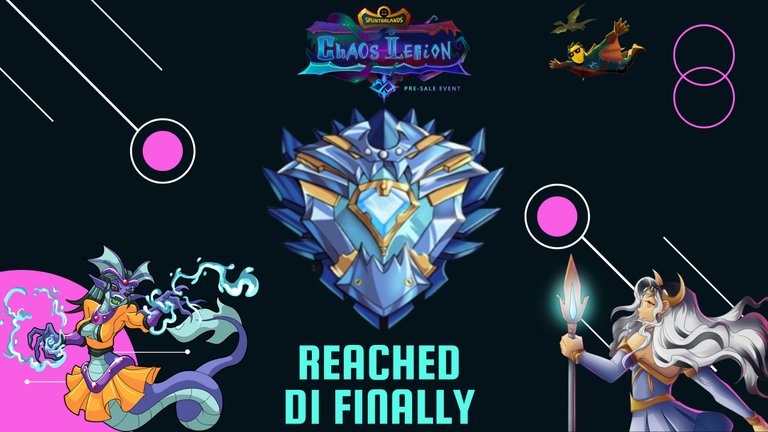 Hello my dear hivers,
I hope you all doing great in your life and also in meantime, you are getting yourself busy with playing this awesome #NFT game in meantime. Well, if you are a daily player, you certainly know how much important it is to play splinterlands now because of the release of the new soul bound reward card-set into the game. Now that we can't buy, sell, rent, delegate or even transfer from one account to other, playing ranked matches daily and earn more and more of them From reward chests is the only way to earn them now. So, I guess all of you are giving at least some of your focus on focus missions to earn more daily and season chests. There are total 43 cards in this new reward cardset and after keeping collecting them for like 3 seasons now, I have seen that while some of them are easily available in chests, some are very rare and especially some legendary and epic cards. I get some of cards almost daily from focus chests but for some of them, I haven't found even one piece now. So in today's post, I will be talking about these new reward cards and my current collection and future goals.
---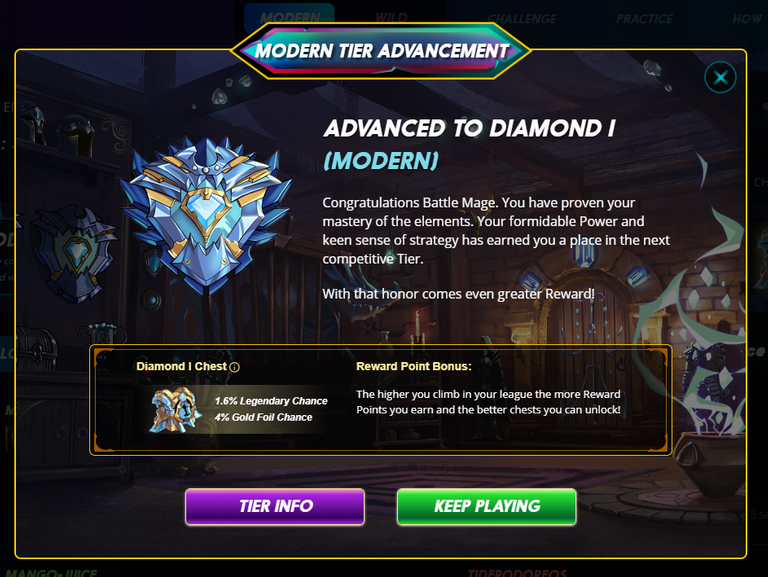 ---
First, let me share my progress for this splinterlands ranked season and as I finished the last season while staying in Champ II, this season my trophy count got reset down to Diamond II tier. The season has already lost 4 days and currently we have only 9 days left for this ongoing season to end. For me, in this last 4 days I have took rest for almost the first 2 days to recharge my ECR a but up. But then I played well for last 2 days and also overplayed today and brought it down to near almost 50% again. But, gladly thou I started losing a lot at first and went down to Diamond III tier, I have then played cautiously and moved up to Diamond I. For season chests, after I stopped playing for today, I had collected total 17 chests and talking about daily focus chests, I finished the last one with 7 rewards chests while for the ongoing one which is with Water ruleset, I have already collected 9 focus chests for tomorrow. In at below, I am sharing my latest 3 focus reward chests outcome at below.
---

---
This is the latest focus mission reward that I opened today and as you can see from above screenshot, from those 7 reward chests I pulled a 3 digit SPS reward which got me 154 SPS alone and from the rest ones, I got 4 are summoner cards, 1 epic card, around 7.9 more SPS and a bunch of merits. Clearly, I am very happy with then outcome and glad to receive an epic and 4 summoner cards along with a good pouch of SPS from those 7 reward chests.
---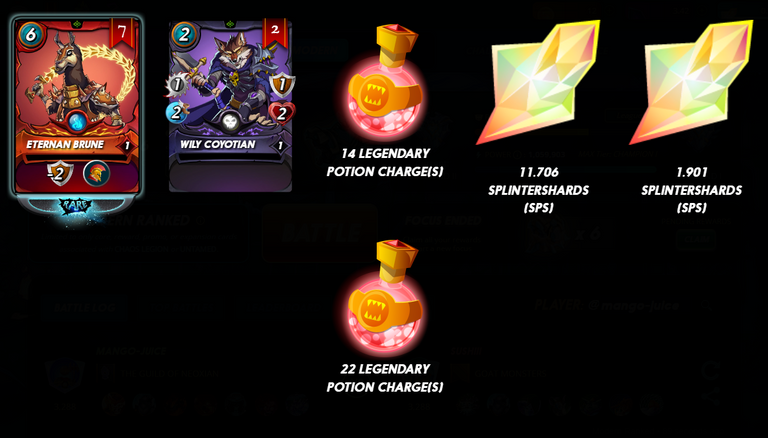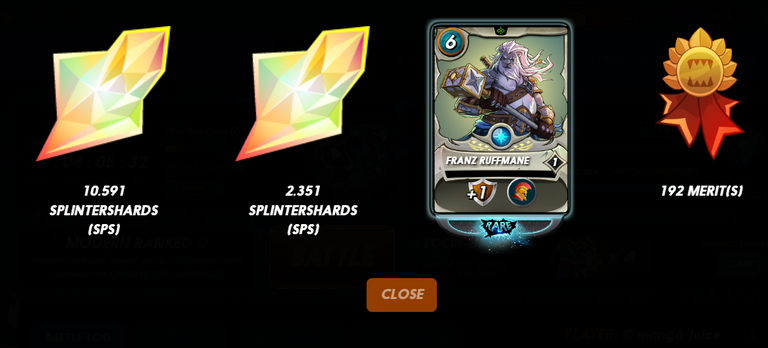 ---
Now these 2 reward chest outcome that I shared above is from my first 2 focus missions, in where I finished playing them by collecting 6 chests and 4 chests respectively. As you can see, from the first one mu summoner lick shined well and I did receive 7 rare fire summoner cards along with 2 common cards, around 36 legendary potions and around 13.6 SPS from the first one. As I am currently playing in Diamond league, the exception to find in good rewards from chests is not that high, so I am happy with whatever K am getting in Diamond. However from the second one in which I collected 4 reward chests, I received 1 rare Life summoner card along with around 12.9 SPS and 192 merits. Well, not bad for this time as well I would say with inly 4 reward chests.
---

---
I am collecting these soul bound reward cards since they got released in Splinterlands just recently. Today, let me talk about my soul bound reward collection and as a first, I will today show my rare summoners and monsters and legendary cards. As you can see, there are total 6 different types of Splinterlands summoners that got released with this reward edition and till now, I have collected 5 out of 6 summoners but haven't got my hands on the Dragon summoner HELIOS MATRIARCH yet. However, all my summoners are now level 3 and one of them is even level 4 so I am very close to having silver level cards of this edition. For rare monster cards, they are appearing the most along with commons in chests and most of my rare monster cards are level 2 or 3.
---

---
Now talking about legendary cards, out of total 12 of them, I am only able to get my hands upon only 5 of them but gladly, I have got multiple cards for most of them and upgraded 2 legendary cards to level 2 already. I got to say that almost all of these legendary cards are super powerful and I would like to have then all soon!
I hope you liked reading my game progress and reward collection post and also liked the rewards that I pulled. Please ket me know your thoughts in the comments below and I will be seeing you all in my next post.
---
---

Wish you all good luck on all of your future Splinterlands matches.
Thanks for visiting my post. Please come again!
Stay well and keep playing Splinterlands.
Want to start playing splinterlands? Click here
Posted using Splintertalk
---
---