Splinterlands - My top 3 RARE Gladius cards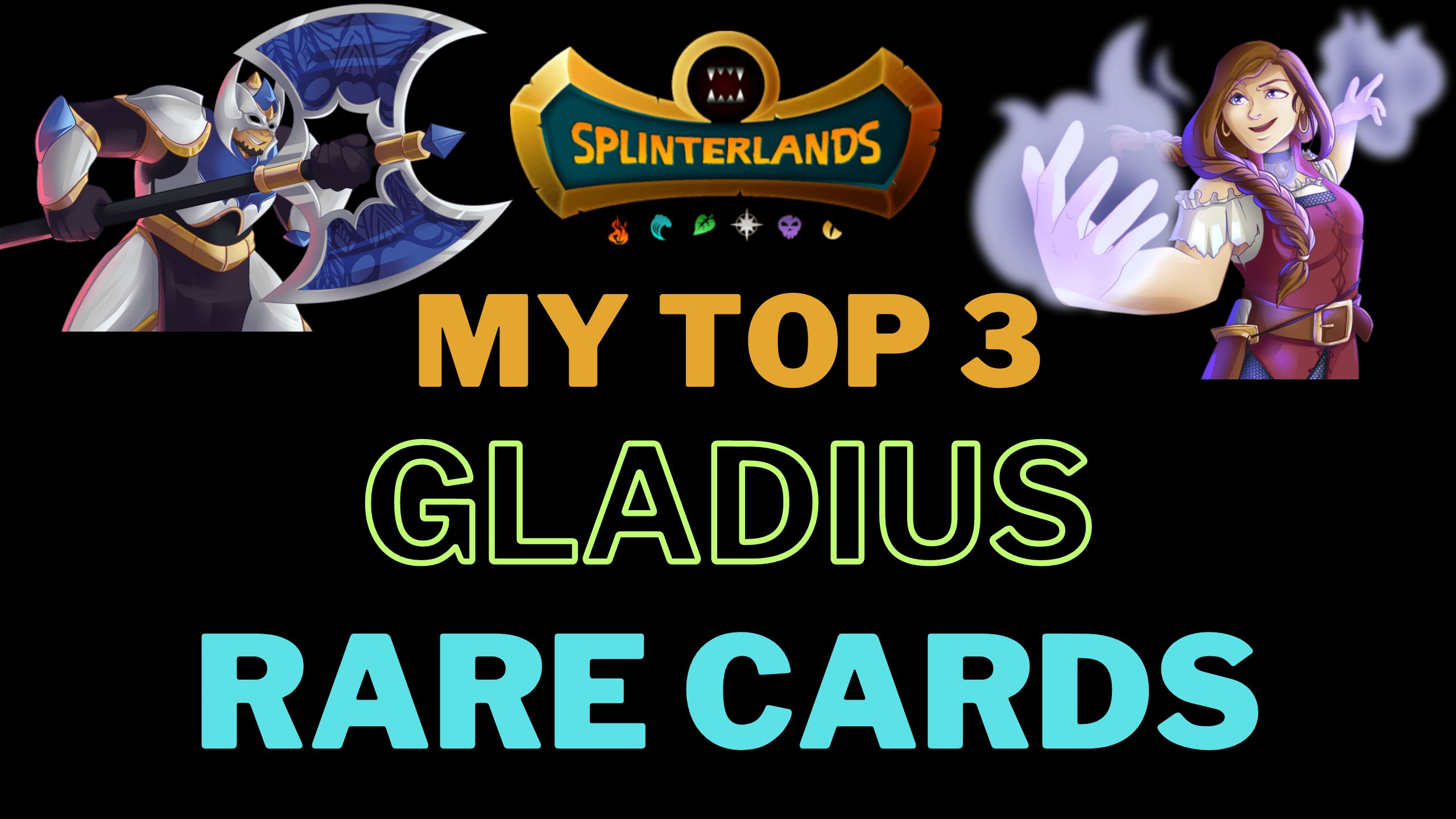 What's up my fellow splinterlands players!
I hope all of you are doing well in your life and also enjoying this with your friends and family. For those who are playing splinterlands daily just like me, I hope by now, all of you have already opened your season reward chests and collected the fruits of your season-long hard work. In my last splinterlands post, I shared my season rewards outcome and I was very happy with the pull, as I got one gold foil epic and 2 legendary cards out of it, along with a few chaos packs and a bunch of other good cards. However, as I am collecting more and more of these soul-bound reward cards and saving them into my account, they are having me upgrade my cards towards the max level. Gladly I already have upgraded some of my soul-bound reward cards to max level ready, but there are still many others left to be upgraded. So, the journey continues and day by day I am feeling the need of them even more and keep playing and opening reward chests with a wish of finding more of them. I hope the case is pretty same for you as well, as without them, winning matches in splinterlands is getting pretty hard these days.
---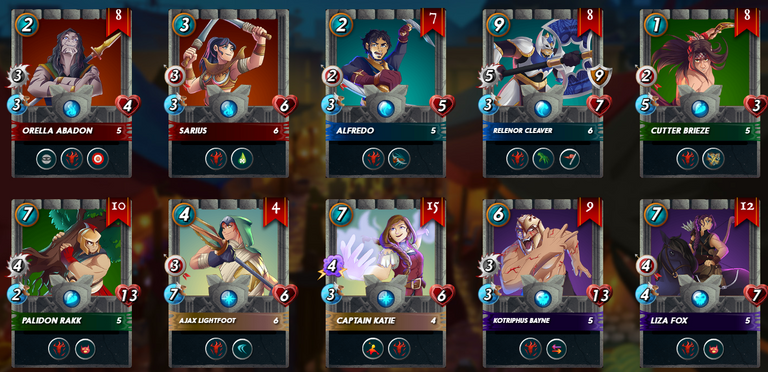 ---
Apart from soul-bound cards, Gladius edition cards are also becoming very important in all types of matches and in today's post, I am going to talk about my top 3 soul-bound Gladiator rare cards and why I like them so much and use them often in the arena, even though almost all of them are yet to be maxed out. So now, without further ado, let me begin.
---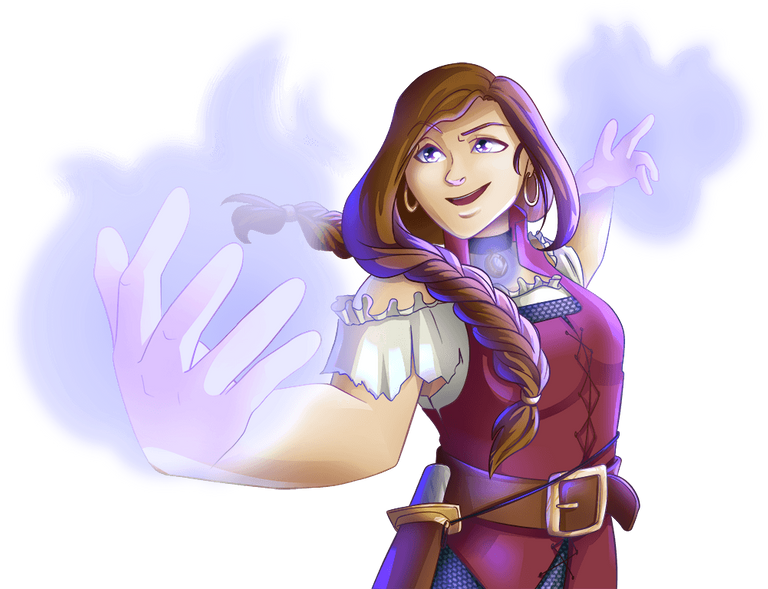 ---
CAPTAIN KATIE
Among all the different types of Rare edition Gladius soul-bound rare cards, my personal favourite is Captain Katie. This card belongs to the Life splinter and it costs 7 mana to be used in battles. As for attack style, this monster throws magic and as you know, unless it is attacking an enemy monster with phase ability, magic attacks can't be missed.
---

---
At max level, this card possesses 5 magic attacks at 4 speed with 7 health along with 3 amazing abilities - Sniper, Bloodlust and Divine Shield. However, Right now, I have only a level 4 of this card and need another 1 BCX to upgrade it to the next level. The reason why I liked it the most is because of its sniper ability with which it will target the first no-attack or ranged or magic minster that is not in first place in the enemy lineup. Upon that, its high magic attack often kills down enemy cards and unlocks its bloodlust ability, sometimes it gets stacked even multiple times if you get lucky. Lastly, its divine shield will protect it from the first attack that it receives, so it will stay alive for longer on the battlefield.
---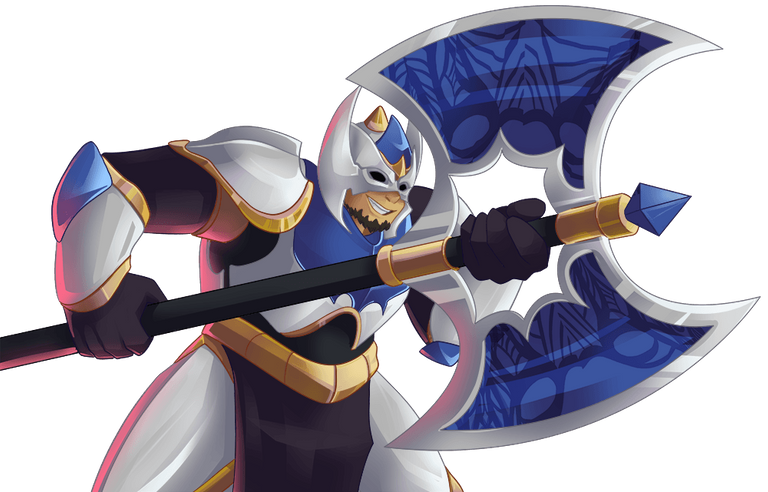 ---
RELENOR CLEAVER
The second card that I would like to talk about is Relenor Cleaver and as you can see from its name, this gladius card is a clever choice on the battlefield. It belongs to the Water Splinter and costs a whooping 9 mana limit to be used in battles. Its attack style is melee and with a defensive combo of armour and health, this card is very hard to kill down.
---

---
At max level, this card would possess 6 melee attacks at 3 speeds with 9 armour and 8 health along with 3 abilities - Bloodlust, Reach and Inspire. I like this card mainly because of its Inspire ability by which, it will provide all the friendly melee monsters +1 attack in battles. On top of that, it can attack from the second position because of its reach ability and everything you get successful to kill down an enemy card with it, its bloodlust ability will get unlocked and increase all of its stats by +1 which gets stacked up. However, currently, I only have a level 6 of this card in my arsenal and waiting to find out more BCXs of it to upgrade mine to the max level.
---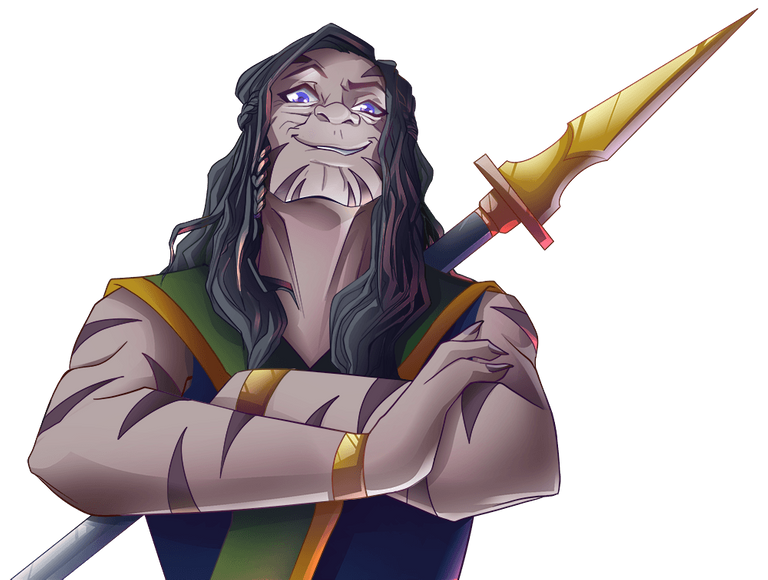 ORELLA ABADON
---
The last Gladius rare edition card that I would like to showcase is none other than the Orella Abadon and unlike the first 2 cards which I discussed in this post, this card only costs 2 mana to be used in battles. This monster belongs to the Fire splinter and its attack type is melee. Respecting its mana cost, this card's defensive stance is not that great but it will benefit you with its amazing sneak ability and help you like the backline minster of the opponent very easily.
---

---
When you upgrade this card at max level, this monster possesses 4 melee attacks at 4 speeds with 5 health along with 3 abilities - Sneak, Bloodlust and True Aim. Yes, you heard it right, this monster won't miss its attack even for a single time regardless of which enemy card it is attacking because of its true aim ability apart from that, its sneak ability will help you build unorthodox lineups when combo with other sneak or opportunity cards and last but not least, its bloodlust ability will increase all of its stats by +1 whenever it kills down an enemy card. Isn't it too much for a card that only costs 2 mana, well I think so. However, at this point, I have been only able to upgrade this card to the 5th level but need more BCXs of this card badly to level it up and make it even more powerful from here.
---
---
The days are long gone when Gladius cards were only used in Brawl matches but after the launch of a new battle ruleset, we can now use these amazing Gladius cards in both ranked and tournament matches as well. So having them in your inventory has become more important than ever and those who are playing splinterlands regularly will get to acquire these cards faster. Anyways, I hope you liked my top 3 Gladius cards choice that I shared above and now it's your turn. Please let me know your top 3 choices of rare Gladius cards in the comments below and ai will be seeing you all in my next post.
---
---

Wish you all good luck on all of your future Splinterlands matches.
Thanks for visiting my post, Please come again!
Stay well and keep playing Splinterlands!
Want to start playing Splinterlands? Click here
Posted using Splintertalk
---
---