Splinterlands | I got 2 more reward soul-bound monsters to max level

What's up my fellow splinterlands players!
I hope all of you are having an awesome day with your loved ones and also enjoying this amazing game in the meantime. Well, the time is passing by faster my friends and right now, we have only 4 days and 16 hours left for this ongoing ranked season to end, so I hope each of you are currently pouring your level best into the battlefield in order to achieve the glory and also after collecting as many focus and season reward chests as possible before the season meets its end. For me, this season I have been quite busy with my real life and couldn't devote enough time to the game and obviously, that has affected my performance this season and I have collected a but less of both focus and season chests this time. But gladly, I have been quite lucky in this season because I got 3 gold foil legendary soul-bound reward cards from one of those daily focus chests. If you are a player of this game, you do know how rare these gold foil legendary cards are to get your hands upon them and since the release of these soul-bound reward cards, till now I have got only 1 gfl so far but thanks to this current season which got me another 3 great gfl cards. So, I am very happy with the outcome and I also hope something great is also waiting for me in those season reward chests. Currently, I have collected only 43 season chests so far, but having another almost 5 days in hand, I will try very hard to at least reach 60+ season chests before the season end, let's see how it goes for me anyway.
---

---
Now, let us move towards the main topic of this post as today, I will be sharing the 2 soul-bound rewards cards that I recently upgraded to max level already. These soul-bound rewards cards can be obtained only by opening and getting them From those focus and season rewards chests and there's no way to buy or sell, rent or delegate or even burn them for now. So only way to get them is to keep playing and collecting more and more reward chests. Now, its been quite some time since they released and I have already upgraded some of them to max level and also a good number of them are also near max level, but some cards are pretty rare to get and still way behind to max level. Now, without further ado, let's now see the 2 cards that I luckily upgraded to max level level.
---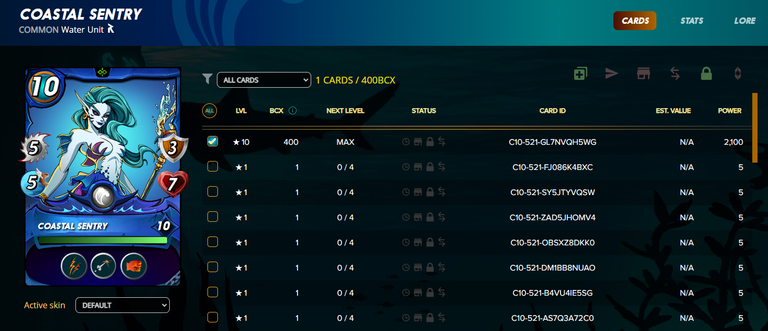 COASTAL SENTRY
The first card that I would like to showcase here is Coastal Sentry and I gotta say this card has become my new best friend in high mana limit matches recently and I am using it for quite some time now and even when it was not upgraded to max level. I generally use it with the legendary water summoner Possibilus the Wise and use it at second position. This card belongs to the water splinter and it costs a huge 10 mana to be used in battles. It's attack type is melee and the main feature of this card is it's double strike ability with piercing that deals great damage to enemy monsters and can be very beneficial in melee mayhem, all opportunity and super sneak matches as well.
---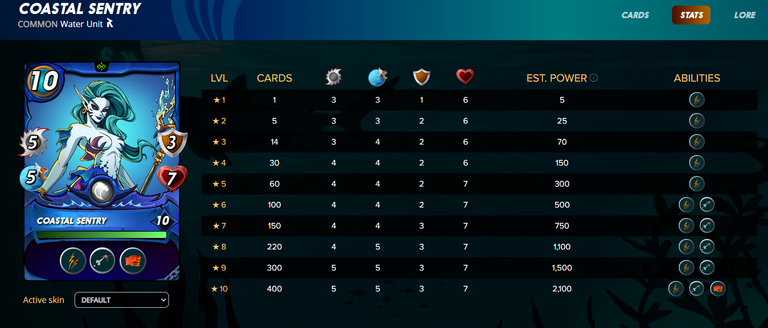 ---
When this card gets upgraded to max level, it possesses 5 melee attack at 5 speed with 3 armour and 7 health along with 3 abilities - Double Strike, Knock out and Piercing. The double strike ability makes it able to attack 2 times back to back in a single turn and the piercing ability upon that will apply the excess damage to health when breaking down an enemy armour. Not to mention that because of the Knock Out ability, it will deal double the damage to enemy cards if they are stunned, so don't forget to use some Stun cards with it if possible to unlock its true potential.
---

SKOK DUSKBLIGHT
The second card that I would like to talk about in here is none other than the famous Skok Duskblight and this is also another giant soul-bound reward card that I recently upgraded to max level level and added into my collection. This monster belongs to the Death splinter and it costs a big 8 mana to be used in battles. The attack type of this card is magic and the best attraction about this card is its Weapon Training ability with Resurrection that will bring your first dead monster back to life. Though looking at its stats, some may think of it as a weak cards respecting its high mana cost, but it's ability combo really makes up for it. Though I haven't used this card often in my lineup, but now that this has become amax level card, I will now try to place in in real battles to find out its true worth.
---

---
When this card gets upgraded to max level, it gets 3 magic attack at 2 speed with 7 health along with 3 abilities - Weapons Training, Fury and Resurrect. The weapons training is a new ability that got introduced in this game and with the help of this ability, the adjacent monsters will get half the attack of this card if they have initially no attack in themselves. So this card will make your attack less cards attack-ful, so it can be very useful if used rightly. The fury ability on top of that will make it able to deal double damage when attacking enemy cards with taunt ability. So this card is very deadly against taunt cards like Magnor, Shieldbearer or Mycelic Slipspawn etc. as I have hardly used this card yet in battles I can not say how it performs in the battlefield right now but looking at its overall stats and abilities, I think it will be helpful in melee attack less matches but weak against big attacks because of its short health with no armour.
I hope you loved these 2 soul bound cards that I upgraded to max level recently and also liked reading the post. Have you upgraded any of these soul bound cards to max or your desired level recently? Let me know in the comments below and I will be seeing you all in my next post.
---
---

Wish you all good luck on all of your future Splinterlands matches.
Thanks for visiting my post, Please come again!
Stay well and keep playing Splinterlands!
Want to start playing Splinterlands? Click here
Posted using Splintertalk
---
---