TATIANA BLAYDE - this dual attack monster has too much firepower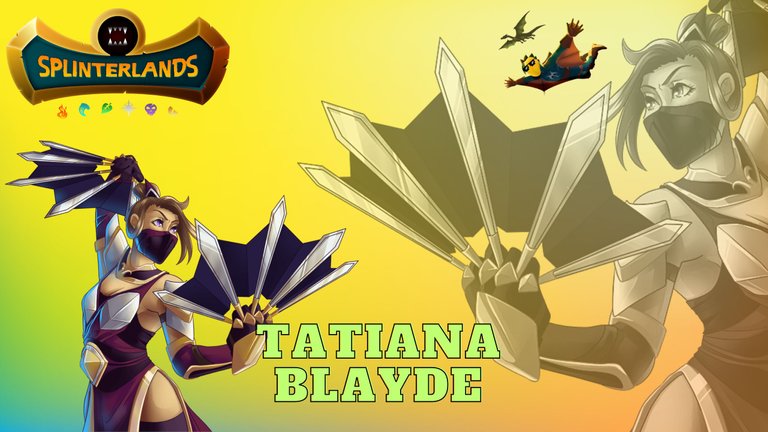 What's up my fellow warriors!
I hope you all the doing awesome in your personal life and also enjoying this game on daily. If you are playing this game for quite some time now, you should be well known with guilds and brawls and if not, guild is like clans or teams in splinterlands in which players group together and play brawls with other guilds or teams. It is like playing a tournament but with fellow guild mates and together with all of our performance, we have to beat the opponent guilds and win the brawls and the better a guild performs, the higher it gets placed in the leaderboard and thus more SPS and merit rewards.
---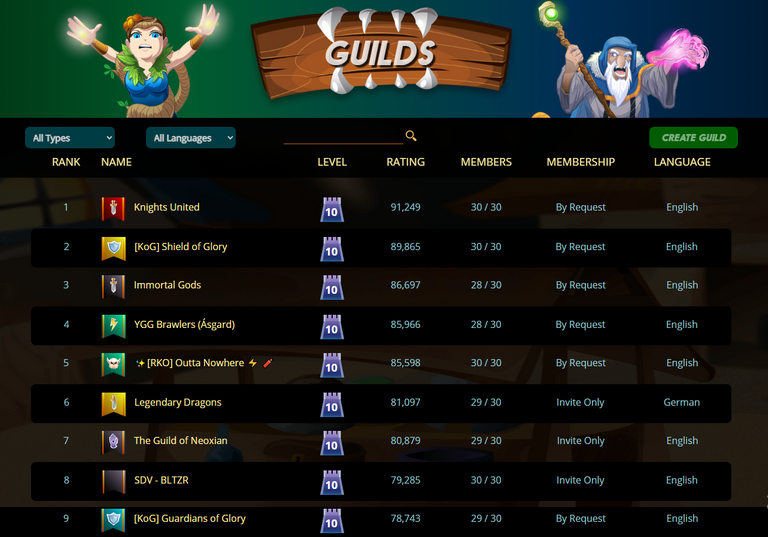 ---
I play in the Guild of Neoxian for quite a long time now and I generally play in gold modern fray in brawls. Our guild is owned by Mr. Neoxian who is a whale in hive and also an old splinterlands investor. Our guild is currently at town hall level 10 with total member limit of 30 and building cap of 10. We are currently having a level 9 lodge which is giving 15% extra RP Bonus in ranked win and also 8% off on shop items but soon, the lodge will be upgraded to level 10 and we will be enjoying 20% RP bonus. Our guild's arena level is 8 currently so and we are eligible to play tier 4 brawls and allowed to play with 21 frays.
---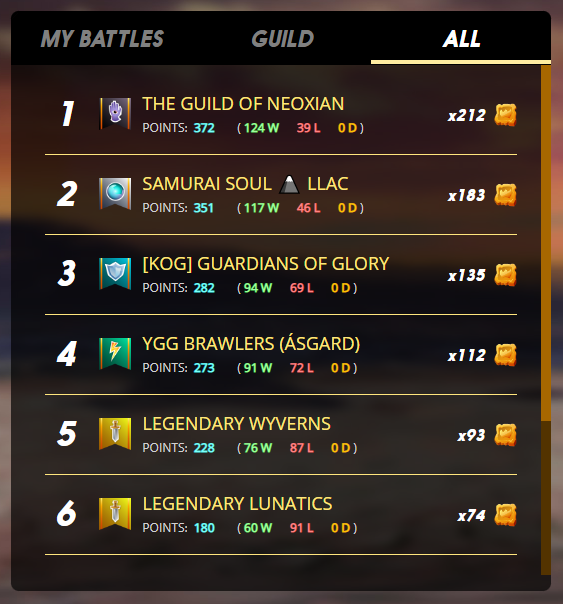 ---
Just recently another brawl got ended and this time, our amazing clan claimed the first place in leaderboard because of all of our smart performance. There are also very good guild as our opponents but we finally snatched the top place and as rewards, each of our guild member who played got rewarded with 207.515 SPS and 12,114 merits. I have talked about the juicy SPS rewards in brawls several time before in my posts and as you can see, this time also we took away the most prize and will wait for another one to come. I am also earning good merit points both from brawls and reward chests and again saving a big bunch of them so that I can at least open 20 gladius packs at once like the last time. Currently I am having only 13k+ merits so I am only halfway there but that certainly doesn't mean that I am wishing for more merit points from my reward chests thou.
---

---
Brawls are awesome in playing too, cause in here you get to use those rare and fearless gladius monsters and unlike other normal cards, they cant be just bought of market and flex but to earn them over time from playing. I have made a decent collection of gladius cards by now and most of my common and rare cards are almost to reach silver level. However, in today's post, I will be showcasing one of them awesome gladius cards in today's post. As you have guessed already from the thumbnail above, today I will be talking about TATIANA BLAYDE.
---
TATIANA BLAYDE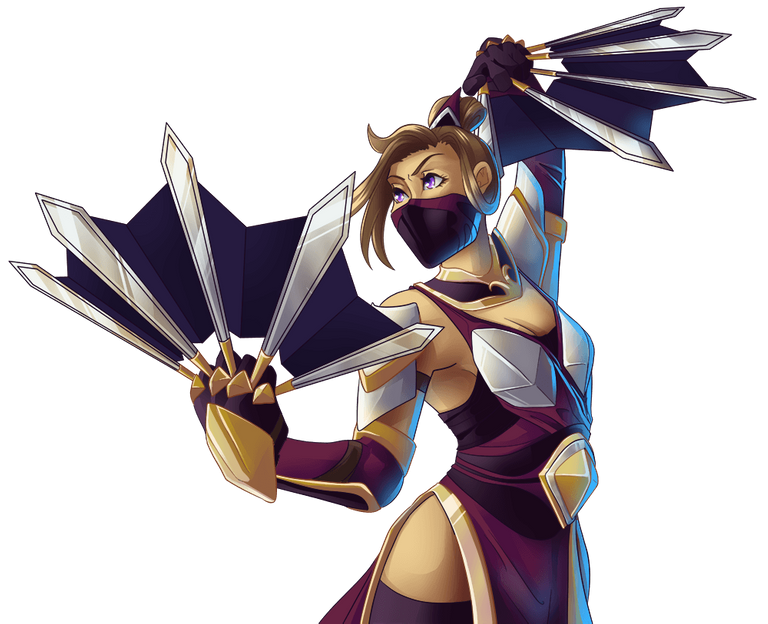 ---
TATIANA - She is within the sacred monster group of splinterlands they hold 2 types of different attacks together and exists very less in this game. It is legendary gladius card that costs 8 mana to be used in battles and belongs to the Neutral splinter which certainly makes it even more special. Let us now find more about it tier wise at below.
---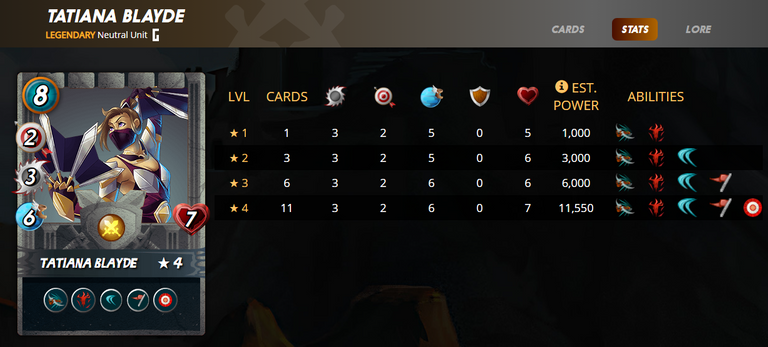 ---
Bronze - at level 1, this monster possesses 3 melee attack and 2 range attack 5 speed with 5 health and also gets 2 abilities since it's initial level - Close Range and of course, Bloodlust. Even at it's entry level, this monster has enough firepower to go on it's on. With the bloodlust ability, all of its stats will gets increased by +1 every time it kills an enemy and with close range ability, it can attack it's range attack even from first position from it's initial level, so take no tension about that!
Silver - at level 2, all of it's stats gets same except for the health which gets buffed up with more health from 5 to 6. But for abilities, it does get a new one - Evade which now makes it more defensive against melee and range attacks.
Gold - at level 3, this time the speed of this monster heys increased from 5 to 6 and nonetheless, it gets another new ability at gold level, the Inspire which will now give +1 attack to all friendly melee monsters.
Diamond / Champ - It keeps the same total melee + range attack combo from initial to final level and however, at this level, it's health gets increased for another time from 6 to 7 and yea, it gets another and the last ability, True Strike with which it can now attack with 100% rate from now on.
---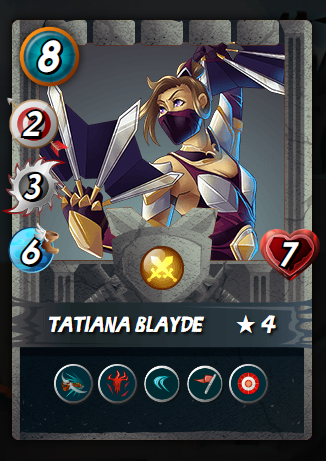 ---
I really liked the monster and even for a legendary cards, this one is harder to find than other legendaries ans by far, I have only been able to get my hands on one of this card just now and I am pretty sure that this card will be very useful in medium to high mana limit matches. Won't you like to get a monster like this double attack into your inventory, but there's only one way to do that, collect merits from playing both ranked and brawls and hope for more merits just like me.
I hope you find this monster awesome enough and please tell me if you already have this one in your inventory or you prefer other gladiator cards over this one. Let me know your thoughts in the comments below and I will be seeing you all in my next post.
---
---

Wish you all good luck on all of your future Splinterlands matches.
Thanks for visiting my post. Please come again!
Stay well and keep playing Splinterlands.
Want to start playing splinterlands? Click here
Posted using Splintertalk
---
---