What card I am planning to buy next ?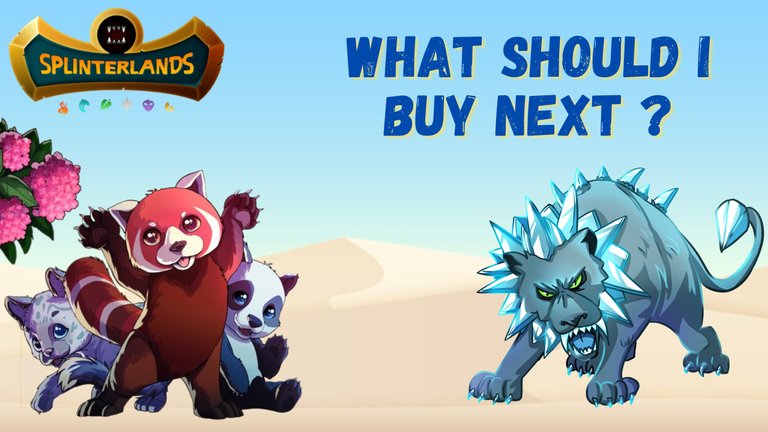 What's up fellow gamers,
The endless journey continues in splinterlands and I hope all of you are battling through time with me, winning those battles and collecting wealth over time. The bear season is coming back it seems because since the last 7 days, the market is quite bearish and even today, bitcoin and alts fell down further, which includes our hive ecosystem too. But we, the long runners doesn't need to take any tension because we all know that in the long run it will be fruitful.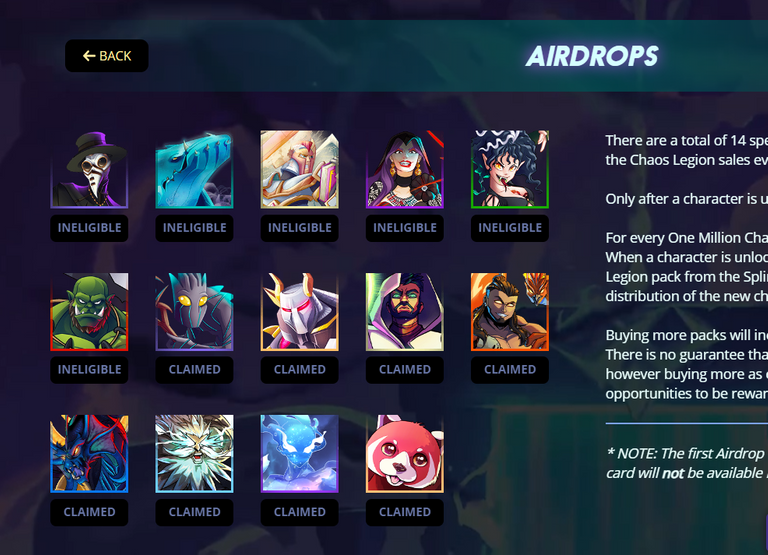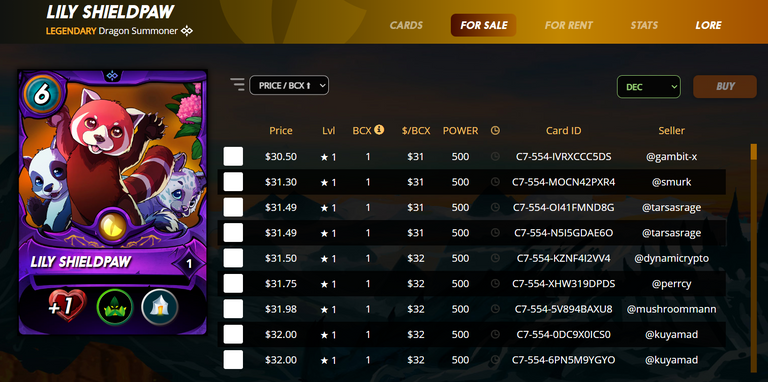 As splinterlands have already reached the sale end point for chaos and only 119k packs left for the sale to complete total 15 million pack count and with the 25k daily pack burning still going on, I think it will take only 3 or 4 more days to reach there. All the 12 airdrop cards have also been unlocked and are available on market as well. I have collected all of them over time and only have one left, the latest Dragon airdrop summoner Lily Shieldpaw. Thus summoner us quite costly right now and selling for 30$ per BCX lowest. But next card that I am going to buy is definitely this one but to buy and make a max level, I need around 350$ as of current market rate so it will take some time to save that.

I am playing as usual in this splinterlands season and currently ranking just above the D1 threshold bar. This season is slow for me and while there's only 5 days left for this ranked season to end, I am still far away from my C2 goal and also didn't collect enough season chests as I have only 26 now. From this season start, I was trying to maintain a good ECR rate and even was able to do that for the first 4 or 5 days by only collecting 4 to 6 daily focus reward chests and not to drop the ECR below 80%. But for last 2 days, I went berserk and played a lot of ranked matches and after satisfying my hunger, I found out that I have come down to around 55% again with my ECR bar. Now, it will take around 1 day and a half to recharge it back to 100%. But even if I play a little tomorrow, I will get it around 82 m% recharged. So I may consider playing 5-6 matches just to push a little bit more towards Champ league. Let's now see how it goes.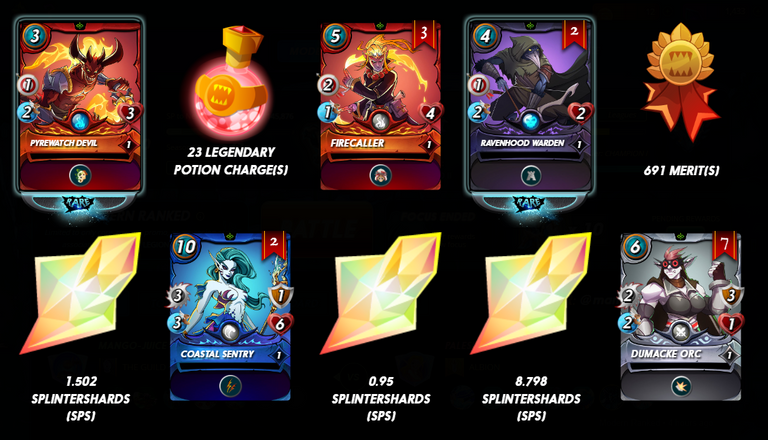 Now, as you can watch from the screenshots above, I have shared my last 3 days daily focus mission rewards above in where I have collected 4, 20 and 12 reward chests respectively and opened them in Diamond II league. From the first one I didn't expect anything at all with just 4 chests, but ultimately stumbled upon 4 rare fire summoners and some merits and legendary potions and summoners are really important right now to collect. From the second one in where I collected 20 focus chests, the best I got was 2 Rare Ravenwood Warden along with 1 more rare, 5 common cards and around 3.8 SPS with dome merits and potions. I expected a but better this time cause I fought hard after those chests but no epics, legs or gold foils were shy enough to be appeared.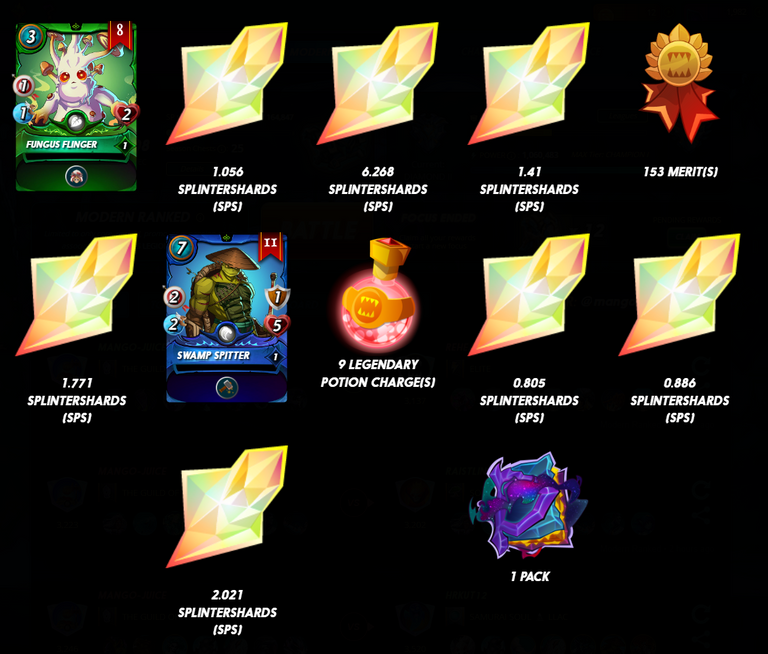 However, from the latest focus mission that I completed as and opened the reward chests today, I got the Flying ruleset and finished the focus by completing a massive amount of 12 reward chests. I didn't bluff above when i told that went berserk today lol. Anyways as you can see from shove, only 2 of them brought out cards and I received 8 BCX of earth common Fungus Flinger and 11 BCX of Swamp Spitter along with 14.21 SPS, a Chaos pack and 153 merits. I was also surprised to see that none of the chests brought potions which generally doesn't happen if you opening 5 - 6 chests or above in a go. Guess I am just lucky not to have them this time as by now, I have saved a lot of potions already. I am not a pack opener fan and rather invest directly to buy max or upgraded cards from market. So explains most of it, but let's see if I make any plans for the upcoming card edition.
I hope you liked watching my focus rewards and reading my progress post. Let me know your thoughts in the comments below and su be meeting you guys in my next post.
---
---

Wish you all good luck on all of your future Splinterlands matches.
Thanks for visiting my post. Please come again!
Stay well and keep playing Splinterlands.
Want to start playing splinterlands? Click here
Posted using Splintertalk
---
---