Won the first brawl 2.0 and got a Gold Foil Epic Brawl card! 😍😎💪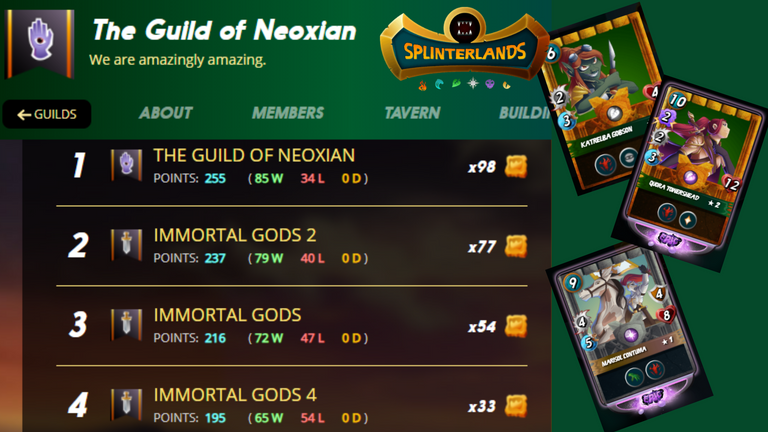 ---
Good morning Players!
I hope you all have reached your desired tier or leaderboard position the last season. It has already been 2 days since the season got finished and 13 days for the current one to end. This season I did decent performance at leaderboard and got 20k dec from each the account that I am playing with. But this season, it really sucked the blood out of me as the leaderboard was so hard this season. I also could't reach the 30k dec with red-dog as well as I was losing more than winning in the last hours so choose not to risk my trophies and stayed in 20k dec.
Another big news is that We, the army of neoxian guild has won the 1st place in the first brawl 2.0 match! We all are really happy about it and still bragging in our server! I played in the brawl match with red-dog as as usual, @xawi appointed me to the beta/alpha only fray. I got a total of 8 matches and out of them I won 6 and helped it reach one more step to victory. In this brawl, there were 3 IG guilds as our opponent including the main IG guild but we fought very well and lose all of them and secured the first place.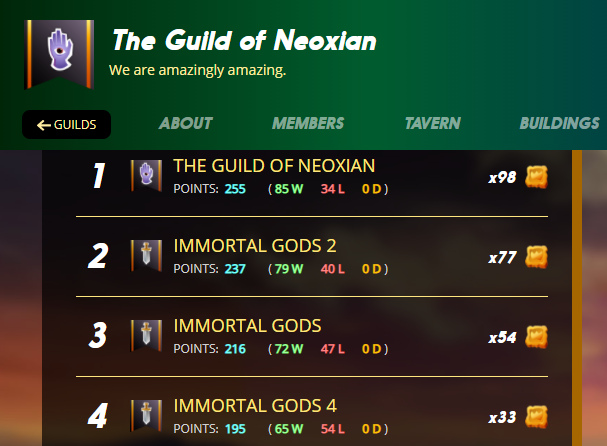 It was such a great achievement to win the first brawl 2.0 as it will forever be remembered in the history of splinterlands. As for winning prizes, each of our participating guild member got awarded with 4900 merits! What is merit? Just think of it as the in-brawl currency which you will get by winning brawls and will be used to buy gladiator packs (2000 merits per pack, each pack contains 5 cards) which can be only used in brawl matches and cannot be sold, delegated to other persons. As we were holding 1st position, each of our guild mates who participated in the brawl got awarded with 4900 merits so all of us can buy 2 packs with our first brawl merit earnings while the other guilds were only able to purchase one pack as they were given less than 4000 merits. That's another perk for achieving the first place. The merit prizes with respect to the brawl position of guilds are shared below.
1st: 4900 Merits
2nd: 3369 Merits
3rd: 2700 Merits
4th: 1238 Merits
5th: 1138 Merits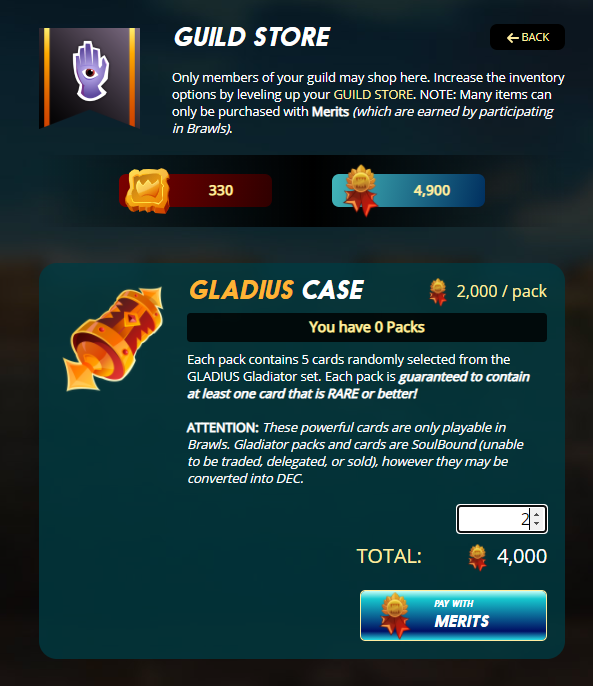 Anyways, so right after I got online and received 4900 merits in red-dog, I immediately bought 2 gladiator packs and opened them and look what I got!! 1 epic gold foil, 1 common gold foil and another epic from my first pack! I couldn't believe myself that I pulled a gold foil Epic gladiator card in my first gladiator pack opening! The second pack was also decent and had 1 rare and 4 commons in it.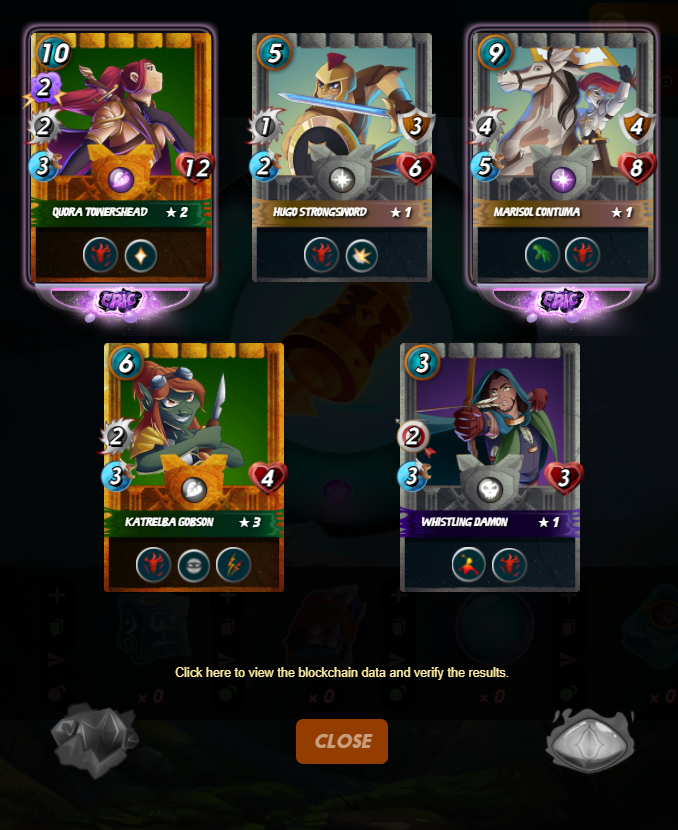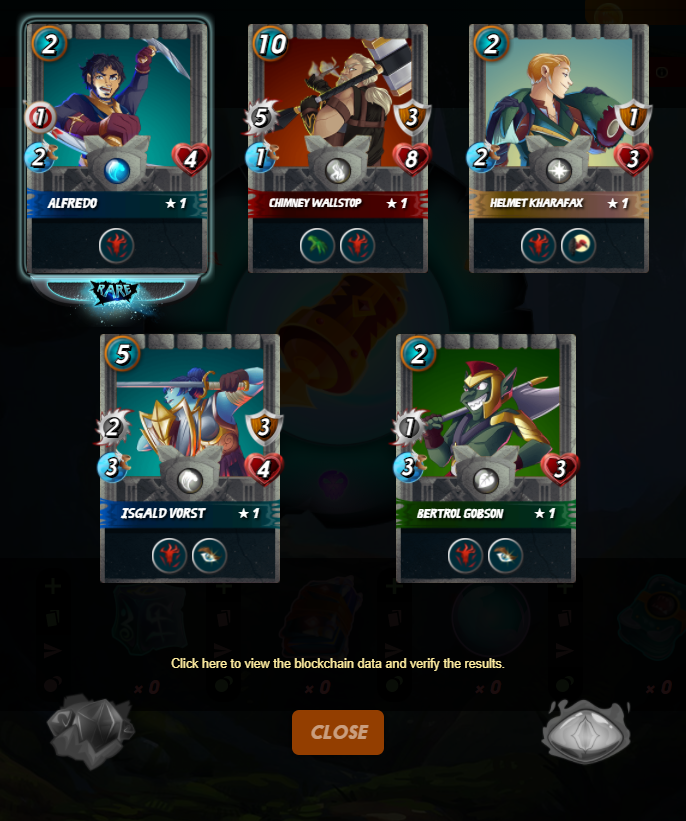 Such an awesome feeling I had once I opened the saw the gold foil epic in it. I was so lucky and I guess very few had their hands on gold foil cards from their first brawl reward merits. This cards will be very usable in brawl matches and if I get enough gold foil glad cards, maybe soon I can also play the gold only frays. Let's see what I pull from my future brawls. But as we can only play 2 brawls per week it will really take over a year at least before we can max our brawl cards as the supply will be very low.
Before I finish this post, let me show you my today's quest rewards that I got after finishing Life quest with my own mango-juice account. I literally drained my ECR below 50% while battling tons of matches fin the last day to reach the 20k dec So I was not playing since. But, today, as I had 2 quests to complete I started playing to complete those and got this super reward from my second quest, I got 1x 2000 dec and 1x 2750 dec just from a single quest loot that's insane isn't it? That';s about 35$ I got just completing quest so thank you splinterlands for this awesome gift!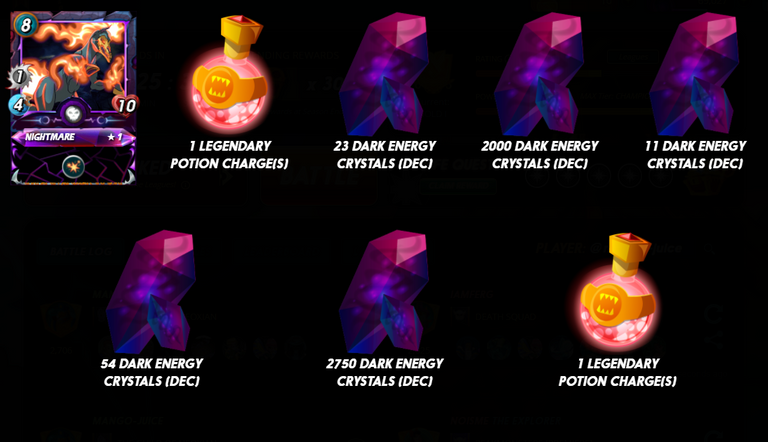 ---
Thanks for visiting my post.
Stay well and keep playing Splinterlands.
Want to start playing splinterlands? Click here
---
---