Let's Get Voting - Update from Mangomayhem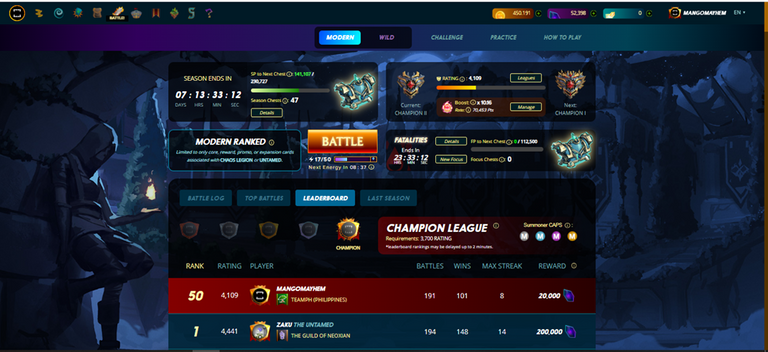 With still 7 days left in the season I have already managed to get into Champion 2 and on the leaderboards. This is an amazing feeling, Modern format would be overrun by bot users, Champion would not be as obtainable as it has been the past 2 seasons and Leaderboards would definitely not be in sight or a reachable goal. Thanks to the most recent proposal set by our Community Leaders and voted for by the community, this human player mode is having a positive effect and allowing "real" players to show their true skills. People are even staking sps to their hearts content knowing that there is hope in gameplay.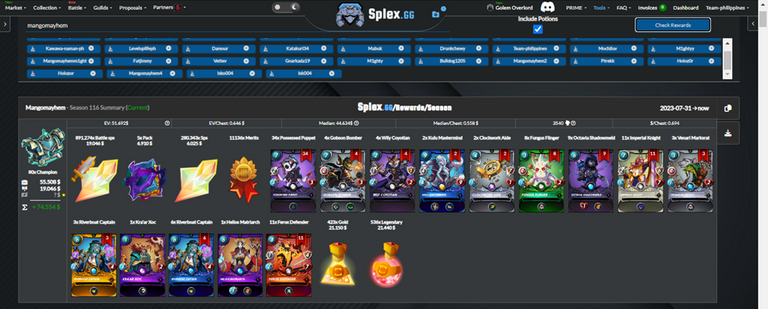 Rewards per win have increased drastically, I am now receiving around 10 to 15 SPS per win with a x10 multiplier which is so motivating.
Recent proposals
There are currently 2 proposals by @davemccoy, both are Game and Community focused, prohibiting use of the Battle Helper and actually inserting this into the Terms of Service. Whilst some may argue, there is nothing that can be done to prevent this as of now (As the Battle Helper is undetectable), just the fact that people are fighting for it, can lead to a general consensus and perhaps methods to prevent future use case.
The use case of SPS used to be entry points into tournaments, right now I no longer bother entering the High Staked Tournaments as it always seems to be the same winners beating everyone else by a mile, the funniest part is, once Modern became "Human Only" I no longer see them in ranked and there is an obvious change up in the leaderboards, it is more fun, competitive and a lot of people that had exited are finding their way back into the eco system.
These proposals will be up for another 16 hours, the second proposal is at 68%. Every vote counts. For those yet to vote, consider making this section of Splinterlands a healthy competitive environment, besides land is coming this month for all those investors. Here is the link below, let's help Dave as he represents the Community
https://peakd.com/@davemccoy/sps-governance-proposal-update-terms-of-service-to-prohibit-use-of-battle-helpers-in-modern-ranked-tourneys-and-brawls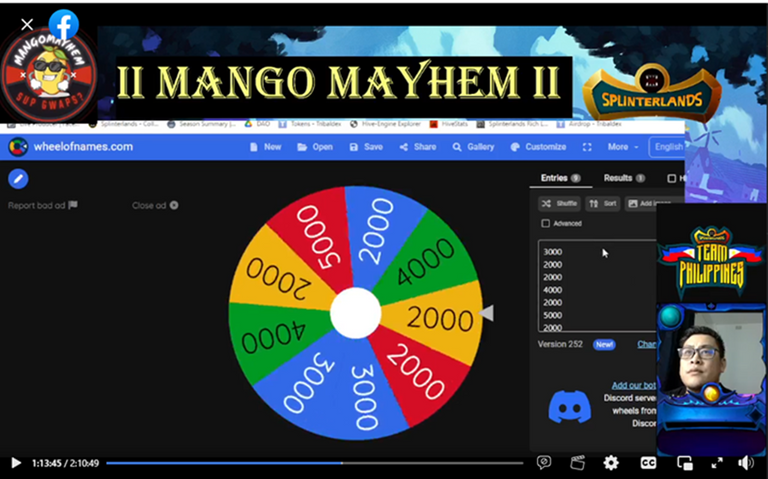 "The Wheel of Fortune" will be streamed live via Facebook at 21:00 (Philippines Local Time). For those unaware, one of TeamPH's initiatives is to build up an SPS stake worthy of influence but at the same time assisting our community by providing value for our token. With this in mind, we will be delegating out a total of 46k worth of SPS (This will be valid for a month). Based on the success of this initiative, it will be done on a monthly basis moving forward, the bigger the stake the more delegations. Any tokens raised will be used to fund our monthly SPL Tournaments (Prizes and giveaways).
Thank you for taking the time to check out my most recent updates, should you have any questions or queries, please feel free to comment below. This is mangomayhem signing out, ciao for now, and I look forward to seeing you on my stream later and on the battlefield.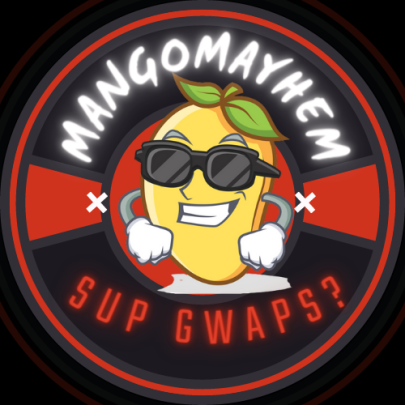 "We thrive Together Kapamilya"
(Credits for Screenshots - SPLEX, Splinterlands and Facebook)
---
---