Social Media Challenge " Discovering the Power of Weapons Training"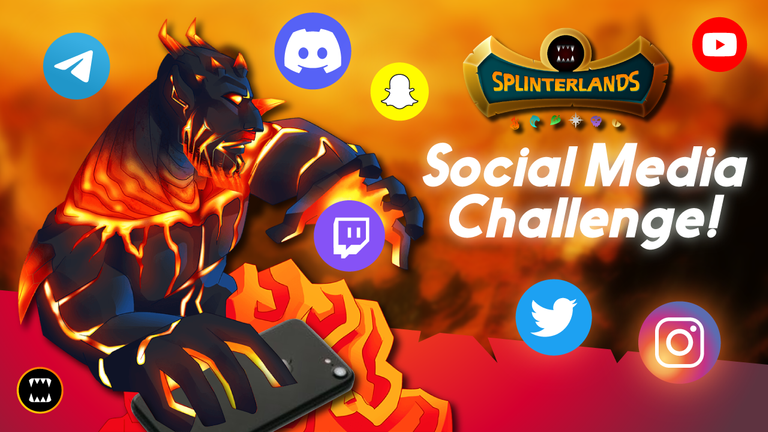 At times the "Best Offence" if a "Strong Defense", this can be considered with a Summoner and Monsters boasting negative effects on your opponents' team and a Tank that can sustain maximum DPS as well as having the healing and repair of shield. Monsters currently with Weapons Training give half it's damage to adjacent units that do not usually deal damage, and the best thing is, it is cumulative (Stackable). I am more motivated to rank up my Soul Bounds cards because of the new attributes and once able to play them at Maxed Level, the new attributes will alter the game dynamics completely, competitiveness will be increased and the advantage given to those that learnt how to wield the power first.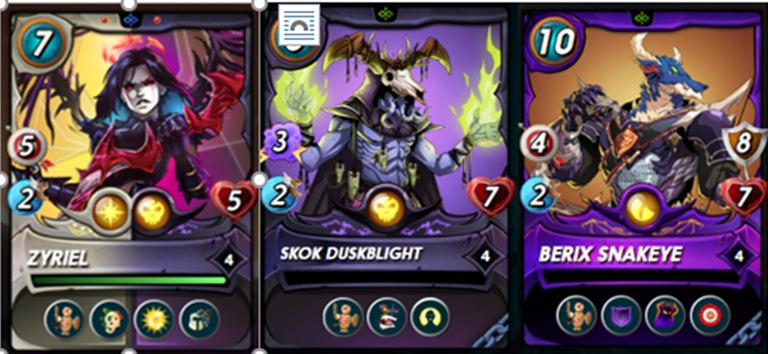 The best Summoners in my opinion for a defensive play are Grandmaster Rathe (Life), Mimosa Nightshade (Death) and Lily Shieldpaw (Dragon). I am sure there are other decent defensive summoners out there however I have been utilizing these 3 the most with Zyriel who can be played with all three Splinters. I feel that the buffs that they give to units can really provide sustainability and prevent your opponent on most circumstances from getting the win.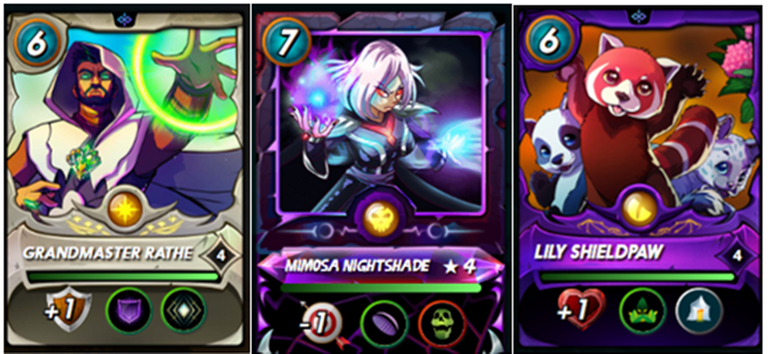 Now let's look at the cards to use with weapons training. As you can see the cards that I am showing have various attributes that nerf your opponents drastically. If you can imagine having Almo Cambio in the front and then Oshuur Constantine in second, with the enemy shooting out less damage, further more it is being reflected back whilst Almo is being Healed, quite a painful experience to undergo.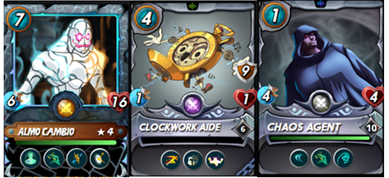 Most of these supporting cards have High Speed which means once they receive the damage capability given by monsters with weapons training, they shoot faster and more accurately which can be devastating for your opponents.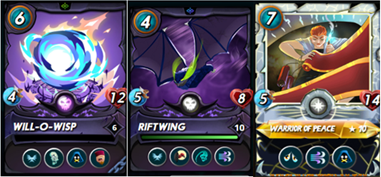 In the battle below, I used Zyriel with Mimosa Shade, which was quite a good pick as he had 2 Taunt Monsters and I automatically cause Affliction preventing the healing aspect which would have prolonged the game. He also went for a Magic Damage Team so the Void Armor Came in Handy. I chose to use a Double Weapons Training turning a level 3 Will-O-Wisp Into an absolute beast what more if that was Maxed Level. I also had other monsters causing negative buffs. Which weakened my opponent. If you would like to see the battle please click on the following link: https://splinterlands.com?p=battle&id=sl_85f4a5b39a13bde4332b4f8b8ef4d9ef&ref=mangomayhem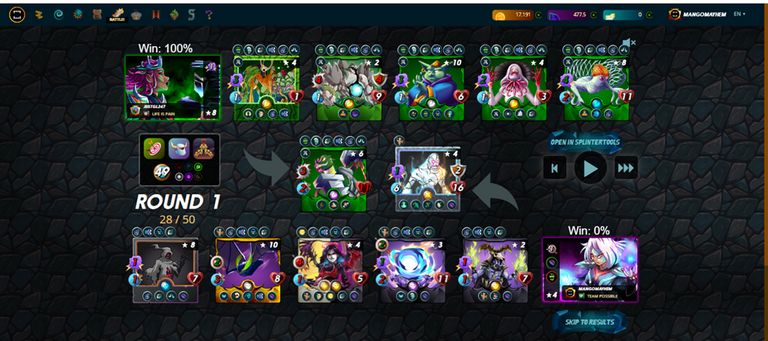 In this battle below, based on the rulesets of no healing units, Aim True and no Melee Monsters, this was perfect for Zyriel. I chose to use Almo as the Tank, and a Level 6 Warrior of Peace and Truth Speak to receive the buff from weapons training. As healing was out of the question, I decided to go with Repair and Resurrect as well as amplified Reflection and Return Fire. Although I was not able to save the link for the battle, it was a game of mass destruction, Zyriel ended up with about 28 health through Life Leech. It was a great game.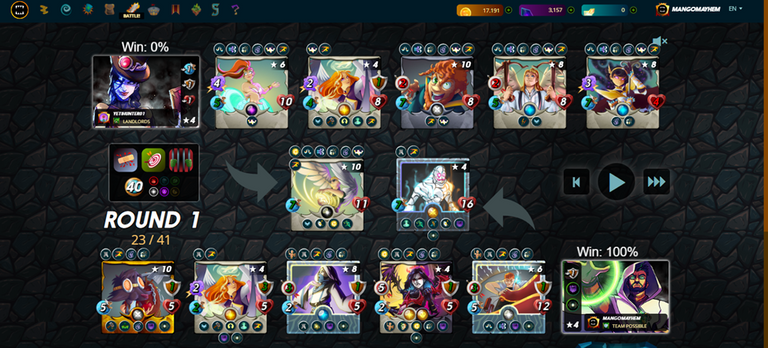 There is only 5 days remaining allowing our community to purchase this card. In my opinion and that of seasoned veterans like @vettev and @azircon (My Apologies for tagging the both of you) whom I often converse strategy with, this is a card that shouldn't be taken lightly. Yes, it is good for the Eco System that we purchase this as we are able to burn our vouchers and DEC which will help the overall Economy, but as I sway more towards the gaming side, it Is such an effective card to hold in your arsenal and I am sure will have more utilization when future sets are introduced.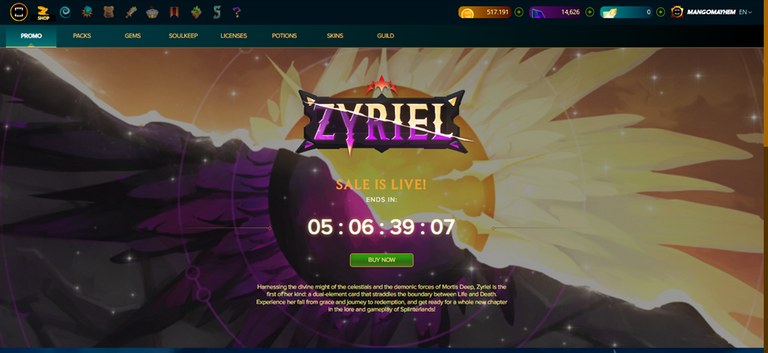 Currently there are 10385 Copies still remaining, it is a shame that only 1/3 had been sold and that the rest will be burnt, however it is good for those that had purchased the card, once scarcity kicks in as well as supply and demand, some people will be laughing.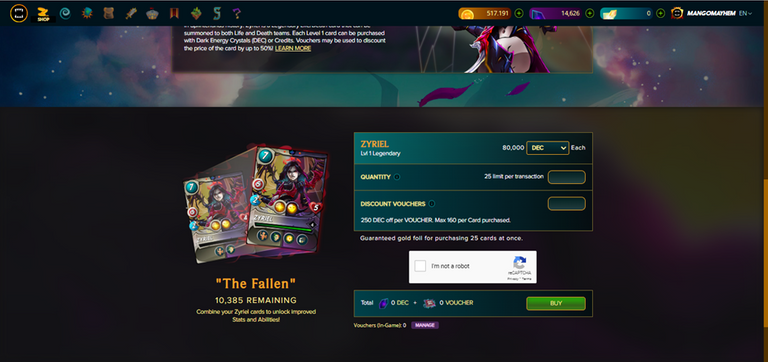 Let's take a look what's currently available on the market for sale, by my calculations there are only 5 Max Copies in Gold Foil and just under 11 Max Copies available for Regular. If this currently stays the way scarcity will most definitely kick in and the prices will rise drastically. I personally will be holding onto my max level but I am sure my Gold Foil and spare copies will pick up a pretty penny in the future.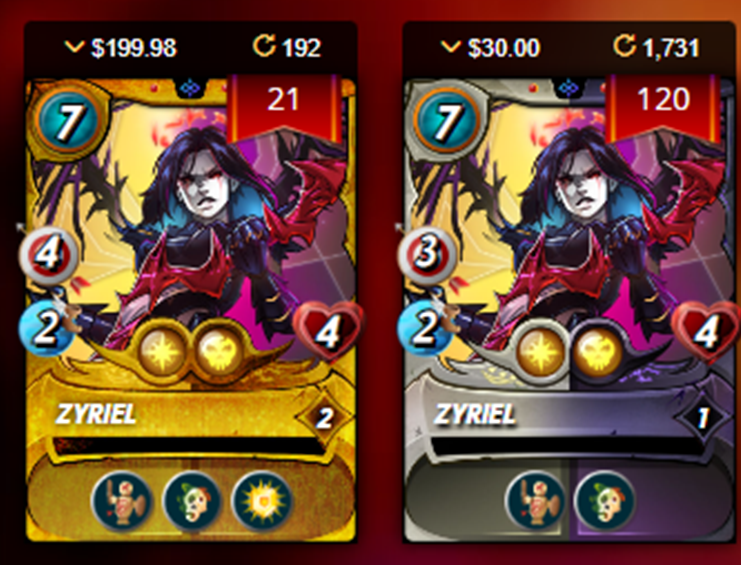 In summarization, I feel that the Game Play Mechanics, is somewhat in line with Magic the Gathering, and with knowing that, brings me confidence and more motivation to continue to collect assets and play this game. It is ever changing and the product is no way complete but I can see the potential and longevity, I only wish there was less negativity and more push from the Community.
Thank you for taking the time to read this, I hope that you have enjoyed it as much as I have had writing it. Should you have any questions, please feel free to comment below.
This is MangoMayhem signing out, Ciao for now, I look forward to seeing you on the Battlefield!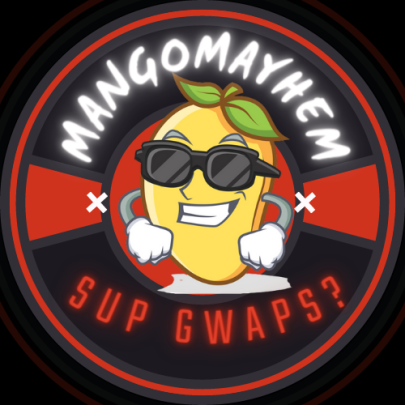 ---
---