Social Media Challenge - Investing in Specific Cards to Remain Competitive without the Need to Rent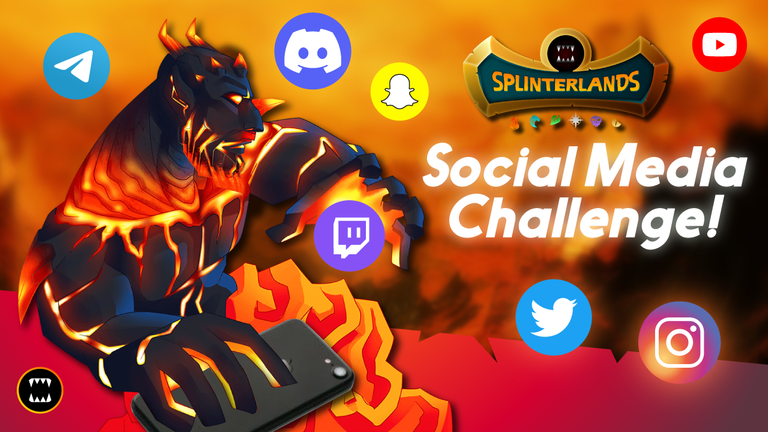 (Taken from Original Post of Social Media Challenge - Splinterlands)
Hi There Splinterfam! For this weeks Social Media Challenge I wish to discuss Champion League, how I have adapted since the update, my most recent investments I have made due to the changes as well as the reasons behind it. I hope you enjoy the read.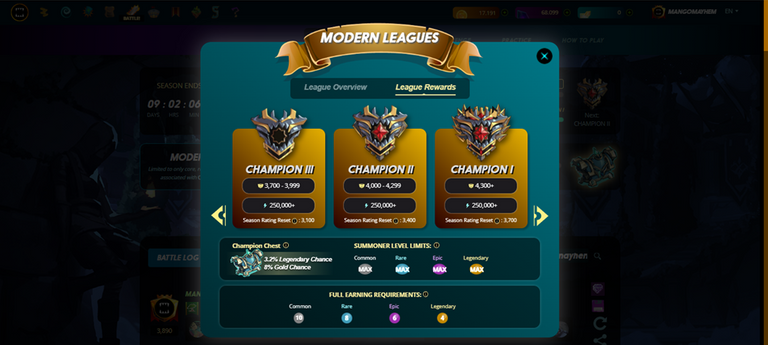 The Champion League is the most competitive and most rewarding, it is not cheap to play here, whether you own your own cards, or you rent, I believe that those that play here should be recognized not only for their support of the Splinterlands Eco-System, but also for the skills that they have acquired over time, it is not easy to move up, the drop of points is more severe than the gains and going for leaderboards is always a struggle.
I remember the time that you would get Champion Points, which then you were rewarded via additional SPS on the Airdrop System, I wish that they would consider placing a reward again (Not just Bragging rights), however I can see how it may not currently be a priority. Not everyone is into the Land Game, some play for the PVP (Person Versus Person) and the Competitiveness through superior strategy.

Whilst anticipating the changes in Splinterlands Ranked Battles scheduled on the 21st March 2023, I decided to minimize my rentals this season, simply due to the fact that the amount of games would be restricted and the cost of rentals versus rewards, we had seen a significant reduction. Although getting to Champion League would take a lot longer compared to before, the optimistic approach was that I would become more effective especially with the newer cards. I also decided to invest in some key cards to help with the daily grind, these were usually cancelled during rent and usually quite costly. The gradual way is always the best. I will now show my most recent purchases and why you should consider purchasing these specific cards along with some decent strategies of how to use them.

The Failed Summoner is a crucial 2 Mana Tank from the Untamed Set, and is a required card in the Mylor Crowling Meta. Although they are moving Untamed out of Wild, most players should consider playing both formats, as it assists your Guild Rating. A perfect combination for low mana battles.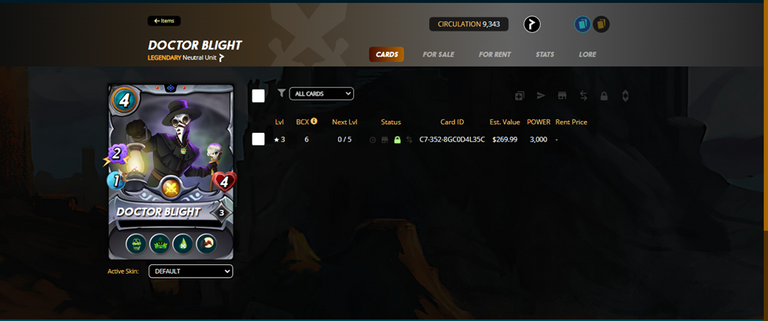 If you play Higher Leagues, a Doctor Blight is a must, it is a perfect card due to it's abilities in various rulesets and although it has been nerfed, still remains a dominant Power House. I have only got it to Level 3 however I am looking to max this out as soon as possible.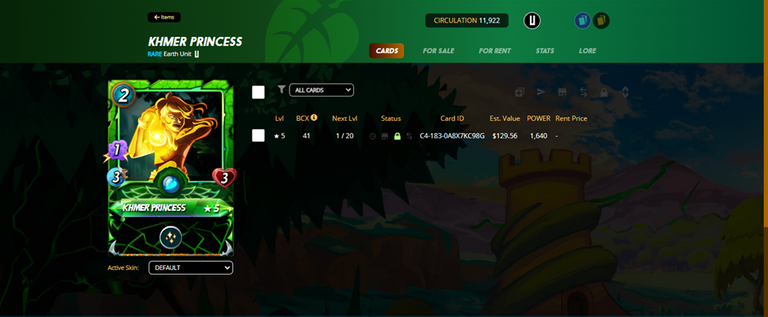 Even at level 5 it still has tank heal, at maxed level it also has triage which, with Queen Mycelia offers great defense again sneak units. Perfect for 20 mana or less, battles. My usual setup is not uncommon in Champion play but this particular strategy has a high win %. here is the positioning that I usually use and why:
Summoner – Mylor Crowling
Xenith Monk (This is if you do not have an Epona) In higher leagues it is quite rare not to see a Doctor Blight. As Earth does not have cleanse, Xenith Monk can play as a decent reflecting tank that can Heal, has void protection to reduce Magic Damage however can be countered by Ranged Attacks.
Failed Summoner – Cheap at 2 mana, has demoralize, void reflect and plus 1 health to all your monsters. With thorns, the disadvantage only lies with Ranged Attacks.
Khmer Princess – Also a 2 Mana Card, it has Tank heal and Triage that is helpful against sneak attack and to add additional sustainability to your tank.
Queen Mycelia – The Amplify, adding of 2 Shield, Triage and Rust at max level makes her super important for this particular meta.
Acid Shooter – The Scattershot, poison and cripple, makes this particular card unpredictable and very effective on certain rulesets.
Doctor Blight – Its attack has an opportunity to Poison and cause affliction on enemy units, lowers health by 1, scavenge and camouflage which can really cause a problem for the enemy, you can't hit what you can't see.
Looking over my battles I can see that I often use this strategy, although not always the same cards due to the 3 rulesets and mana caps but below you can see the partial Mylor Meta being used.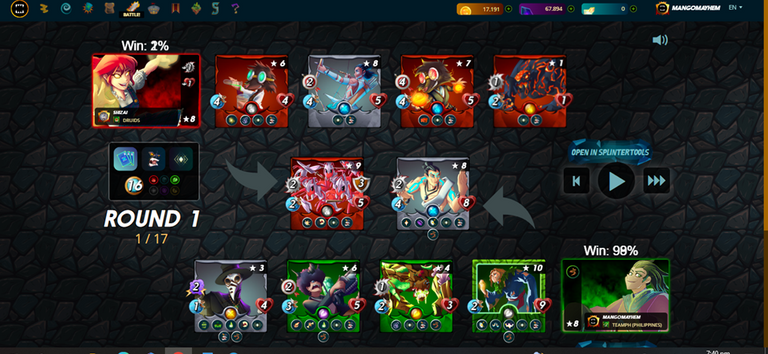 If you wish to see the full battle it can be seen here: https://splinterlands.com?p=battle&id=sl_a3501049612efe8d7845ab3934cd183b&ref=mangomayhem
I have also invested in a few other cards such as Coral Wraith and Lone Boatman (Untamed Edition), but I will leave that for another discussion and on a separate post.
I also wanted to add that I have finally crossed the 1st Milestone in Terms of Staked SPS. I remember, back in August 2021, I had shared with @aggroed that I had encouraged my employees not only to play Splinterlands but to Stake SPS, our whole Community was doing that. He graciously sent 50 SPS to one of my guys, it was an awesome moment. I wish to thank you for your act of kindness, and show you that as a Filipino and Member of TeamPH, we support what you do!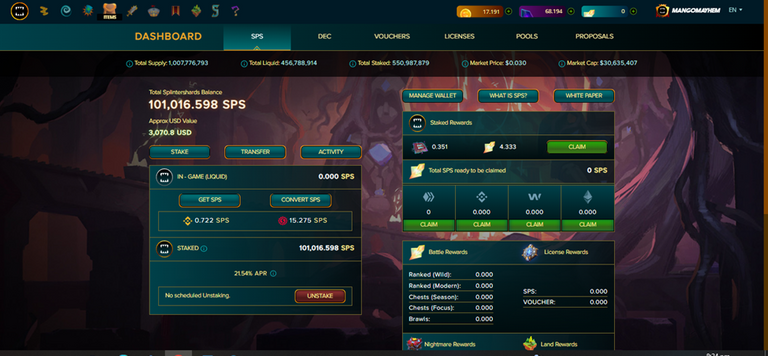 Thank you for taking the time to read this, should you have any questions please feel free to comment below or contact me via discord, here is the link to the @TeamPH server:
Back to the game we go, I have 20 Energy Points to use and just a little bit away from Champion 2. This is @mangomayhem signing out, Ciao for now, and I look forward to seeing you on the Battlefield!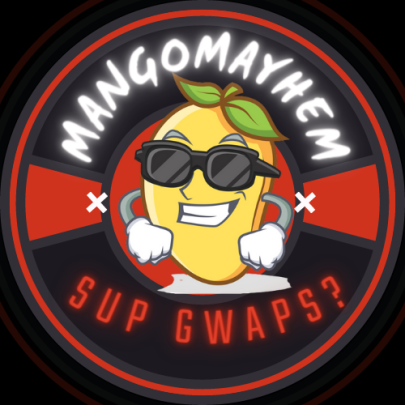 "Together we Thrive Kapamilya"
(Please be advised that all screenshots have been taken from Splinterlands in-game, IGN: Mangomayhem)
---
---