Splinterlands Art Contest Week 225 -- Katrelba Gobson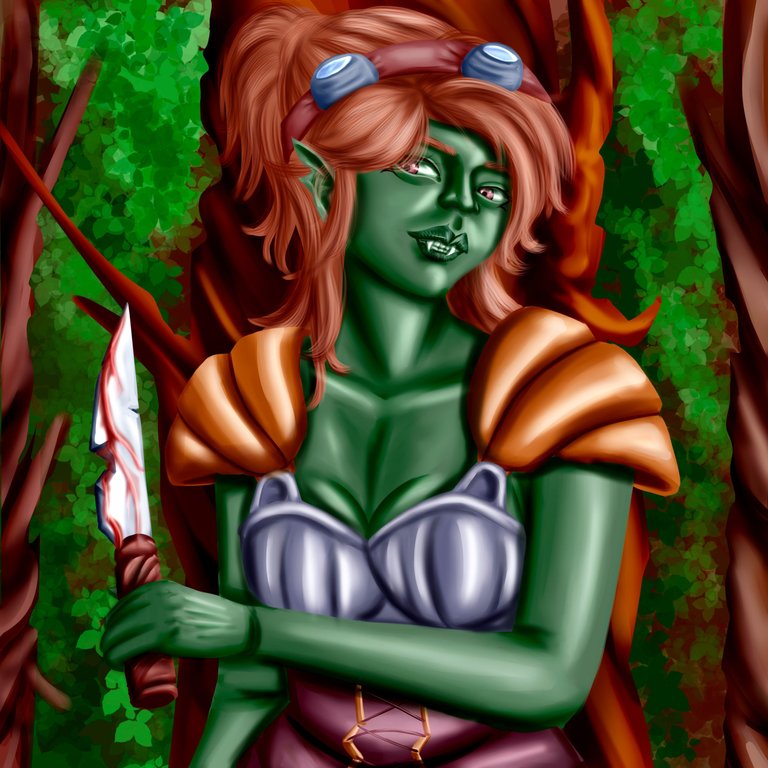 Good evening my dear readers, happy Thursday for all who read me here and welcome to a new drawing about the card game #Splinterlands, the card I chose for my participation this week is about (Katrelba Gobson); which is the daughter of a powerful Goblin of the forest. I had already couple of weeks dedicated to create works with thematic of the elements of nature, and this week I wanted to vary a little and I focus on the theme of the forests and creatures of that environment; that is why I decided to choose (Katrelba Gobson) that has a very interesting history as creator of chaos and death within the Goblin city:
Buenas noches mis queridos lectores, feliz jueves para todos los que por aquí me leen y sean bienvenidos a un nuevo dibujo sobre el juego de cartas #Splinterlands, la carta que elegí para mi participación de esta semana se trata de (Katrelba Gobson); que es la hija de un poderoso Goblin del bosque. Tenia ya par de semanas dedicándome a crear obras con temática de los elementos de la naturaleza, y esta semana quise variar un poco y me centre en la temática de los bosques y criaturas de ese entorno; es por ello que me anime a elegir a (Katrelba Gobson) que tiene una historia muy interesante como creadora de caos y muerte dentro de la ciudad Goblin:
Reference Image
PROCESS / PROCESO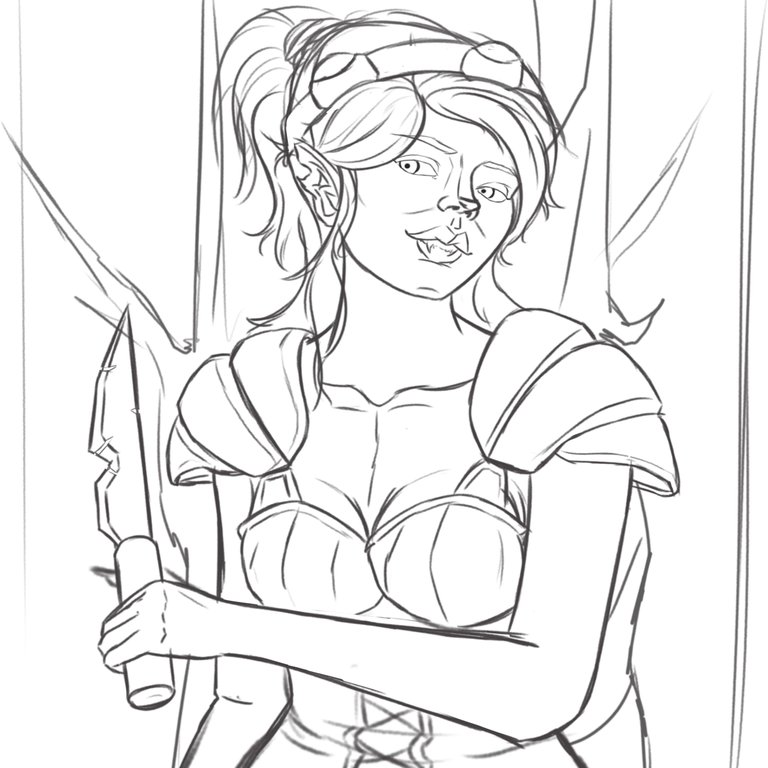 My main idea for my drawing was to create (Katrelba Gobson) with a rather rough and problematic appearance, in which he would carry in his hand his rudimentary knife which he would use to kill the centaurs of the forest; I also worked a lot on the lines of his facial expression to print a touch of joy or pleasure for spilling blood. The colors were a bit simple to choose, I only looked for olive green tones for the skin, and for the costume I varied a bit and also used a lot of grays for a metallic texture in the bust area; I also used some yellow-orange tones for the pure gold parts.
Mi idea principal para mi dibujo era la de crear (Katrelba Gobson) con una apariencia bastante ruda y problemática, en la cual llevara en la mano su rudimentario cuchillo el cual utilizar para acabar con los centauros del bosque; también me dedique mucho a trabajar los trazos de su expresión facial para imprimir un toque como de alegría o placer por derramar sangre. Los colores fueron un poco sencillos de elegir, solo busque tonalidades verdes olivas para la piel, y para el traje varie un poco y también use muchos grises para una textura un tanto metalizada en la zona del busto; también use algunos tonos amarillos-naranjas para las partes de oro puro.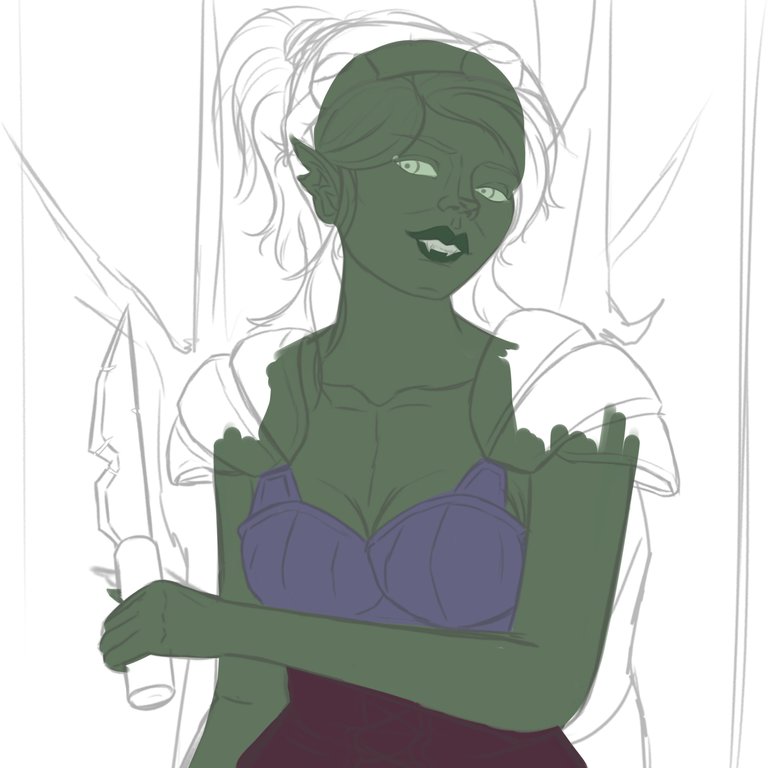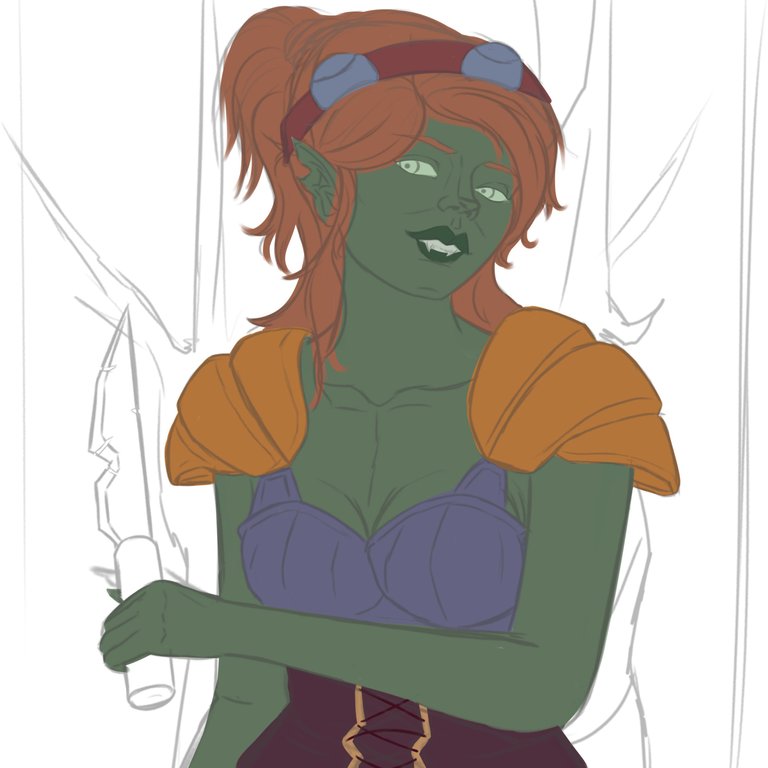 The construction of the skin was done with soft brushes and with semi-fuzzy edges to get a very cool texture in the Goblin's skin, I worked in several upper layers the volume of the skin to print a little rough appearance characteristic of a goblin. The work on the eyes I did very carefully and used very varied tones, for the iris I used a little dark scarlet red and for the lips a green to contrast with the skin; I was creating some volume in the eyes to give it better realism, and I also painted the eyelashes and some glitter.
La construcción de la piel la hice con pinceles suaves y con bordes semi-difusos para conseguir una textura muy cool en la piel de la Goblin, trabajé en varias capa superiores s el volumen de la piel para imprimir un poco de apariencia rugosa característica de duende. El trabajo de los ojos lo hice con mucho cuidado y utilizado tonos muy variados, para el iris use un poco rojo escarlata oscuro y para los labios un verde que hiciera contraste con la piel; fui creando cierto volumen en los ojos para darle mejor realismo, y también pinte las pestañas y algunos brillos.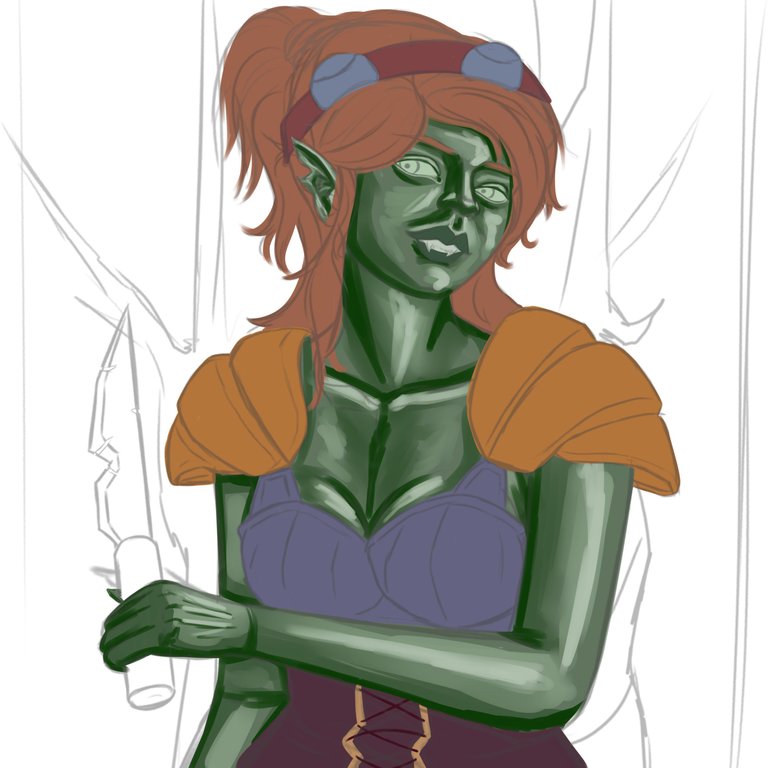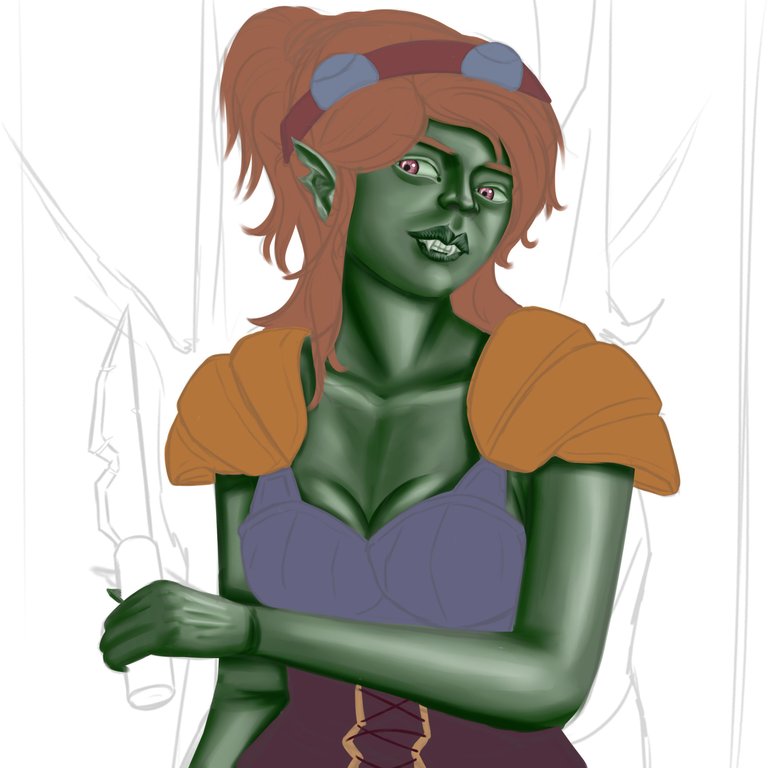 The painting of the clothes was perhaps where I took the longest due to the amount of details and parts, but I still put my best effort to detail each section very very well; for the bust area I worked the grays with many strokes to create a metallic texture. For the shoulder area I worked in the same way as the bust area but with brighter and a little more saturated colors to create a very realistic pure gold look.
El pintado de la ropa fue quizás donde mas me demore por la cantidad de detalles y partes, pero aun así puse mi mejor esfuerzo para detallar cada sección muy muy bien; para la zona del busto trabaje los grises con muchos trazos para crear una texutura metalizada. Para la zona de los hombros trabaje de la misma forma que la parte del busto pero con coles mas brillantes y un poco mas saturados para crear una apariencia de oro puro muy muy realista.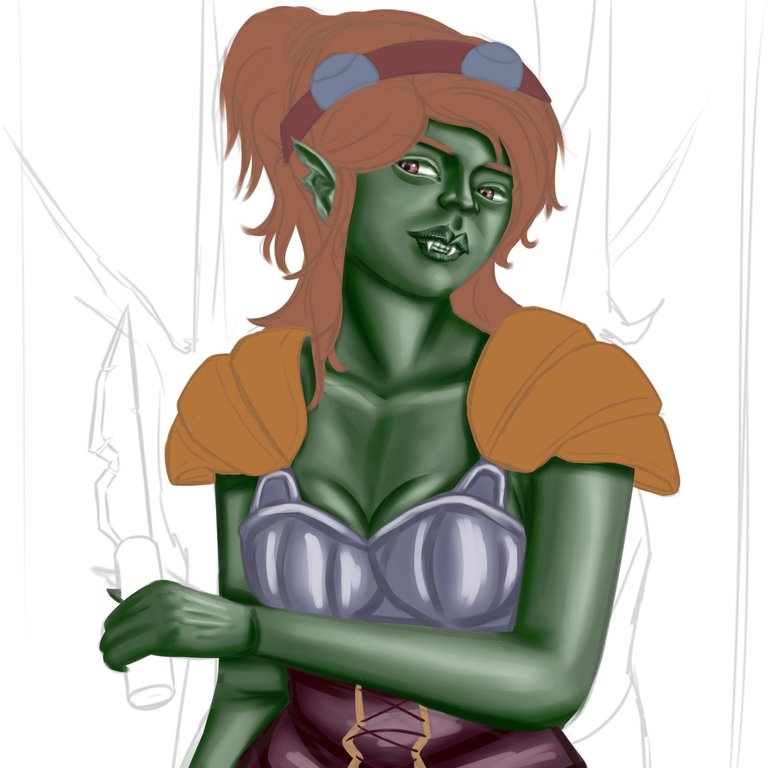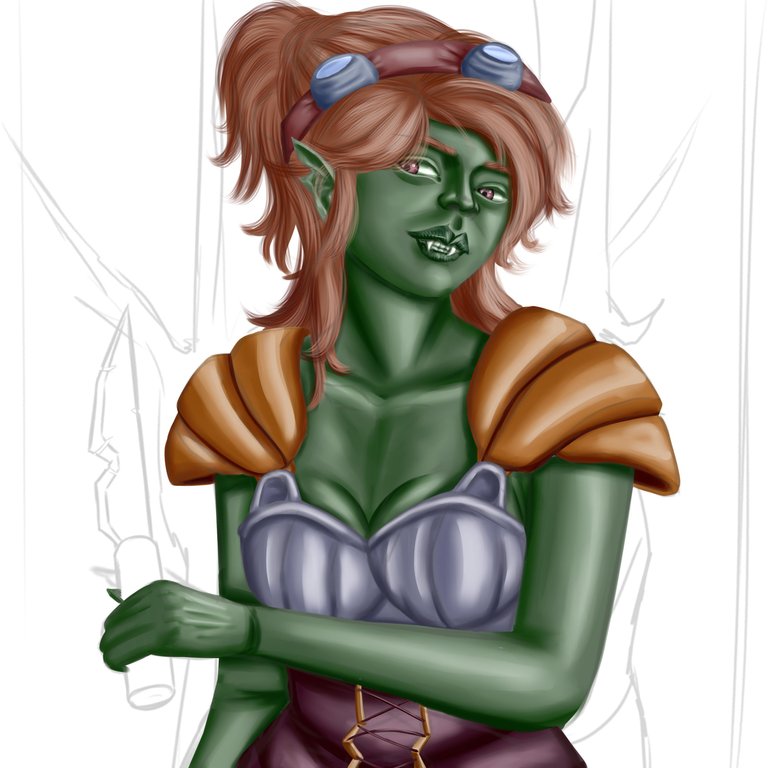 I painted the hair with some curls gathered towards the back, I did a lot of bright strokes with a special brush. Finishing with the hair and the glasses on his head the next step was to paint the knife, as I said I tried to create this knife with a rudimentary appearance; so that it would give the impression of being a very old and worn knife, but still has a dangerous edge with which (Katrelba Gobson) can kill Centaurs and anything that crosses in front of him.
Pinte el cabello con ciertos risos recogidos hacia la parte de atrás, hice muchos trazos brillantes con un pincel especial. Terminando con el cabello y los anteojos que lleva en su cabeza el siguiente paso fue le pintado del cuchillo, como les dije trate de crear este cuchillo con una apariencia rudimentaria; de modo de que diera la impresión de ser un cuchillo muy antiguo y desgastado, pero que aun así posee un peligroso filo con el cual (Katrelba Gobson) puede asesinar Centauros y cualquier cosa que se le atraviese al frente.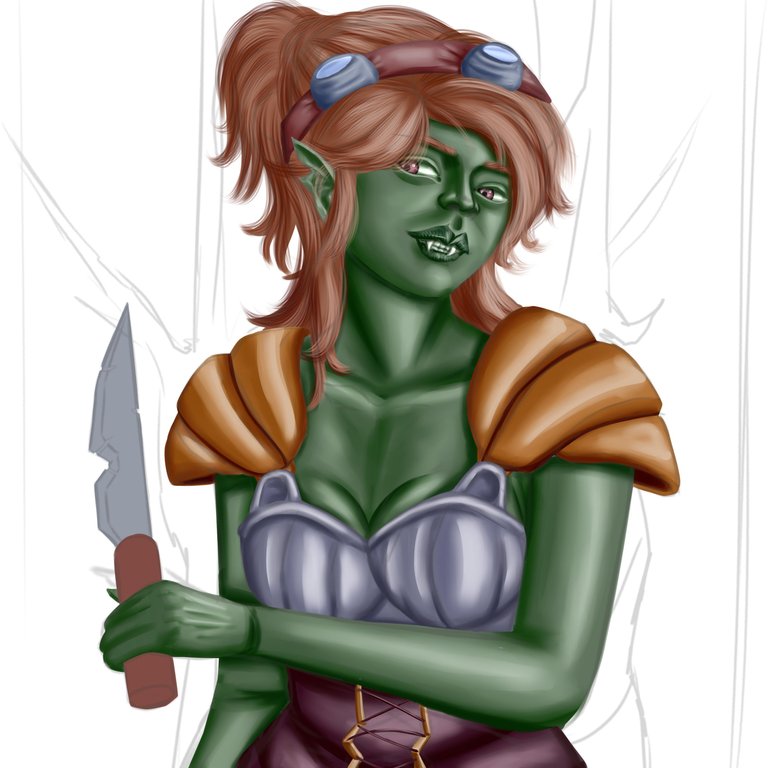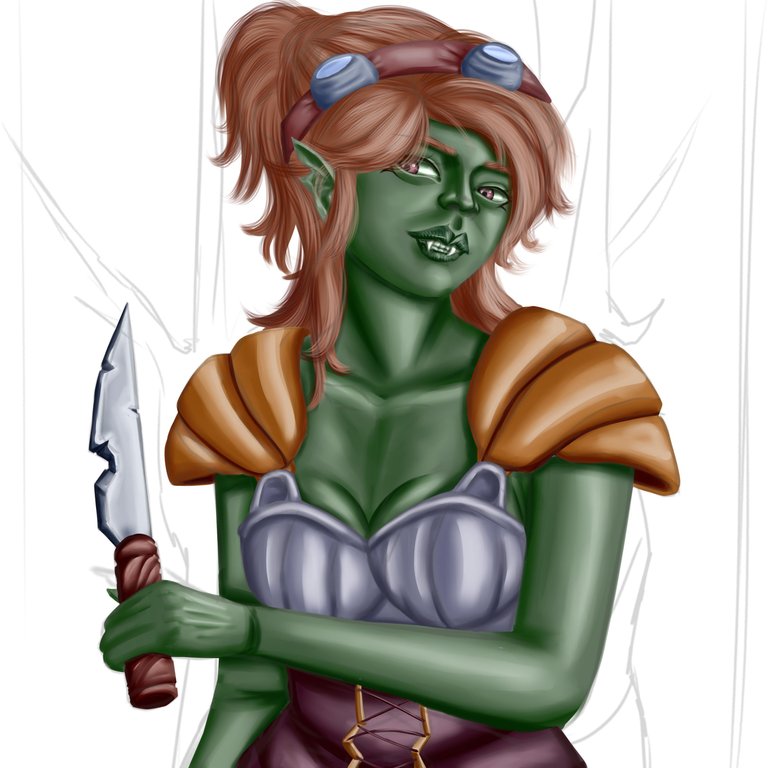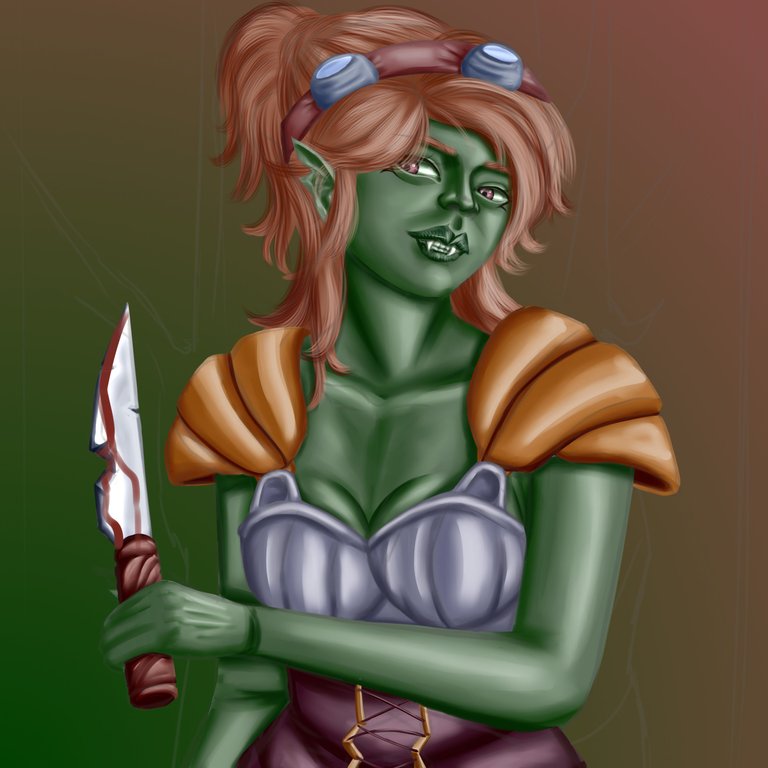 For the final part I only dedicated myself to build a forest scenery, I painted some vertical lines to create the trunks of the trees; then I was giving a little depth to the forest with more dedicated brushes. I finished creating the wood texture for the trees and finally I painted the vegetation with some leaves and bushes in the back part; at the end I only finished giving small details to the blood of the knife to achieve a better realism.
Ya para la parte final solo me dedique a construir un escenario de bosque, pinte algunas líneas verticales para crear los troncos de los árboles; luego fui dando un poco de profundidad al bosque con pinceles mas dedicados. Termine de crear la textura de madera para los árboles y finalmente pinte la vegetación con algunas hojas y arbustos en al parte de atrás; al final solo termine de dar pequeños detalles a la sangre del cuchillo y así logre un mejor realismo.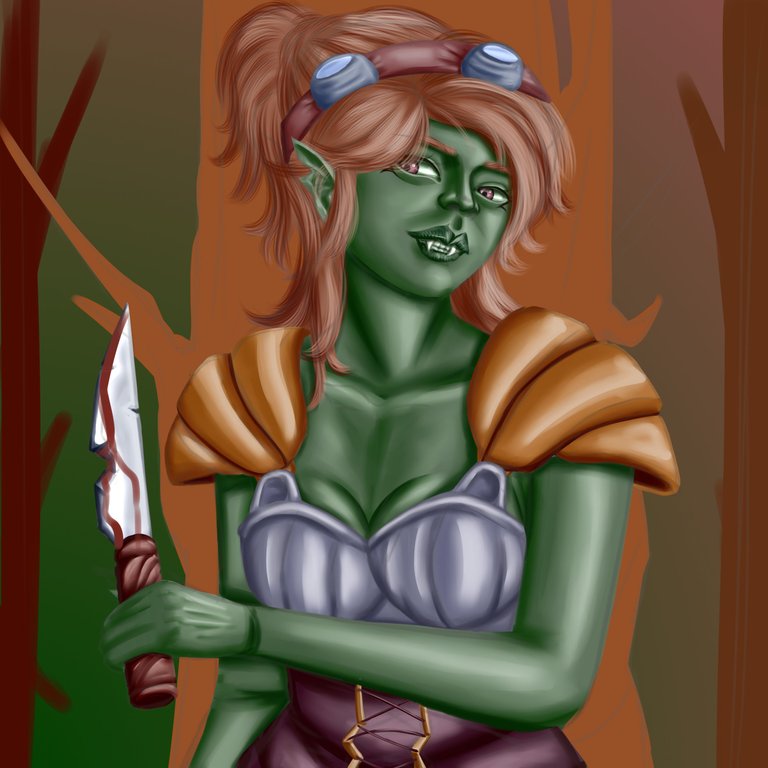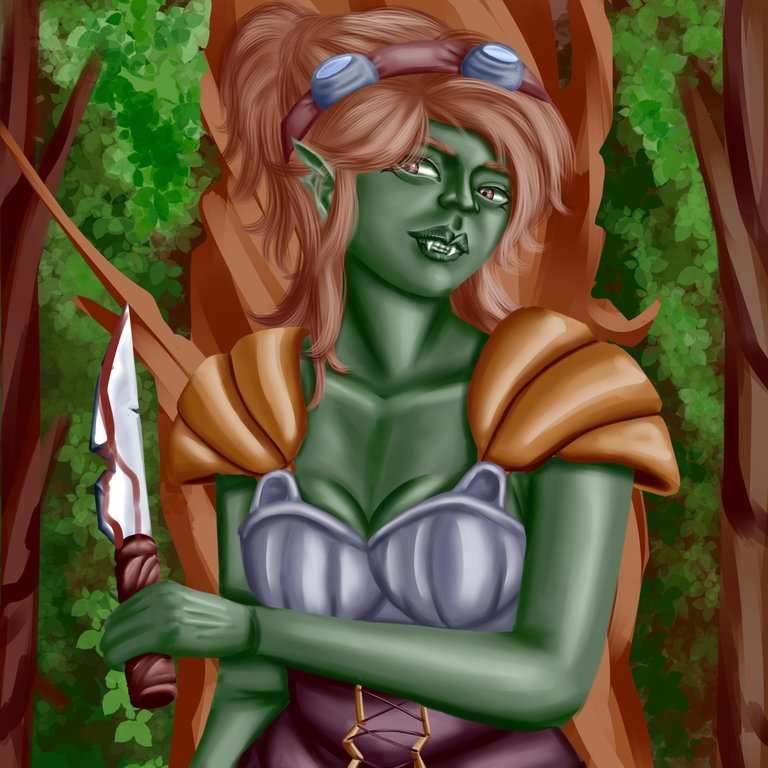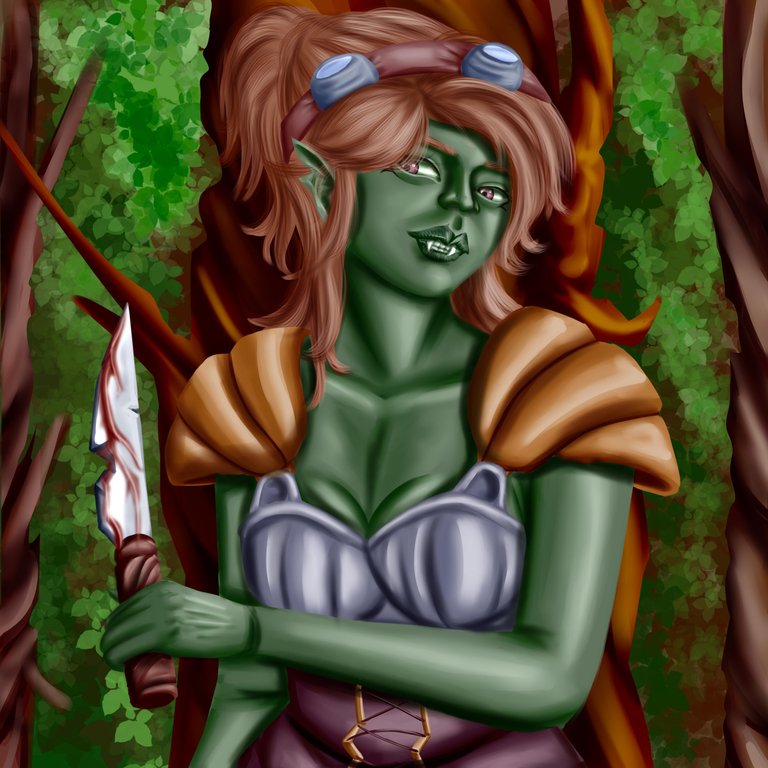 MATERIALS / MATERIALES
Sai Paint Tool Program
Huion inspiroy h610 v2 tablet
Programa Paint Tool Sai
Tableta Huion inspiroy h610 v2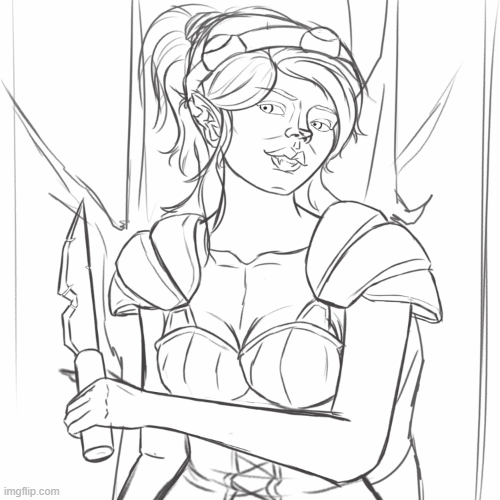 Well my people this was all for today, I hope you enjoyed my work and I will see you in a next drawing; see you later.
Buenos mi gente esto fue todo por el día de hoy, espero hayan disfrutado con mi obra y los veré en un próximo dibujo; hasta luego.
---
---