Splinterlands Greatest Market Releases CAAD Coin Boost

CAAD is already a hive engine token backed by Splinterlands Assets
We are very pleased to announce new value is coming to the coin in the following ways
CAAD will start it's profit sharing of cardauctionz to holders at the rate of .5% We are
going to be conservative and make adjustments as needed

The Cardauctionz market will accept CAAD as payment

CAAD will be given a 5% discount in a new game - Mythicportal

CAAD will be awarded free to our best Cardauctionz customers - This is important to CA success and great for CAAD holders in that at this time new coins
will not fund this, instead my personal balance will be covering this

Private auctions of splinterlands cards will require CAAD balances staked

An affiliate program will require CAAD balances staked to receive it's rewards

Our next big project, an industry first for Splinterlands, which we are very confident will be in high demand, will receive a discount from CAAD

CAAD balances staked will give weighted voting rights to proposals of it's project by [discord](We are very pleased to announce new value is coming to the coin in the following ways

Cardauctionz's safe trade service will require CAAD staked or CAAD will provide a discount

Insider win percentages and advanced market insight access provided to CAAD holder balances staked

Look for tournaments at Splinterlands that require CAAD staked in the future
Critical Information
CAAD's current Splinterlands holdings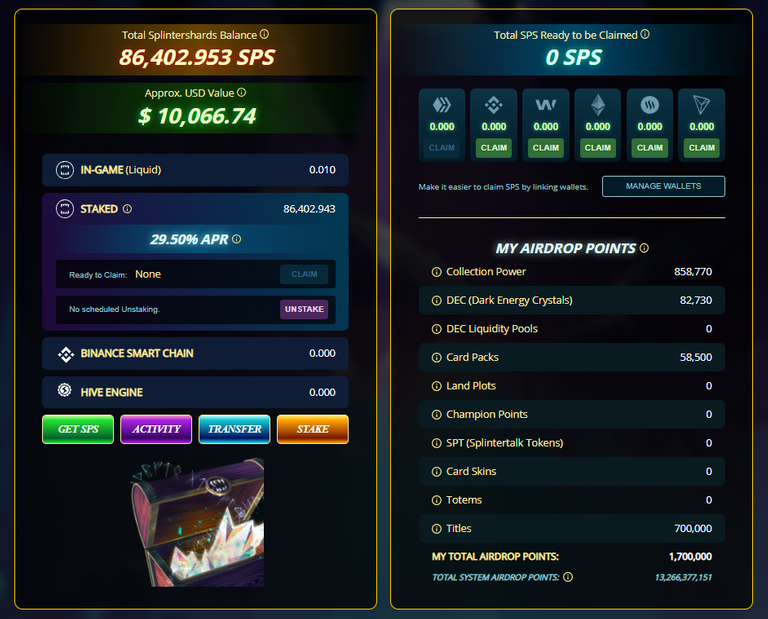 Profit sharing of Cardauctionz will be handled by adding splinterlands assets to the splinterlands account cardauctionzcom1 This is very transparent and it's easy for
us to post buy orders of hive for CAAD based on this accounts value
As with all development these improvements need time to happen.
Great news! Cardauctionz has taken on board an additional developer.
Also, a large investor has taken interest in our projects.
Very positive signs for our future!
TIMELINE / ROADMAP
The new developer has quoted our next big project, a splinterlands industry first, at being less than one month out. Done by 04/21/2022
Profit tracking software and customer tracking critical to profit sharing, best customer rewards, and the affiliate program will be completed by 05/07/2022
After this software completion we will release the timeline on completing the profit sharing, best customer rewards, and affiliate rewards.
The following are planned but do not have deadlines yet
Market accepting CAAD
Private auctions
Safe Trade escrow service
Advanced win and market statistics
If you have any questions catch me in live stream as I cover tournaments and advanced ladder play.
We appreciate you and a special thanks to all CAAD holders!
As always below is the largest discount of splinterlands card purchases in the industry. Are you missing a few cards? Well, get used to the biggest discount possible and soon our loyal customers will receive even more!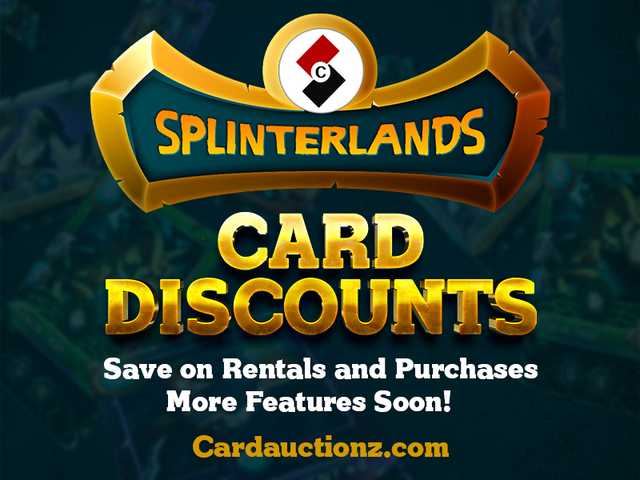 How to Login
Video Walk Through of Savings on Splinterlands Card Purchases
Use and Frequently Asked Questions for Cardauctionz
---
---