My new Chaos Legion Tournament now with Booster Prizes!– Join!


Hello everyone! Welcome! My new Splinterlands tournament is coming, and you should participate!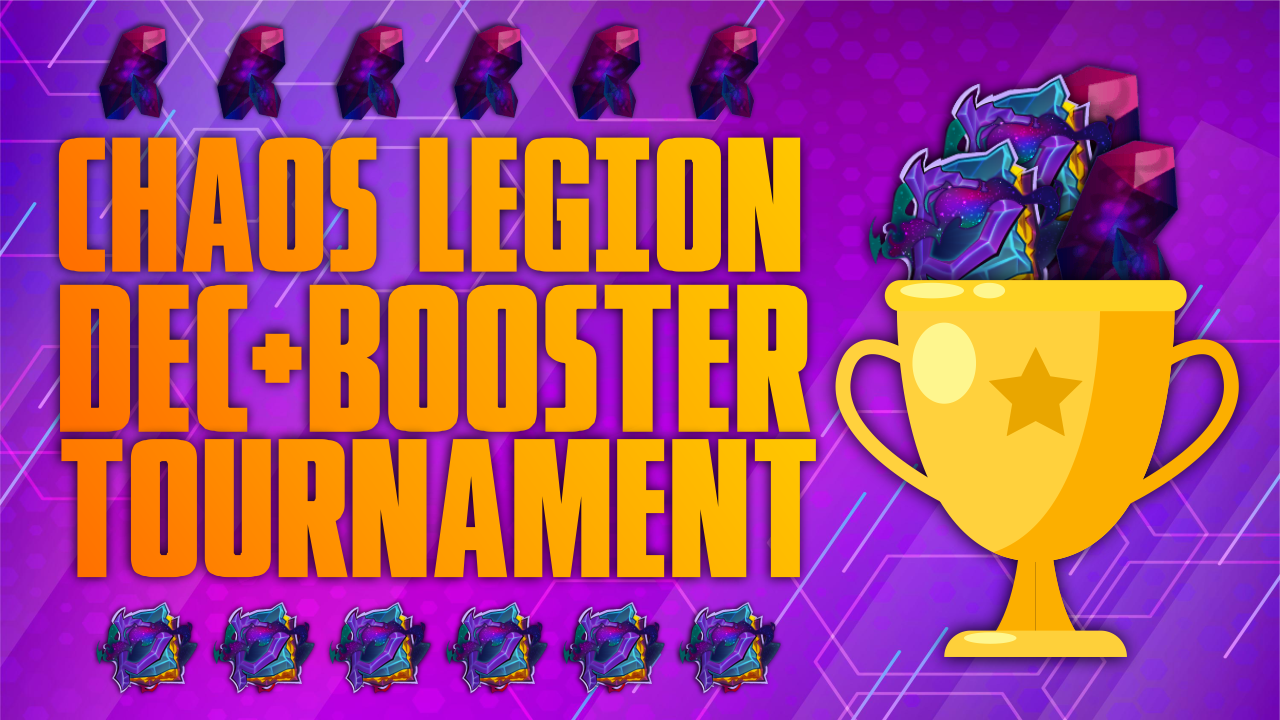 On May 20th, my "Chaos Legion DEC + Booster Packs!" is going to take place through the official Splinterlands events tab on the website.

It's a tournament made for new players. You can only use Untamed and Chaos Legion cards, but you can't use anything Legendary. Fee's 2 DEC only, so feel free to join! It's going to be a worthwhile experience for everyone.
Join the Fun Now: Chaos Legion DEC + Booster Packs!
You should join now instead of later, specially if you're still in Bronze league, since the entry fee rises from 2 DEC to 800 DEC if you join while you're in Silver league or higher. This should keep veteran players out, giving you a chance to shine!
Don't forget to bring an Epic set of Chaos Legion and Untamed cards if you can, rentals or owned, so you have a much higher chance at getting a higher score. Those are very cheap if you're renting.
It isn't a live tournament, so you'll have 24 hours to enter all your teams for each round. Make sure you rent for at least two days, so you have them for both round 1 and 2, which are only one day apart from each other.
It's okay if your rentals run out before the round is over, as long as you've already submitted your teams!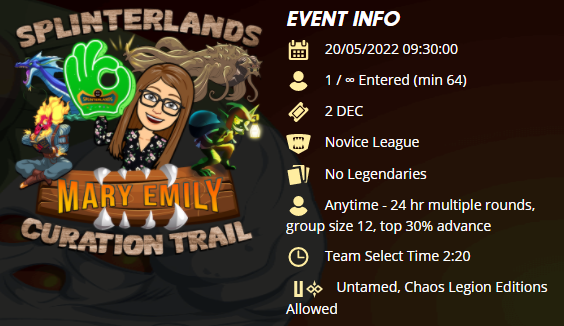 I've created approximately 30 tournaments in the past and intend to continue this successful project for a long time.
Anyone who wants to help me by donating anything (DEC, SPT, SPS, cards, packs) to help new players is very welcome, send me a message on Discord: marianaemilia#7527
Last but not least, have you entered my other tournament, which you still have time to join? It's about to start - begins May 1st. If you're up to the challenge, hurry up and join it here: Chaos Legion DEC Festival
I wish you all good luck and have fun with great battles. For more tournament news and battle analysis, stay tuned!
Thanks for reading and commenting, see you later.
---
See this post on Twitter
Join the fun now: Sign up here.

---
Images: @splinterlands & Cover image design by @legalizabrazil
---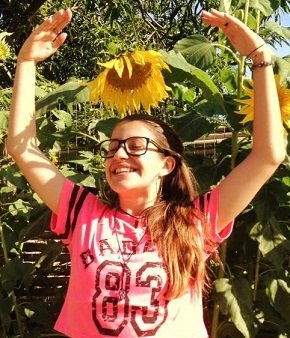 ---
Follow my Curation Trail on HiveVote; Join the widest and most profitable trail about Splinterlands and help reward the best content creators. Learn more here.

You can also delegate Hive Power and/or SPT to me; Enter to learn how
Thank you very much!

---
---
---