Splinterlands Update - brawls & account progress #2 (GER/ENG)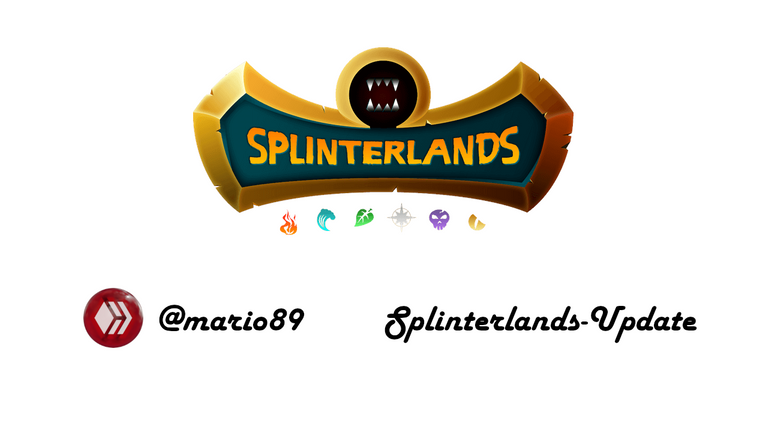 Intro
Seit meinem letzten Update vor 19 Tagen und dem Season-Report hat sich einiges getan, weshalb ich kurz auf die letzten Brawls und v.a. meinen Accountfortschritt eingehen möchte.
Since my last update 19 days ago and the Season Report a lot has happened, so I would like to briefly talk about the last brawls and especially my account progress.

Brawls
Overview
Ich war in den letzten drei Brawls wieder für die Legendary Dragon Eggs am Start.
I was back in the starting lineup for the Legendary Dragon Eggs in the last three Brawls.

Wir wurden 2x Erster und 1x Zweiter. Ich belegte jeweils Fray 1 und erspielte mit einer W/L-Ratio von 4,75 insgesamt 57 Punkte 🙂.

Mit meinem Zweitacc spielte ich nur bei zwei der letzten drei Brawls bei den Waranen mit.
We were 2x first and 1x second. I took Fray 1 each time and scored a total of 57 points 🙂 with a W/L ratio of 4.75.

With my second account I only played in two of the last three brawls with the monitor lizards.

Falls euch die Ergebnisse aller Legendary Dragons Gilden interessiert, könnt ihr diese in den Berichten von
@legendarydragons
sehen. Hier der
Link
des letzten Brawl-Berichts.
If you are interested in the results of all Legendary Dragons guilds, you can see them in the reports of
@legendarydragons
. Here is the
link
of the last Brawl report.
---
New Gladiators
Mit meinem Hauptacc konnte ich durch die drei Brawls und die vorher angesparten Merits drei weitere Gladiatorenpacks kaufen.
With my main acc, I was able to buy three more gladiator packs through the three brawls and the merits I saved up beforehand.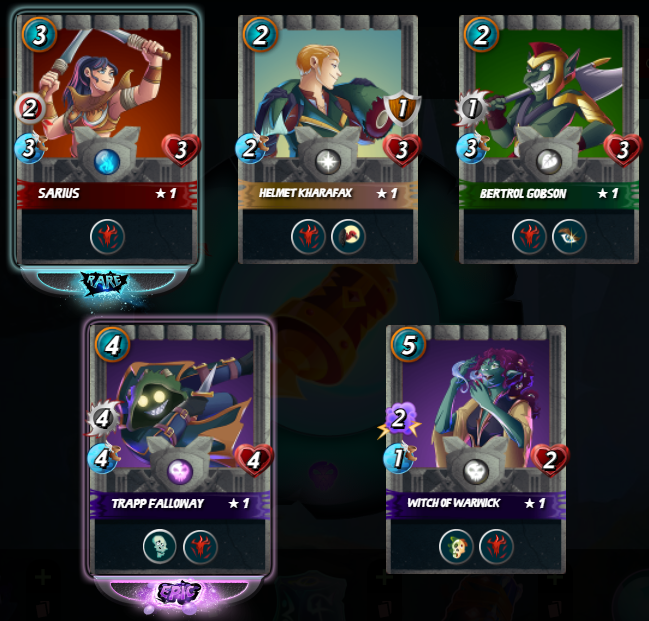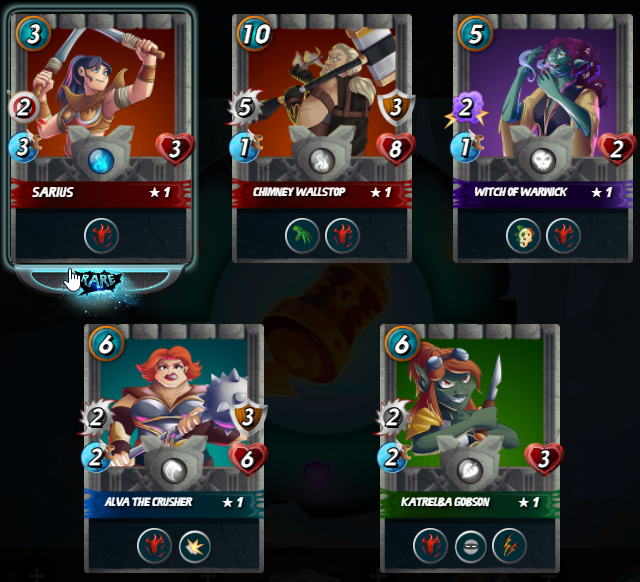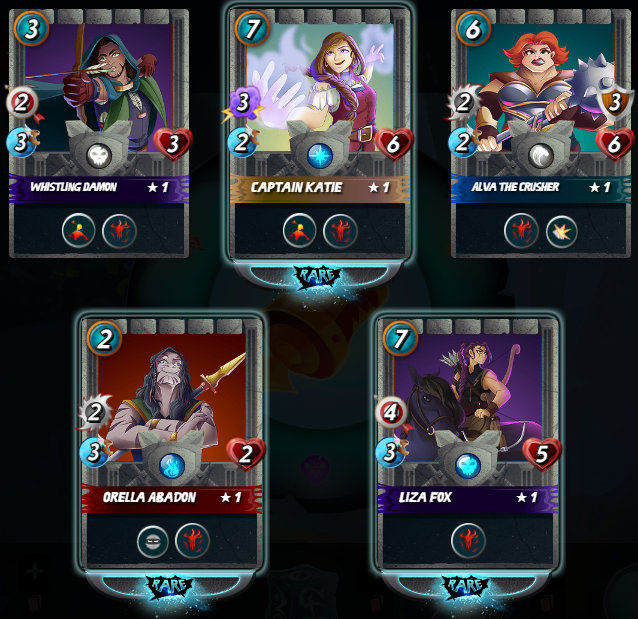 Mit meinem Zweitacc konnte ich das allererste Gladiatorpack kaufen.
With my secondary account I was able to buy the very first gladiator pack.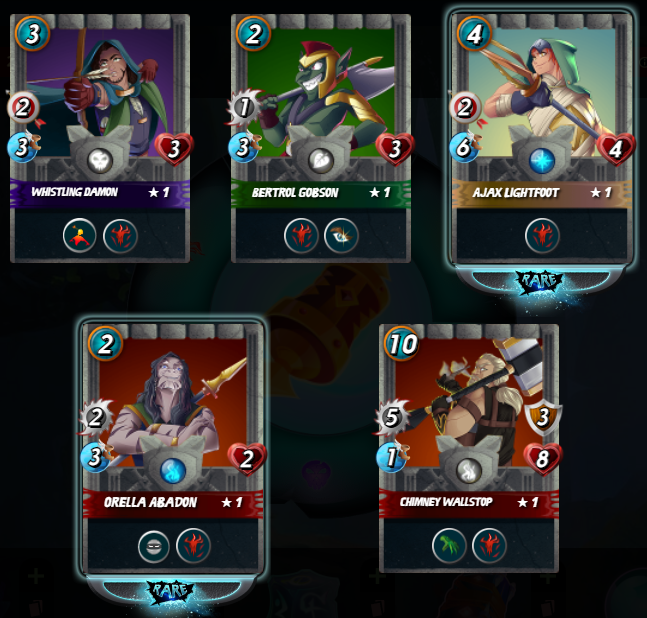 Dafür musste ich aber kurz von den Waranen zu den Eggs wechseln und war zu spät wieder zurück, so dass ich den letzten Brawl nicht spielen konnte. Beim nächsten kann ich dann je nachdem mit den ersten Gladiatoren in den Kampf 🙂.
For this, however, I had to switch briefly from the Warans to the Eggs and was back too late, so I could not play the last Brawl. The next I can then depending on the first gladiators in the fight 🙂.
---
My Fraycompleteness

Durch meine Kartenkäufe (siehe weiter unten) und den neuen Gladiatoren, bin ich nun auch wieder ein Stück besser für kommende Brawls aufgestellt.
Due to my card purchases (see below) and the new gladiators, I am now also a bit better positioned for upcoming brawls.
---
New Cards

Ich habe den Mai über einige neue Karten gekauft.

Zum einen habe ich mir, auf Grund der Rewardreduktion durch die Benutzung der Starterkarten, einige dieser Starterkarten in 1 BCX gekauft.

Zudem habe ich mein Deck weiter in Richtung Silber ausgebaut, damit ich bei Silberturnieren bessere Chancen habe und ggf. auch zukünftig in der Goldliga spielen kann. Mit meinem Bronzedeck war Silber 1 ja problemlos möglich.

Nennenswerte Käufe waren:
I bought some new cards over the month of May.

On the one hand, I bought some of these starter cards in 1 BCX, due to the reward reduction by using the starter cards.

In addition, I expanded my deck further in the direction of silver, so that I have better chances in silver tournaments and can possibly play in the gold league in the future. With my bronze deck silver 1 was possible without any problems.

Notable purchases were:
---
Summoner:
Quix the Devious - LVL 2
Thaddius Brood - LVL 3
General Sloan - LVL 3
Legendary Monsters:
Djinn Oshannus - LVL 2
Djinn Biljka - LVL 2
Harklaw - LVL 2
Lira the Dark - LVL 2
Chaos Dragon - LVL 2
Epic Monsters:
Pyromancer - LVL 2
Nerissa Tridawn - LVL 2
Wave Brood - LVL 2
Hunter Jarx - LVL 2
Djinn Renova - LVL 2
Magi Necrosi - LVL 2
Djinn Chwala - LVL 3

Zudem habe ich noch einige seltene und normale Monster auf Level 2-4 gebracht.

Durch die Käufe konnte ich meine CP des Hauptacc um 16.595 erhöhen.
I also brought some rare and normal monsters to level 2-4.

The purchases allowed me to increase my CP of the main acc by 16,595.
---
CP mario89: 55,260 (-5,340 Delegations)
CP maw89: 640 (+5,340 Delegations)

---
Beneficiaries
Wie beim letzten Update, gibt es auch heute wieder zwei Beneficiaries:
5%
@noctury
für die Legendary Stats
5%
@noko85
für die API-Unterstützung.
As with the last update, there are two beneficiaries again today:
5%
@noctury
for Legendary Stats.
5%
@noko85
for the API support.

Du spielst noch kein Splinterlands? - Mit dem folgenden Link kannst du das Spiel kostenlos ausprobieren:
https://splinterlands.com?ref=mario89
Falls du Spaß am Spiel findest und das Spellbook kaufst, bekomme ich einen kleinen Betrag von Splinterlands als Belohnung. Für dich entstehen dadurch keine Nachteile. Melde dich danach bei mir und du bekommst von mir Unterstützung bei deinen ersten Schritten im Spiel.
You don't play Splinterlands yet? - With the following link you can try the game for free:
https://splinterlands.com?ref=mario89
If you enjoy the game and buy the Spellbook, I will get a small amount from Splinterlands as a reward. There will be no disadvantages for you. Contact me afterwards and you will get support from me for your first steps in the game.
---
Alle Bilder in diesem Blog mit Spielinhalten sind von splinterlands.com und Screenshots von peakmonsters.com und legendarystats.

Keine Anlageberatung!
All pictures with gaming content in this blog are from splinterlands.com and screenshots from peakmonsters.com and legendarystats.

No financial advise!

Translated with www.DeepL.com/Translator (free version)
---
---