WEEKLY BATTLE CHALLENGE: NERISSA TRIDAWN
Hi Guys! It's me again masterzarlyn28 in the hive! For today's blog let's talk about Splinterlands Weekly Battle Challenge! This time the theme is from the Water Element - Nerissa Tridawn. We'll be talking about the stats of this common card monster, the rules during the battle, opponents and my team line up and lastly the strategy on how I win this battle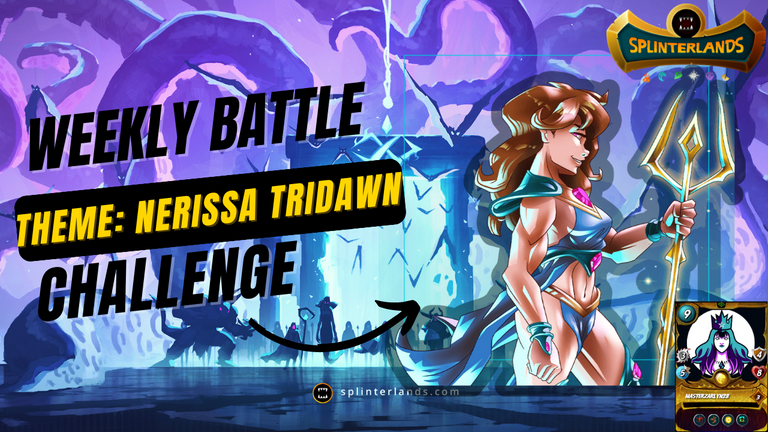 ---
ALL ABOUT NERISSA TRIDAWN
---
LORE
Nerissa is a proud warrior of the water. Armed with her enchanted trident, she defends the seas, the rivers, and the lakes. She is well known across coastal villages, and they often call on her for help. She has slain great sea beasts that would otherwise kill everyone in their path. She has rescued sailors from hurricanes, and even warned villages of incoming tsunamis to save lives. Her bravery and brilliance in battle have led to her being called Nerissa the Hurricane.
Nerissa was born and raised by the ocean, and could swim before she could walk. She always felt the sea called to her. And within her it stirred a deep magic. An ancient mana of tides and waves. Nerissa answered the call, and travels between the continents of the Splinterlands.
When settlers and explorers made their way to Praetoria, Nerissa was there to help with every step of the journey. But the blight that gripped the land worried her deeply. Its corruption spread into the waters that she loved so dearly. She often caught herself crossing paths with Igor the Finback and his tribe of Trench Dwellers. Each time she had to pull back or risk all of them attacking her at once.
When Nerissa learned of the deeper plot of the Chaos Legion, she vowed to defend Praetoria and its inhabitants with her life.
Reference: https://splinterlands.com/?p=card_details&id=390&gold=true&edition=7&tab=lore
STATS

A legendary water elemental mage monster, Nerissa Tridawn is called. It has an unbelievable health power of 9, a speed of 2, and a magic damage of 3 at levels 1 to 3. The level's stats likewise grow as the level does. At its highest level, magic has a 5, 3 speed, and 11 health power! Nerissa lacks abilities and armor, unlike other mage monsters, hence it is best to utilize it in battles with medium to high mana costs.
PRICE
FOR SALE CARDS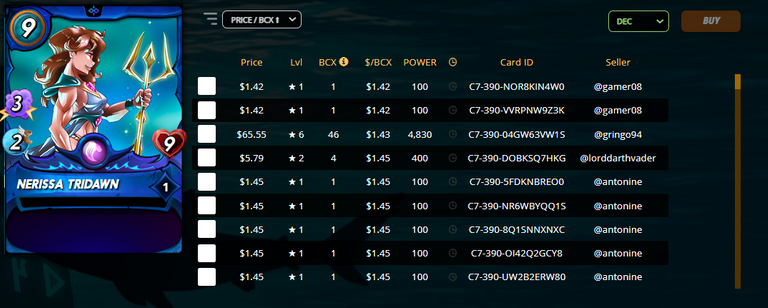 FOR RENT CARDS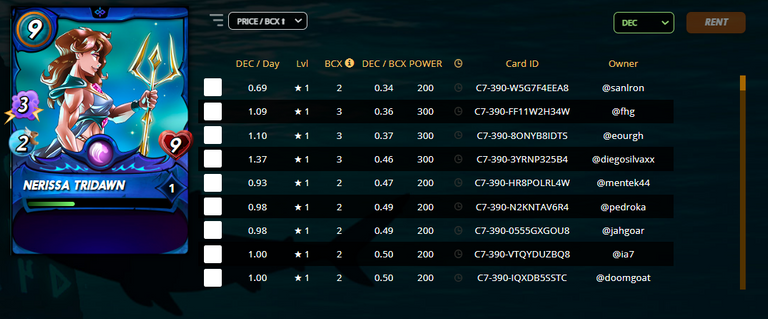 🚦THE RULE SET 🚦
MANA CAP: 99
ELEMENTS: FIRE, WATER AND EARTH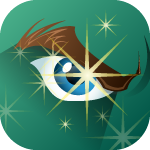 EQUAL OPPORTUNITY
All Monsters have the Opportunity ability.
Speed and HP is the trick here: higher speed will let you target enemy's low HP monster first, opening the way for your slower monsters to deal damage to higher HP enemy monsters. Keep lower HP monsters in front. Monsters who have two attack types should always be preferred.
---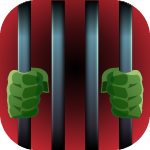 KEEP YOUR DISTANCE
Monsters with Melee attack may not be used in battles.
Keep no attack or higher HP monsters in the front. Keep higher speed Magic monsters with abilities like Flying, Dodge, Blind in the front.
Source: https://splintercards.com/rulesets
---
⚔️ MY TEAM ⚔️
Due to the "Keep your Distance" Rule, melee is not an option for this combat, leaving me with only two options: magic and ranged monster. Since Baakjira, a monster with no attack but many useful powers such as void, slow, and heal, is present, I decided to employ the water element. Baakhira is followed by three magic summoners, and I've added ranged monsters with the swiftness ability to the backline since they can help friendly monsters move faster when Equal Opportunity is in effect. River Hellondale was included on the team so that he may restore any monsters who perish throughout the game.

⚔️ OPPONENT'S TEAM ⚔️
The other team selected a magic and ranged monster combination, although the level is only one. Mommy moves quickly while the tank taunts, blasts, and heals the tank at the bank line. It used two ranged monsters and four magic monsters, but the placement of the ranged monsters—in the third position, which prevents him from attacking until he is in the first position—is rather peculiar.

⚔️ CARD POSITION ⚔️
FIRST POSITION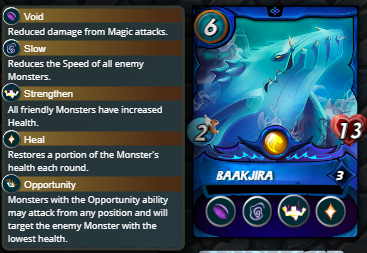 Since Baakjira is one of the best choice in the "Keep your Distance Rule," it is one of the best monsters that can act as a tank. It also has a slow ability that lowers the speed of the enemy monster and a void ability that decreases damage from magic attacks. While repairing itself from harm caused by the enemy, it boosts the health strength of the allying monster.
---
SECOND POSITION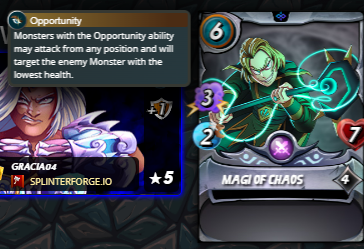 Support tank incase the first monster dies. Baakjira is followed by a magic monster from Neutral Element that gives 3 magic damage to the opponent. It has a good health power of 7 .
---
THIRD POSITION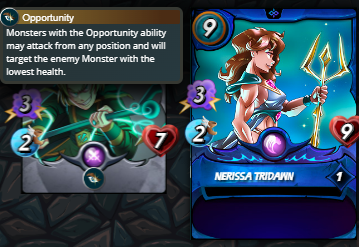 Our queen for this battle is here dealing 3 magic damage and supporting the 2nd monster with an incredible health power of 9. It has same damage and speed like Magi of Chaos.
---
FOURTH POSITION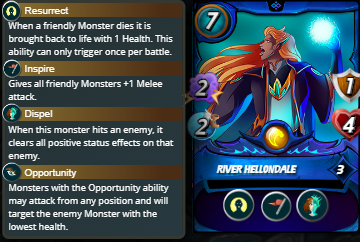 )
Another support creature revived a friendly monster by 1 health after it died. Additionally, it has the inspire ability, which is useless because melee monsters are not permitted in battle. He also has the dispel ability, which removes all favorable status effects on the adversary.
---
FIFTH POSITION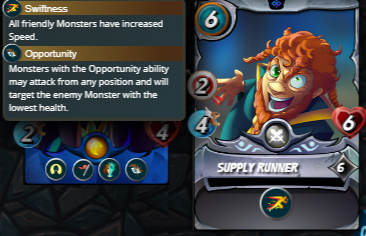 Speed is essential in this battle, thus a support monster that grants extra speed to all allied monsters is a strong tactic.
---
LAST POSITION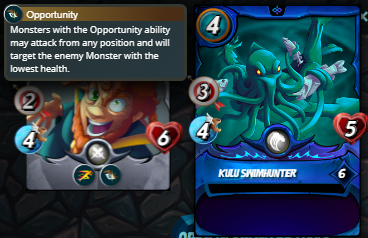 Speed is essential in this battle, thus a support monster that grants extra speed to all allied monsters is a strong tactic.

⚔️ BATTLE ⚔️
Due to its ability to target him before anybody else and taunt the entire team, it killed off the opponent's taunt monster in the first round. With barely 3 life, Nerissa didn't think twice about killing a ranged enemy, and it was knocked off with one strike! Regrettably, Goblin Psychic killed my River Hellondale as retaliation, and he is not capable of recovering.

For the second round, Opponent's monster are slowly dying and only few monster left to defend their team against my monster. but on Round 3, supply runner (opponent) already killed since it has only 1 health power left.

Only 1 monster left, Regal Peryton but does not have a chance to survive since my team still alive and intact. Sad to say regal peryton already flew away and lose the battle.

Battle Link:
https://splinterlands.com?p=battle&id=sl_54ac4f2ec80889d29cbe9a0d521d5dc6&ref=gracia04

Did your strategy work?
Yes, my strategy was successful because I made the right card decision during the battle. One of the best monsters in the game is Baakjira, who increases friendly monsters' health while reducing magic damage while added health power to friendly monsters. Supply Runner's swiftness ability helps the friendly monster avoid attacks, and dealing magic monster damage, which focuses the damage on a monster's health power, is a very effective tactic. What will you try differently next time?

Next time I will pair monster with heal ability since most of the enemy monster are magic monster which direct the damge to the health power. I will also include those magic reflect ability and aplify so that it can return the damage from the attacker.

That's all for now. Thank you for reading :)
---
---