Splinterlands - Activity Rising?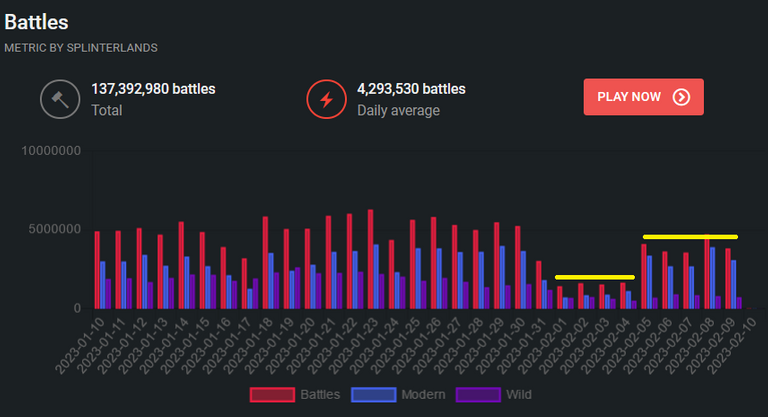 I have been hearing discussions recently on the growing activity in battles. Cover snapshot shows it is clear battles are ramping back up to pre-soulbound reward cards. So what could be the reason it dropped last week?
Best and most logical explanation I heard is that bot accounts doubled down in battles right before the reward cards switched and used up their ECR. It would take around 5 days to fully recover the bot's ECR, and that is exactly how long it took for the battle activities to rise.
It maybe apparent that bot accounts are also playing the game for the long term and will continue to operate to collect rewards. Whether this is ideal or not remains to be seen.
Overall Transactions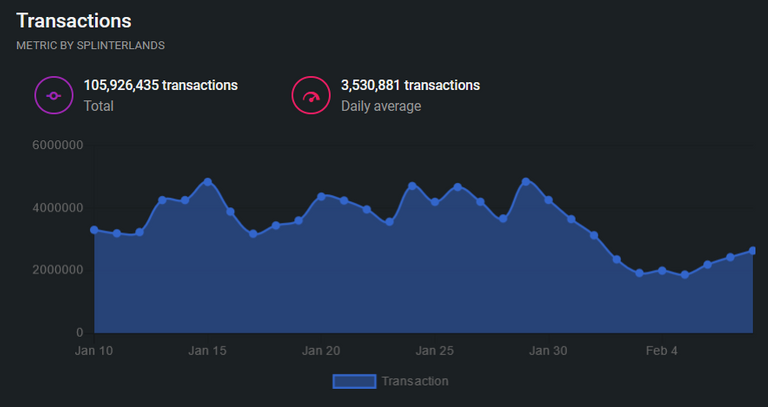 The overall transactions remains below pre-soulbound era, but is ticking up. This maybe due to rental transactions increasing as bots need to rent out cards. With this assumption it has brought me to think of what to do with my current rentals.
My earnings in rentals have substantially fallen since its peak about a year ago. The trend has been a steady decline and remains so. Even with running auto rental to adjust prices I have not been able to increase my rental earnings.

I have a lot of low level cards but the rental are yielding fractions of a DEC a day. It is benefiting bots who are trying to rental out cards for the cheap, meanwhile increasing bot's profitability in rewards.
Ending My Rentals
I have only a few of my 1000 cards out renting that yield majority of my rental income. I am leaning on removing most of my cards from rent and holding them just in the account. This will be my way to fend of bots from renting out my cards for low prices. In turn hopefully it means less rewards distributed to the bot accounts. However the drawback for me is I earn less daily DEC, which is not ideal but I am seeing this for the long run. Will keep you guys updated on how this goes.
Until next time thanks for reading!!!
https://images.ecency.com/p/HNWT6DgoBc1692QWn5trsLBYecSp3jKD1kzdmSDR4FGzPSXomkgLtisN5TzrwHTsD1D4ocqDPHpFztKzeH4ibh1vQVU3d3dSaB6VYJ1U3RdsSDi5spmdafX25ph.webp?format=webp&mode=fit
If you want to play splinterlands then SignUp Here
I have plenty of other cards for rent! Just go on peakmonsters and check out the market place and if you are curious what I offer here is a link:
If You have yet to take part in playing this great game called Splinterlands please click on my referral link. It is free but in order to earn real assets such as cards and token you would have to invest in a starter deck or purchase game cards. Join the discord to learn more. Good luck!

THANKS FOR READING! CONTINUE TO PLAY SPLINTERLANDS!

---
---