Splinterlands - Drawback With Hive Price Pump?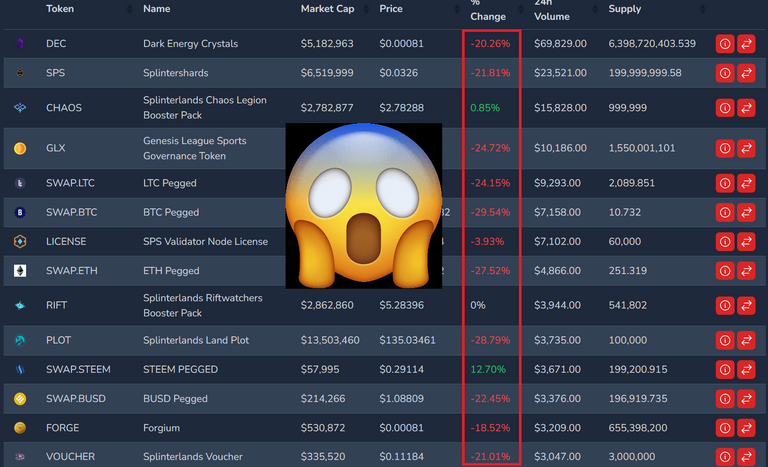 First off I want to point out I am as happy as many others who use Hive and see its price soar. With that being said what I talk about in this post is more towards what is occurring in the preset market.
Secondary Tokens Taking Hit?

With the value of Hive climbing it has pulled secondary tokens up to. For instance in game tokens such as DEC, SPS and Vouchers the $ value of each of these assets has also risen. On the other hand the rate of increase in tokens compare to Hive is actually slower. In fact it is closer to 20% less in increase causing holders of large summon of Splinterlands tokens to be losing value with respect to Hive.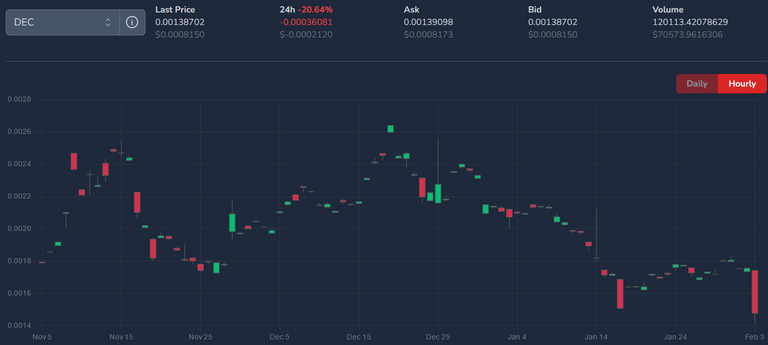 Take DEC for instance right now relative to Hive it has hit a low for the year and remains in a downtrend. For players like me who have held a lot of DEC right now we would be incurring significant lose if we traded the DEC into Hive. Of course on the flip side the more Hives we have the more DEC we get if traded.
Yet there are likely many players including me that have used Hive to trade for Splinterlands tokens or considered exchanging their tokens for Hive are somewhat trapped in paper losses as we moved out of Hive and into these tokens or were late to exchanging tokens for Hive. For instance with me all my saved vouchers and GLX tokens I had potentially planned to exchange for Hive is worse off now by a magnitude of -25%. This means if I had exchanged both my vouchers and GLX tokens a day earlier I would have gotten 25% more in Hive.
Hive Price Up End Goal
On the flip side with Hive price rise it brings increase in $ value to tokens. For DEC it has brought it closer to par value.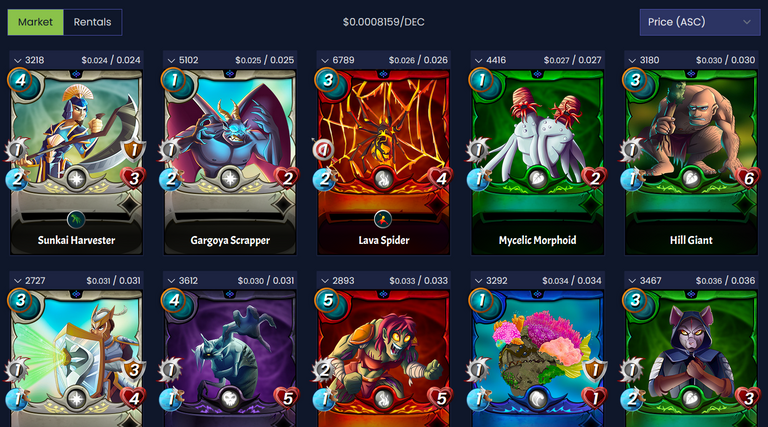 Use of DEC or SPS to purchase cards are now less than 24 hours ago and it has all thanks to do with Hive price rise.
If we were to look pass the price differences between Hive and Splinterlands tokens over the past 24 hours we can see mostly positives in the Splinterlands ecosystem. All assets beyond the in game tokens have risen in value as they are sold at higher $ value even thou less tokens spent. If we do not exchange out of tokens and into Hive it would be a net positive. For me I prefer it this way since often I exchange Hive into tokens to purchase more cards. Now the exchange rate makes it extremely attractive to switch into more Splinterlands tokens than Hive.
Until next time thanks for reading!!!
https://images.ecency.com/p/HNWT6DgoBc1692QWn5trsLBYecSp3jKD1kzdmSDR4FGzPSXomkgLtisN5TzrwHTsD1D4ocqDPHpFztKzeH4ibh1vQVU3d3dSaB6VYJ1U3RdsSDi5spmdafX25ph.webp?format=webp&mode=fit
If you want to play splinterlands then SignUp Here
I have plenty of other cards for rent! Just go on peakmonsters and check out the market place and if you are curious what I offer here is a link:
If You have yet to take part in playing this great game called Splinterlands please click on my referral link. It is free but in order to earn real assets such as cards and token you would have to invest in a starter deck or purchase game cards. Join the discord to learn more. Good luck!

THANKS FOR READING! CONTINUE TO PLAY SPLINTERLANDS!

---
---