Splinterlands - Land Expansion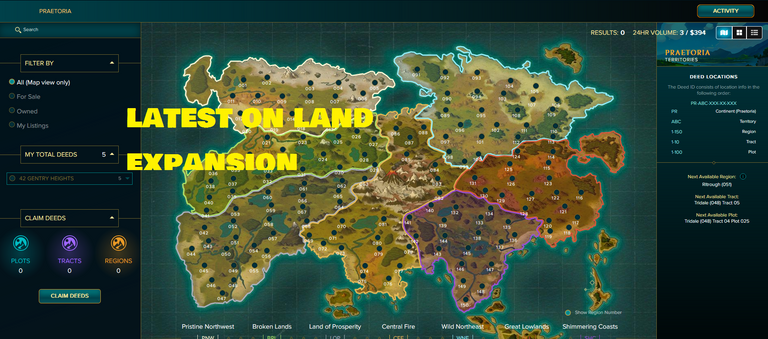 It was not obvious on first glance that the highly anticipated Land Expansion has for current offerings but taking a little time to actually look into it that we have some things to look forward to in the coming weeks.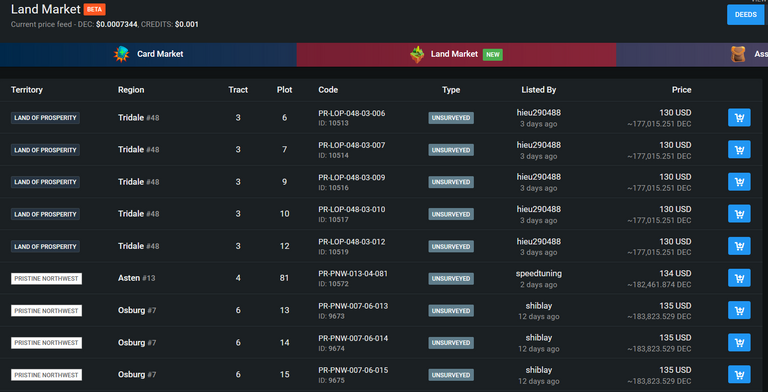 The open market for plot lands is much more detailed now than just a few weeks ago. Now there is visibility on the land's location from an overall map of 7 continents and a number associated to the specific plot.
Snapshot above is my current land plots that I own and are unsurveyed. The next big update will be the unveil of surveying plot lands and the updates are apart of one of the game's current proposal that will likely pass.
Proposal #23

The short of this proposal is that introduction of starter packages that will become available to purchase for use of surveying and upgrading one's land plots. The currency of choice in order to purchase the new package really comes down to DEC-B since it will not only be the first opportunity to use the new token but also be more cost effective to be spending the token versus DEC itself.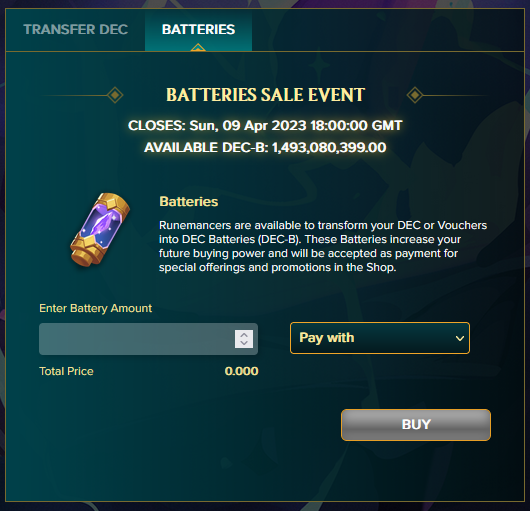 With a little under 75% of the DEC-B remaining to be offered I decided to spend my accumulated Vouchers to convert to DEC-B. Mainly this was done to prepare for the upcoming starter pack sales. I had around 34 Vouchers and exchanged it for 6,800 DEC-B. The goal is to hit 10k DEC-B before the starter packs roll out.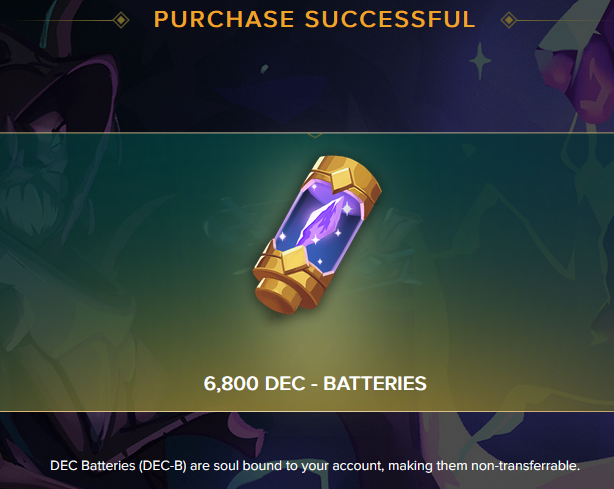 To regurgitate proposal #23 pack offerings I am looking forward to the purchasing boxes to capture upgrading my land plots. Each box would cost 10k DEC or 10k DEC-B. Hence the reason I prefer to save up DEC-B now as there is a 20% discount relative to DEC value. In addition to boxes there are time vaults and unstable tokens that will also be offered at 10k DEC-B each.
Link to proposal details here:
https://peakd.com/@splinterlands/sps-governance-proposal-offer-land-starter-packages-for-sale-by-burning-dec-dec-b
When is Phase 2 of Land Expansion
In quarter 1 of 2023. With only one and half month left of quarter 1 it will likely be in the next few weeks we will see the new pack offerings. This is why I am preparing for their release now by saving up on DEC-B.
For years players of Splinterlands have been waiting for the most anticipated upgrade in that of Land Expansion. It is great to see the steady news and updates and I look forward to the next phase. Are you ready and preparing too?
Until next time thanks for reading!!!
https://images.ecency.com/p/HNWT6DgoBc1692QWn5trsLBYecSp3jKD1kzdmSDR4FGzPSXomkgLtisN5TzrwHTsD1D4ocqDPHpFztKzeH4ibh1vQVU3d3dSaB6VYJ1U3RdsSDi5spmdafX25ph.webp?format=webp&mode=fit
If you want to play splinterlands then SignUp Here
I have plenty of other cards for rent! Just go on peakmonsters and check out the market place and if you are curious what I offer here is a link:
If You have yet to take part in playing this great game called Splinterlands please click on my referral link. It is free but in order to earn real assets such as cards and token you would have to invest in a starter deck or purchase game cards. Join the discord to learn more. Good luck!

THANKS FOR READING! CONTINUE TO PLAY SPLINTERLANDS!

---
---