Splinterlands - My Account August Review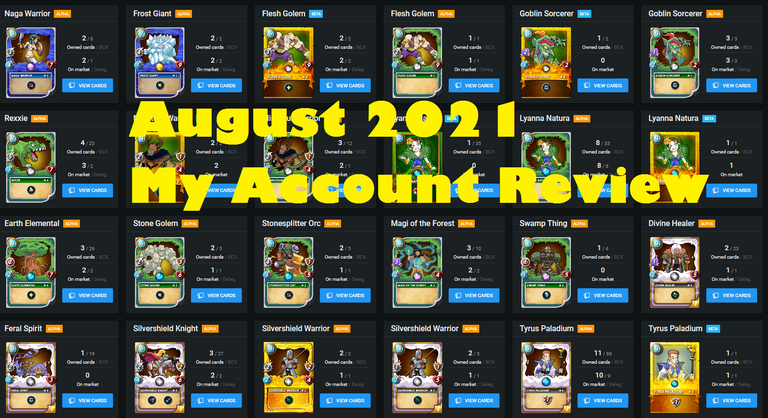 A little over three years ago was my first ever experience of Splinterlands. With the above snap shot of my current total holding I can say it was well worth the time. I have invested in many crypto projects but Splinterlands has been my best in ROI. I hope the journey continues to rise to greater heights.
Card Collection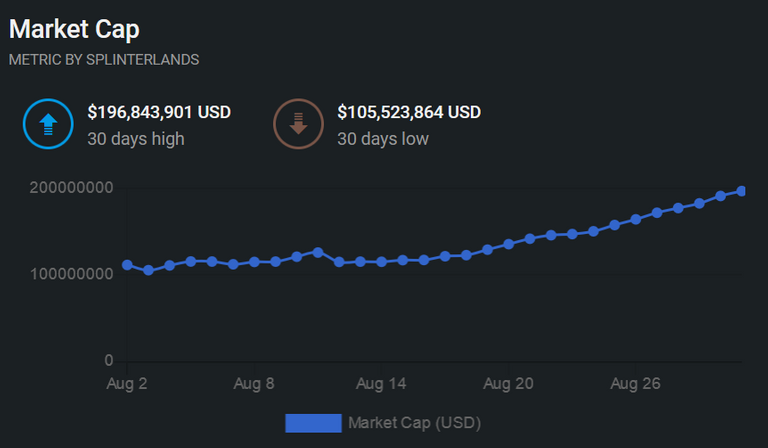 For the full month of August I have not purchase nor sold any cards in my collection. I earned reward cards to increase my collection power a little but that is all.
Card Skins
With packs all but sold out in game the only items left to purchase where potions and skins. I have earn a lot of potions through reward chests so I spent some DEC on skins.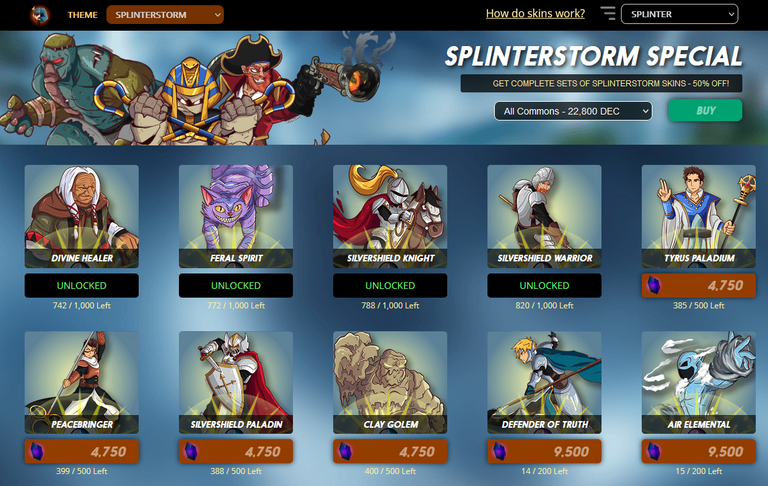 As of now the Splinterstorm is the only set of skins being offered. I prefer to buy in bulk but missed out on the Epic and Legend series as they have been sold out. I did purchase the common series for 22,800 DEC which at current DEC prices its around $160. For the rare set it is 54,150 DEC so nearly $400. I have my eyes set for that but at the same time I wish hold DEC to earn more SPS.

A little over 1 month into the SPS daily airdrop I have now staked a little over 4k SPS. I look forward to continue growing my SPS stake.
Goals for September
The % APR on SPS is dropping rapidly as it is now under 150%. I still will continue staking SPS until I get to 10k. Goal for end of September is to get near that value.
My deck collection is still under 1,000,000 in DEC burn rate. After almost a full year I have not went over the number and stay there long. This is still a set goal but I am not sure if I can hit it by end of September. The price of cards is pretty high with the lack of packs. I will wait until new game packs are available to try to push through the million DEC burn rate.

I would be mistaken not to mention the income earn in lending out cards in the past month. It has been amazing ROIs on days prior to end of a season but overall the income from rentals varies a lot, from single digit % up to 200% and more. For my my whole amount of rental is hitting near 25% of my entire collection. This means if I rent out the same amount of cards at current prices it will take me four years to obtain the exact DEC burn rate value of my collection. This return and still own the cards is one reason why card prices continue to soar.
Until next time thanks for reading!!!
If you are interested to learn more about Splinterlands please go through some of my other posts. Order is from newest to oldest posts:
All You Want To Know About Reward Chests
Helpful Links for New and Veteran Players
Splinterlands Good Cards To Own
Splinterlands Rentals from a Lender Perspective
I have plenty of other cards for rent! Just go on peakmonsters and check out the market place and if you are curious what I offer here is a link:
If You have yet to take part in playing this great game called Splinterlands please click on my referral link. It is free but in order to earn real assets such as cards and token you would have to invest in a starter deck or purchase game cards. Join the discord to learn more. Good luck!

THANKS FOR READING! CONTINUE TO PLAY SPLINTERLANDS!

---
---