Yodin Fan Art Animation || Art Contest [ENG-ESP]

This animation came to me as a simple idea, I had planned to do an illustration of Yodin to participate in the Splinterlands art contest. Maybe animate the character a bit, but one thing led to another and I ended up doing a rather more complex animation. Initially, I love the design of the character and the card within the game, possibly one of the best Summoners (although I have not played with it yet). On the other hand because I would love to work in Splinterlands (it would be my dream job!) And a more developed animation of a character like Yodin would be an excellent piece to add to my portfolio. I'm very satisfied with the result.
Esta animación surgió como una idea sencilla, tenía pensado hacer una ilustración de Yodin para participar en el concurso de arte de Splinterlands. Tal vez animar el personaje un poco, pero una cosa llevó a la otra y terminé haciendo una animación bastante más compleja. Por un lado porque me encanta el diseño del personaje y la carta dentro del juego, posiblemente uno de los mejores Summoners (aunque aun no jugué con él). Por otra parte porque me encantaría trabajar en Splinterlands (sería mi trabajo soñado!) y una animación más desarrollada de un personaje como Yodin sería una excelente pieza para añadir a mi portfolio. Estoy muy satisfecho con el resultado.
Here another version, in vertical resolution (1080x1920px)
Aquí otra versión, en resolución vertical (1080x1920px)
---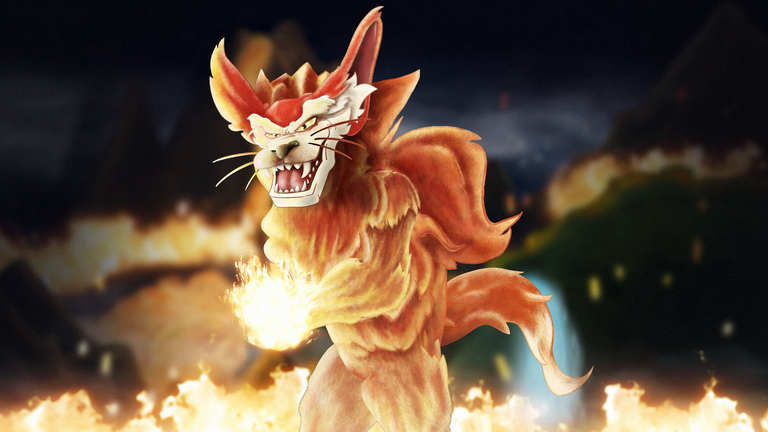 First I did an illustration in Adobe Photoshop by Yodin, separating it into layers. This is very important to later animate it in After Effects. We have to plan well what we are going to need. Since I had already decided that it would be an American shot, I did not need to draw the lower legs or the feet.
En primer lugar hice una ilustración en Adobe Photoshop de Yodin, separándolo en capas. Esto es muy importante para después animarlo en After Effects. Hay que planear bien qué vamos a necesitar. Como ya había decidido que sería un plano americano, no necesité dibujar la parte baja de las piernas ni los pies.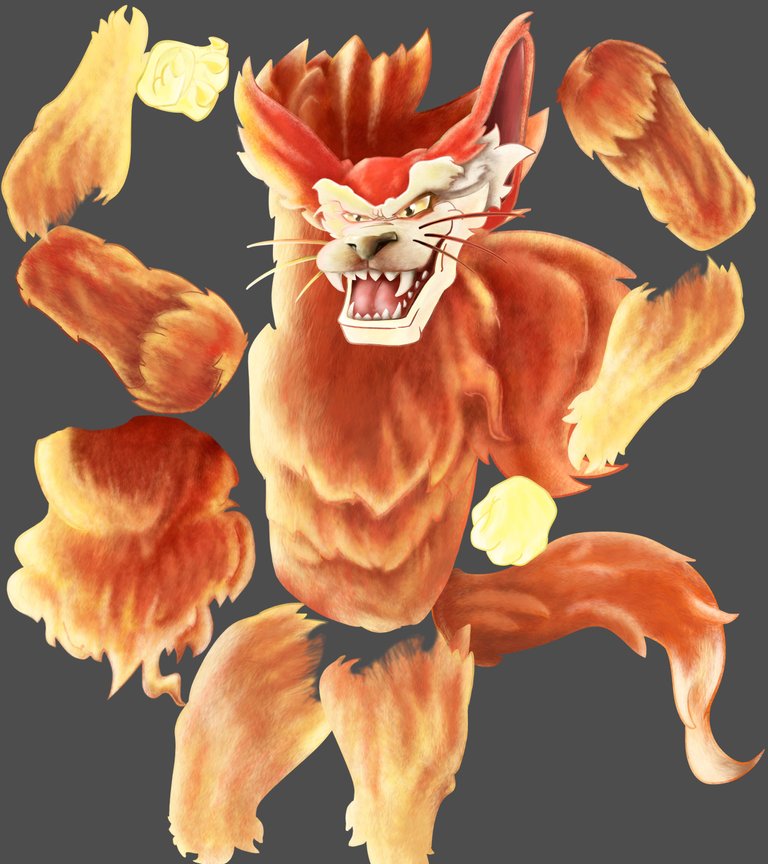 In After Effects after correctly ordering the layers, correcting some proportion and placing the anchor points (very important because from that point the layers will rotate) I began to animate the character. Something simple, the character preparing to strike forward.
En After Effects luego de ordenar correctamente las capas, corregir alguna proporción y colocar los puntos de anclaje (muy importante porque desde ese punto girarán las capas) comencé a animar al personaje. Algo sencillo, él preparándose para dar un golpe hacia el frente.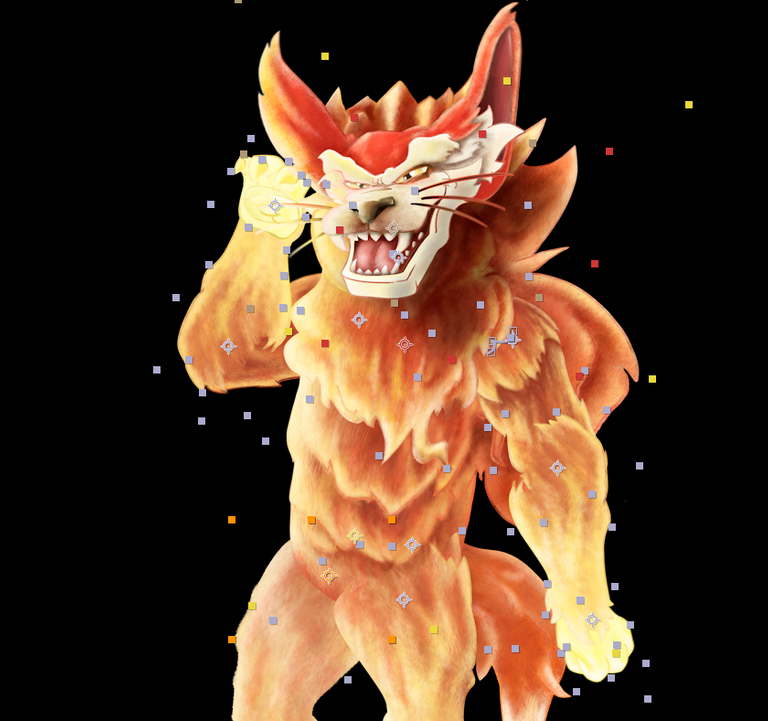 To achieve this I needed to place a lot of puppet pins. These pins stretch the layer, as if it were a 2D mesh. I had to manage facial expressions and achieve the effect of a thick hair with the illustration that I had. It is very important to understand that such a volume of hair takes time to move and when it reaches its destination the inertia causes it to continue moving. The same is true of other parts of the body, of course.
Para lograr esto necesitaba colocar muchos pines (puppet pin). Estos estiran la capa, como si fuera una malla 2D. Tenía que manejar las expresiones faciales y lograr el efecto de un abundante pelo con la ilustración que tenía. Es muy importante entender que semejante volumen de pelo tarda en desplazarse y cuando llega a destino la inercia provoca que siga moviéndose. Lo mismo sucede con otras partes del cuerpo, desde luego.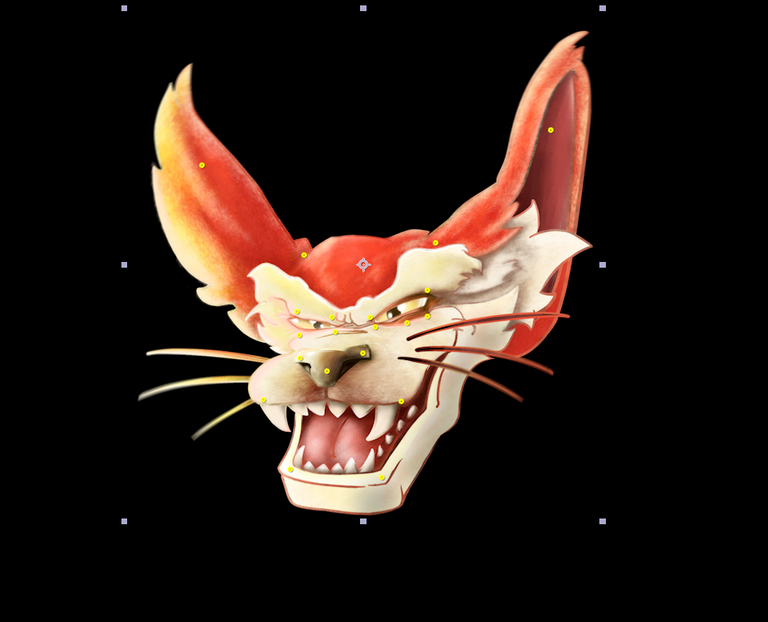 I plan to leave black background at first adding just fire and smoke, but something was missing. So I decided to illustrate something similar to the background we see in the game, but at night, set on fire by Yodin himself. Then he intimidates us by looking at the camera, breaking the fourth wall and throwing a fireball at us, then I was telling a story with a little animation. Everything was taking better shape.
Pensaba dejar fondo negro en un principio, agregar solo fuego y humo, pero faltaba algo. Así que decidí ilustrar algo parecido al fondo que vemos en el juego, pero de noche, incendiado por el propio Yodin. Luego él nos intimida mirando a cámara rompiendo la cuarta pared y nos tira una bola de fuego, ahora estaba contando una historia con una pequeña animación. Todo iba tomando mejor forma.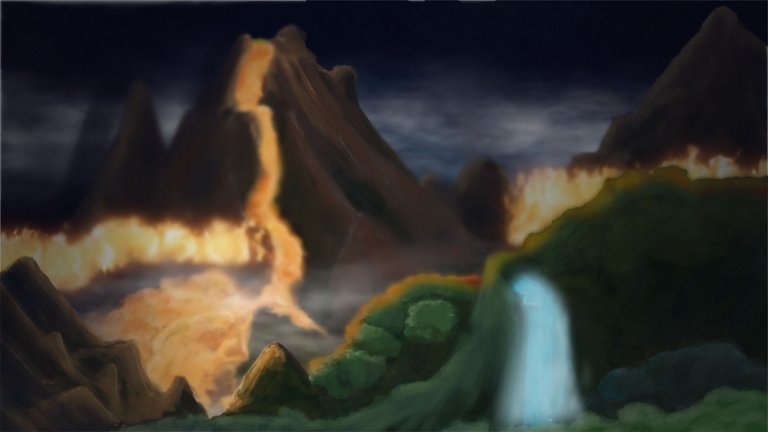 For the background I also decided to animate the waterfalls and the lava in the back, I had to attenuate their relevance to later highlight the character. I animated the clouds and the fire (with sparks and the turbulent displace effect to give the effect of hot air).
Para el fondo además decidí animar las cataratas y la lava del fondo, tenía que atenuar su relevancia para destacar luego al personaje. Animé las nubes y el fuego (con chispas y el efecto turbulent displace para dar efecto de aire caliente).
Finally I had to add the fireball that he's throwing and that covers the entire screen. I had already solved most of this work before because Yodin has those fireballs in his hands. Achieving realistic fire took a while since several effects must be combined in After Effects, but the main ones are: Fractal Noise, Turbulent Displace and Curves (to colorize).
Finalmente tenía que agregar la bola de fuego que lanzaba y que cubría toda la pantalla. Ya había resuelto la mayor parte de este trabajo anteriormente porque Yodin tiene esas bolas de fuego en las manos. Lograr el fuego realista llevo un tiempo ya que deben combinarse varios efectos en After Effects, pero los principales son: Fractal Noise, Turbulent Displace y Curves (para dar color).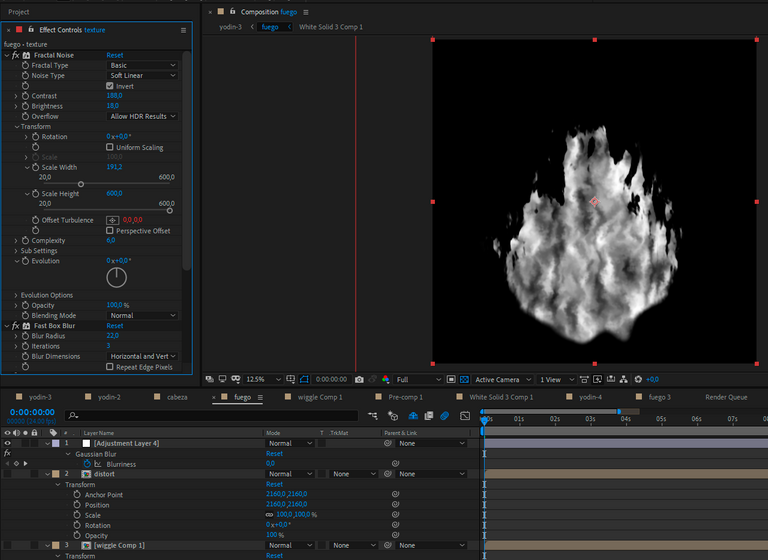 It remained to animate the logo and add sound. For the logo I wanted it to be 3D so I duplicated the layer about 40 times and moved them with an expression one point each. So now I already had the 3D logo that I gave movement to by animating a camera. As for the sound, they are all free audios and the music is what we listen to in Splinterlands, I hope that using them to make this fan art is fine, if not, I would appreciate if you tell me to modify it!
Por último quedaba animar el logo y agregar sonido. Para el logo quería que sea 3D así que dupliqué la capa unas 40 veces y las desplacé con una expresión un punto a cada una. De manera que ahora ya tenía el logo en 3D al que di movimiento animando una cámara. En cuanto al sonido son todos audios libres y la música es la que escuchamos en Splinterlands, espero que utilizarlas para realizar este fan art esté bien, de no ser así agradecería que me digan para modificarlo!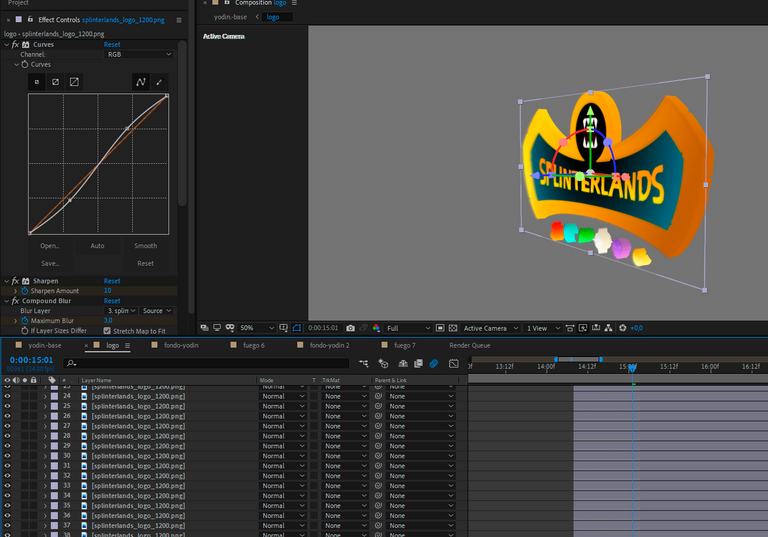 Broadly speaking, that would be the procedure. In a few days I'm going to add another post because I think streamers and tubers can use the background art and logo animation, even making a 4k or vertical wallpaper. And maybe if you are interested, I will comment in more detail on the process.
A grandes rasgos ese sería el procedimiento. En estos días voy a hacer otro post porque creo que le pueden servir a los streamers y "tubers" el arte del fondo y la animación del logo, incluso hacer algún wallpaper 4k o vertical. Y tal vez si les interesa comento más detalladamente el proceso.
---
GIF Versions
---
---