[Eng/Esp] Sharing my weekly battle challenge: Temporal Master

Hello everyone in the Splinterlands community! / Hola a todos en la comunidad de Splinterlands!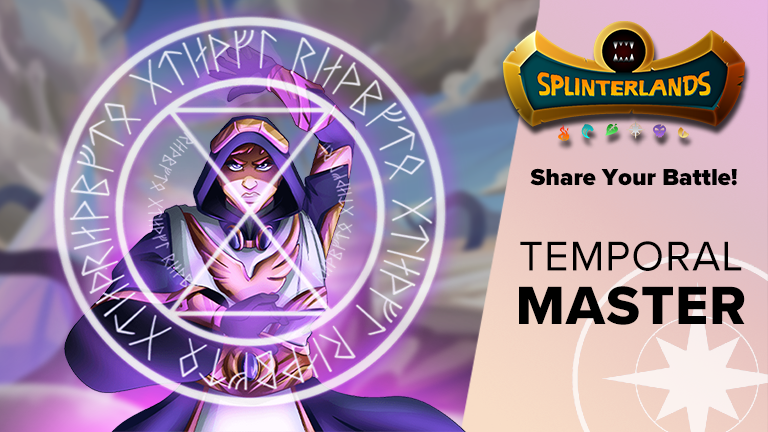 English Version:
Today I want to share with you this new battle for the weekly challenge, where the main card will be Temporal Master, a new creature from the region of chaos. It has a new ability, Recharge, that despite having a magic attack point, when recharging a turn, it launches a 3-point magic attack, something that if combined with a good formation, added to its few summon points, can end up being very interesting.
Before this challenge, I honestly didn't know about this card, because in addition to not having it, it is also not enabled to use it like other cards from this region, so looking to expand my possibilities, I bought it without hesitation, jajaja.
If you want to see the complete battle, here is the link: see battle.
Without much else to add, this was the formation I used in battle:
Versión en Español:
Hoy quiero compartir con ustedes esta nueva batalla por el reto semanal, donde la carta protagonista será Temporal Master, una nueva criatura de la región del caos. Está cuenta con una habilidad nueva, Recarga, que pese a tener un punto de ataque mágico, al recargar un turno, lanza un ataque mágico de 3 puntos, algo que si se combina con una buena formación, sumado a sus pocos puntos de invocación, puede terminar siendo muy interesante.
Antes de este reto, sinceramente desconocía está carta, pues además de no poseerla, tampoco está habilitada para usarla como otras cartas de esta región, por lo que buscando expandir mis posibilidades, la compré sin dudar, jajaja.
Si quieren ver la batalla completa, aquí les dejo el link: ver batalla.
Sin mucho más que agregar, está fue la formación que utilice en la batalla:

My Formation for this battle / Mi Formación para esta batalla:
As a Summoner / Como Invocador: General Sloan.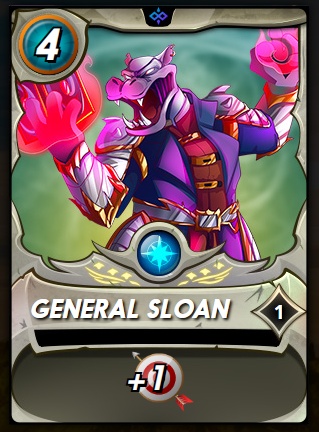 Seeing that I needed more attack power in my build, it was very clear that I had to play this summoner, since looking at the amount of mana in the game, I thought it would be a short or long duel.
Viendo que necesitaba más poder de ataque en mi formación, fue muy claro que tenía que jugar con este invocador, ya que viendo la cantidad de puntos de maná de la partida, pensé que sería un duelo corto o muy extenso.
---
In First Position / En Primera Posición: Shieldbearer.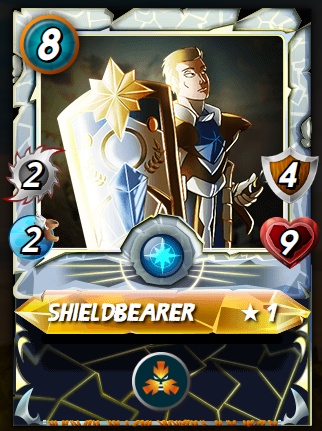 As in all my life type formations, this card is my quintessential tank, since thanks to its ability and the possibility of regenerating its health points, my creatures in the second line will be able to better develop their attacks.
Como en todas mis formación de tipo de vida, mi tanque por excelencia es esta carta, ya que gracias a su habilidad y la posibilidad de regenerar sus puntos de salud, mis criaturas en segunda línea podrán desarrollar mejor sus ataques.
---
In Second Position / En Segunda Posición: Gargoya Scrapper.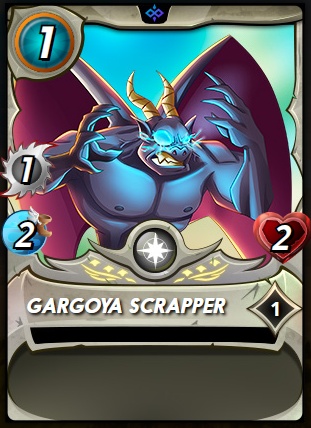 Thinking that I had no more mana points left, this card is always the best option to move my cards with far damage away from the first position, even for a turn...
Pensando en que no me quedaban más puntos de maná, está carta es siempre la mejor opción para alejar mis cartas con daño lejano de la primera posición, aunque sea por un turno...
---
In Third Position / En Tercera Posición: Scavo Hireling.
Using this card to repair my Shieldbearer's shield is already a must for me, and while it wasn't that useful in this game, placing it here also allows me to create another barrier between my ranged damage cards and the front of the build.
Usar esta carta para reparar el escudo de mi Shieldbearer ya es algo indispensable para mí, y aunque en esta partida no fue tan útil, posicionarla aquí también me permite crear otra barrera entre mis cartas con daño lejano y la primera posición de la formación.
---
In Fourth Position / En Cuarta Posición: Venari Crystalsmith.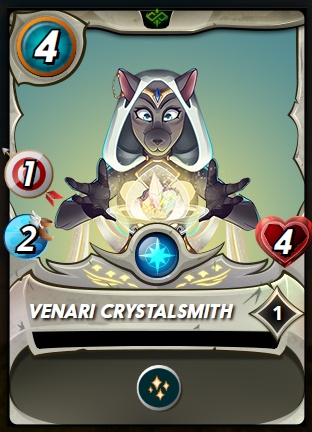 This is another classic card in my classic life build, as it takes advantage of my summoner's increased power, along with having the Heal Tank ability, which increases the toughness of my Shieldbearer.
Esta es otra carta clásica en mi formación de vida clásica, pues aprovecha el aumento de poder de mi invocador, sumado a que cuenta con la habilidad Sanar al Tanque, lo que aumenta la dureza de mi Shieldbearer.
---
In Fifth Position / En Quinta Posición: Pelacor Arbalest.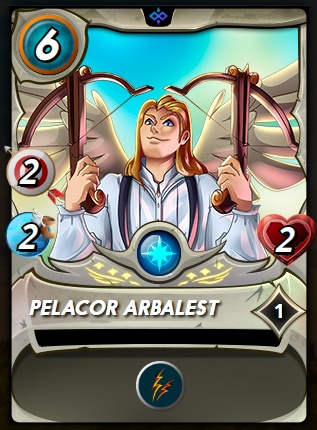 This card is my main offensive card, because with its ability and the increase of my summoner, this creature has a bestial damage, although it is in this position due to its low health points.
Esta carta es mi principal baza ofensiva, pues con su habilidad y el aumento de mi invocador, esta criatura cuenta con un daño bestial, aunque está en esta posición por sus pocos puntos de salud.
---
And in Last Position / Y en Última Posición: Temporal Master.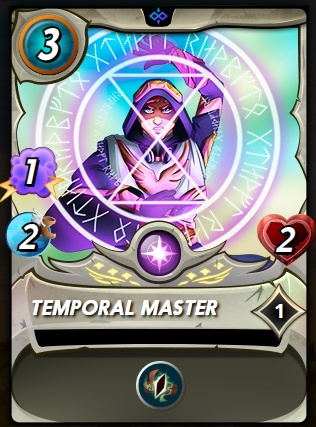 Finally, I played the main card at the end, because despite not having many health points, my priority is to defend Pelacor Arbalest, plus thanks to my tank, I don't have to worry about so many attacks on the card in last position, jajaja.
Por último, jugué a la carta protagonista al final, pues pese a no tener muchos puntos de salud, mi prioridad es defender a Pelacor Arbalest, además de que gracias a mi tanque, no tengo que preocuparme por tantos ataques a la carta en última posición, jajaja.

It's time for battle! / ¡Es hora de la batalla!
We had 29 mana points for summoning, and as a condition there were none. There was also no limitation with the type of cards to be used.
Teníamos 29 puntos de maná para invocación, y como condición no había ninguna. Tampoco hubo limitante con el tipo de cartas a utilizar.

My opponent played with a death-type formation, which is normal in games with these mana points, as it is a very correct way to stop ground formations, and thanks to my battle history, I suppose my rival sensed that I I would use that deck.
Mi oponente jugó con una formación de tipo muerte, algo normal en partidas con estos puntos de maná, pues es una forma muy correcta para frenar a la formaciones de tierra, y gracias a mi historial de batallas, mi rival me supongo que intuyó que yo utilizaría ese mazo.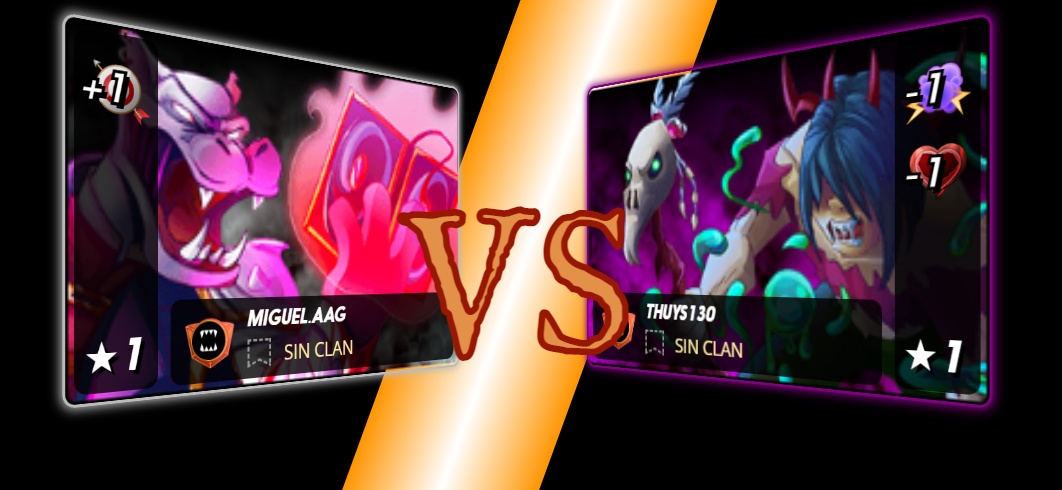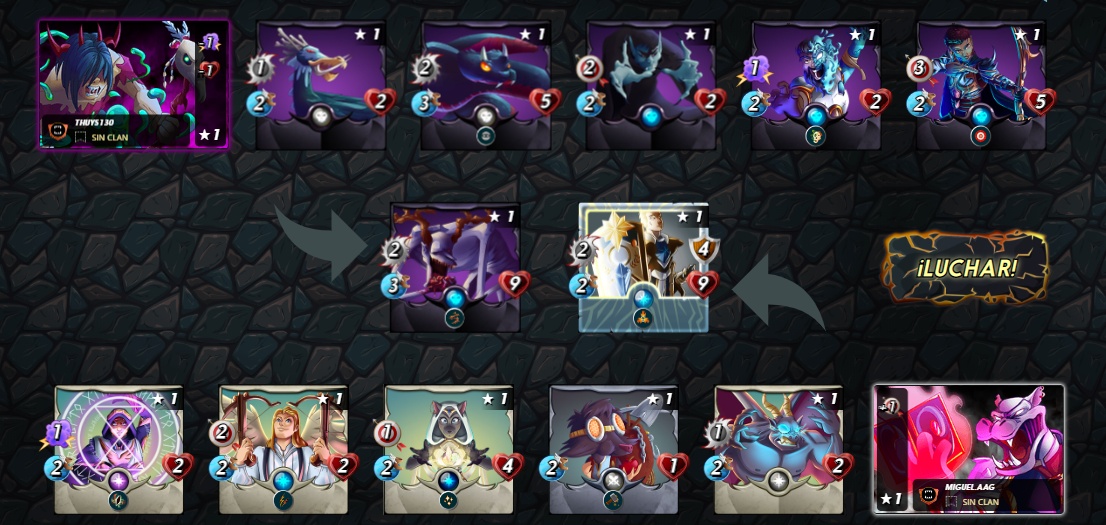 At the end of the effects of the summoners and monsters, my opponent's cards did not undergo any change, while mine became very weak at the level of health points, so my Shieldbearer gained much more importance in my team.
Al final de los efectos de los invocadores y los monstruos, las cartas de mi rival no sufrieron ningún cambio, mientras que las mías se hicieron muy débiles a nivel de puntos de salud, por lo que mi Shieldbearer ganó mucha más importancia en mi equipo.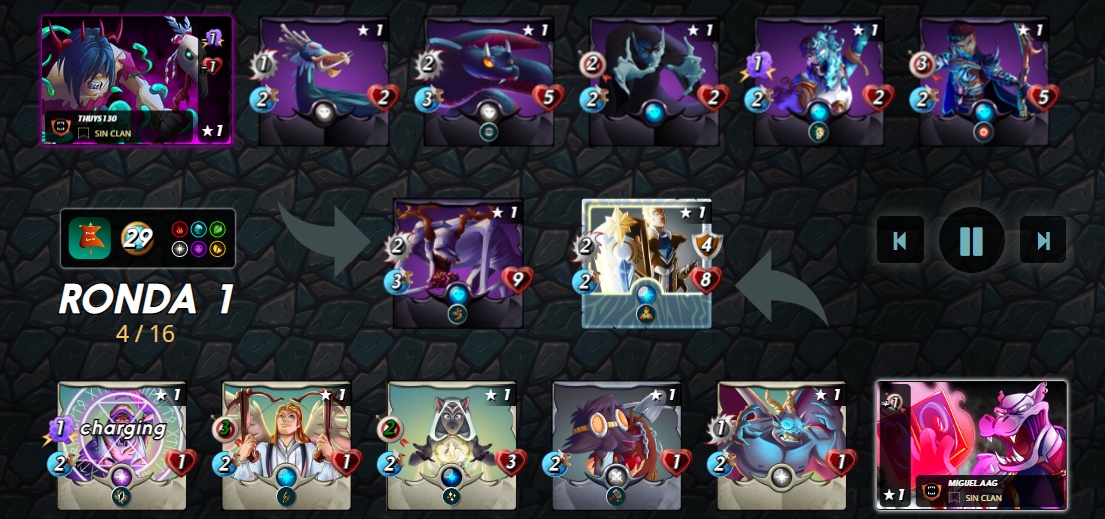 At the end of the first round both of our tanks were badly damaged, and although I was able to destroy his Cursed Windeku, it was lucky that he didn't, otherwise I would have lost my Shieldbearer earlier, jajaja.
Al final de la primera ronda ambos de nuestros tanques quedaron muy dañados, y aunque pude destruir a su Cursed Windeku, fue una suerte que no lo hiciera, pues sino hubiera quedado perdido a mi Shieldbearer antes, jajaja.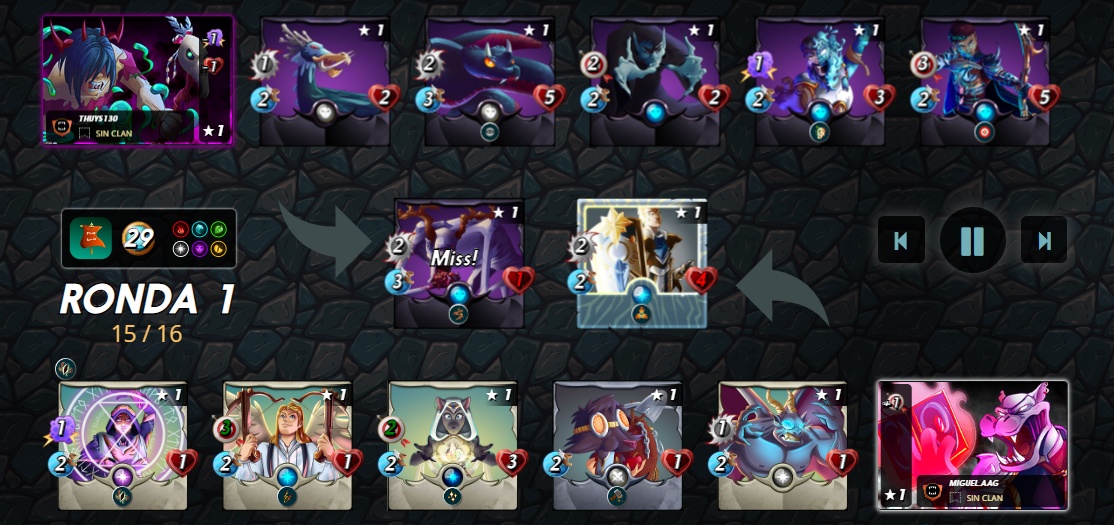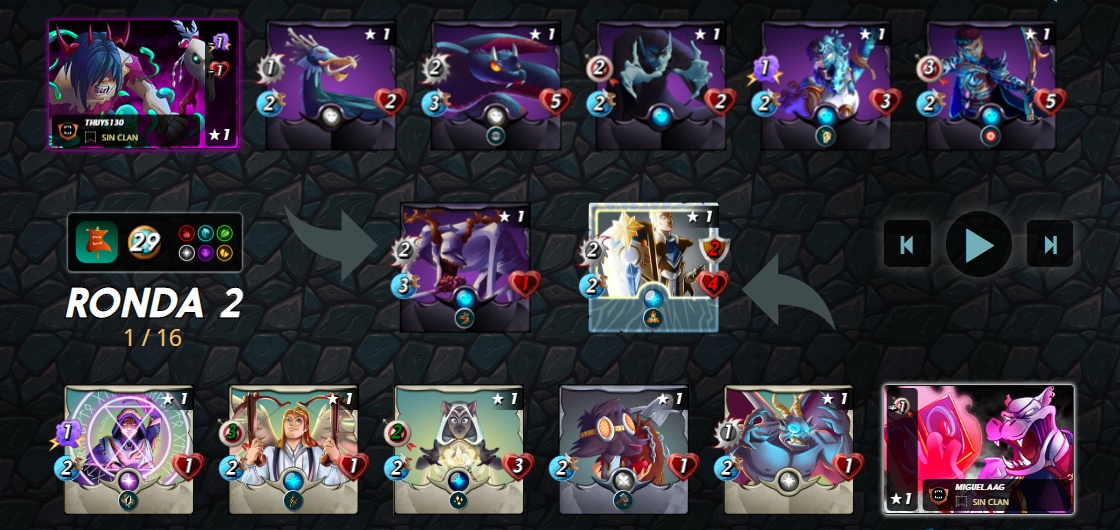 In round 2 my opponent's cards started falling from the start, taking down both his tank and his decoy.
En la ronda 2 empezaron a caer las cartas de mi rival desde el inicio, tumbando tanto a su tanque como a su señuelo.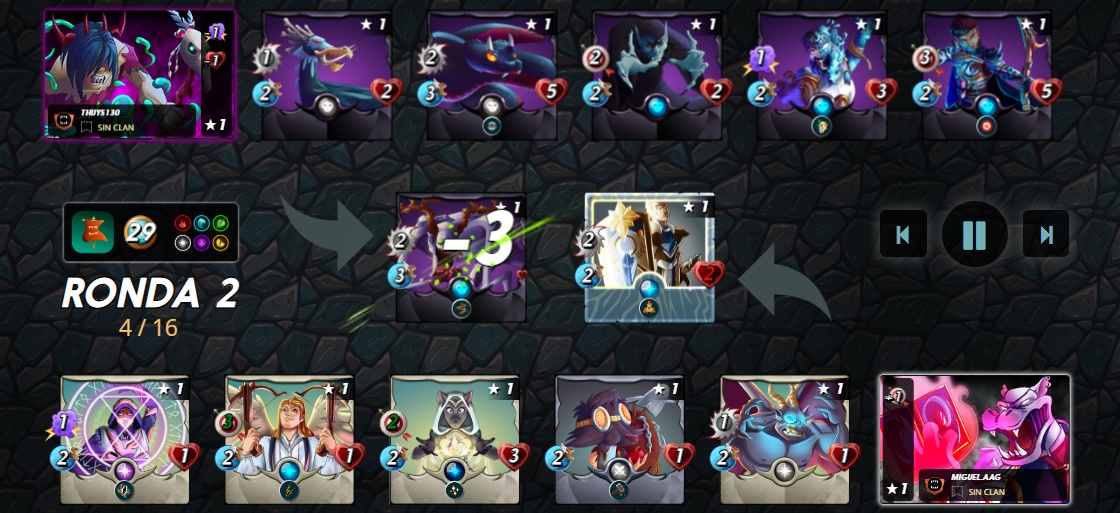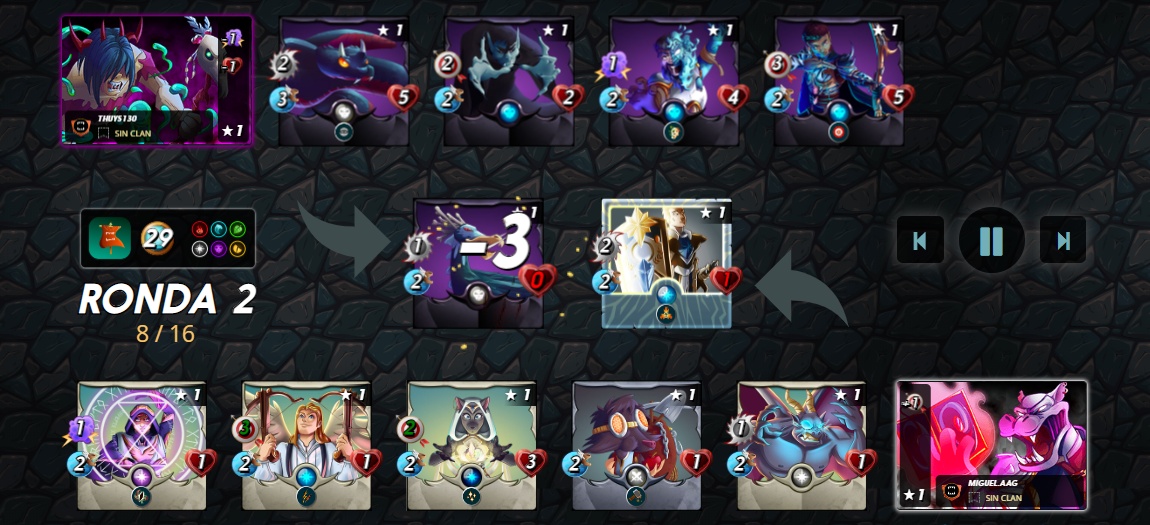 The round ended with the fall of my Shieldbearer, leaving the rest of my cards without protection, although in contrast, my opponent had lost another card, being already very weak.
La ronda terminó con la caída de mi Shieldbearer, dejando el resto de mis cartas sin protección, aunque en contraposición, mi rival había perdido otra carta, quedando ya muy debilitado.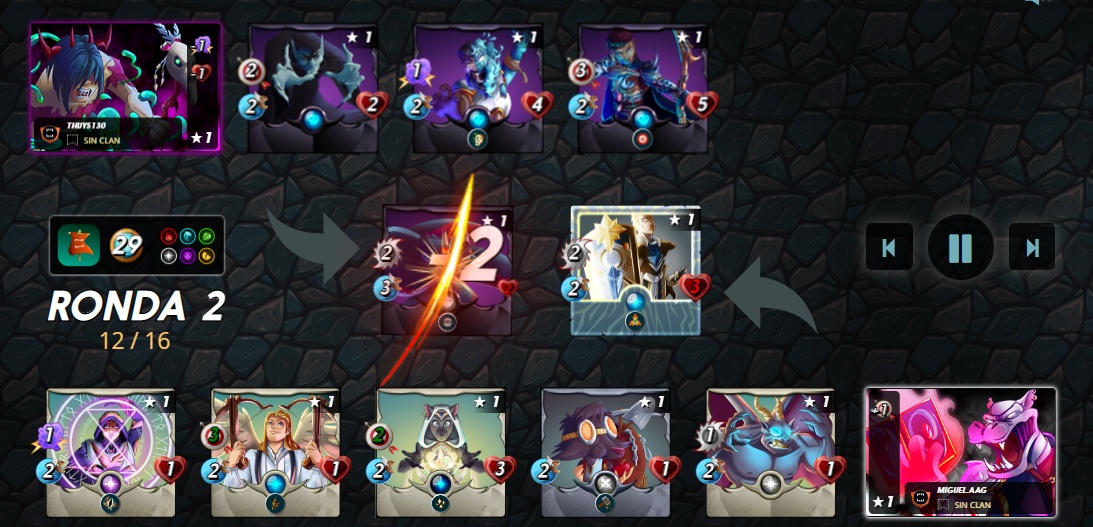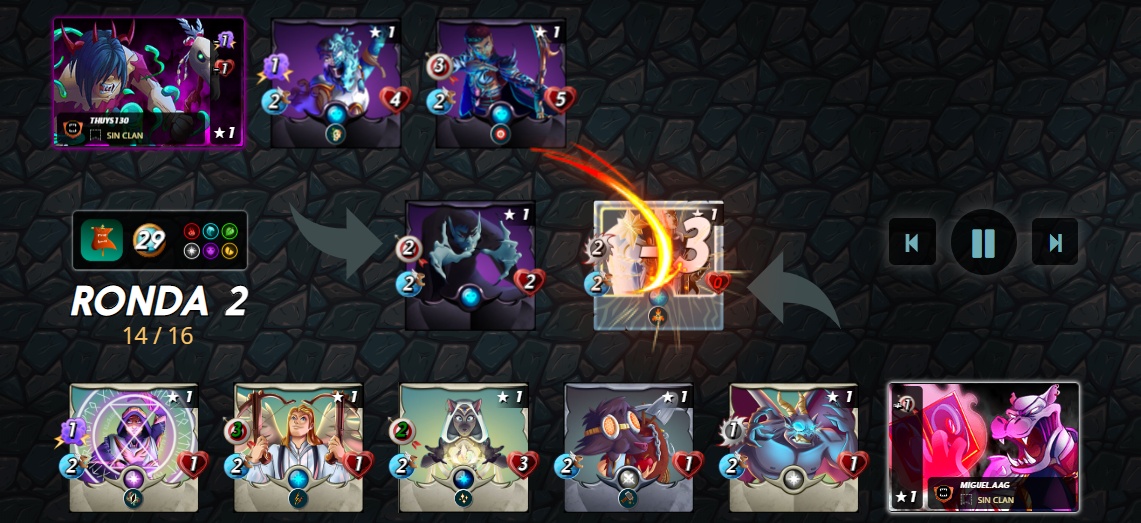 My plan worked perfectly, my decoys kept allowing me to attack with my strongest cards, while my opponent's kept falling.
Mi plan funcionó a la perfección, mis señuelos seguían permitiéndome atacar con mis cartas más poderosas, mientras las de mi rival seguían cayendo.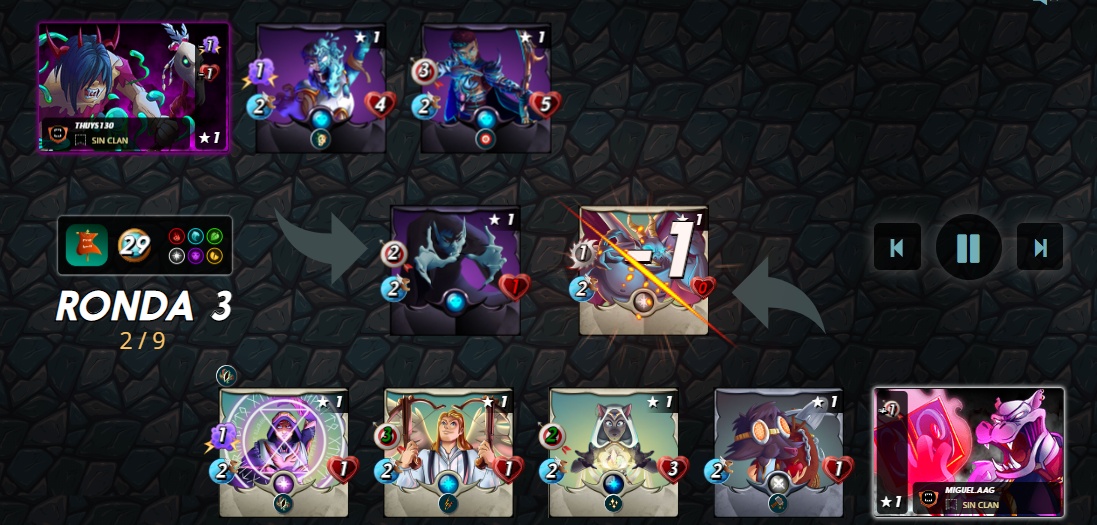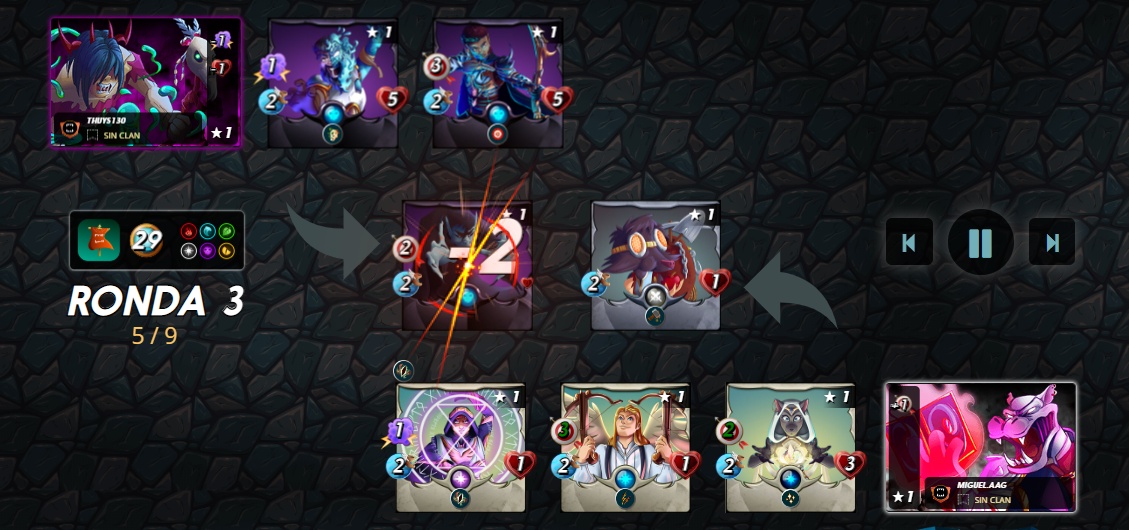 Finally my rival's last card fell, ending this duel.
Finalmente la última carta de mi rival cayó, finalizando con este duelo.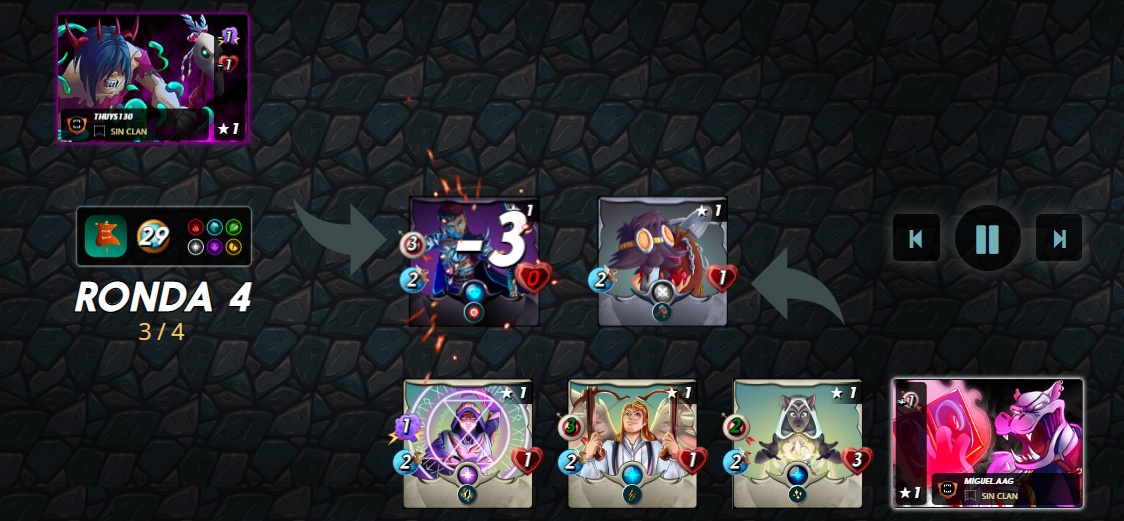 This was my entry for the weekly challenge using Temporal Master, a card unknown to me until this duel, which, used correctly, can become a very effective weapon to eliminate powerful cards.
In this particular duel its importance was not paramount, but as I use it more, it may create a very reliable strategy, so later I will try it in games with less mana points, since thanks to the fact that it requires only 3 points to summon it, it can be a good complement.
I hope you liked this battle, if you want to see it complete, here is the link again: see battle.
I will be aware of the challenge next week, greetings and thanks for this idea! @splinterlands
Esta fue mi entrada para el reto semanal utilizando a Temporal Master, una carta desconocida por mí hasta este duelo, que usado de forma correcta, puede llegar a ser un arma muy efectiva para eliminar cartas poderosas.
En este duelo en particular su importancia no fue capital, pero a medida que la vaya utilizando más, puede que cree una estrategia muy fiable, por lo que más adelante la probaré en partidas con menos puntos de maná, ya que gracias a que requiere solo 3 puntos para invocarla, puede ser un buen complemento.
Espero les haya gustado esta batalla, si quieren verla completa, aquí les dejo el link nuevamente: ver batalla.
Estaré pendiente del reto de la próxima semana, saludos y gracias por esta idea! @splinterlands
---
---