Rental Golem : The Automated Rental Bot For Splinterlands



Hey Folks! Back with my second post - my first post on Splinterlands rental optimization (found Here ) went down well so after I started using an automated and more advanced tool I figured an article was in order!
If you're not playing Splinterlands yet join (Here).
Introducing 'The Rental Golem' created by @Yixn and @genepoolchlrn8r.
What is it?
A bot that rents out cards on your behalf, constantly checking and re-renting to make sure you're getting a good deal for your spare cards! It uses your private posting key if you dont understand that go research what that is.
My Story
Before the recent rewards update I usually only rented out at EOS (End of Season). That market seems to have vanished now. So I had a bunch of cards that I didn't use to play and was manually renting out. Until I found The Golem!
My First Week: The Money Shot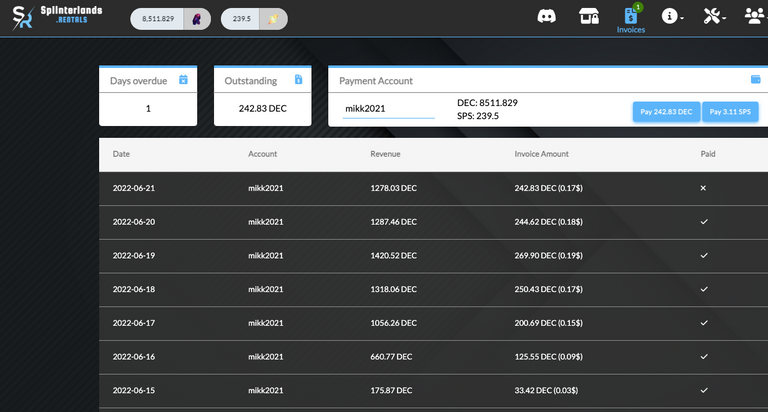 This is the invoice page - Rental Golem takes a 20% cut of my rentals. Not too bad considering I've done nothing to make this DEC over the past week. You'll notice there is a handy 'Pay 242.83 DEC' button in the top right. A one press payment method (also payable in SPS) useful.
This isn't massive amounts but I dont have a massive amount of cards. I've seen others with 20 times the values I have here. It does mean I can slowly add to my growing collection where I want to with Dec that turns up in my account every day! Total: Just over 5k Dec with the first 3 days less because I was messing with my collection.
Main Screen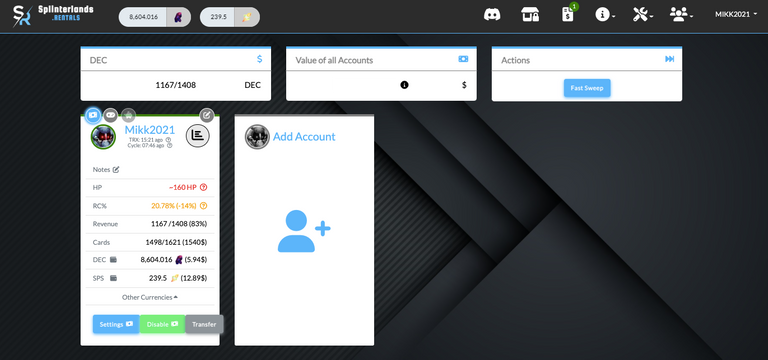 Lots of info here. I'm only using one account to rent - you can control multiple accounts and rent out using them all. There is a neat feature that allows you to sweep all your accounts and send funds back to your main account too which I thought was cool!
This screen gives you an overview of what the bot is doing and how much you have renting at the moment - see my total top left.

The money symbol is the renting tab you can also see a game pad - more on this later (See Daily Auto-Claim and Focus Re-roll). The piggy bank is the auto sweep feature that I mentioned above and the largest circle with what looks like a pile of books(?) is the link to the card renting dashboard.
The two timers are TRX - time since last transaction and Cycle - the last time the golem scanned through your account.
Bot Behaviour
Here you can also set how you want the rental bot to behave (I have it set to Balanced) in the settings on the main page. I have it set to auto claim my SPS and to rent my cards for me. (Beta Algo is for testing) There are various settings that can conserve RC etc - worth playing around with.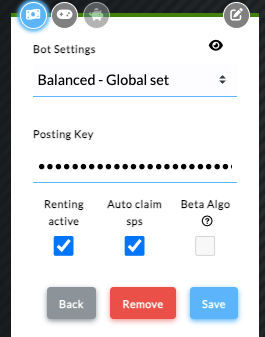 Rental Dashboard
Now to the real good stuff! This is the card rental screen which shows all your cards and data collected about them. The longer you rent the more info you gather (duh).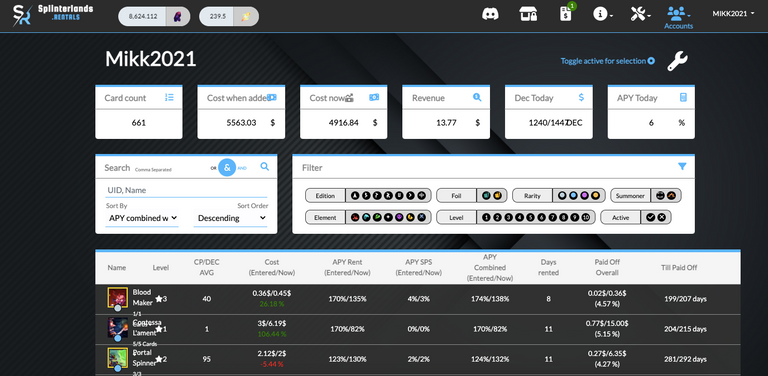 A lot of info here. Mostly self explanatory, lots of filters to show you how your cards are renting. Currently you can see my whole collection of 661 cards. I'm not renting that many out though. The 'Active' toggle allows us to see what i have set to rent and not rent. By default, the bot will rent everything - something to be aware of if you plan on using the same account to rent and play (as I do).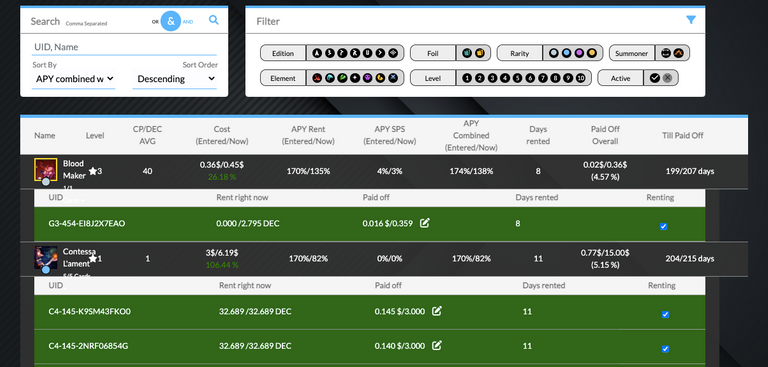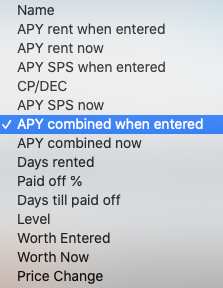 I've now only selected rented cards, this is sorted APY and the price when the card was entered into the bot. You'll notice that Contessa has risen quite a bit since the card was added (+106%). It is also renting well (32 DEC for a L1 card is pretty good in current market conditions)
I really like how it shows you how much of the card has been 'paid off' by renting it out. Not bad for less than 8 & 11 days.
The renting checkbox controls how the bot behaves with that particular card. Below I've chosen to rent all but one Obsidian:

Notice how the bot has managed to get me a higher price for one of the rentals too. Some very smart background algorithms result in some cards getting better rental prices.
Gotchas
Things that caught me out when I was learning to use the bot:
The bot rents A LOT it will list and alter prices constantly - BE AWARE THIS USES RC (Hive Resource Credits). You may need to top up your Hive Power.
Any new cards that get added to your renting account will get rented unless you tell the golem not to rent them - this goes for purchases and rewards.
Rental Summary
So in summary - Rent out your cards using the bot. Have enough RC, have your cards selected your want to rent and then turn the bot on in the settings tab on the main dash. Come back every few days to pay your invoices and enjoy the DEC!
Daily Auto-Claim and Focus Re-roll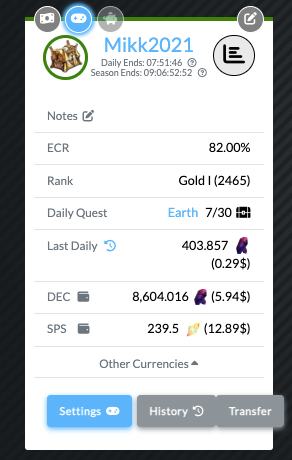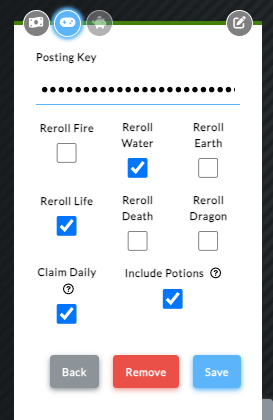 This is another aspect of the services the site provides.This thing is free and it is a damn lifesaver. It will claim your daily and re-roll your focus if you want it to meaning you dont lose time if you forget or get delayed because of life.
It also gives you a pretty summary of what you got and the estimated value (EV top left) at market rates - this is under 'History'. Below is a daily that was auto collected and EOS rewards that is not auto collected but still shown (and I thought it looked cool)


I've also seen other market based features that I know the guys are working on that sound super cool - maybe I'll do a post on them when released!
Want to start using The Rental Golem or other features?
Website is https://splinterlands.rentals
Message @genepoolchlrn8r for access - tell him @mikk2021 sent you 😉
Disclaimer
Screenshots are my own and info in this post is correct at time of writing prices etc may change and this is not financial advice.
---
---