Splinterlands Giveaway #5! Winners of #4.

Hello Friends!
It's your friendly twitch streamer back for more giveaways on my offline days :D If you are new my twitch channel is: https://www.twitch.tv/yourdestinyis
I stream Monday-Friday 11am EST! For more giveaways be sure you are following me!

Todays card up for grabs is The Pelacor Bandit!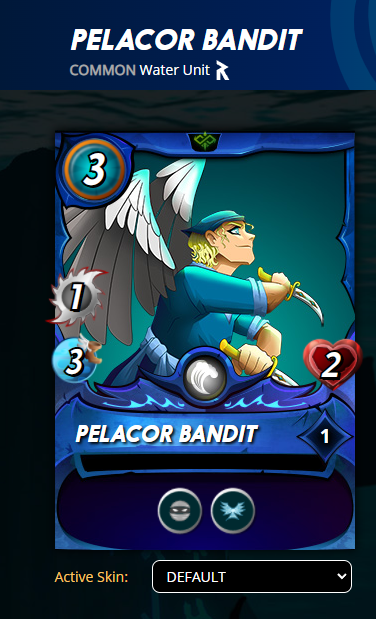 A 3 mana cost card, for the Water Splinter. It comes with 2 Health, 1 melee hit point and 3 speed. It also comes with a flying skill, and a sneak skill!
Winners from giveaway 4: @henru , @lordanquek , @groovy828 , @easilykilled !
2 Winners will be choosen!
All you have to do to enter this giveaway is comment your splinterlands name!

Giveaway Rules
Just 💬 comment on this post to join the Giveaway!
⬆️ Upvotes, 📢 Reblogs, ♥ Follows and 💸 Tips ( Like 🍕 PIZZA) are absolutely NOT required, but are greatly appreciated if done!! This will allow me to do more giveaways; and to give better, more expensive cards! Also, if you send me a tip, I'll send you a tip back!
Follows are also NOT required, but it'll help you get notified of future giveaways!
The winner will be drawn in the next giveaway post.
Put your Splinterlands username in your comment if it's not the same as your Hive username.
Participants will be added to the ping list ("Previous Participants") for my next giveaways. If you do NOT want to be pinged, please say it in your comment
I will be using https://snackaholic.github.io/hivefortune/en/ to randomly choose the winner. The tool will be used with these two settings: "Consider Comments" and "Remove Bots"
Giveaway ends on Tuesday, April 5th, and winners will be chosen the same day!

Tag List: @luizeba , @jona10 , @klm0420, @amaillo-m , @noejnolimit, @asdfghjkiraaa, @candnpg, @henruc, @ashborn07, @reinabndc, @itzyyy, @animocin, @irisworld, @gessy, @squirrelacus, @litrydow, @johnripper, @agaprime, @higeneko, @matimath, @gregory-f, @filuris, @sm-trainer, @chaoabunga, @myeong, @candnpg, @gregory-f , @gessy, @tub3ro.gaming , @litrydow, @irisworld, @squirrelacus,@jonimarqu, @easilykilled, @gregory-f, @rentaw03, @middle-earthling, @lordanquek, @paulriq, @henru, @myeong, @ninosplinter, @ivarbjorn , @ivarbjorn2, @highhaschdi, @gessy, @ajaystr26901 @ajaystr, @dukerobuggy, @kobekalbo!
Shout out to you amazing people: @snarkymouse @snarkycat @whitedragonnft, @fadedmonsutas, @frazel, @theonlineinn, @commndrgarlic, @chaoabunga @drabs587 @darthwolfgaming @mitriiman @sharmanhd @clove71 @drabs587, @splinterlandshq @gank & @walkingkeys, @ivarbjorn, @luthien12, @skyn, @lyerpald, @thercek, @rentaw03, @sgt-dan, @mhowii, @Marcuswahl, @bladesong, @confusedminer, @zapf-brannigan, @splinternews, @solymi,@holoz0r, @rakhmen, @groovy828, @foreveraverage, @godislove777 @clove71, @nytehawker, @noempathy, @gameboyali, @thecrevolution, @aftersound, @davel22, @pladozero, @bulldog1205, @saucyjay, @atomcollector, @wesquin703, @chaoabunga, @zerginggamer, @lordanquek
---
---