Hablemos de los Focus en Splinterlands.
---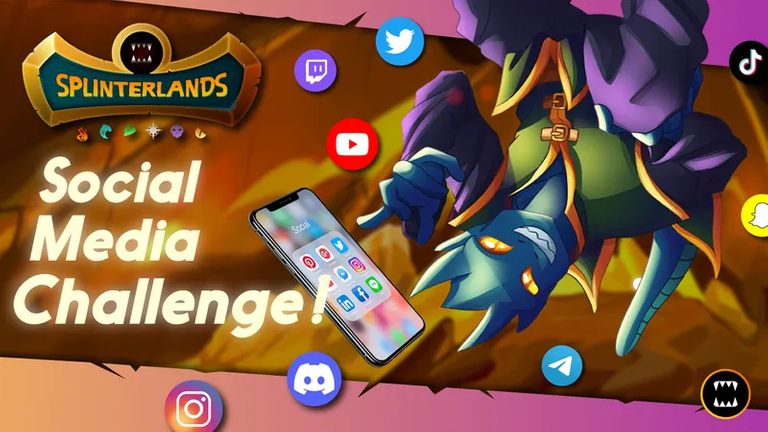 El video esta en idioma español
¡Saludos a todos y bienvenidos!
¡Estoy muy emocionado porque hoy he publicado mi primer video en 3speak! En este video estoy hablando acerca de los Focus de Splinterlands:
¿Que son?

¿Como funcionan?

Sus reglas, etc.
Ademas, hago enfasis en diferentes situaciones que pueden suceder durante un Focus y cuales son sus consecuencias tanto positivas como negativas, por mencionar dos ejemplos:
Como influyen los invocadores cuando estas haciendo un Focus.

Como te afecta el hecho de tener mas rating del maximo de tu liga.
Todo esto y mucho mas lo encontraras en el video, asi que espero que te ayude.
Todas estas opiniones estan basadas en el formato Modern.
The video is in spanish language.
Greetings everyone and welcome!
I'm very excited because today I posted my first video on 3speak! In this video I'm talking about the Splinterlands Focus:
What are they?

How do they work?

Their rules, etc.
Also, I emphasize different situations that can happen during a Focus and what are their consequences, both positive and negative, to mention two examples:
How summoners influence you when you are doing a Focus.

How it affects you the fact of having more rating than the maximum of your league.
All this and much more you will find in the video, so I hope it helps you.
All these opinions and thoughts are based on the Modern format.

En el minuto 5:57 hablo acerca de los Tierlist, como dije en el video, esta es mi opinion personal y me estoy basando en mi propia experiencia para opinar al respecto, estoy abierto a los comentarios para debatir si piensas diferente respecto a este tema.
At minute 5:57 of the video, I talk about the Tierlist, an as I said in the video, all this is my personal opinion and I am basing this opinion on my own experience with my battles, I am open to comments to debate if you think differently about this topic.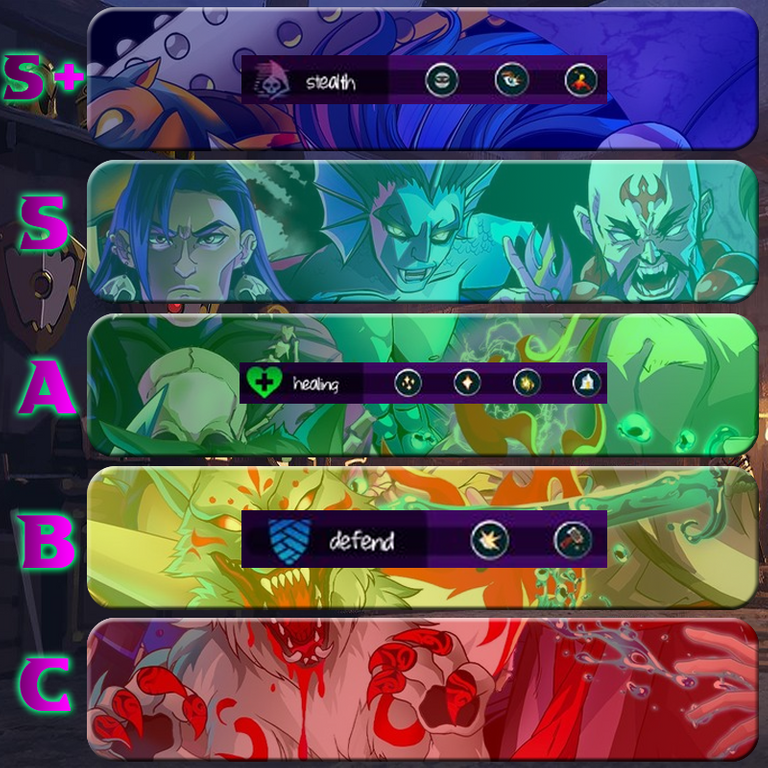 En este rango de rating (que deberia ser bronce) creo que Defend y Healing son dos focus muy dificiles de completar, primero por la cantidad de cartas disponibles para hacer el focus, luego por la utilidad que tendran, ya que alinear 6 cartas con Shield ademas de imposible, seria muy poco beneficioso porque la mayoria de cartas con esta habilidad son tanques. Al contrario de esto, el Focus Stealth es perfecto para este rango porque practicamente en cada batalla que tengas en Bronce vas a alinear por lo menos una carta con alguna de las tres habilidades que pide el Focus.
In this rating range (which should be bronze rank below 1000 rating points) I think Defend and Healing focus are two very difficult focus to complete or even to fill, first of all, by the amount of cards available with those abilitys to make the focus, then by the utility they will have, since aligning 6 cards with Shield besides impossible, would be very little beneficial because most cards with this ability are tanks. On the contrary, Focus Stealth is perfect for this rank because practically in every battle you have in Bronze you will line up at least one card with one of the three abilities that Focus asks for.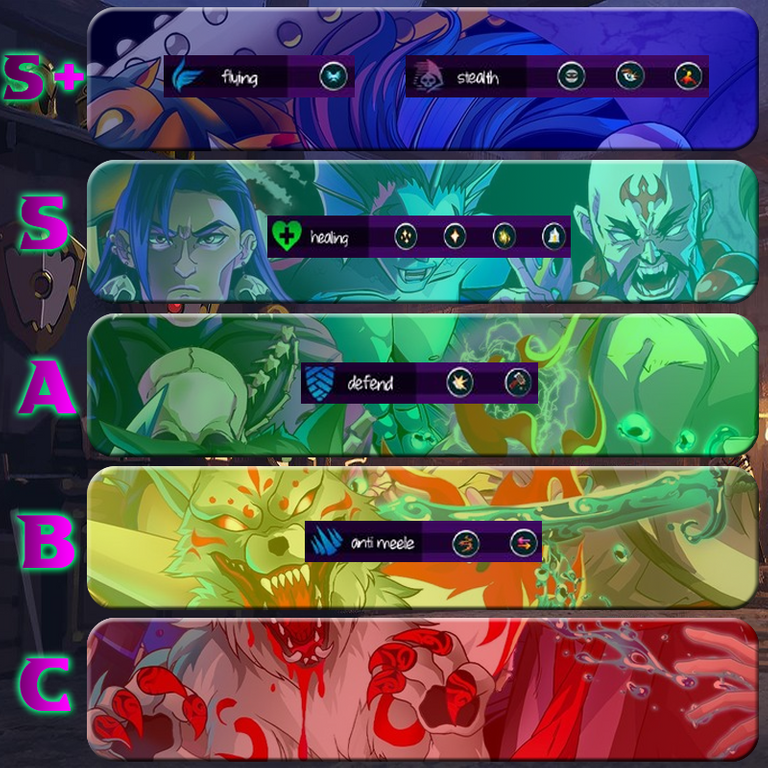 Cuando pasamos los 999 puntos se nos desbloquean nuevos Focus, aqui el focus Flying entra con todo al Tier S+, pues se hace muy facil enviar una alineacion entera de cartas con Fly que realmente sea competitiva, usando combinaciones de Dragon y Agua o Dragon y Muerte. Healing y Defend suben un rango porque en este rango es mucho mas facil crear alineaciones potentes con estos Focus y el Anti Melee para mi queda en Tier B porque no es un focus pesimo pero tampoco es facil de completar al 70%, no hay muchas cartas con Thorns en este rango y como explique en el video, Mylor cuenta solo por si mismo para este Focus, no a aquellas cartas que obtienen Thorns gracias a el.
When we pass 999 points we can climb to Silver Rank we can unlock some new Focus, on this rating level here the Flying focus enters with all the top Tier S+, because it becomes very easy to send a whole lineup of cards with Fly ability that is really competitive on battle, using combinations of Dragon and Water or Dragon and Death. Healing and Defend go up a rank because in this rank it is much easier to create powerful lineups with these Focus and the Anti Melee for me is in Tier B because it is not a terrible focus but it is not easy to complete, there are not many cards with Thorns in this rank and as I explained in the video, Mylor counts only by itself for this Focus, not those cards that get Thorns thanks to it.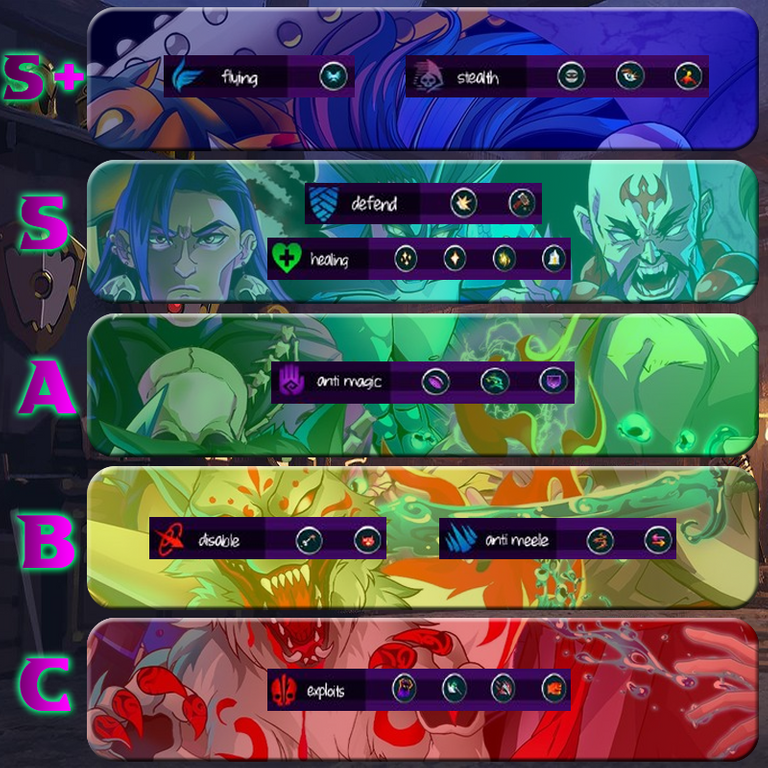 Para mi, en este rango de rating el S+ continua igual, ahora Defend y Healing se afianzan en el Tier S convirtiendose en combinaciones muy habituales, el anti magic aparece muchisimo y es muy facil completarlo con Agua, Muerte o Vida, Disable y Anti Melee se quedan en el Tier B y Exploits para mi se va al C, pues las habilidades que requiere este Focus normalmente son las ultimas que tomo en cuenta para mis batallas a no ser que se de una ocasion especifica.
For me, in this rating range of 1900 points when you should be in Gold Rank, the S+ remains the same, now Defend and Healing are consolidated in Tier S becoming very common combinations, the anti magic appears a lot and it is very easy to complete it with Water, Death or Life, Disable and Anti Melee remain in Tier B and Exploits for me goes to C, because the skills that require this Focus are usually the last ones I take into account for my battles unless there is a specific occasion.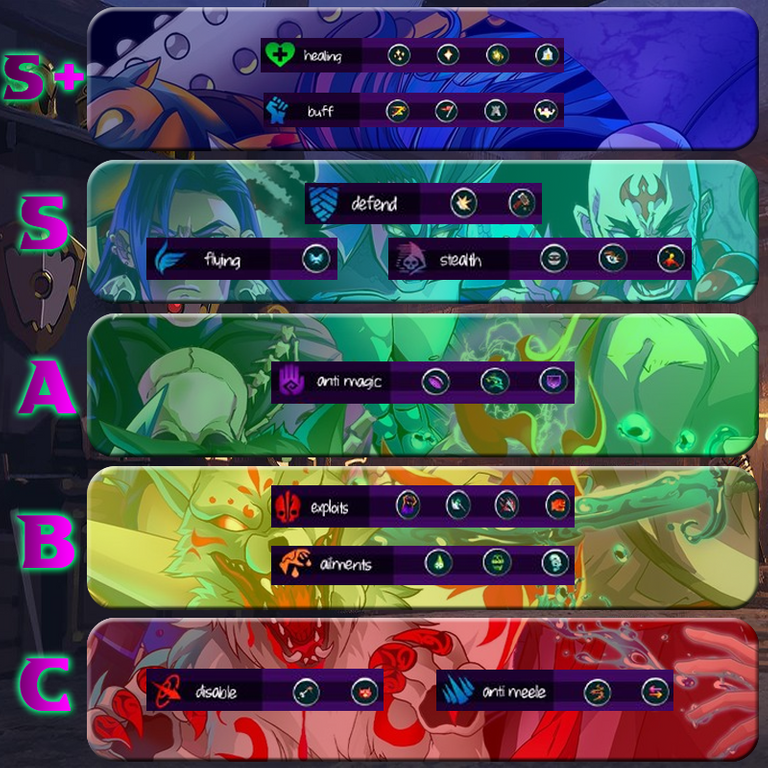 2800 puntos de rating ya es para rango Diamante y aqui el abanico de habilidades disponibles se completa, pues ya se pueden jugar las cartas a nivel maximo. Para mi en este nivel Stealth baja un rango porque ya las alineaciones no se basan en el ataque masivo si no en los buffs a tu equipo, justamente la razon por la que creo que el Focus Healing y Buff se van al S+, ya que toman mucha importancia las habilidades de apoyo al equipo entero.
2800 rating points is already for Diamond rank and here the range of available skills is completed, because you can play the cards at maximum level. For me at this level Stealth drops a rank because the lineups are no longer based on the massive attack but in the buffs to your team, precisely the reason why I think that the Focus Healing and Buff go to S+, as they take much importance the support skills to the whole team.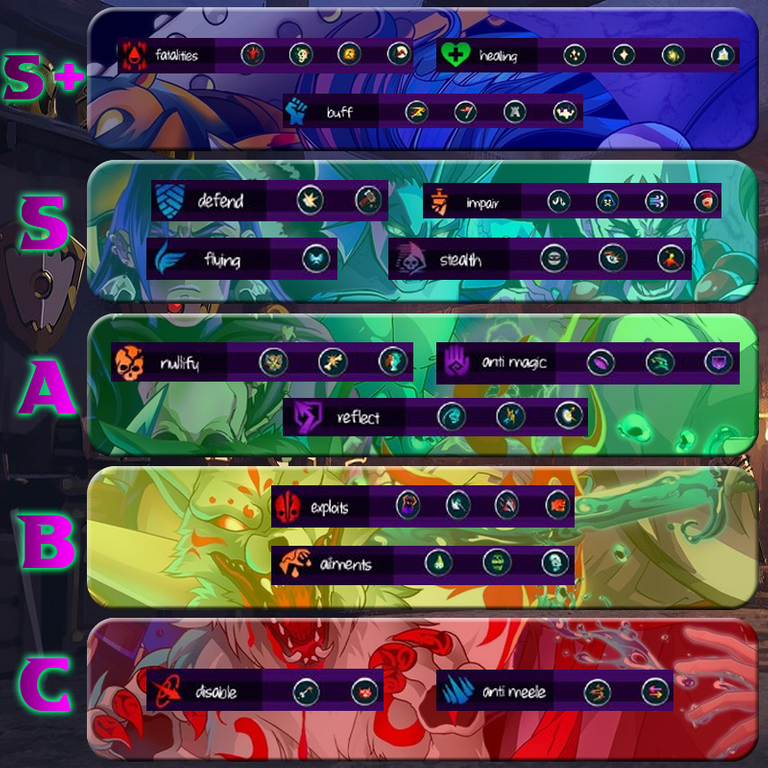 Este el rango maximo del juego y en donde estaras listo para jugar Champions, ademas de que ya se desbloquean todos los Focus posibles del juego. Este es quizas el mas dificil de opinar para mi porque nunca he jugado en este rango asi que base mis opiniones en las batallas que observe de los mejores jugadores de esta liga.
This is the maximum rank of the game and where you will be ready to play Champions, plus you unlock all the possible Focus of the game. This is perhaps the most difficult for me to give my opinion because I have never played at this rank so I base my opinions on the battles I observed of the best players in this league.

Conclusiones.
Es importantisimo entender a fondo el sistema de Focus para que logres sacarle el maximo provecho, tengo pensado enfocar mi proximo video en los Focus Points y los Season Points, aunque si hay algun otro tema que te interese puedes dejarlo en los comentarios para tomarlo en cuenta para proximos videos.
Muchas gracias por haber leido mi publicacion, espero que te haya sido de ayuda, un saludo grande a todos.
Conclusions.
It is very important to understand the Focus system in depth so you can get the most out of it, I plan to focus my next video on Focus Points and Season Points, although if there is any other topic that interests you you can leave it in the comments to take it into account for future videos.
Thank you very much for reading my publication and watching my video, I hope it has been helpful, best regards to all.



Si eres hispano y quieres unirte a un clan haz click aqui

All game images are taken from the official game website and Splintercards, credits to whom it may concern.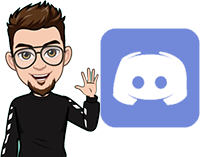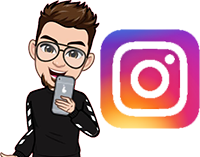 ---
▶️ 3Speak
---
---