Splinterburn!!! Year 5 Event is here!!!
YEAR 5: THE GREAT BURNING!!!!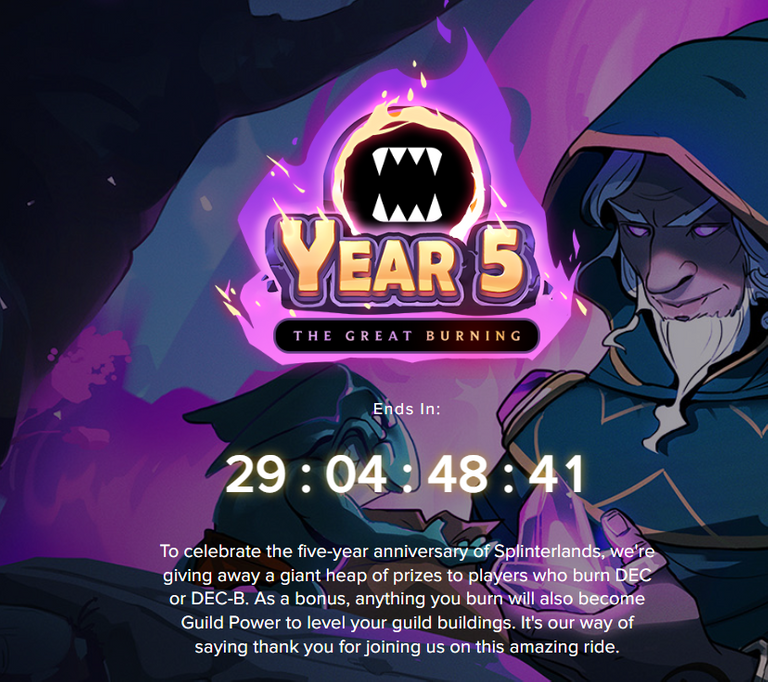 As we are celebrating the 5 years of Splinterlands, the burning event had just started!!! So basically it is burning of your DEC or DECB in exchange for the lottery chance to win great prizes.
And what is even more exciting is that you will also can get guild power! I will talk more about the guild power in the next blog as this is just going to be a brief blog to express my excitement over this event.
Day 1 Progress
Now it is not even 24hr of the event live yet but let us have a look at what is the progress!!
Event Prizes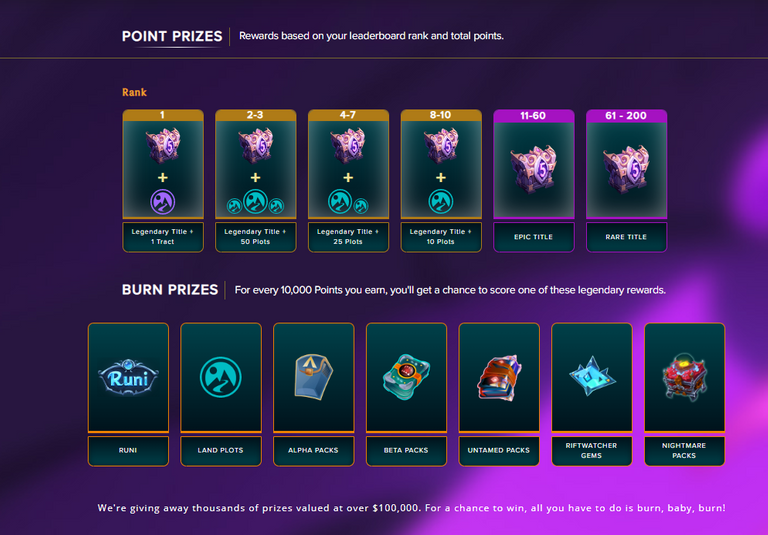 Top 200 leaderboard will win differentiate titles and even up to a tract worth of 100 plots!!!
If you are not in the top 200, for every 10k DEC or DECB burned, you will also be able to enter a lottery, a chance of winning runi or alpha packs or many other impressive prizes.
Burning Process
It is not even 24hours yet and Let us have a look at what is the progress so far!!
Do note that the earlier you burn your DEC or DECB, you can have more bonus points of up to x3.

For me myself, I have burned a total of 177,100 DECB on the 1st day. So with the addition of 200% bonus, I got a total of 531,300 points. Not a lot and as you can see from the picture above, I am currently ranking 277 and is still dropping fast.
If you click on the leaderboard, this is where it get really interesting.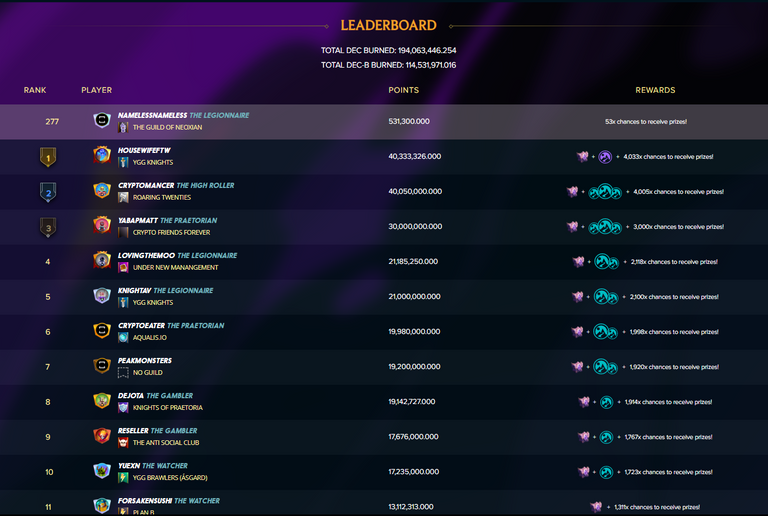 Not even 24hours have gone, and so far we already have 194mil DEC burned and 114.5mil DECB burned. That is a total of close to 310mil of DEC/DECB being removed from the ecosystem!!!
And with the top 2 so closely fighting for the top spot, i can see more fights incoming as the plot prizes double from 2nd place as compare to 1st place. As, I do see more people are fighting for the top 10 or top 200 spots as they offer quite a variety of different attractions.
Prediction
I think things will slow down dramatically after the 1st day and subsequently after the drop of the 300% bonus points.
I think getting another 200mil DEC or DECB might still be possible, so I have a rough estimate of this burning event to achieve a total of 500 mil DEC/DECB burned!!!
---
---