Splinterjourney: Monthly Reviews and progress
I would like to start a tracking records of my progress in Splinterlands. So I think it would be good to have a journey of tracking my progress and have a rough look at how I perform for each week.
SPS Staking
I think one of the most important aspect that I will be focusing is to increase the SPS staking.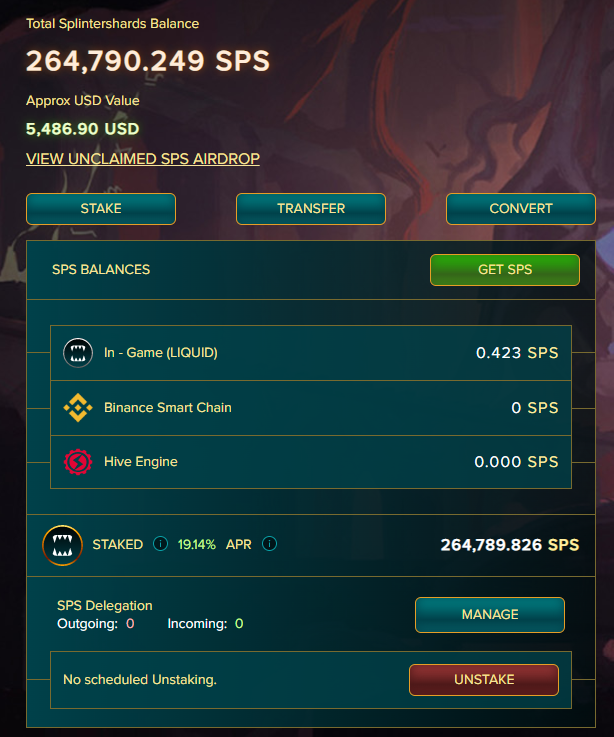 | Month of 2023 | SPS Staked | Remark |
| --- | --- | --- |
| 2023 May | 264,789 | I have use the bonus SPS from staking to put into pool, instead of throwing back into staking |
| 2023 Jun | - | Note: Half way of the year |
| 2023 Jul | - | Note: Possible introduction of new edition or mini edition |
| 2023 Aug | - | - |
| 2023 Sep | - | Note: End of Q3, progress for a Quarter |
| 2023 Oct | - | - |
| 2023 Nov | - | - |
| 2023 Dec | - | Note: Target goal of 300k SPS staked |
By tracking in this way, I also have a rough understanding of the increment of SPS staking for each month and will that lead to achiving my goals.
Soulbound Reward Cards
I think one of the most important things for me right now is also trying my best to try to get these soulbound reward cards to the max lvl. I feel that in order to make sure that my account remains relevant for high tier brawl matches, having all the gladiator cards and reward soulbound cards makes a huge difference and advantage for brawl.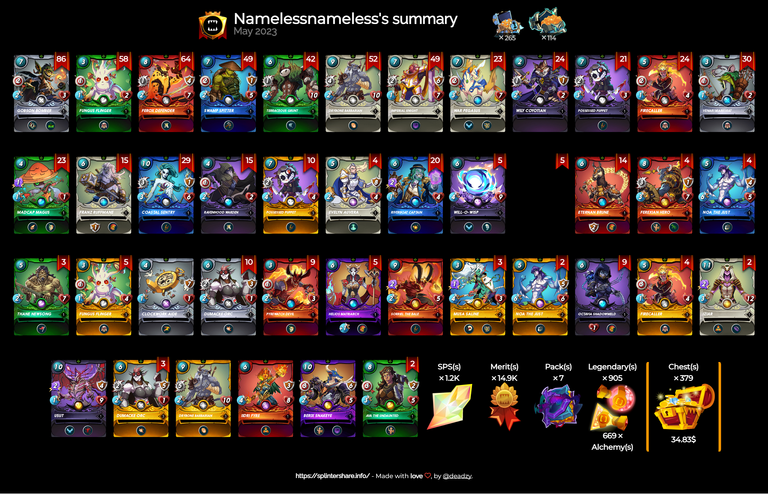 One of my most favourite website that I would go and visit to have a quick check on my progress is https://splintershare.info/
As you can see from the above screenshot, for the month of may, I have earned the following reward cards and their respective quantity. I am also very lucky to win 3 GFL.
Most of my legendary soulbound is at level 1 but at least most of them are already at 2bcx.
Max Lv 4 Legendary = 1
Almost Max Lv 3 Legendary = 3
Lv1 Legendary = 3
Lv 0 Legendary = 1(Aves Sturgis)
Legendary cards can be quite bias. Cause when you are luckily, you can one shot got 3 copies of GFL. Suddenly, your Legendary will shoot up to lv3, just need 1 more to max it. That is how I get my first lv4 legendary max cause I just happen to get the GFL twice on the same monster. Whereas till now after so many months, I still have yet to get a single bcx regular foil for another legendary card. That is how extreme the data can be.
Most of the epic are at lv3
Lv 2 Epic = 1
Lv 3 Epic = 5
Lv 4 Epic = 1
Epic can say to be one of the slowest progress in maxing. It is only like 25% completion for so many months. So far when I opened chests, most of the time for epic cards, they just give like 1-2 copies for each diamond or even championship chests. It is really much rarer to see higher quantity for epic cards. That explain why the progress of my epic progress is so slow. I really worry that I might not be able to complete the epic collection on my own.
Most of the rare are able to upgrade themselves from lv4 to lv5 in these 2 months.
Lv 4 Rare = 2
Lv 5 Rare = 7
Lv 6 Rare = 2
Lv 7 Rare = 1
Somehow i just kept getting multiple copies of Venari Marksrat so it is one of the closet to being max. In fact, out of the 30 copies to needed to get it to lv8, I already have 17 copies already, more than half way to lv8. I am really very excited to looking forward to maxing more rare cards. I expected the rare are the first few to get max. They can be even easier to max as compare to common as the quantity required are significant lesser and the copies you can get for rare is still quite impressive. I really hope to be able to push as many lv5 rare to lv6 in June. Lv6 need like 60 bcx which is roughly half of 115 bcx of lv8 actually. So it pace just nice to left the 2nd half of the year for the remaining half of bcx to max it.
More commons are struggling to manage to get into lv 7, so most of them are at lv 6 or lv7. The number of bcx needed just kept shooting up just to upgrade to the next level.
Lv 5 Common = 1
Lv 6 Common = 3
Lv 7 Common = 7
Lv 8 Common = 1
I have quite bias unlucky on some of these cards. Like my Dumacke Orc is still at the starting stage of lv 5 while many of my lv 6 is working hard to reaching lv 7. And one even more extreme is that my Imperial Knight dont even have a single gold foil bcx. Meanwhile, lv 8 need like 220 bcx which is roughly half of 400bcx needed for max lv 10. So you can see that most of the common can still be quite a challenge to reach lv8 half way point in june.
Max Chao Legion Edition Completion
Chao Legion Core = Completed!
Promo = Vruz at lv 9, missing Waka, Zyriel at 1BCX
Rewards(non soulbound) = Completed!
Riftwatchers = Ancient Redwood at 7

Overview
Given my progress for far, I would say for the soulbound reward cards, I still got a long way to go for the 2nd half of the year. It really takes a lot of effort to play constantly every single day to try to get as many chests as possible with as efficient as possible.
I am now also not sure if i can complete the chao legion edition as Vruz is still looking expensive to get the remaining 100 bcx. Waka is a pricy summoner and Zyriel is not cheap either. And I may also need to start saving up for the new editions which requires massive investment again.
For those interested to play Splinterlands, feel free to use my referral link:
https://splinterlands.com?ref=namelessnameless
---
---