Nata's Adventures in Splinterlands - Guild Brawl Report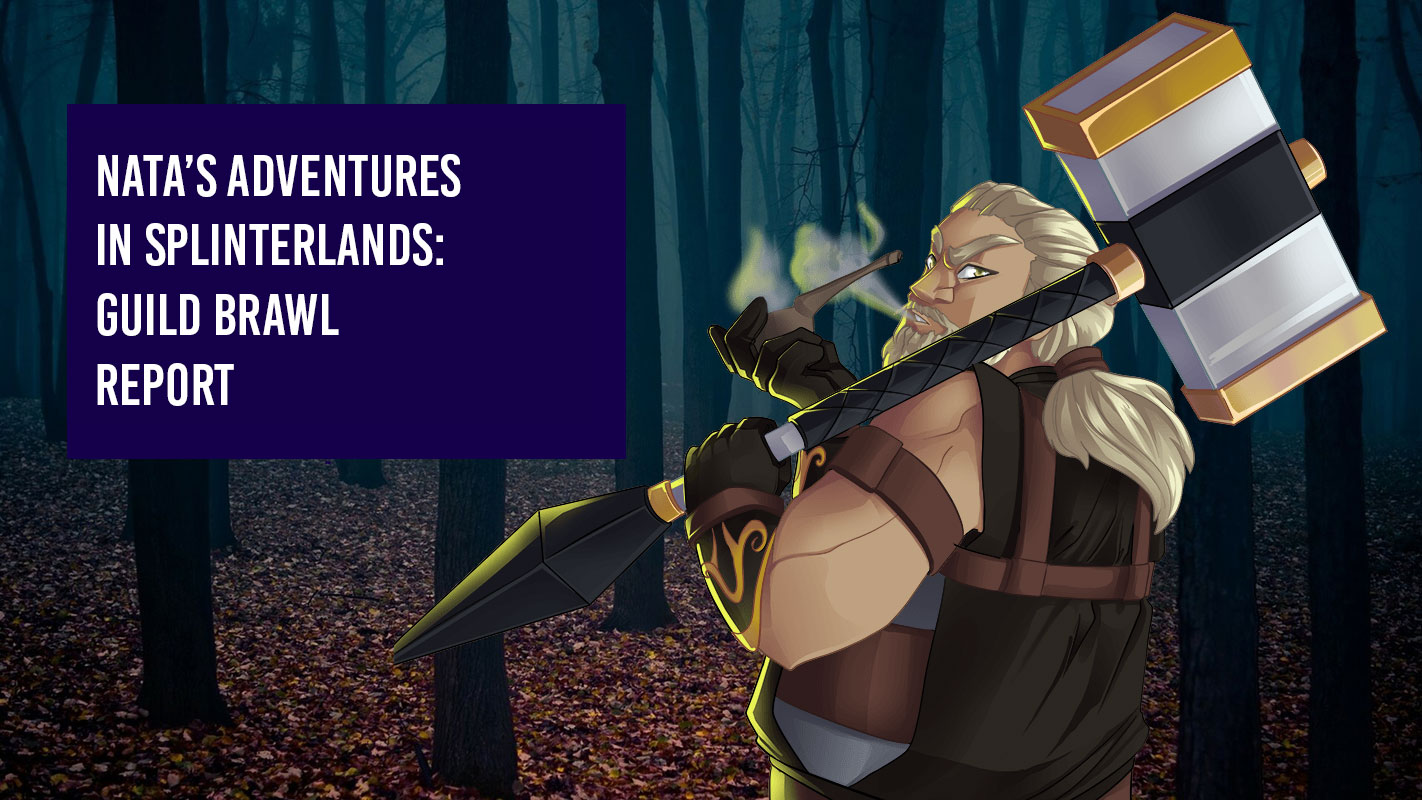 Hi Hive! Spring is in full swing, the weather is nice, the mood is great and last night, after a busy day, I spent a new round of Guid Brawl and won 5 fights out of 8!
Was really excited to try out a couple of unusual strategies and send the cards I improved from last season into battle, so I'm ready to share my successes.
In the first fight I got Earthquake rule, so I decided to bet on Phantom Of The Abyss, a flying water mage, and Djinn Oshannus, who has a lot of health, and my opponent, to my joy, chose some weak cards, so it was a very easy fight.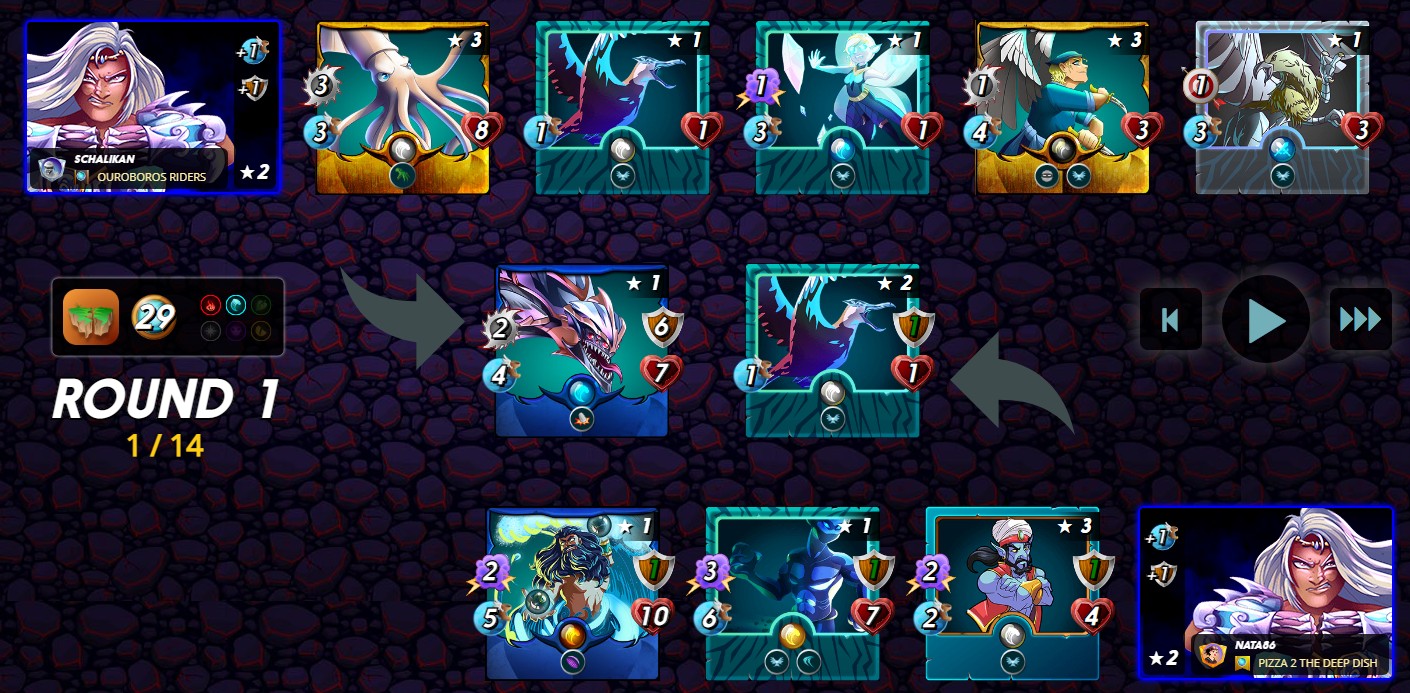 The second battle was very tense. Once again I chose the water element and the proven combo of a powerful Sea Monster and an Isgald Vorst gladiator. My opponent came out with Dragons elemental, Djinn Chwala returning damage, the same Isgald Vorst, and an excellent Gold Card combo with Sneak and Opportunity, so I thought it was a losing battle. I didn't expect to win with all my cards except my gladiator, but my gladiator, with his Bloodlust ability, quickly pumped up his speed, becoming nearly invulnerable, and destroying my opponent's cards one by one. Just a miracle!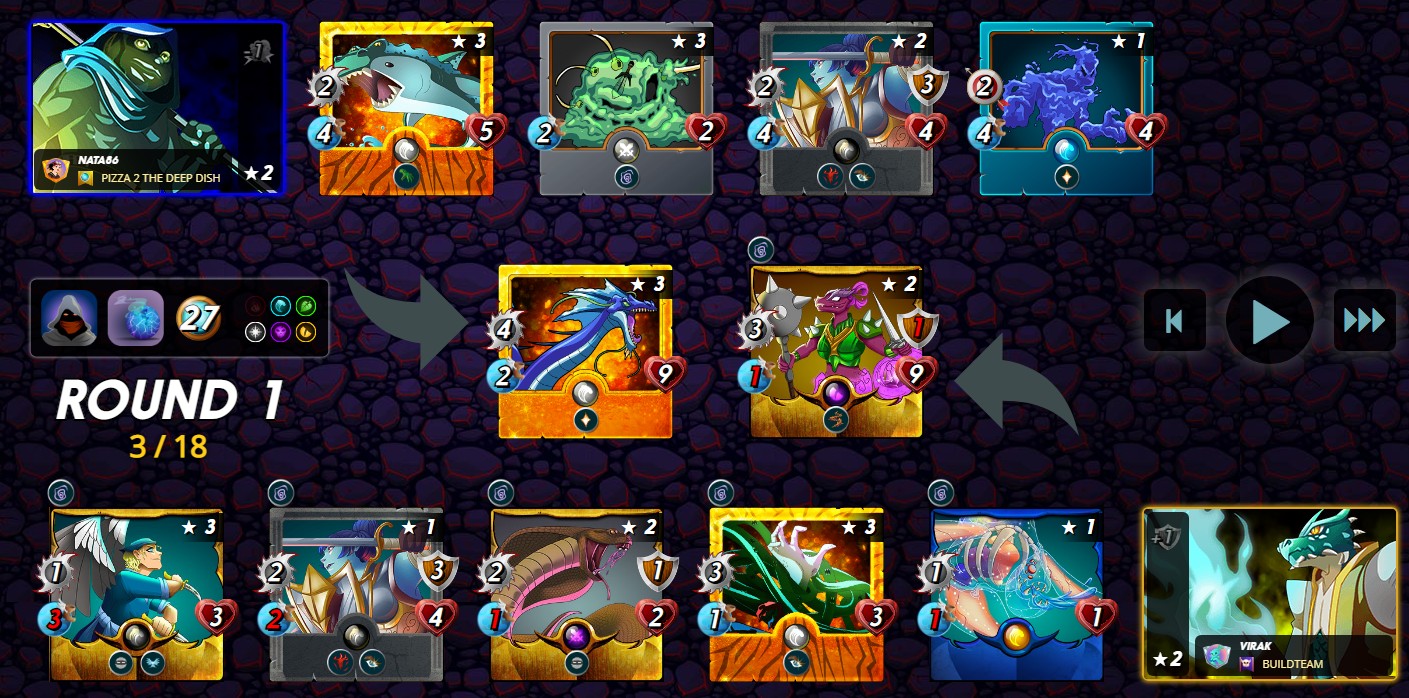 In the third battle, the mighty summoner Yodin Zaku came out against me, but since my mana allowed me to use a lot of expensive cards, I chose Tarsa and used all my expensive combatants - Molten Ogre, Gladiator Chimney Wallstop, Charlok Minotaur, Grum Flameblade, speedy Fineas Rage and Magnor to distract the enemy attacks.
The distraction worked - the archers attacked the giant en masse, and then my warriors quickly and consistently wiped out all enemy forces. My intuition didn't let me down!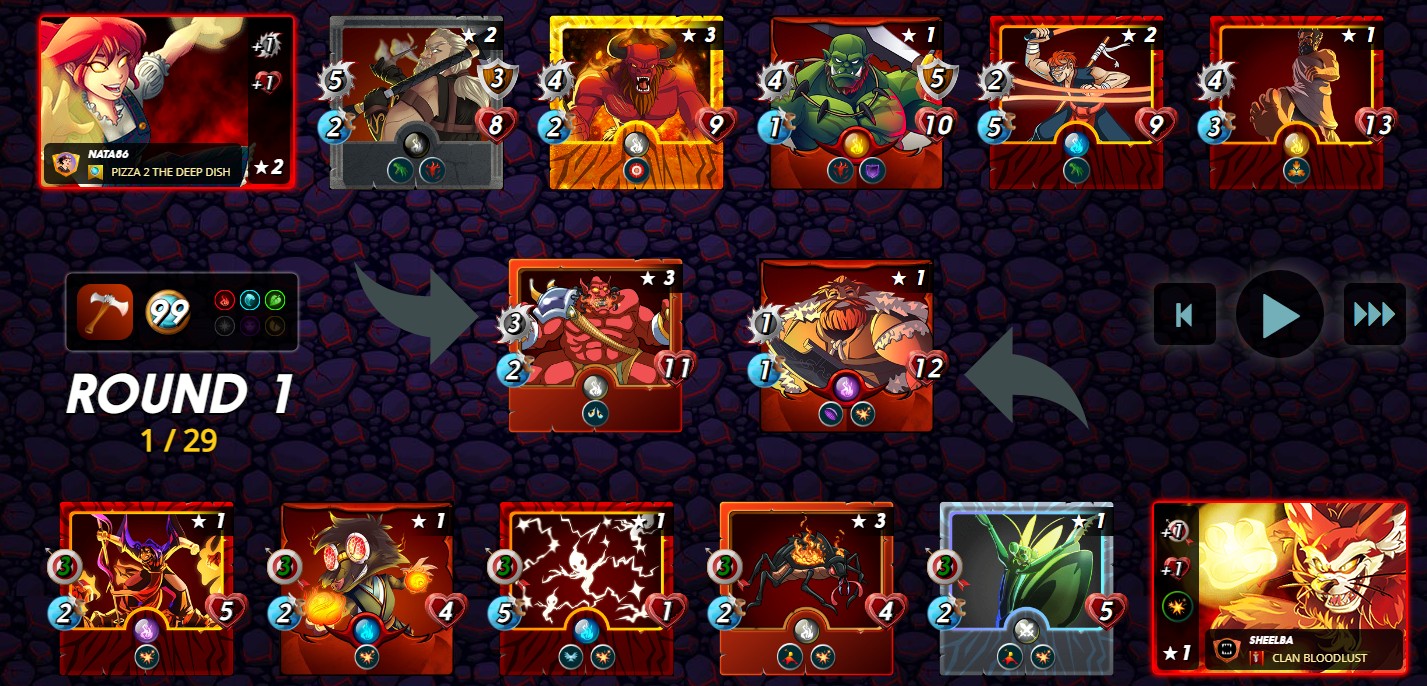 In Equalizer battles, I like using Fire and speed cards that have very little health under normal circumstances. So my line up included Exploding Dwarf, Serpentine Spy, Fire Elemental, and Spark Pixies, which I once again used the mighty gladiator Chimney Wallstop.
My opponent chose water and the very strong mages Djinn Oshannus and Nerissa Tridawn, as well as the archer Axemaster, but my gladiator, on the first position, showed himself again in all his glory and pumping speed and attack with Bloodlust brilliantly handled the enemy cards.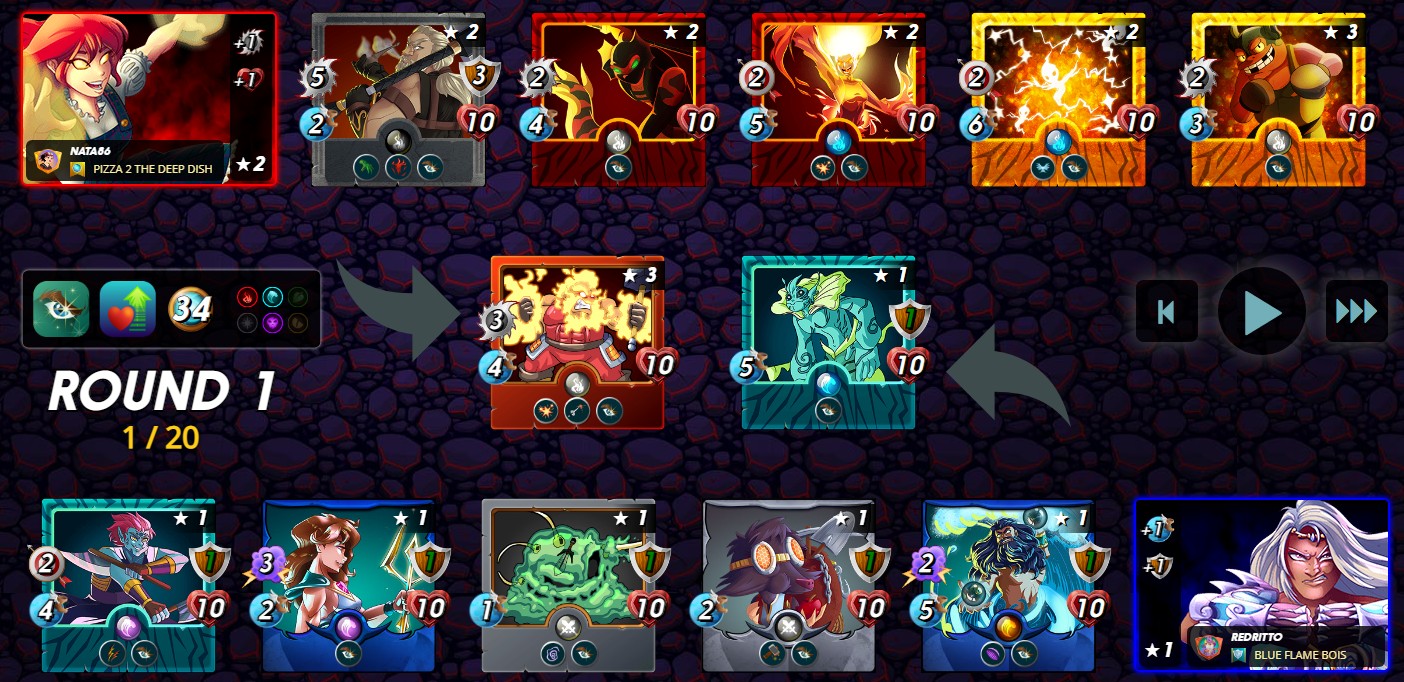 The last battle was the easiest. Since Earthquake rule came out, I put flying Earth elemental monsters - Nectar Queen and Screeching Vulture, which I supplemented with Bertrol Gobson gladiator, and my opponent didn't choose any flying cards for some reason. It was very easy.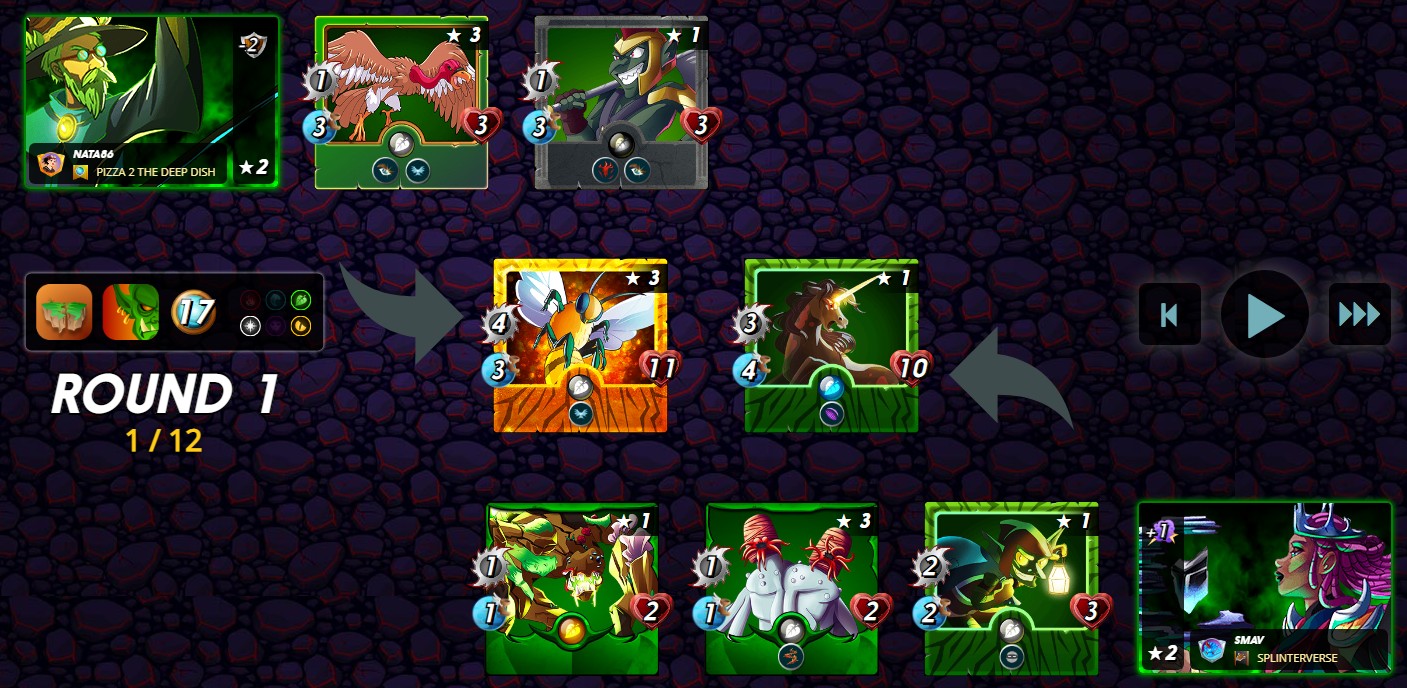 As a result, our guild, PIZZA 2 The Deep Dish, came in 2nd place in the group, and I earned 15 points and was rewarded with 738. If the next round turns out to be just as successful, I'll buy myself another Gladius Case :)
Was happy to share the experience and wish everyone good luck in the battles!

PIZZA 2 The Deep Dish
Experimental Toppings Acceptable



Posted using Splintertalk
---
---