Weekly Challenge! SILENT SHA-VI / Reto semanal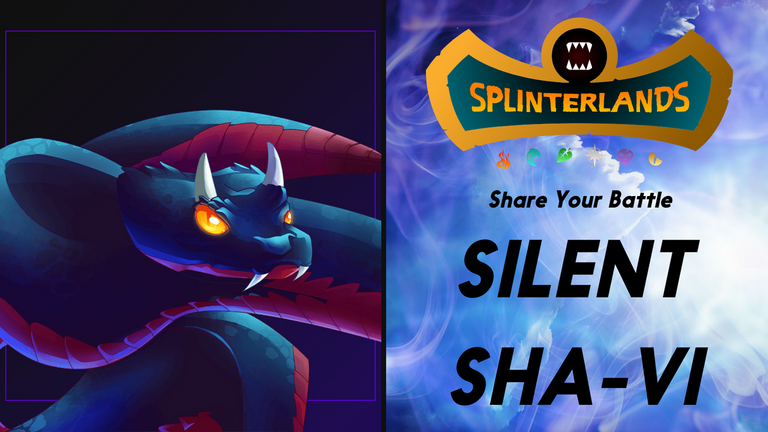 The card / La carta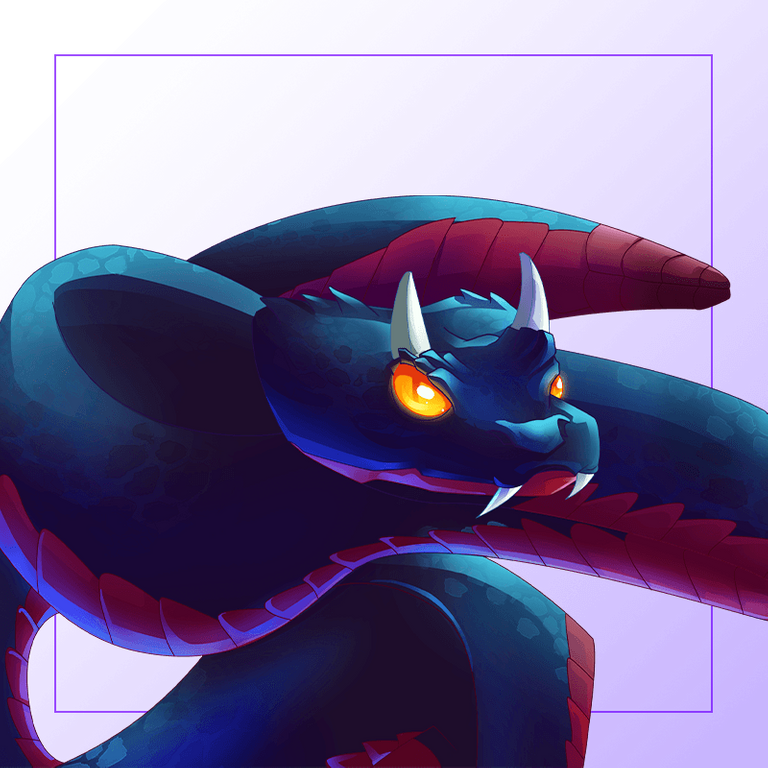 Lore / Relato
Silent Sha-vi are entities from the shadow realm that take the form of giant snakes. They travel in darkness and shadow as if each dark corner is a gateway that leads elsewhere. They have an appetite for slow and creeping deaths, feeding off the escalating fear of the victim. If you think there might be a monster under your bed, it's probably a Silent Sha-vi.
Tommy huddled beneath the covers in his bed, his room all the darker for lack of moonlight this night. The child knew there was a monster that crept within the house. He knew it. But his parents wouldn't listen. And tonight, just like the night before, he heard a sound underneath the bed.
Tommy remembered what his parents told him. To just look under his bed. Then he would realize he was safe.
The boy slowly sat up, his breath hitching in fear. His room seemed all the more frightening at night. Everything was shadow. Everything was a potential figure skulking in a corner, watching him.
He crawled to the edge of his bed and slowly lowered his head down. Heart pounding within his ears, he peered into the abyss underneath.
Two serpentine eyes peered back.
And Tommy screamed.
Silent Sha-vi son entidades del reino de las sombras que toman la forma de serpientes gigantes. Viajan en la oscuridad y la sombra como si cada rincón oscuro fuera una puerta de entrada que lleva a otra parte. Tienen un apetito por las muertes lentas y progresivas, alimentándose del creciente miedo a la víctima. Si crees que podría haber un monstruo debajo de tu cama, probablemente sea un Silent Sha-vi.
Tommy se acurrucó debajo de las sábanas de su cama, su habitación aún más oscura por la falta de luz de la luna esta noche. El niño sabía que había un monstruo que se arrastraba dentro de la casa. Él lo sabía. Pero sus padres no escucharon. Y esta noche, al igual que la noche anterior, escuchó un sonido debajo de la cama.
Tommy recordó lo que le dijeron sus padres. Solo mirar debajo de su cama. Entonces se daría cuenta de que estaba a salvo.
El chico se incorporó lentamente, su respiración entrecortada por el miedo. Su habitación parecía aún más aterradora por la noche. Todo era sombra. Todo era una figura potencial acechando en un rincón, observándolo.
Se arrastró hasta el borde de su cama y lentamente bajó la cabeza. Con el corazón latiendo dentro de sus oídos, miró hacia el abismo debajo.
Dos ojos serpentinos miraron hacia atrás.
Y Tommy gritó.

Lineup / Formación
Summoner / Invocador
THADDIUS BROOD is the chosen summoner, I have him in Gold Foil and that makes him more powerful and allows you to use higher level cards, also his ability to reduce life and magic damage is very useful. Especially since it is a battle with poison so the amount of life is key in this type of battle.
THADDIUS BROOD es el invocador elegido, lo tengo en Gold Foil y eso lo hace más poderoso y permite utilizar cartas de mayor nivel, además resulta muy útil su habilidad de reducir vida y daño mágico. Sobre todo porque es una batalla con veneno por lo que la cantidad de vida es clave en este tipo de batalla.
Tank / Tanque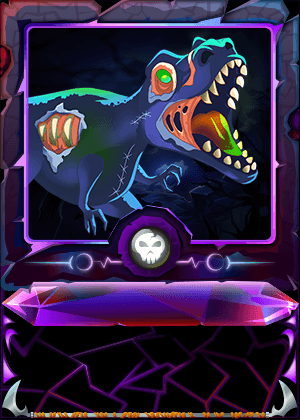 Undead Rexx It is the tank chosen for this battle, this dinosaur has a very great power with 5 melee damage although on the other hand you have to take into account that it has a small amount of speed, being so slow it is likely that they can dodge his blows. However, the main reason for placing this large tyrannosaurus is its large amount of life.
Undead Rexx Es el tanque elegido para esta batalla, este dinosaurio tiene un poder muy grande con 5 de daño cuerpo a cuerpo aunque por otro lado hay que tener en cuenta que tiene una poca cantidad de velocidad, por ser tan lento es probable que puedan esquivar sus golpes. Sin embargo la principal razón para colocar a este gran tiranosaurio es su gran cantidad de vida.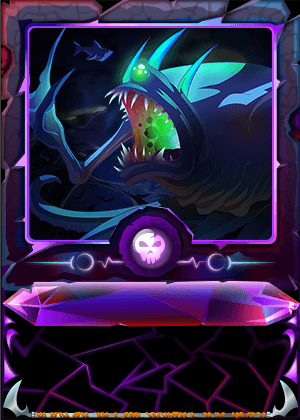 The Gorlodon is another great beast chosen for this challenge due to its ability to reach the enemy tank to hit it hard with its 3 melee damage, in compensation for that large amount of hit it becomes a slow and heavy creature with the amount lowest speed there is. 12 life makes it the card with the highest amount of life of the chosen ones and allows it to resist up to 6 turns of poison if it is not hit by any hit from the opponent.
The Gorlodon es ota gran bestia elegida para este reto debido a su habilidad puede alcanzar al tanque enemigo para atacarlo duramente con sus 3 de daño cuerpo a cuerpo, en compensación por esa gran cantidad de golpe pasa a ser una criatura lenta y pesada con la cantidad más baja que hay de velocidad. 12 de vida lo convierte en la carta con mayor cantidad de vida de las elegidas y le permite resistir hasta 6 turnos de veneno si no es alcanzado por ningún golpe del adversario.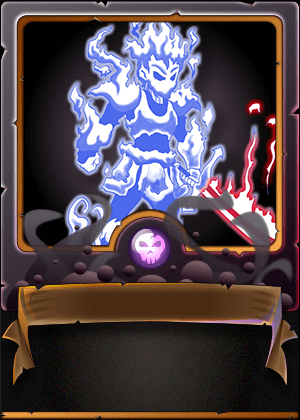 Phantom Soldier, after placing the first two beasts with a large amount of physical damage, I chose in this place to place the first card with magical damage, it also has greater agility and above all it is flying, so its probability of avoiding damage is very high. Change to the magic attack being can directly attack the life of the opponent avoiding his shield.
Luego de colocar las dos primeras bestias con gran cantidad de daño físico elegí en este lugar ubicar a la primer carta con daño mágico además tiene una mayor agilidad y sobre todo es volador por lo que su probabilidad de esquivar el daño es muy grande. Cambien al ser de ataque mágico puede atacar directamente a la vida del adversario esquivando su escudo.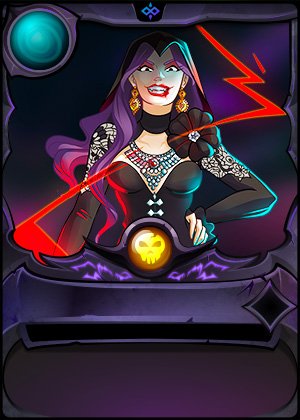 Lira the Dark is a legendary card that was released in the Chaos Legion airdrop, it is very fast even at the lowest levels. I choose it to have all the attacks including range, because of its agility I hope it will be the first to attack and violate an enemy shield to allow another card to attack directly to the life points or in the best case it can defeat a card with little life that the rival has.
Lira the Dark es una carta legendaria que fue lanzada en el airdrop de Chaos Legion, es muy rápida incluso en los niveles más bajos. La elijo para tener todos los ataques incluyendo rango, por su agilidad espero que sea la primera en atacar y vulnerar algún escudo enemigo para permitir que otra carta ataque directo a los puntos de vida o en el mejor de los casos que pueda derrotar alguna carta con poca vida que tenga el rival.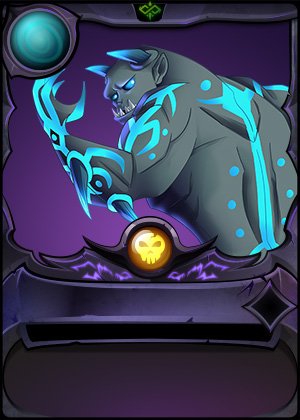 This is the key of the team, Harklaw is a legendary card from the Reward set. The most important thing about this card is its ability that unlocks after reaching its second level. This ability allows him to be immune to poison. An important point to keep in mind is that placing it in this position is not the most common or even the most recommended because it will not be able to attack until it reaches the first position. That is why it is usually used as a tank. The strategy is to have it in this position to prevent it from being damaged and resist until the poison takes care of the enemies.
Esta es la pieza clave del equipo, Harklaw es una carta legendaria del set Reward. Lo más importante de esta carta es su habilidad que desbloquea a partir de llegar a su segundo nivel. Esta habilidad le permite ser inmune al veneno. Un punto importante a tener en cuenta es que colocarlo en esta posición no es lo más habitual o incluso no es lo más recomendable porque no va a poder atacar hasta que llegue a la primer posición. Es por eso que habitualmente se utilice como tanque. La estrategia es tenerlo en esta posición para evitar que sea dañado y resista hasta que el veneno se encargue de los enemigos.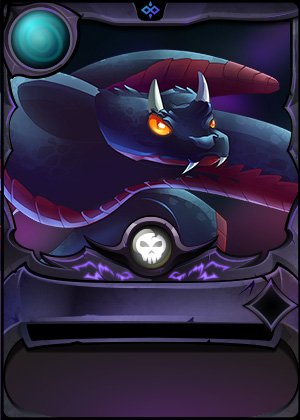 Lastly, I chose Silent Sha-vi, this week's featured card. His greatest virtue is the power to deal physical damage from any position. For this battle I decide to place him in the last position of the team to be able to protect and cover from any attack and keep Harklaw safe. As it has a large amount of health compared to the amount of mana it needs to be summoned. This large snake that was released in the last Chaos Legend set, whose rarity is normal, has great chances to do a lot of damage from behind.
Por último elegí a Silent Sha-vi, la carta protagonista de esta semana. Su mayor virtud es el poder hacer daño físico desde cualquier posición. Para esta batalla decido colocarlo en la última posición del equipo para poder proteger y cubrir de cualquier ataque y mantener a salvo a Harklaw. Como tiene una gran cantidad de vida en comparación a la cantidad de mana que necesita para ser invocado. Esta gran serpiente que fue lanzada en el úlimo set de Chaos Legend, cuya rareza es normal, tiene grandes posibilidades de hacer mucho daño desde atras.

The Battle / La Batalla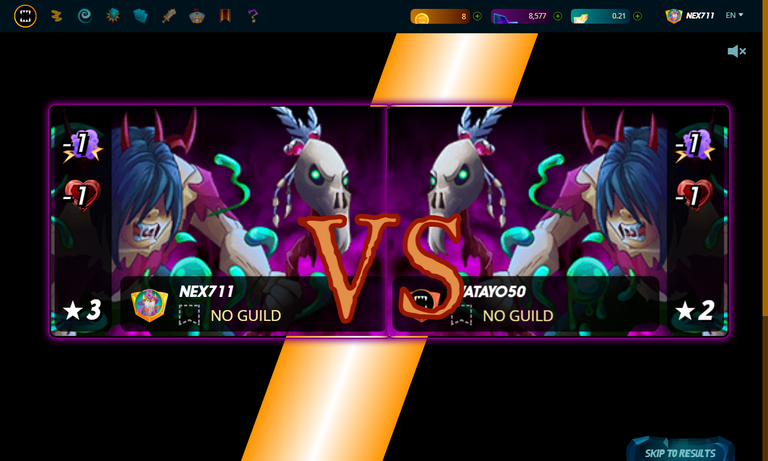 A 99 mana battle, that is, without the team being able to choose regardless of the amount of mana to be used and a battle condition, all cards in play start out poisoned.
Una batalla de 99 de mana, es decir sin que se puede elegir el equipo sin tener en cuenta la cantidad de mana que se vaya a utilizar y una condiciones de batalla, todas las cartas en juego comienzan envenenadas.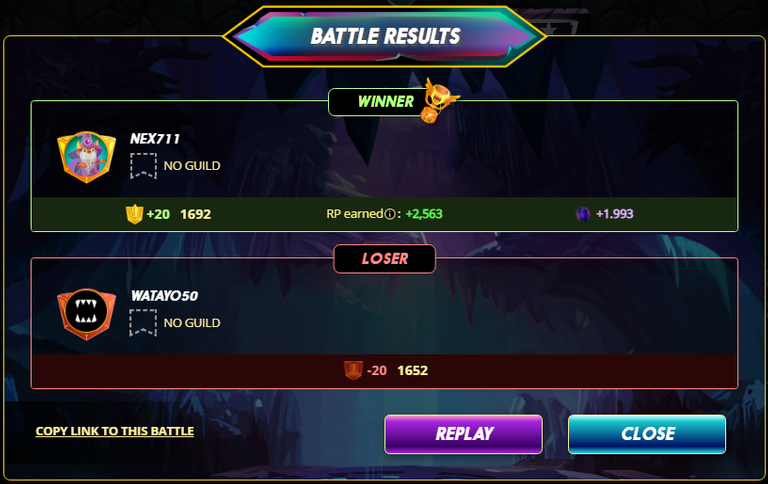 Did your strategy work? What will you try differently next time? / ¿Funcionó tu estrategia? ¿Probarías algo nuevo la próxima?
The strategy worked as expected. It was a 99 mana battle so any card could be used with no limits. It is the opportunity to choose the cards that require the most mana to be summoned. This allows you to have a large number of options and different types of strategies, but in this particular battle you have to take into account the poison that is going to be applied in all turns. That is why the amount of life they have must be taken into consideration. I chose based on that and also used Harklaw for his ability. The idea is that it survives everything until it becomes the tank. It worked correctly and I win without taking damage.
La estrategia funcionó como lo esperaba. Era una batalla de 99 mana por lo que se podía utilizar cualquier carta sin límites. Es la oportunidad de elegir las cartas que mayor cantidad de mana requieren para ser invocadas. Esto permite tener una gran cantidad de opciones y distintos tipos de estrategias pero en esta batalla en particular hay que tener muy en cuenta el veneno que se va a aplicar en todos los turnos. Por eso se debe tener en consideración la cantidad de vida que tangan. Elegí en base a eso y también utilice a Harklaw por su habilidad. La idea es que sobreviva todo hasta llegar a ser el tanque. Funcionó correctamente y gano sin recibir daño.
Do you like the SILENT SHA-VI? Why or why not? / ¿Te gusta SILENT SHA-VI ? ¿Por qué?
SILENT SHA-VI is a common card with an affordable cost so it can be a good option to have it at high levels, but even in its early stage it can be used in different ways. Mainly support because he doesn't have enough skills to tank. Although it does not require much mana to be summoned, maybe under some circumstances it can be a tank but it is better used in other positions. Starting at level 3 with his increased speed and damage he becomes a great option.
SILENT SHA-VI es una carta común de un costo accesible por lo que puede ser una buena opción para tenerla en niveles altos, pero incluso en su primera etapa se puede utilizar de distintas formas. Principalmente de soporte porque no tiene las suficientes habilidades para ser tanque. aunque no requiere mucho mana para ser invocado tal vez bajo algunas circunstancias si pueda ser tanque pero se aprovecha mejor en otras posiciones. A partir del nivel 3 con su aumento de velocidad y daño se convierte en una gran opción.

---
---