Growing on all sides. The power of consistency.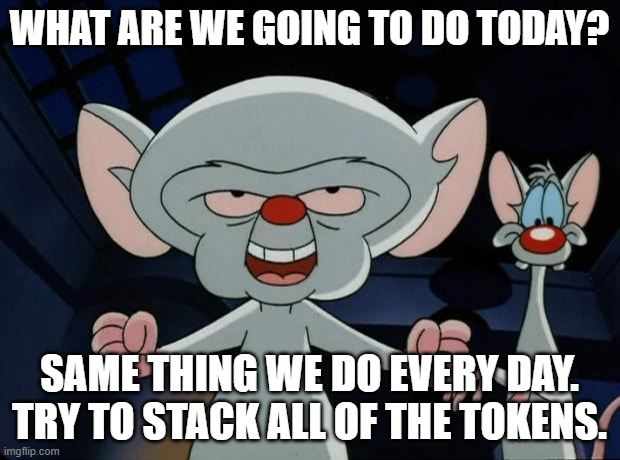 Goals and targets for 2021
This is my favorite post of the month as it shows me where everything is heading and how fast you can grow your crypto holdings entirely based on the Hive blockchain.
Never mind all of the other opportunities out there in crypto today that exist but you can build a living over time, just from your activity here, now.
I have been earning and stacking for the past four years with no intention of stopping anytime soon. I have plans to keep building this account until it becomes part of my new self-sustainable lifestyle.
A life built on web3 and earnings from crypto.
Setting goals is a big part of this as it will not be easy to grow to these kind of levels. It's possible, just not easy.
Earlier this year, i set some goals for my main hive based tokens and hope to reach these by the new year.
100k Hive Power ( From 50k )
5k LEO power ( From 2.5k )
5k CTP power ( From 2.2K )
And a couple of late additions as they didn't even exist at the time,
5k $CUB staked to the den.
50K SPS staked to the game.
Stats at the end of the month.
HP 60,906 ( - 3,456 )
Leo 13,526 ( + 1,176 )
CTP 5,520 ( + 462)
CUB 22,725 ( + 7,423 )
SPS 45,265 ( + 15,265 )


I have to say, it's been a good month. LEO and Splinterlands are a huge part of the eco-system here and two projects that i want to be in big time and long term. They always had huge potential but have really shown it over the past few months.
My Hive balance has gone down but that is only because I wanted some liquid funds to take advantage of the markets. It has worked out very well and just now i have managed to sell 4k hive into the big pump and hit my buyback at 82C for 1000 hive Profit. So really that figure could be + 1600 for the month if i powered up. However with the volatile markets i want to have some Hive ready to go and keep taking profits from the wild pumps that we get from time to time.
My CUB might seem like a huge gain but I actually bought 5k of them just after the announcement post about the airdrop. I had 300K DEC saved up from my splinterlands rentals and voucher drops that I was planning on using to buy chaos packs. Then with the announcement I bought 5800 CUB below 50c and waited for the hype to follow. If it does get to $1 before the end of the presale I would still like to get 1000 chaos packs from this money. Hoping for a nice 2x to make it feel like better value.
As for SPS, thanks @aggroed for the free money. It's been emotional.
With this it is all going to staking for the long term. If the game keeps growing then these will be some very valuable tokens in a couple of years time. I expect a solid price for this year with a big drop when the airdrop finishes, followed by a gradual increase in price as people want to get their hands on a limited supply.
I will be holding all the way through, except to buy a few chaos packs if the opportunity arises. Will do minimum 100 anyway i think.
Where does that leave me now?
This leaves me in a very good place as you can see. I don't know how much longer we will see these green numbers in the crypto market or when the play to earn bubble will burst but for now it is all good news.
I will be going full time crypto in just a couple of weeks and have been trying to build a solid rental stream from splinterlands as well as increase my activity on chain and off chain.
I have already smashed 3 out of 5 targets for the year. I will hit my SPS goal in the next few days and 100K Hive is not as far away as it might seem.
I have been getting out my posts a lot more methodically and consistently over the past month with the extra time coming from winding down at work.
I will keep pushing forwards month after month for the foreseeable future until it is no longer fun to do.
But I love this chain and love this space so can't see that happening anytime soon. Until then i will be putting a big focus on trying to get some cheap vouchers before the pre-sale ends and hustle for another month.
On a final note.
It's really worth joining noise.cash here as a handy way to build a Bitcoin Cash stack in a fun and friendly way. This is my affiliate so that i can see you join and support you when you land. There is obviously a bonus for me too but that is the fun of affiliates.
There is a #1BCH challenge to try and stack a full bitcoin cash through using the site. Currently sitting on 0.40 BCH just form posting a few short pics, posts and comments. Not a bad way to earn $240.
It's actually quite addictive. I have written about it in the past,
But every week it will get harder to earn as more and more people find out what a gem it is. Worth taking a look.
Until next month.
Have fun and keep stacking.
Posted Using LeoFinance Beta
---
---