Scams are everywhere.
Beware of discord.
Discord is a great tool for building communities and organizing groups of people to do anything.
The majority of active crypto users are either on discord or telegram.
I know it.
You know it and what's worse, the scammers know it.
Barely a day goes by without receiving a scam message in discord. They get lists of users from active crypto discords and spam everybody. It doesn't take much effort and I'm sure that they keep getting people to fall for it or they wouldn't keep doing it.
Most are the basic type,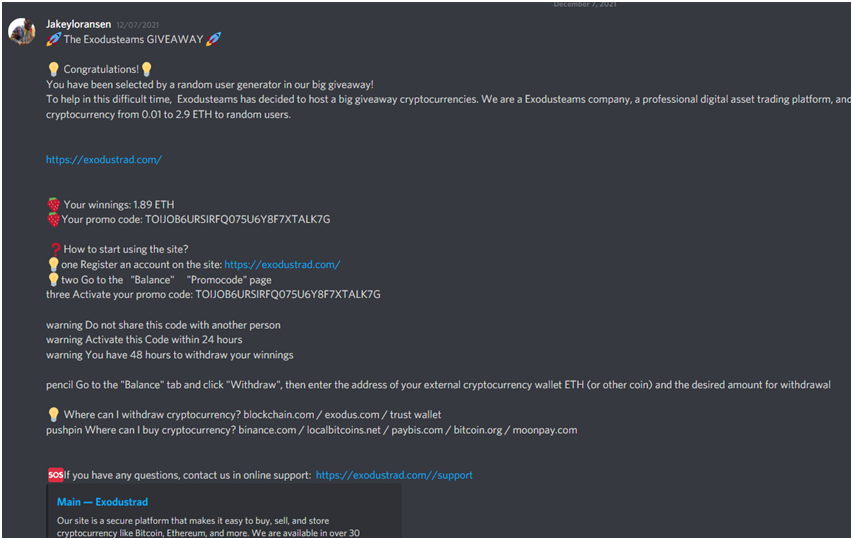 It turns out that i have won 1.89 ETH. How luck is that. I have won almost 10k from a group that i have never heard of and competition that i never entered.
Easy to spot the fakes.
Then this morning I received a slightly better one.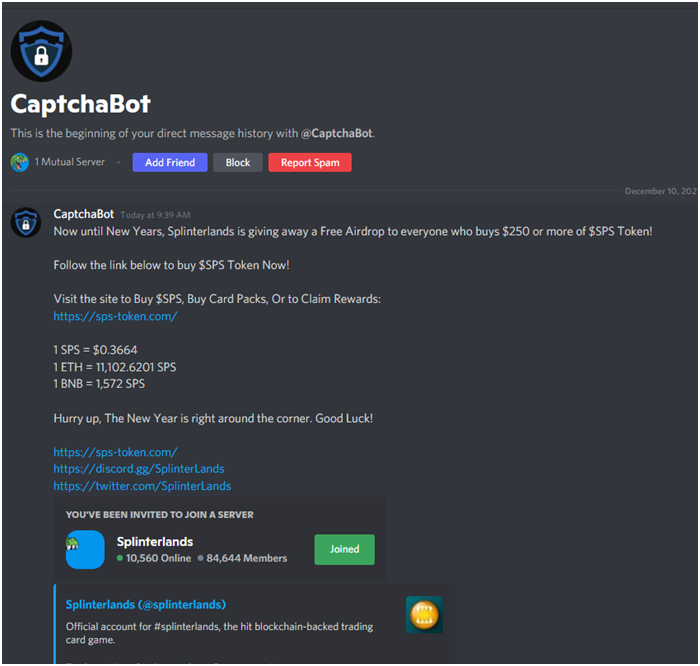 This one was for @splinterlands. A game that I play and a discord that I have joined. They have the proper discord channel and twitter account for the game and they don't just pretend that i have won the money.
They are offering a good deal. Buy $SPS a legit token that is currently on sale and that i know about for a game that i play and interact with on discord.
Much more believable.
Still a scam.
I know that it's a scam because I know that everything is a scam.
This one is a lot more dangerous though as it is believable.
If i was a new player that didn't fully know about the token and the exchanges and the fact that splinterlands will never host an offer of this sort then it would be easy to click the link and lose my funds.
Everything is a scam.
If you get a random message its a scam.
If you didn't enter a competition then its a scam.
If you don't know them then it's a scam.
Basically everything that comes your way is a scam until proven otherwise.
Stay safe out there and do your research before getting involved with anything. Learn from all of mistakes up until now and protect your accounts.
It can still happen to you but try to stay safe out there. There are scams everywhere.
Posted Using LeoFinance Beta
---
---