Hydra Fan Art - Splinterlands Art Contest Week 198
Hydra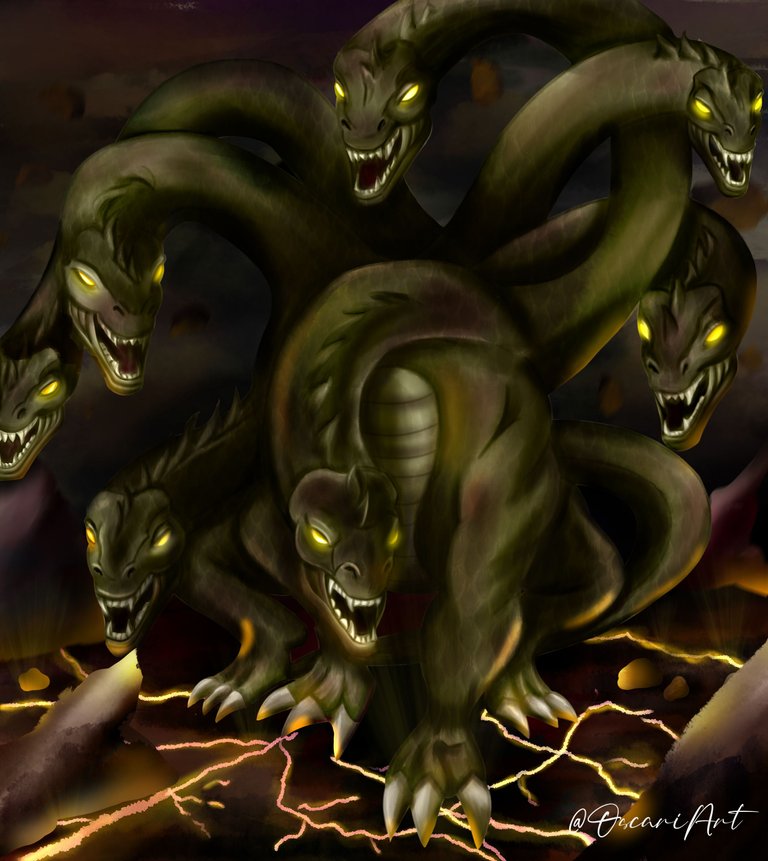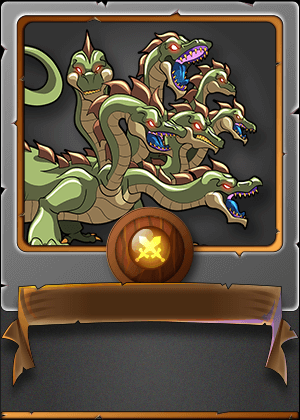 Hello friends! Welcome to today's post :3. I bring you my entry to the splinterlands weekly contest, this illustration was for last week, but seeing that it took a lot more work than I thought I decided to leave it for this week.
For this opportunity I have chosen the Hydra :D. I was excited about the idea of doing something more "mythological" so to speak, and when I saw this card I said: "ufff! Let's try it", so I got to work. I'll tell you the process of it below.
Hola amigos... Bienvenidos al post de hoy :3. Les traigo mi participación en el concurso semanal de splinterlands, esta ilustración era para la semana pasada, pero al ver que me llevó mucho más trabajo del que pensaba decidí dejarla para esta semana.

Para esta oportunidad he elegido a la Hydra :D. Me entusiasmaba la idea de hacer algo más "mitológico" por así decirlo, y cuando vi esta carta dije: "¡ufff! Vamos a intentarlo", así que me puse manos a la obra. A continuación les cuento el proceso de la misma.
---
PROCESS - PROCESO
---
English
To begin with, let's read about the splinterlands hydra: this card is legendary, it belongs to the BETA edition.
The Hydra is not a Dragon. It is a despicable and terrifying creature that is as cunning as it is destructive. Since arriving in the Splinterlands, the Hydra has aimed for nothing but total domination through any means necessary. He has an array of formidable defenses, healing, and Dragon-force attack.
Spanish
Para empezar, vamos a leer sobre la hydra de Splinterlands: esta carta es legendaria, pertenece a la edición BETA.
La Hydra no es un Dragón. Es una criatura despreciable y aterradora, tan astuta como destructiva. Desde que llegó a las Tierras Esparcidas, la Hidra no ha pretendido otra cosa que la dominación total por cualquier medio. Cuenta con una serie de defensas formidables, curación y ataque de fuerza de dragón.
---
---
Ok! To start the elaboration I made the sketch and after that I had started directly with the base colors, but it got too complicated, so I preferred to pause for a while and I decided to make it in grayscale
Ok! Para empezar la elaboración hice el boceto y después había empezado directamente con los colores base, pero se complicó demasiado, así que preferí hacer una pausa y opté por hacerlo en escala de grises.
---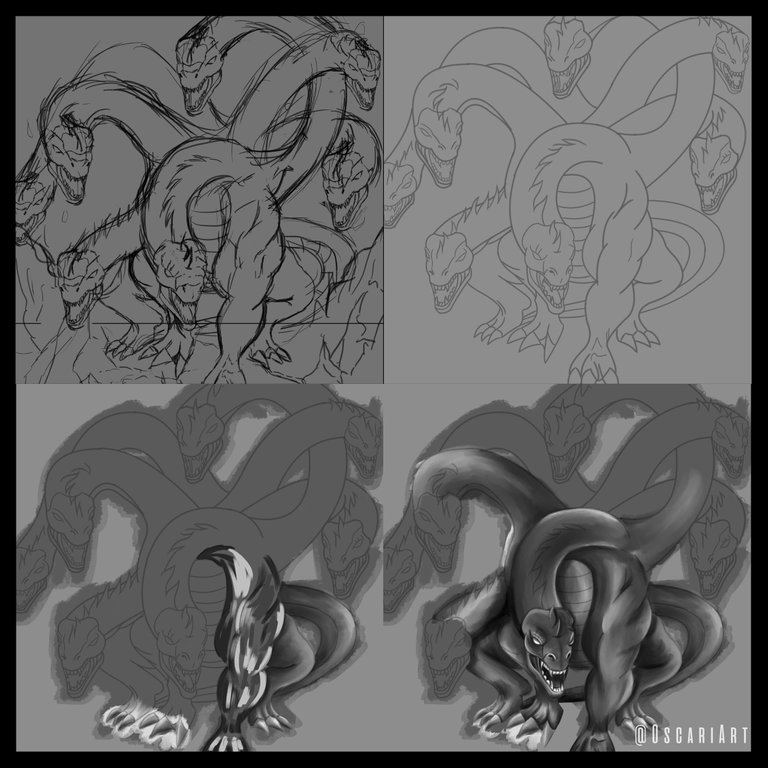 ---
The process of the grayscales seemed to me quite extensive, to organize myself better I made the line art with a light gray tone on the layer with "multiply" blend fusion, and then I placed the base color of this, from there I started in the best way to realize my idea.
El proceso de las escalas de grises me pareció bastante extenso, para organizarme mejor hice el line art con un tono gris claro en la capa con fusión de mezcla "multiplicar", y luego coloqué el color base de esta, a partir de ahí comencé de la mejor manera a realizar mi idea.
---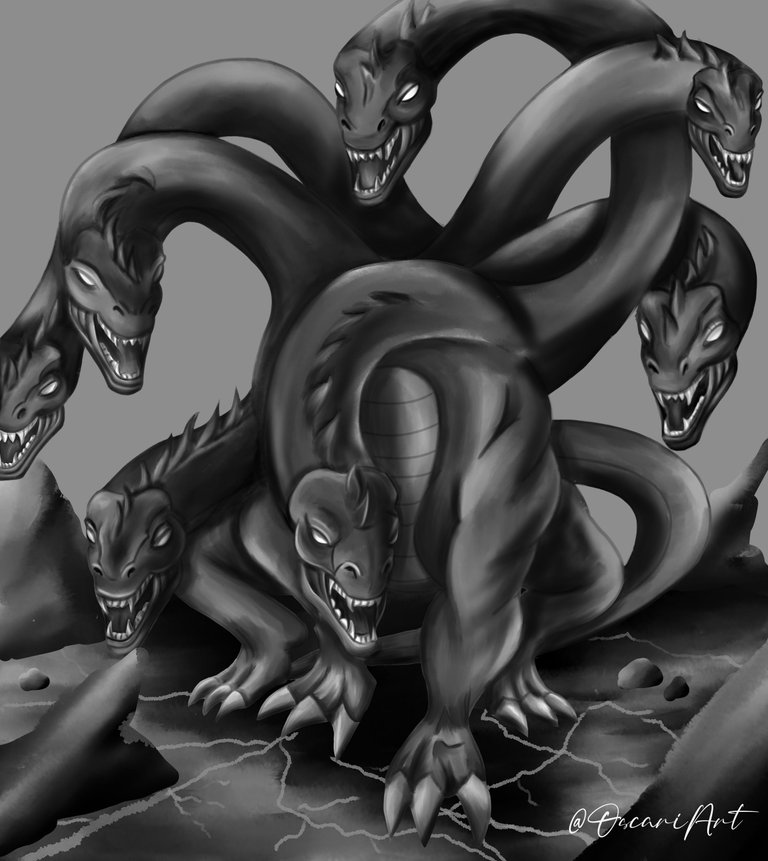 ---
Once I had this, I moved on to color. For this part I used layers with "color" fusion and to improve some details I used some in blend fusion: "multiply", "saturation" and "color overexposure".
Una vez que tuve esto, pasé a los colores. Para esta parte utilicé capas con fusión de "color" y para mejorar algunos detalles utilicé algunas en fusión de mezcla: "multiplicar", "saturación" y "sobreexposición de color".
---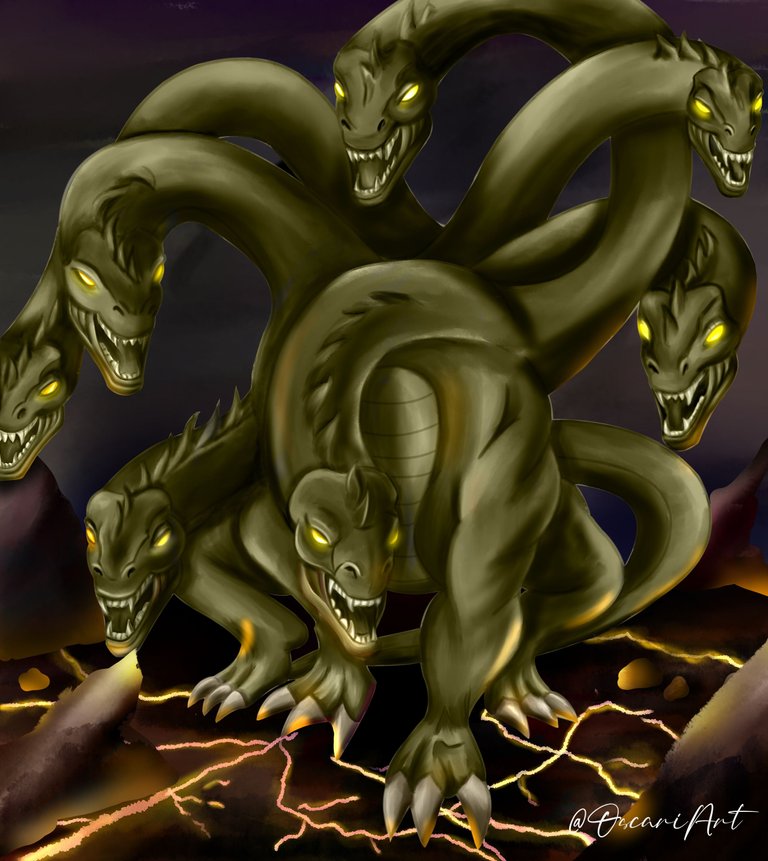 ---
To finish I added light, also some rocks in the air with blur filter, some details in the sky and scales on the hydra.
Para terminar añadí luz, también algunas rocas en el aire con filtro de desenfoque, algunos detalles en el cielo y escamas en la hydra.
---
Full Illustration - Ilustración Completa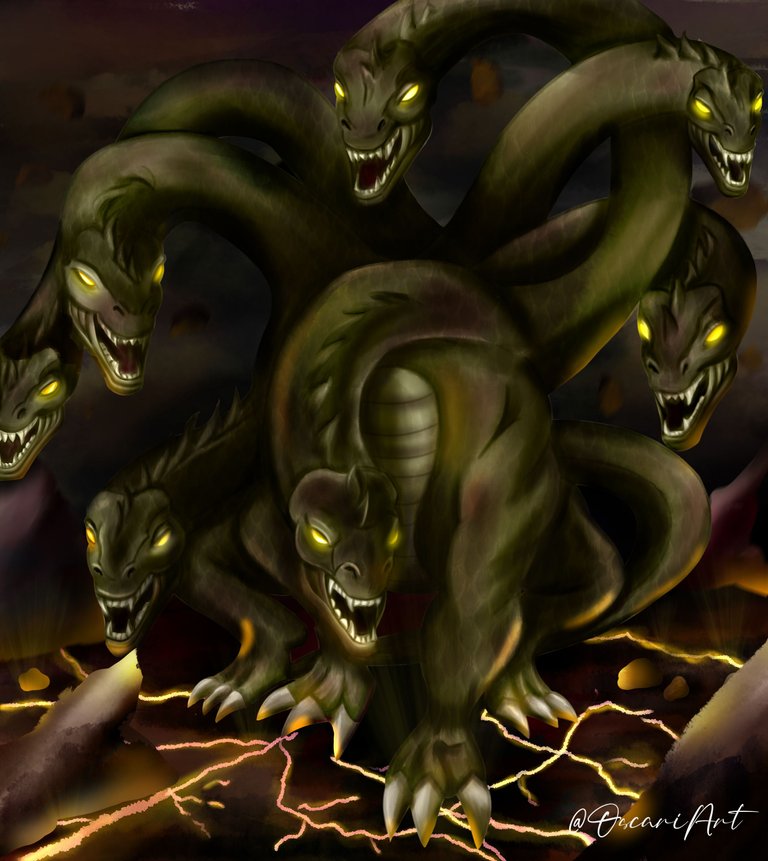 ---
---
This is the final result, I hope you like it and enjoyed it, see you next post! Good vibes!!! ✨🙏
¡Este es el resultado final, espero que les guste y lo hayan disfrutado, nos vemos en el próximo post! Good vibes!!!✨🙏
---

---
Twitter:
Instagram:
Tools - Herramientas
Huion H430P Graphics Tablet | Tableta Gráfica Huion H430P
Translated in Deelp
App used | App utilizadas:
Illustration made in Clip Studio Paint - Ilustración elaborada en Clip Studio Paint
All images are my own - Todas las imágenes son de mi autoría
---
---