Owly Farm tournaments results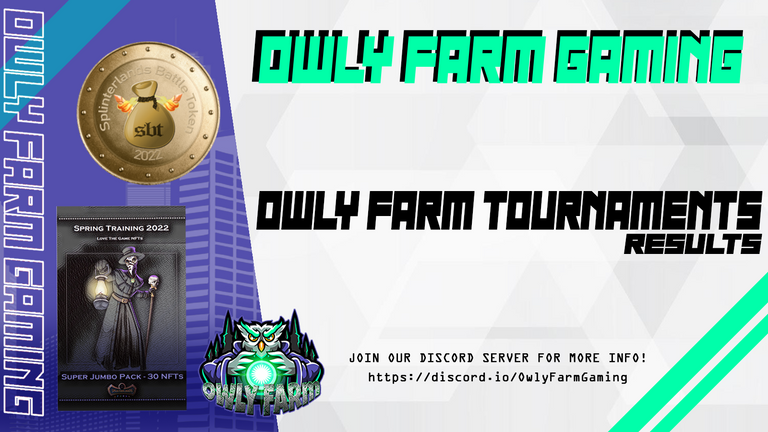 This week we organized 2 tournaments. One 24h tournament in partnership with Splinterlands Battle Token and another live tournement in partnership with Spring Training.
On 28.05.22 80 it was the SBT x Owly Farm bronze league tournament, 80 people registered for the tournament. 400k of SBT was sent to the winner as tournament rewards. All winnings in SBT was sent by Donma. If you haven't received your winnings, you can contact Donma on the Owly Farm discord
On 05.06.22 80 it was the Spring Training x Owly Farm bronze league tournament, 94 people registered for the tournament. 3 - STSUPER, 5 - STJUMBO, 8 STREGULAR, 75 STMINI ,more than 22k of DEC for the winners and and the great return of NFT esports rewards from Owly Farm. Winnings will be sent from today. I remind the winner that he must have a wax account (for the NFT Spring Training and Owly Farm) and come to the Owly Farm discord to give us your wax account, your IGN and a screenshot of the tournament result. Donma will send you your winnings within 24 hours.
---
CHAMPION
The splinterlands-ru guild particularly distinguished itself in the 2 tournaments. The players of this guild are really impressive and showed us some very nice cards and strategy during the live streams of the tournament last night.
We thank them for their sporting behavior and for playing the final seriously.
@monsterstamer is the grand champion of the Spring Training x Owly Farm tournaments as well as the SBT x Owly Farm tournaments. All my congratulations to this top player of splinterlands !!!!! It's an honor to see them participate in the Owly Farm tournaments


---
WINNERS
I would particularly like to congratulate @Masterco, silver league player who is also particularly distinguished and who finished 3rd in the Spring Training tournament. He had serious opponents in front of him and had a very good tournament.
Congratulations to all the participants. We are infinitely grateful that you participated in the Owly Farm tournaments and for your support.
SBT x Owly Farm .
1: @monsterstamer
2: @rentaw03
3: @splinterlands-ru
4: @adamaro
5: @hoshikinsei
6: @lriddlerl
7: @mnemonikx
8: @owl001
9: @kraaaaa
10: @amaillo-m
11: @rbaetz
12: @shadecroat
13: @coffinnail
14: @davethegreat
15: @z1ddax
16: @sawel
17: @sakuraba
18: @reconnectnature
19: @kennypowers55
20: @rileykat
21: @caguao921
22: @softa
23: @kjchemical
24: @bjyshadow
25: @mcmanus
26: @deric143
27: @shylenknigh
28: @amykaariya
29: @kevian21
30: @trokari
31: @zeolee
32: @on0tole
33: @burnsurface
34: @splinterbin
35: @icebirdd
36: @edge1977
37: @blackfoot92
38: @foguinho
39: @ninetailsfox
40: @summoner-cha
41: @zorrillo91
42: @lunchboxxx
43: @psychopumpkin
44: @ezeukhan
45: @lis64
46: @ivanar
47: @n0chance4u
48: @mrmouh
49: @redninjajermi
50: @wengsmith1125
51: @vortexz3
52: @amaari
53: @donma
54: @original1
55: @ziggysd
56: @mrcandy
57: @drswole
58: @jeniasmooncat
59: @avidez
60: @sgt-dan
61: @bassilus90
62: @sanscrypt
63: @mrvici
64: @bluemargarita



04.06 Sprint Training x Owly Farm .
1: @monsterstamer
2: @splinterlands-ru
3: @mastersco
4: @amaillo-m
5: @owl001
6: @sakuraba
7: @sendtoepics
8: @vervain01
9: @ramadhanight
10: @jayroc
11: @fooze
12: @ace34
13: @volkiceper
14: @jumpsuit
15: @busyness98
16: @wengsmith1125
17: @arcgspy
18: @dishonesty
19: @savvykills
20: @summoner-cha
21: @pinchadivesh
22: @freeboll
23: @tomtidom74
24: @chakimanu
25: @sawel
26: @donma
27: @bassilus90
28: @superslayer0040
29: @oadissin
30: @snowboarderpete
31: @arroara
32: @absea
33: @junellargo
34: @fdkjsjdalkf
Thank you all for participating ! We hope to see you again in our next tournament.
Thank you to the people who came to see Donma during the live stream. You are amazing and without you Owly Farm would not be here. Thanks again for your support of Owly Farm.
---
NEXT TOURNAMENT
Next Saturday, 28.05.22 at 6:00 p.m (gtm+1). there will be another SBT x Owly Farm tournament.
More than 400k of SBT & 2500DEC of rewards
25 DEC entrance fee
Bronze league, all cards allowed except Alpha/Beta and legendary summoners.
We will also organize several additional tournaments per week. There will be SCV hive tokens, NFTs Owly Farm on wax as well as decs as rewards. Tournaments will be steamed by our amazing streams team @arcgspy @cmmndrbawang and @typicalplaya14 More information on discord and peakD in the current week.
---
OWLY FARM NFTs!
As additional rewards to Owly Farm hosted tournaments, the team will mint reward NFTs for tournament winners. This initiative is to give thanks to all community members of Owly Farm, especially the loyal fans. There will be different designs for borders, trophies, and backgrounds each month, to the rarity of the NFTs.
"It also allows us to do some promotion for our partners who supports us and help us to do these Esport tournaments."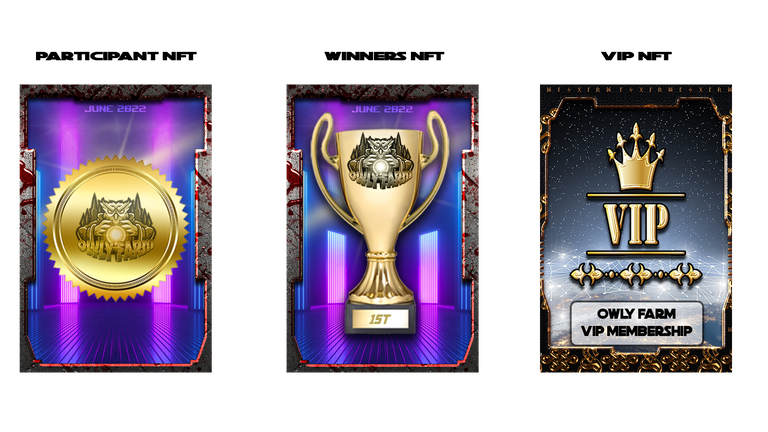 To obtain the tournament NFTs, community members should participate in Owly-Farm-hosted tournaments. The NFTS will be tradable in the WAX blockchain and can be viewed in Atomic Hub. Aside from NFTs for tournament winners, there will also be consolations for NFTs and bonus NFTs for participants. These can be claimed over NeftyBlocks and can be sold and bought in Atomic Hub.
More information in our last article on peakD
https://peakd.com/hive-167922/@owlyfarm/owly-farm-gaming-releases-tournament-and-vip-nfts
---
GIVEAWAY
As a kicker for our partnership with Spring Training, some giveaways will also be included in our discord. To be eligible for the giveaway make sure to follow these steps:
Join Owly Farm Gaming discord server: https://discord.gg/FQtyZy95Q3
ONE STMINI in giveaway every 3 days on our discord (and other giveaways on other days).
You must have posted a message in 💼᲼❙᲼general or 🥳᲼❙᲼mêmes-only-gif at least 3 days before the end of the giveaway. If you are not active on discord at least, you will not be eligible for a victory and in this case another winner will be chosen.
---
TWITCH STREAMS
https://www.twitch.tv/owlyfarmgaming
The twitch channel of the Owly Farm Main Roster Members. We promote esports in the Play 2 Earn cryptogaming community. . Giveaway at each of our streams for ACTIVE FOLLOWERS in the chat ONLY. Join us for lots of fun !!!
---
---