Competitive in Silver under $40 (ENG-ESP)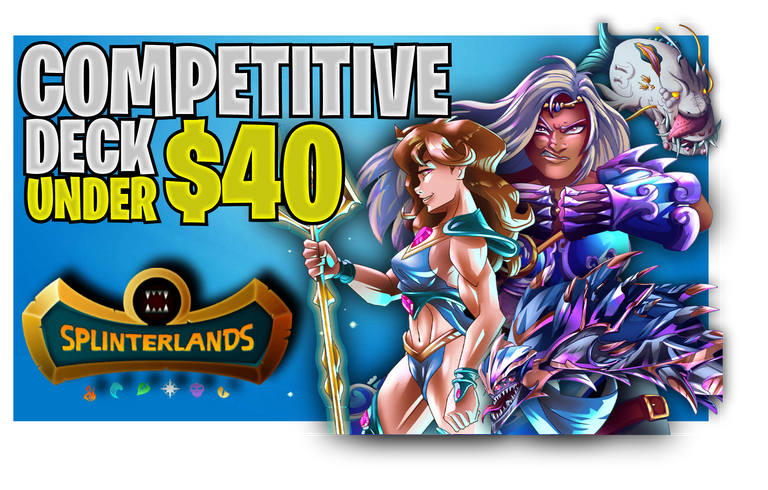 We return this week to talk about a lineup to start in splinterlands and this time it's the blue category (water) I will try to economize this lineup but at the same time to be functional, The recent addition of the Riftwachers set brought us very interesting cards to add to our lineups that as the days pass are being seen in functionality and with good results and we will also add them to the cart, being a lineup to start in the game I will focus on the player can be playing in silver at competitive level (we talk about keeping you in about 500 places in the top silver).
I already talked about a lineup for land that you can see in this link:
https://peakd.com/hive-13323/@pablodare2/competitive-in-silver-under-dollar30-eng-en-esp

---
THE SPLINTER:
---
The summoner is a very important part of the game and among the options we have in Modern we are going to stick with the beloved KELYA FRENDUL at level two which as of today costs $17.82.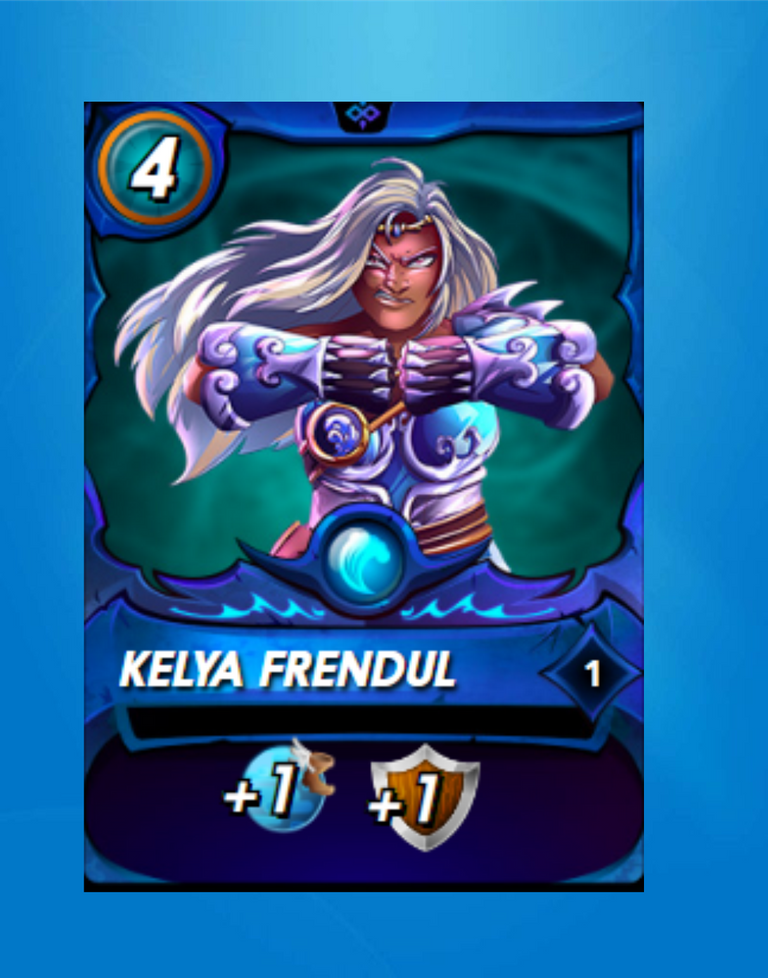 ---
COMMON:
---
The section of the commons in this type of summoner is very hard because some cards have very good advantages at level 3 which is the one that will support our summoner and become super useful cards when playing so we can not cheapen much with lower levels of the same to have a good margin of victory.
These common cards I think would be the most necessary at level 3 as each of them improves their stats quite a bit by having them at that level: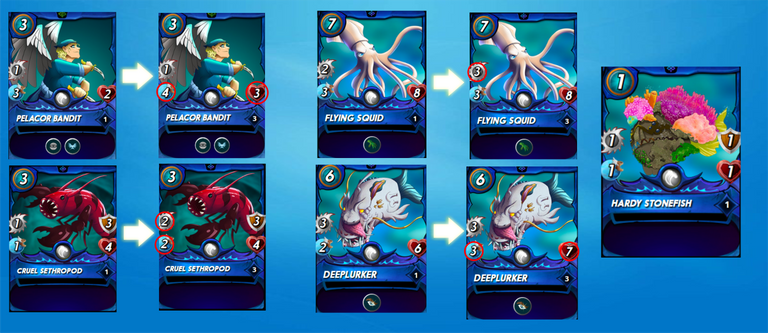 PELACOR BANDIT (level 3) $0.25
CRUEL SETHROPOD (level 3) $1.12
FLYING SQUID (level 3) $2.13
DEEPLURKER (level 3) $4.13
And these cards can be had at level 1
HARDY STONEFISH (level 1) $0.02
We are going to buy only 5 common cards, CRUEL SETHROPOD as an economic tank, HARDY STONEFISH to cover the cost 1 in several battles, an alternative that can be valid is to buy CHAOS AGENT that would be a colorless cost one... the cards cost 1 we will use them a lot because many times we will have a gap and having at least one card to own for this gap you will earn more reward for the daily chest, this change of cards will cost us a little more but we can use it later with all the summoners, if the rule does not allow them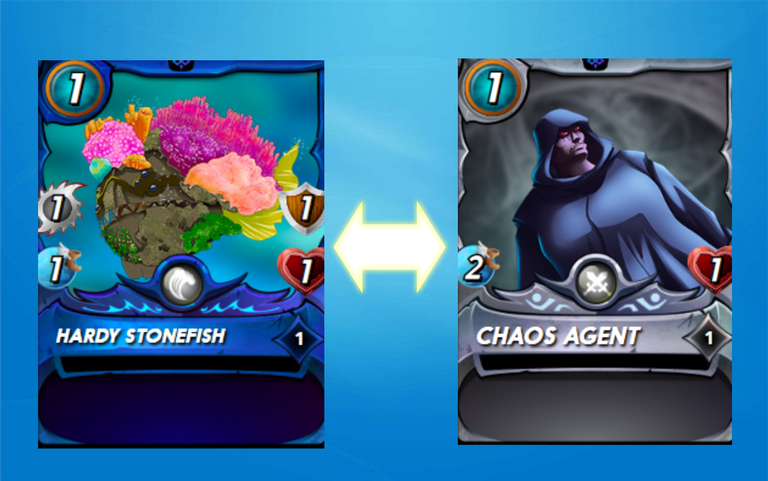 ---
RARE:
---
In the section on rare cards we are going to place them at level 1, but as you progress through the game it is recommended that you upgrade them to level 2 when you can. I would add these 3 cards to my collection as they will be cards that we will use a lot in our games.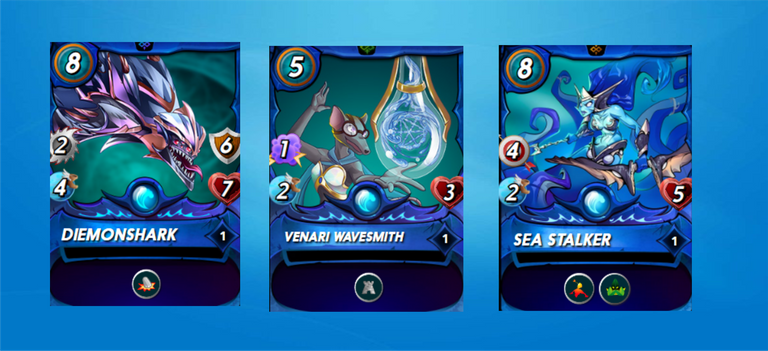 VENARI WAVESMITH (level 1) $0.02
DIEMONSHARK (level 1) $0.47
SEA STALKER (level 1) $0.63
In the case of the Venari has lost strength over time as the meta in silver is very focused on magic but still is a great option and its price is more than economic, DIEMONSHARK will be our tank in high mana battles, and the new acquisition of Riftwachers SEA STALKER, is really a cardboard that you will use without doubt in several battles.

---
SPICES:
---
In the role of epics we will have three very good and useful cards for different games.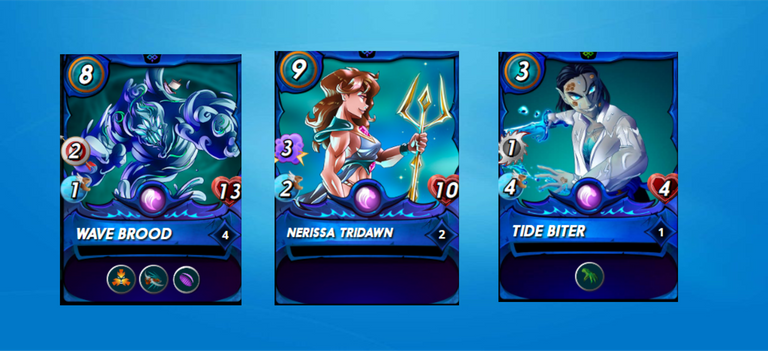 TIDE BITER (level 1) $0.15
NERISSA TRIDAWN (level 1) $1.72
WAVE BROOD (level 1) $1.81
What can I say about these three cards WAVE BROOD is an excellent card with taunt, and taunt is a skill that in splinterlands can give you many games, I would say that you would have to have all of them to be a true poke master... OF SPLINTERLADS!
NERISSA TRIDAWN is a card that you will use many many many many times. And with TIDE BITER I'm going to be honest with you it's going to be useful but it's not going to be your most used card, you don't have the money for this build cut this dude out first.

---
LEGENDARIES:
---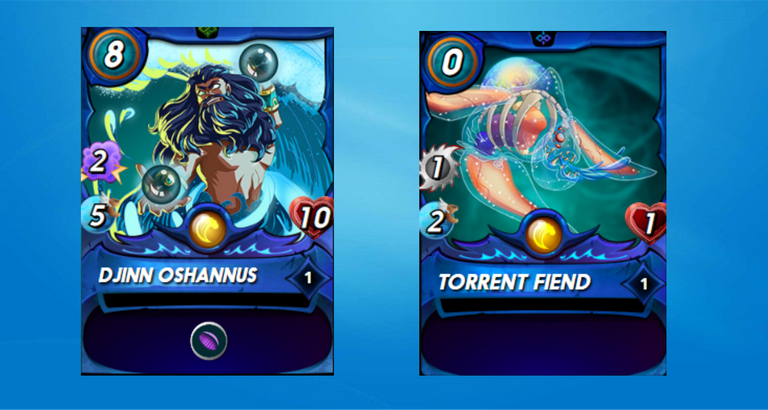 DJINN OSHANNUS (level 1) $2.6
TORRENT FIEND (level 1) $6.12
DJINN OSHANNUS is perfect for silver, in a meta with so much magic this guy will be one of your best allies. TORRENT FIEND, I said some time ago that the win rate increases a lot if you have all the angry chickens of chaos legion and I keep saying it, but if you still don't have a big budget I wouldn't prioritize this cards.
I hope this summary was useful for you, remember that I am a silver player with positions in the top 150 of the world top, who plays without bots and this experience can help you to win more games.
And one more thing if you still do not play splinterlads you can do it from the banner that you will find a little further down. I salute you and we will read each other in the next days with another post!
---
credits
. All images made by me with corel draw taking the images from the SPLINTERLANDS chart.
. banners created by me with inspiration from google resources and with the logo taken from the official SPLINTERLADS website.
. The png of the words ENGLISH and SPANISH were created on this page
. The separator bars were designed by me INSPIRED BY ONE I SAW A WHILE AGO ON HIVE
. Translated with deepl.com


Volvemos esta semana a hablar de una alineación para empezar en splinterlands y esta vez le toca a la categoría azul (agua) voy a intentar economizar esta alineación pero al mismo tiempo que sea funcional, La reciente agregación del set Riftwachers nos trajo cartas muy interesantes para agregar a nuestras alineaciones que a medida que pasan los días se están viendo en funcionalidad y con buenos resultados y también vamos agregarlas al carrito, al ser una alineación para comenzar en el juego me voy a centrar en que el jugador pueda estar jugando en plata a nivel competitivo (hablamos de mantenerte en unos 500 puestos del top plata)
Ya hablé de una alineación para tierra que puedes ver en este link:
https://peakd.com/hive-13323/@pablodare2/competitive-in-silver-under-dollar30-eng-esp

---
EL INVOCADOR:
---
El invocador es una parte muy importante del juego y entre las opciones que tenemos en Modern vamos a quedarnos con el querido KELYA FRENDUL a nivel dos que al día de la fecha tiene un costo de 17.82 dolares.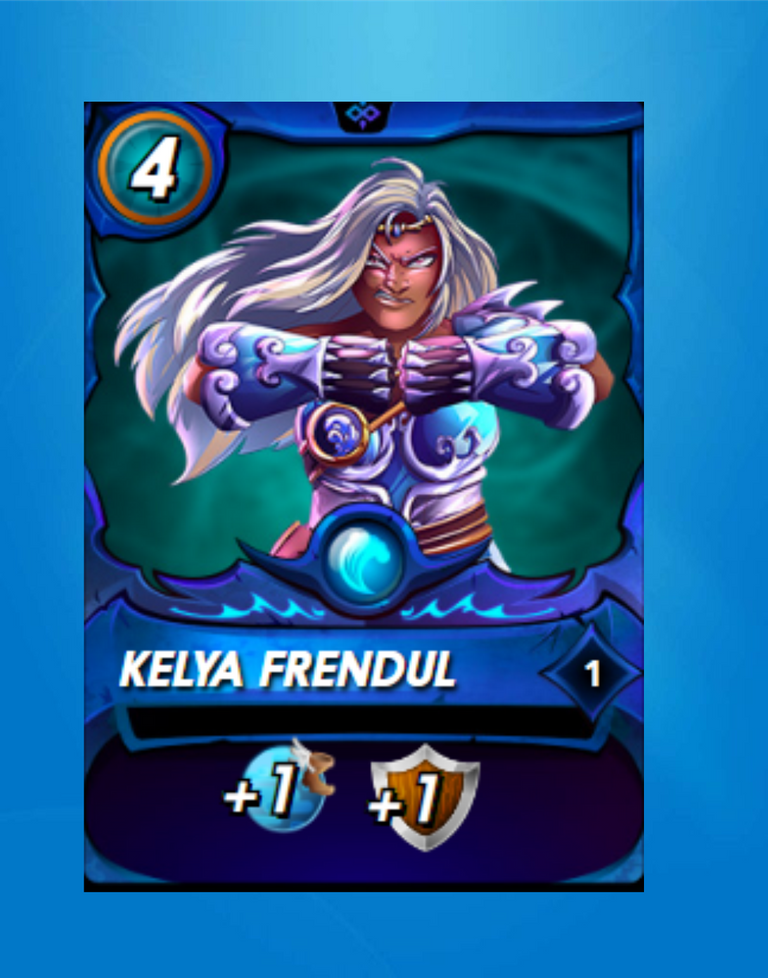 ---
COMUNES:
---
El apartado de las comunes en este tipo de invocador es muy duro ya que algunas cartas tienen muy buenas ventajas en nivel 3 que es el que va a soportar nuestro invocador y las vuelven cartas super útil al momento de jugar por lo que no podremos abaratar mucho con niveles inferiores de las mismas para poder tener un buen margen de victoria
Estas cartas comunes creo que seria las mas necesarias a un nivel 3 ya que cada una de ellas mejora sus estadísticas bastante al tenerlas en ese nivel: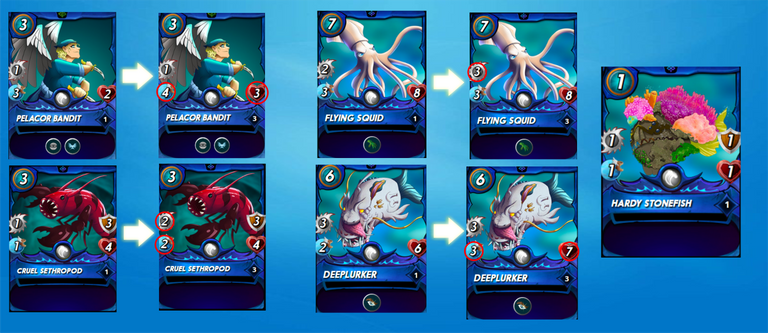 PELACOR BANDIT (nivel 3) $0.25
CRUEL SETHROPOD (nivel 3) $1.12
FLYING SQUID (nivel 3) $2.13
DEEPLURKER (nivel 3) $4.13
Y esta cartas puedes tenerla en nivel 1
HARDY STONEFISH (nivel 1) $0.02
Vamos a comprar solo 5 cartas comunes, CRUEL SETHROPOD como tanque económico, HARDY STONEFISH para cubrir el coste 1 en varias batallas, una alternativa que puede ser valida es que compres a CHAOS AGENT que seria un coste uno incoloro… las cartas coste 1 las usaremos mucho ya que muchas veces nos quedara un hueco y al tener por lo menos una cartas para propia para este hueco ganaras mas recompensa para el cofre diario, este cambio de cartas nos costara un poco mas pero podremos usarla luego con todos los invocadores, si la regla no los permite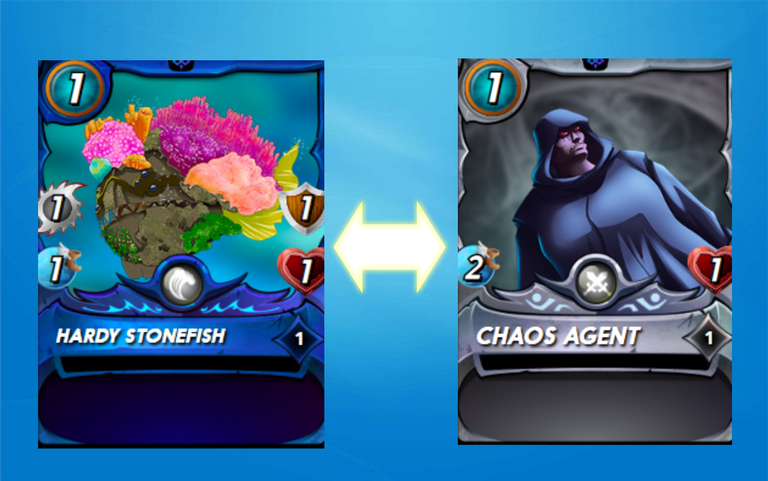 ---
RARAS:
---
En el apartado de la cartas raras vamos a colocarlas a nivel 1, pero a medida que vallas avazando en el juego lo recomendables es subirlas a nivel 2 cuando puedas. Yo agregaría estas 3 cartas a mi colección ya que serán cartas que usaremos mucho en nuestras partidas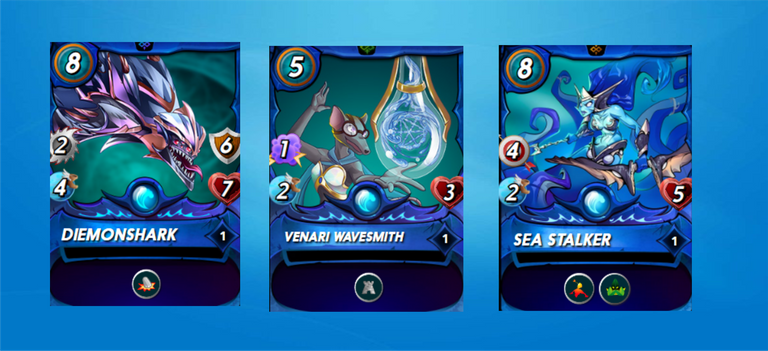 VENARI WAVESMITH (nivel 1) $0.02
DIEMONSHARK (nivel 1) $0.47
SEA STALKER (nivel 1) $0.63
En el caso del Venari a perdido fuerza con el tiempo ya que el meta en plata esta muy enfocado a la magia pero aun asi es una gran opción y su precio es mas que económico, DIEMONSHARK será nuestro tanque en batallas de alto mana, y la nueva adquisición de Riftwachers SEA STALKER, es realmente un cartonazo que usaras sin duda en varias batallas

---
ÉPICAS:
---
En el papel de las épicas tendremos tres cartas muy buenas y útiles para diferentes partidas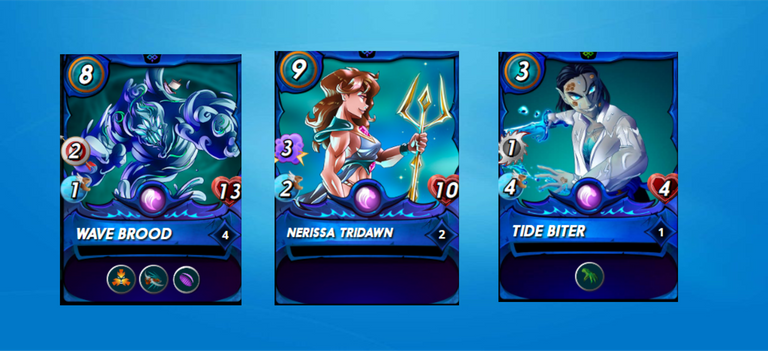 TIDE BITER (nivel 1) $0.15
NERISSA TRIDAWN (nivel 1) $1.72
WAVE BROOD (nivel 1) $1.81
Que puedo decir de estas tres cartas WAVE BROOD es una carta excelente con taunt, y el taunt es una habilidad que en splinterlands te puede dar muchas partidas, yo diría que tendrías que tenerlas a todas para ser un verdadero maestro poke… DE SPLINTERLADS!
NERISSA TRIDAWN es una cartas que vas a usar muchas muchas muchas veces. Y con TIDE BITER les voy a ser sincero va a ser útil pero no va a ser tu carta mas usada, no tienes plata para esta estructura recorta primero a este amigo

---
LEGENDARIAS:
---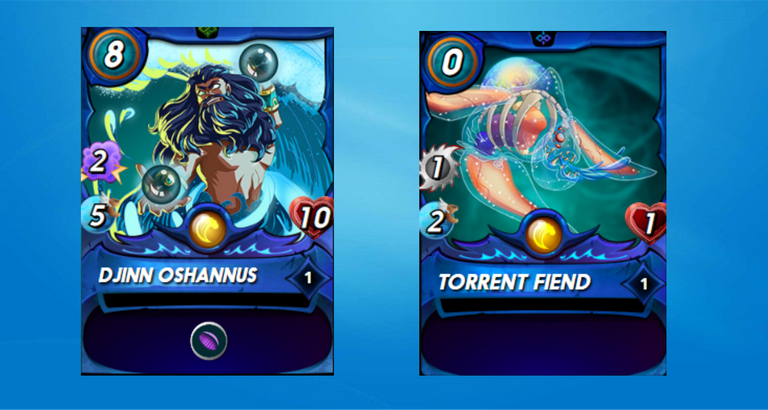 DJINN OSHANNUS (nivel 1) $2.6
TORRENT FIEND (nivel 1) $6.12
DJINN OSHANNUS es perfecto para plata, en un meta de tanta magia este chico será uno de tus mejores aliados. TORRENT FIEND, yo hace tiempo dije que el win rate aumenta muchísimo si tienes a todos los pollos furiosos de chaos legion y no dejo de decirlo, pero si aun no tienes un gran presupuesto no priorizaría esta cartas
Espero este resumen te allá servido, recuerda que soy jugador de plata con con posiciones del 150 del top mundial, que juega sin bots y esta experiencia te pueda servir a ti a poder ganar mas partidas.
Y una cosa mas si aun no juegas splinterlads podrás hacerlo desde el banner que encontraras un poco mas abajo. Desde ya los saludo y nos leeremos en los próximos días con otro post!
---
créditos
. Todas las imágenes hechas por mi con corel draw sacando las imágenes de la carta de SPLINTERLANDS.
. banners creados por mi con inspiración de recursos de google y con el logo sacado de la pagina oficial de SPLINTERLADS
. Los png de las palabras ENGLISH Y ESPAÑOL fueron creados en esta página
. Las barras de separación fueron diseñadas por mí INSPIRADA EN UNA QUE VI HACE UN TIEMPO EN HIVE
. Traducido con deepl.com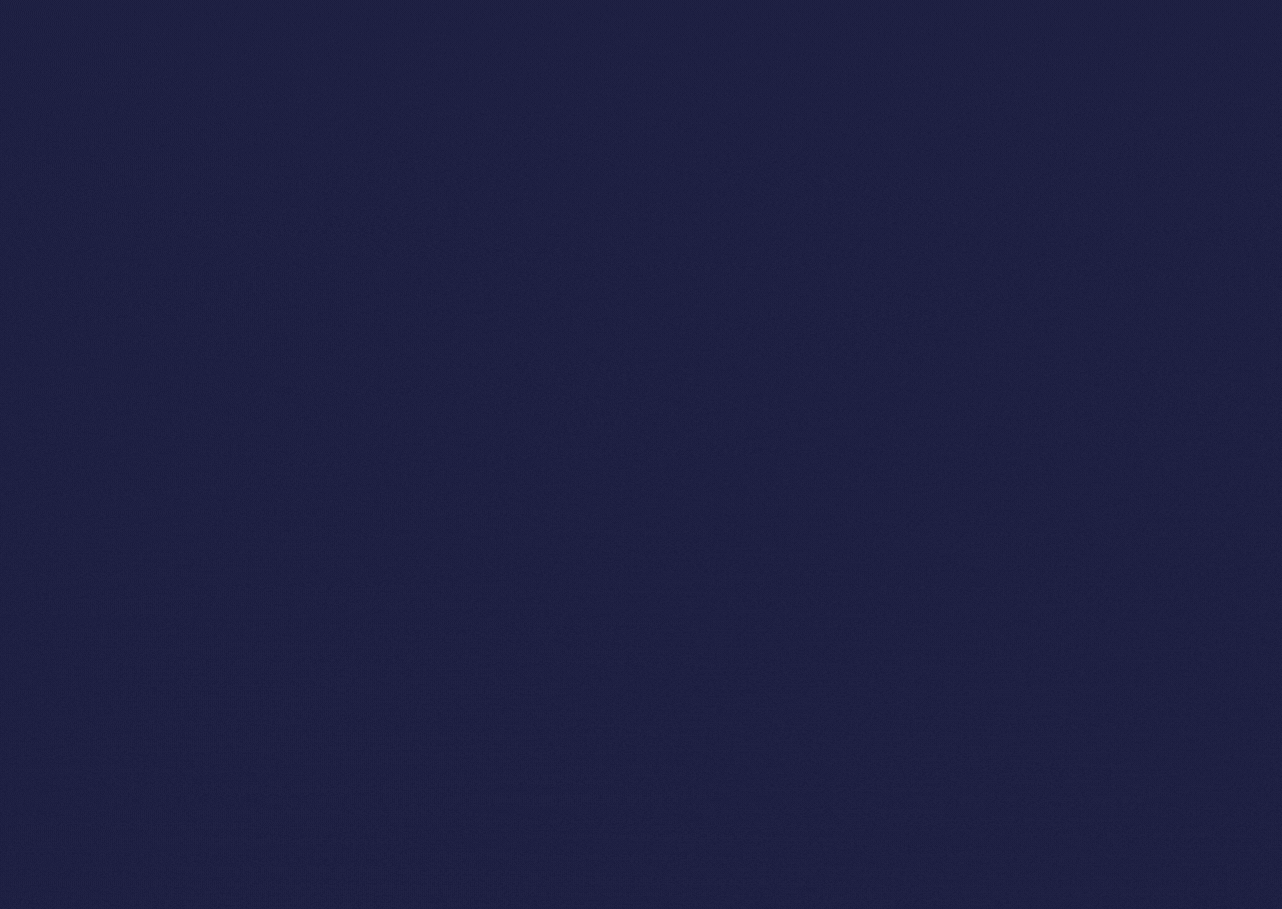 ---
---