it's a good option? | SHARE YOUR BATTLE (ENG-ESP)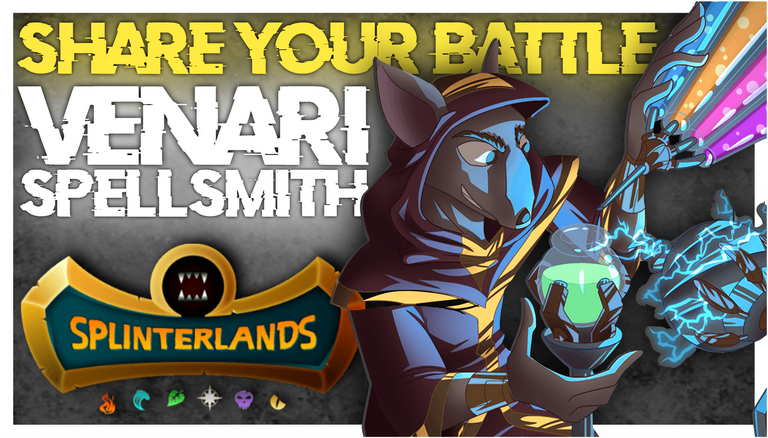 Hi guys, today it took longer to make the cover than to answer the question, the truth is that VENARI SPELLSMITH is not a good option for you to choose in your lineup and I am going to tell you why in this post, apart from showing my winning battle with this monster in our lineup.
Remember that this analysis is based on the card at the basic level, and that it is a post for starting players. Later on in time I will get around to doing this same thing at max level for some leagues and see if the results are different

---
Analysis of VENARI SPELLSMITH:
---
Let's start with the stats and skills, which we can see right now: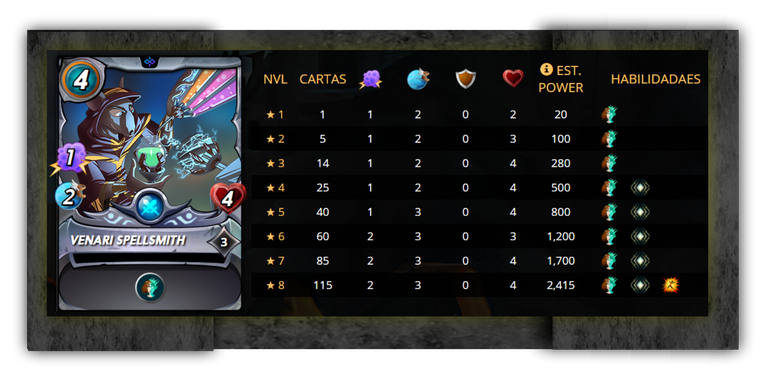 First his ability is not significant enough to be a card to choose, let's buy it with 4 mana choices of magic, in case our lineup is magic only and let's separate it into two groups the choices better than VENARI SPELLSMITH and the cards I consider weaker than him or similar.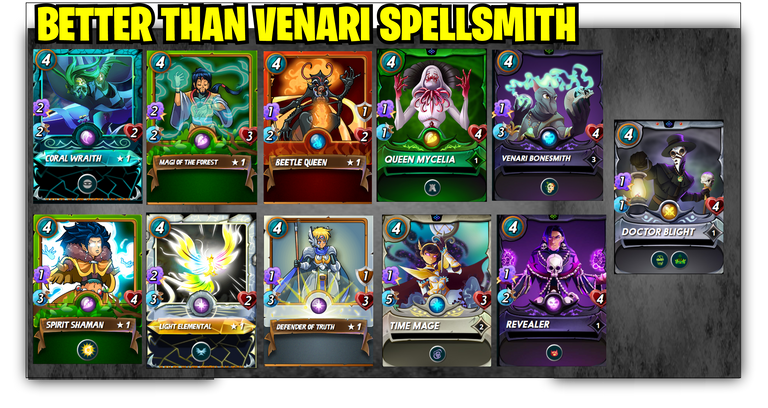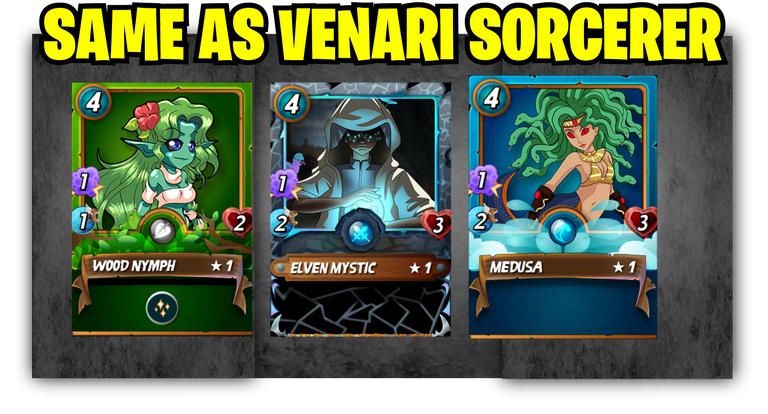 And we come across this not-so-surprise many, many cards for a magic lineup are better than her, and the ones that aren't as strong I would even say are by very little higher than her either because they have a little more life or because their ability is just more useful.

---
Showing the battle:
---
But I said it can't be such a bad card, and I started thinking at what point her ability could be relevant, I even started using her in my teams daily to give her a chance, I was very disappointed, I failed to fit her correctly, and I mean her ability did something game changing, but it didn't happen, at least to me.....
I'm going to show you a battle, but where VENARI SPELLSMITH was the same if he was or was replaced by another card, but in this one at least he dodged some attacks of an opportunist and survived, although analyzing it he was going to win the same with VENARI or without him.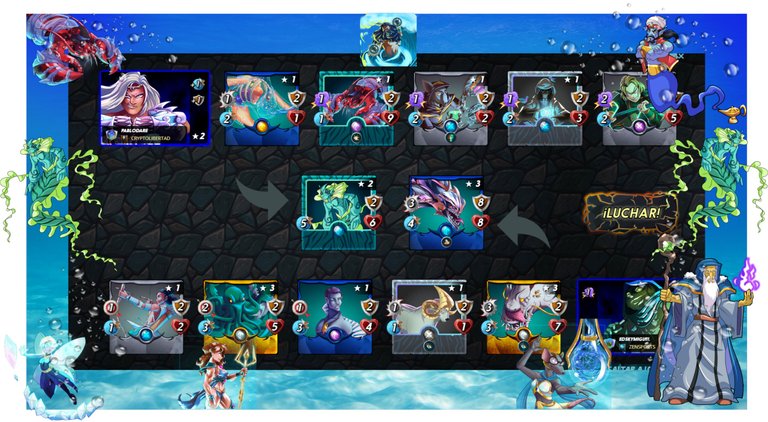 https://splinterlands.com?p=battle&id=sl_dda3863822ba70a783474cdb3c9ee9d6&ref=pablodare
The chosen team:

From this team I won with VENARI SPELLSMITH, my MVP without a doubt was LOBSTRADAMUS, but we could say that the VENARI responded well, by dodging 2 attacks and accelerating the death of the opponent, so I chose this battle for this post.
Variants to the chosen team, which could be better than VENARI SPELLSMITH:


I do not want to be bad with a card, but as in all card games there are cards that are OP, cards that are good and cards that simply have to fill spaces, in this case I feel that VENARI SPELLSMITH does not meet the necessary, and the only thing that was missing to be more played or more useful is a simple point more life, eye we are talking about bronze/silver league, his ability is very interesting for higher leagues where monsters can get 2 or triple speed, more armor, plus other things. There you have to analyze if it is strong enough for a gold/diamond league.
I hope you like the analysis, and that you continue to grow and improve in this beautiful game and tell me if you have played with VENARI SPELLSMITH and how did it go?
And if you haven't started Splinterlands yet, you can do it from the banner below where you and I will get benefits. Greetings from here and we will be reading each other these days!
---
credits
---
. All images made by me with corel draw taking the images from the SPLINTERLANDS charter.
. banners created by me with inspiration from google resources and with the logo taken from the official SPLINTERLADS website.
. The png of the words ENGLISH and SPANISH were created in this page
. The separator bars were designed by me INSPIRED BY ONE I SAW A WHILE AGO ON HIVE
. Translated with deepl.com


Hola chicos, hoy tarde mas en hacer la portada que en responder la pregunta, la verdad es que VENARI SPELLSMITH no es una buena opción para que elijan en su alineación y les voy a decir el porque en este post, aparte de mostrar mi batalla ganando con este monstruo en nuestra alineación.
Recuerden que este análisis lo realizo a partir de la carta a nivel básico, y que es un post para jugadores iniciales. Mas adelante en el tiempo me pondré a hacer esto mismo a nivel máximo de algunas ligas y ver si los resultados son diferentes

---
Análisis de VENARI SPELLSMITH:
---
Empecemos con las estadísticas y habilidades, que podemos ver ahora mismo: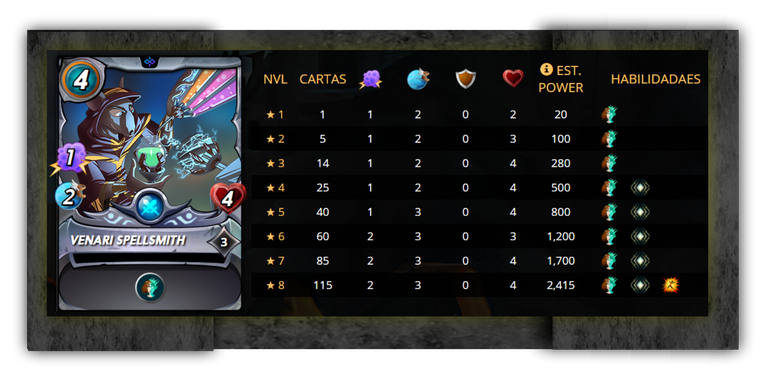 Primero su habilidad no es suficientemente significativa para que sea una carta a elegir, vamos a comprarla con elecciones de 4 de mana de magia, por si nuestra alineación es solo de magia y lo vamos a separar en dos grupos las elecciones mejores que VENARI SPELLSMITH y las cartas que considero más flojas que él o parecidas.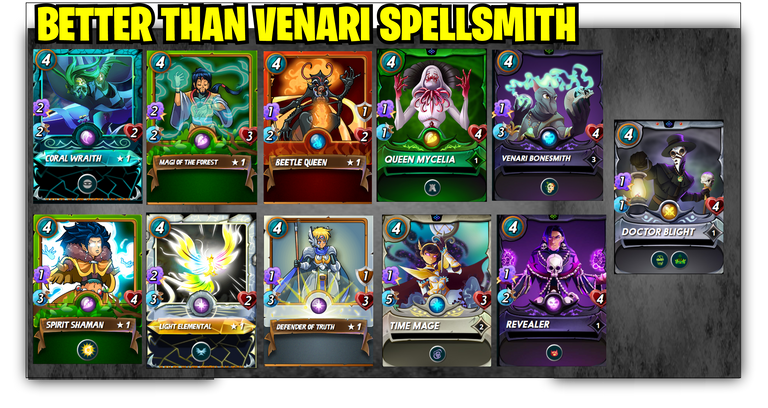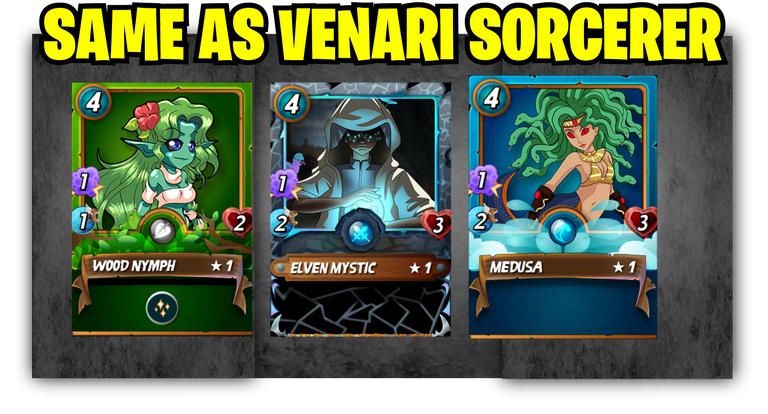 Y nos encontramos con esta no tan sorpresa muchísimas cartas para una alineación de magia son mejores que ella, y las que no son tan fuertes incluso diría que están por muy poco más arriba que ella ya sea por que tienen un poco mas de vida o porque su habilidad es simplemente más útil.

---
Mostrando la batalla:
---
Pero dije no puede ser una carta tan mala, y me puse a pensar en que momento su habilidad podía ser relevante, incluso la empecé a usar en mis equipos a diario para darle una chance, me decepciono mucho, no logre encajarla correctamente, y me refiero a que su habilidad hiciera algo que cambiara la partida, pero no me paso, por lo menos a mi…
Les voy a mostrar una batalla, pero donde VENARI SPELLSMITH era igual si estaba o era remplazado por otra carta, pero en esta por lo menos esquivo algunos ataques de un oportunista y sobrevivió, aunque analizándola iba a ganar igual con el VENARI o sin él.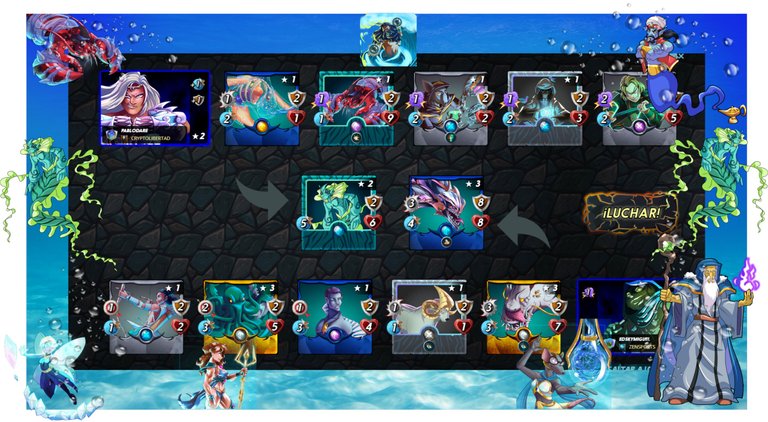 https://splinterlands.com?p=battle&id=sl_dda3863822ba70a783474cdb3c9ee9d6&ref=pablodare
El equipo elegido:

A partir de este equipo gane con VENARI SPELLSMITH, mi MVP sin dudas fue LOBSTRADAMUS, pero podríamos decir que el VENARI respondió bien, al esquivar 2 ataques y acelerar la muerte del oponente, por lo que elegí esta batalla para este post.
Variantes al equipo elegido, que podían ser mejores que VENARI SPELLSMITH:


No quiero ser malo con una carta, pero como en todos los juegos de cartas hay cartas que están OP, cartas que son buenas y cartas que simplemente tienen que rellenar espacios, en este caso siento que VENARI SPELLSMITH no cumple con lo necesario, y lo único que le falto para ser más jugada o más útil es un simple punto mas de vida, ojo estamos hablando de liga bronce/plata, su habilidad es muy interesante para ligas mas altas donde los monstruos pueden conseguir 2 o triple velocidad, mas armadura, mas otras cosas. allí hay que analizar si es lo suficientemente fuerte para una liga oro/diamante.
Espero les guste y les allá servido el análisis, y que sigan creciendo y mejorando en este hermoso juego y dime si has jugado con VENARI SPELLSMITH y como te fue?
Y si aun no empezaste en Splinterlands podrás hacerlo desde el banner de abajo donde obtendremos beneficios tanto tu como yo. Desde acá los saludos y nos estaremos leyendo en estos días!
---
créditos
---
. Todas las imágenes hechas por mi con corel draw sacando las imágenes de la carta de SPLINTERLANDS.
. banners creados por mi con inspiración de recursos de google y con el logo sacado de la pagina oficial de SPLINTERLADS
. Los png de las palabras ENGLISH Y ESPAÑOL fueron creados en esta página
. Las barras de separación fueron diseñadas por mí INSPIRADA EN UNA QUE VI HACE UN TIEMPO EN HIVE
. Traducido con deepl.com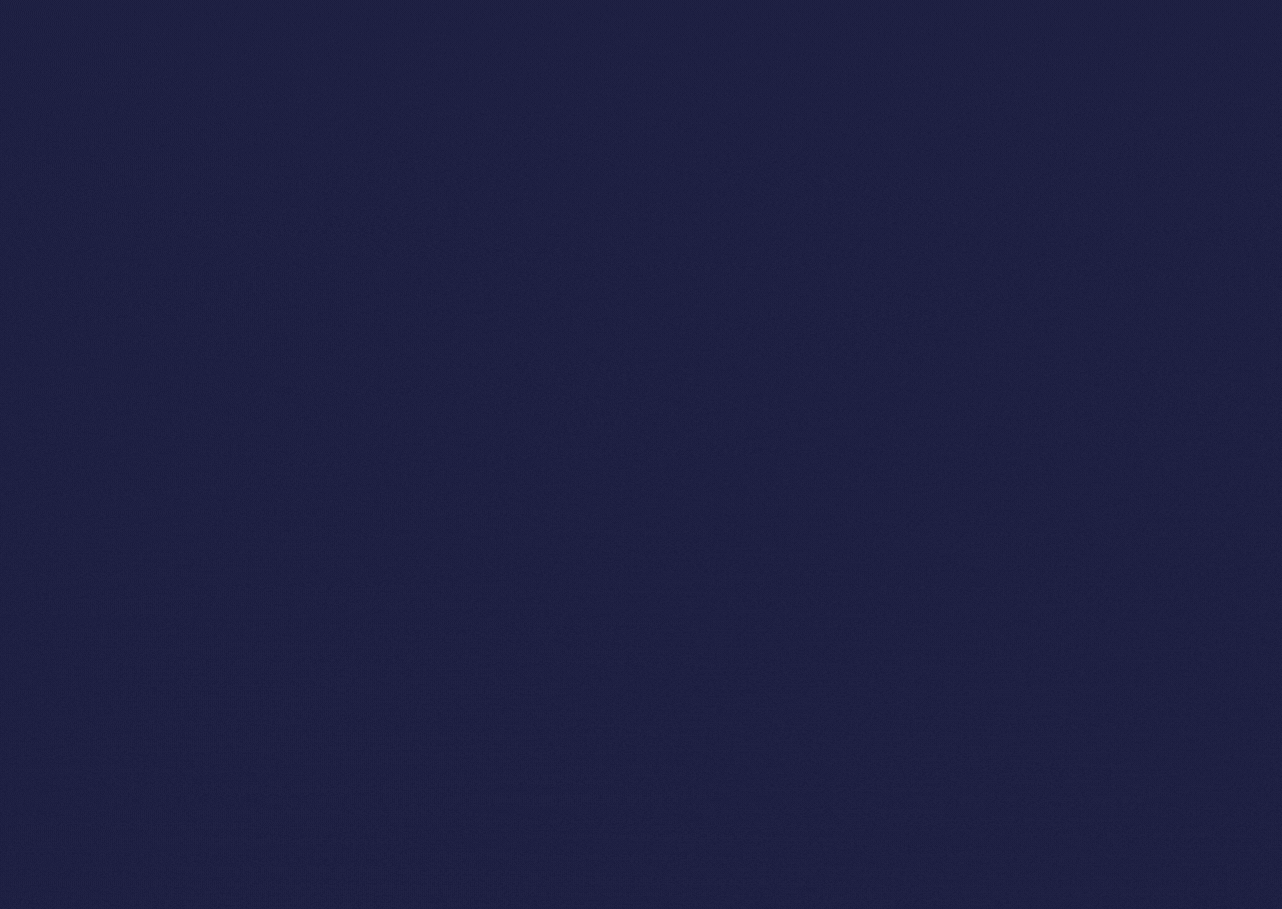 ---
---