Share your Battle: debuff to ranged attacks (ENG-ESP)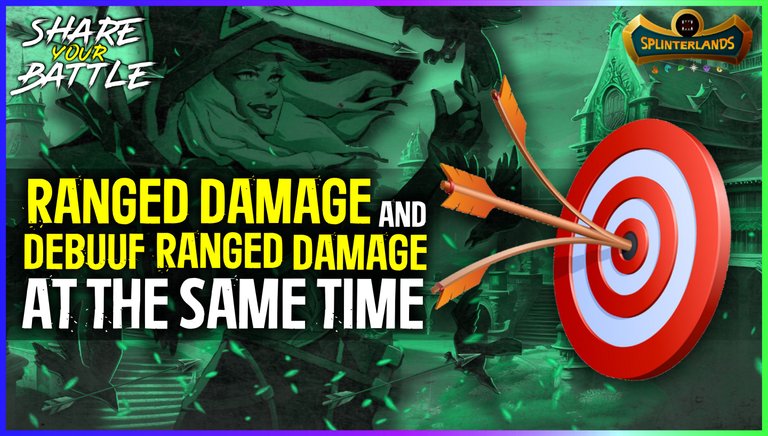 This week I'm going to show you a strategy that has been working for me in high ranks mixing a summoner that doesn't "match" but works perfect and a set of useful cards to go along and apart in a ranged damage battle without failing, unfortunately I don't have a sample of the team in rank, but I do have one in clan battle! So without further ado let's get started.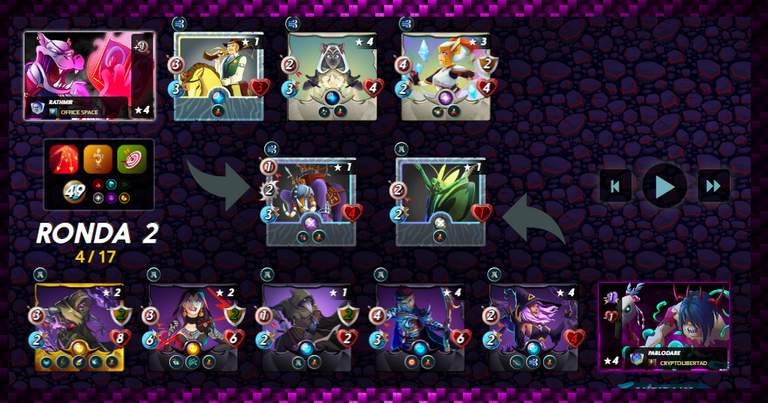 https://splinterlands.com/?p=battle&id=sm_QDFcoMq0cISiyL879qvO

---
Battle rules:
---
This clan battle had 3 battle rules: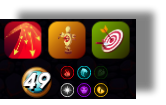 Aim true: all ranged monsters do not fail.
Targer practice: all monsters will have the snipe ability, which means we will attack enemy Monster Targets with Ranged, Magic or no attack that are not in the first position,
And finally and most importantly going the distance, only ranged monsters can be used.
The summoner in question that I used was THADDIUS BROOD, that, although his ability to decrease magic damage in this fight would not be very useful to me his second ability of -1 life we will get much advantage, already knowing the rules of battle another logical choice was CONTESSA L'AMENT, but I have it at 1 and lose all the buff cards at high level was not worth placing this summoner.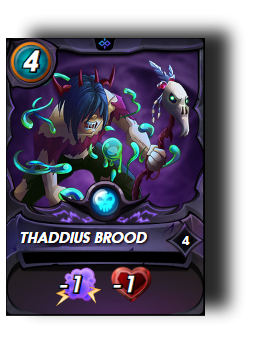 ---
MY ALIGNMENT
---

MANTOID: among my options I placed this creature as a tank, the truth is I placed it at the end seeing what I had left over mana and analyzing the monster with more life that I could put.
QUEEN OF CROWS: is the star of the battle by reducing the damage of all opposing monsters and being able to attack from the first position, as were the rules of battle could have gone in first position but I decided to try this option.
DHAMPIR STALKER: just because it's 4 damage and that's a lot of damage lol
RAVENHOOD WARDEN: a new card that is incredibly useful in many situations, giving two shields to all our monsters, I can't wait to have it at a higher level!
LIRA THE DARK: it's three damage and its opportunist ability that activates giving the possibility to make sure to eliminate the opponent monster before!
RAA: last but not least it's 6 damage dealt, it's an excellent card with a lot of damage. And one of my new favorites of the group death!
without a doubt a good option in this kind of battles could be VENARI MARKSRAT. It's really amazing, and it could go in any position. There are also very good low mana creatures in case the situation needs it. And in the end death is stronger in ranged damage than life, I rarely lose a battle using such a lineup against life.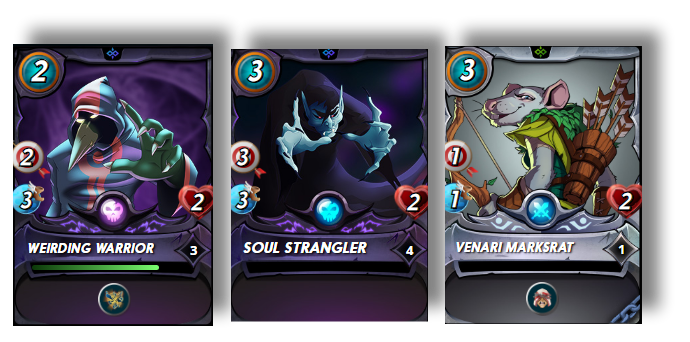 I hope you liked it and if you still don't play Splinterlands you can do it from the banner below.
---
credits
---
. All images made by me with corel draw taking the images from the SPLINTERLANDS chart.
. banners created by me with inspiration from google resources and with the logo taken from the official SPLINTERLADS website.
. The png of the words ENGLISH and SPANISH were created on this page
. The separator bars were designed by me INSPIRED BY ONE I SAW A WHILE AGO ON HIVE
. Translated with deepl.com


Esta semana les voy a mostrar una estrategia que me ha estado funcionando en rangos altos mezclando un invocador que no "corresponde" pero que funciona perfecto y un conjunto de cartas útiles para acompañan y aparte en una batalla de daño de rango sin que fallen, lamentablemente no tengo una muestra del equipo en rango, pero si una en la batalla de clan! Por lo que sin más empecemos.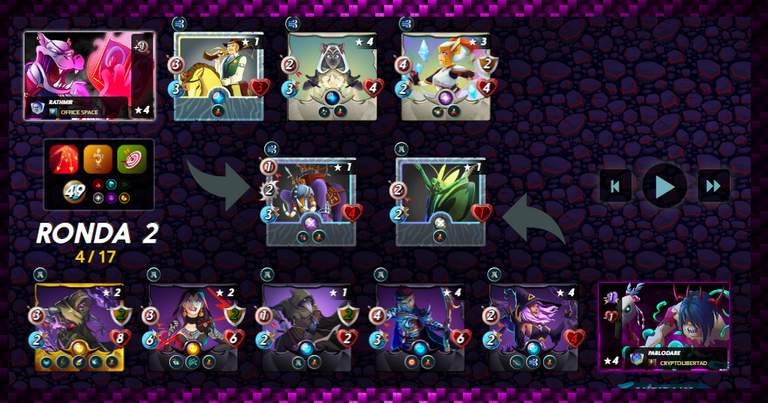 https://splinterlands.com/?p=battle&id=sm_QDFcoMq0cISiyL879qvO

---
Reglas de batalla:
---
Esta batalla de clan tenia 3 reglas de batalla: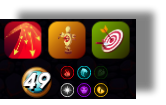 Aim true: todos los monstruos de rango no fallan
Targer practice: todos los monstruos tendrán la habilidad de snipe, que significa que atacaremos a Objetivos Monstruos enemigos con A distancia, Magia o sin ataque que no están en la primera posición,
Y por último y lo mas importante going the distance, solo se podrán usar monstruos de distancia
El invocador en cuestión que use fue THADDIUS BROOD, que, aunque su habilidad de disminuir daño mágico en este combate no me sería muy útil su segunda habilidad de -1 de vida le sacaremos mucho provecho, sabiendo ya las reglas de batalla otra opción lógica era CONTESSA L'AMENT, pero lo tengo al 1 y perder todos los buff de cartas a nivel alto no Valia la pena colocar este invocador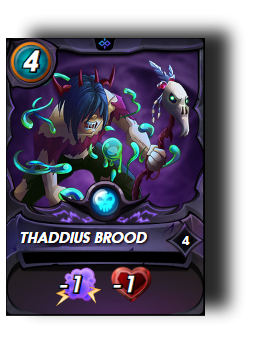 ---
MI ALINEACIÓN
---

MANTOID: entre mis opciones coloque a esta criatura como tanque la verdad la coloque al final viendo lo que me sobraba de mana y analizando el mosntruo con mas vida que pudiera poner
QUEEN OF CROWS: es la estrella de la batalla al reducir el daño de todos los monstruos oponentes y pudiendo atacar desde la primera posición, como estaban las reglas de batalla podría haber ido en primera posición pero decidí probar esta opción
DHAMPIR STALKER: solo por que son 4 de daño y eso es mucho daño lol
RAVENHOOD WARDEN: una carta nueva que es increíblemente útil en muchas situaciones, dando dos de escudo a todos nuestros monstruos, ya no veo la hora de tenerla en nivel más alto!
LIRA THE DARK: son tres de daños y su habilidad de oportunista que se activa dando la posibilidad de asegurarse eliminar el monstruo oponente antes!
RAA: por último pero no menos importante son 6 de daños que se reparten, es una excelente carta con mucho daño. Y una de mis nuevas favoritas del grupo muerte!
sin dudas una buena opción en este tipo de batallas podría ser VENARI MARKSRAT. Es realmente increíble, y podría ir en cualquier posición. También hay muy buenas criaturas de poco mana por si la situación lo necesita. Y al final muerte es mas fuerte en daño a distancia que vida, rara vez pierdo una batalla usando una alineación así contra vida.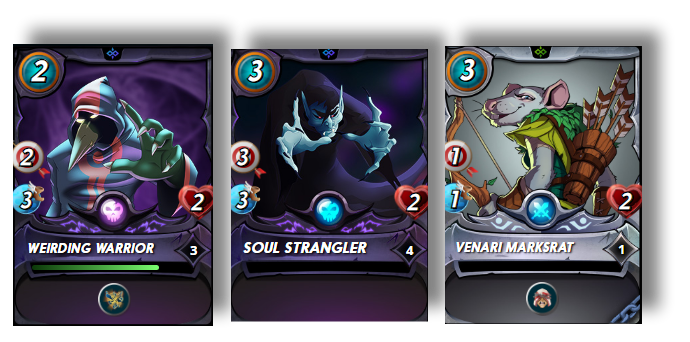 Espero les halla gustado y si aun no juegas Splinterlands podrás hacerlo desde el banner de más abajo
---
créditos
---
. Todas las imágenes hechas por mi con corel draw sacando las imágenes de la carta de SPLINTERLANDS.
. banners creados por mi con inspiración de recursos de google y con el logo sacado de la pagina oficial de SPLINTERLADS
. Los png de las palabras ENGLISH Y ESPAÑOL fueron creados en esta página
. Las barras de separación fueron diseñadas por mí INSPIRADA EN UNA QUE VI HACE UN TIEMPO EN HIVE
. Traducido con deepl.com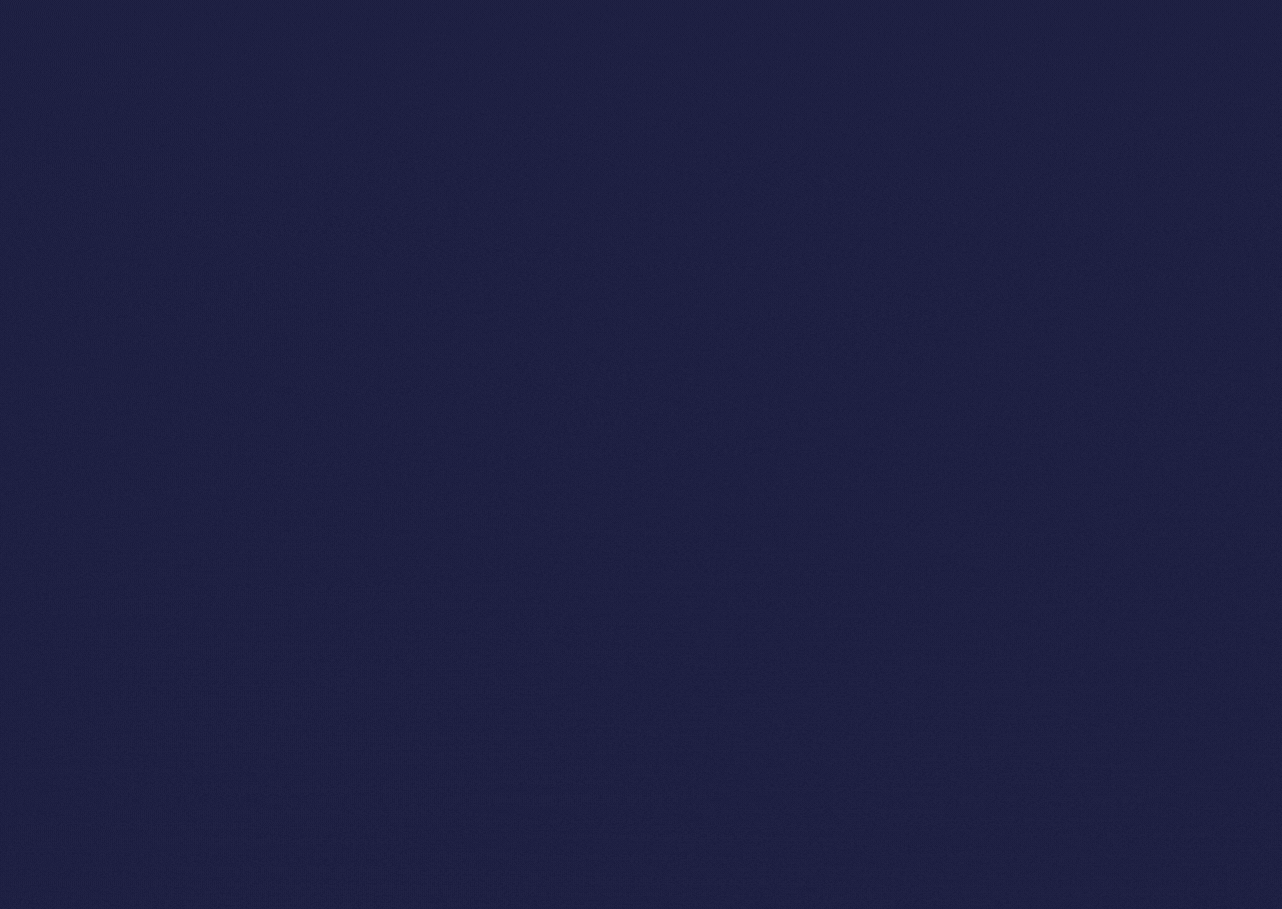 ---
---