All For One .:. #MyHiveGoals 2022 Edition!
New month, new challenges! When you scroll down, you will see my small table with the current status of my monthly, and yearly goals... I have begun May aggressively regarding gaming goals, but the ones are "work in progress"... 😀
Last week I have done #MyHiveGoals report on Saturday, as I wanted to participate in the #HivePUD, so this week's report has 1 day more of token accumulation... It's not that it made some difference... lol... The thing that made a difference was my HivePower up that I have done last week... Those 1K HP will help to narrow the gap between my current HP and the "desired" number :)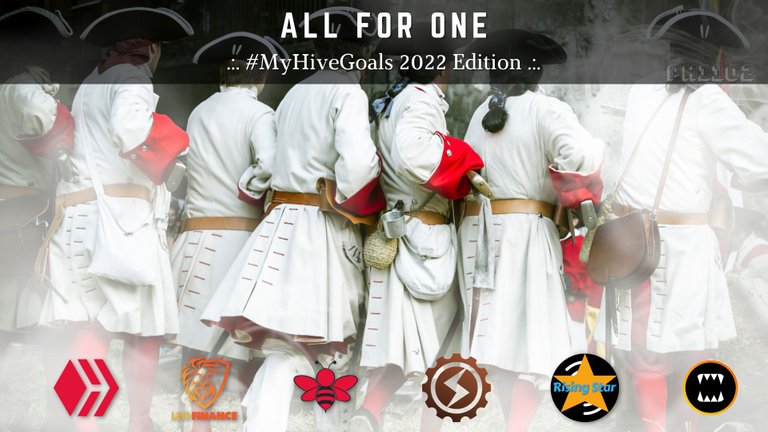 Created in Canva.com
As you can see, I'm still focused on my main goal this week which is to get to that Orca rank until the end of the year! I knew that it will be hard to get there, or even impossible, but with the current craziness in crypto, it's even harder to keep the focus... Being over 5 years in crypto helps, as I know that there are bumps on the road... But, even with all the past experience, it's not easy to deal with bloody markets and FUD... It is easier than for some newbies, but still, it's not a nice view...
Also, the problem isn't only in "bad things" in crypto, sometimes it's the problem when there are so many good, shiny things... They try to distract us from our goals, and usually, we pay the price for doing that... So, by creating these reports I try to keep myself focused on my main goal(s), and currently, I'm doing it like in the Three Musketeers, all for one (and later on, it will be one for all... 😃)...

The title of this post is created for my Hive Power goal... In these moments of uncertainty, investors have plenty of options on what to do with their investments, but I'm considering only two... The first is to buy the dip, and the second one is to transfer funds from more risky investments into "less risky"... I have done the first one in the past and it didn't finish well, especially because I was buying tokens that were very risky...
At the moment, I'm more about moving funds in "safer tokens" and I believe that HIVE is one of the less risky tokens... So, I have exchanged plenty of my tokens into the HIVE and powered up last week on #HivePUD... By doing that, and adding my curation rewards, my HivePower went up by 1149 tokens in the last 8 days! Of course, that's not an everyday event... hehehe

Because of my heavy focus on HivePower, my LEO Power goal didn't progress that much... In the past week, I have collected 55 LEO tokens that I have staked on my LEO curation account... Still keeping that goal under control and I think it could only get better with all these new LEO use cases...

Nothing new in the WORKERBEE market... The token price still has a huge spread, but I have managed to get some tokens for a relatively fair price... So, I have staked another 50 tokens yesterday! 850 tokens more to go!
Curation rewards from my BEE POWER are slowly gathering and the numbers have gone up a bit... This is the only "regular tokens" monthly goal that is reached and I can now move earnings from BEEs to HIVE...

GAMING GOALS
Before going hard into HivePower, I was pushing hard on my gaming goals... Accumulating tokens in both games, Rising Star and Splinterlands day by day... All that work in the last year is now giving back fruits in the form of tokens from missions in the RS, and tokens from airdrop in the Splinterlands... So, I have added 103 cards to my RISING STAR in the last 7 days...
In the case of Splinterlands' SPS tokens, I have changed a bit my strategy... The price of the tokens went under 10 cents, and I have decided to NOT take profits and exchange them to HIVE, but rather keep them and stake for the future... I know that that could be a big mistake, but I do think that the SPS token is undervalued at the moment... Anyways, the difference is in 50 SPS tokens, and instead of exchanging them every day, I will add them to my stake along with the 200 SPS that I'm doing usually...

It's time to update the numbers and put them into the spreadsheet until the next week! So, freshly updated numbers for #MyHIVEGoals, on May 8th, 2022 are: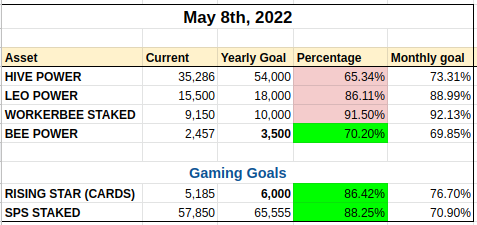 Join us in this awesome #MyHiveGoals and let's grow together! You can find the original post about the challenge by @robwillmann here.
Thank you for your time,
~ph~

The link to my initial 2022 Goals Edition is here...
These are my initial goals for 2022 created on January 2nd, 2022: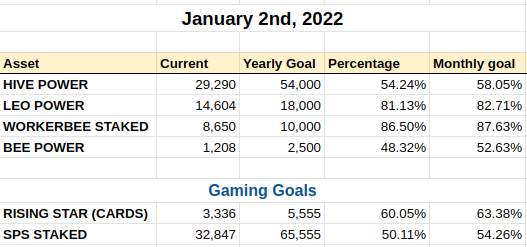 Update 06.02.2022.
BEE POWER 2500 --> 3500
RISING STAR NFTs 5555 --> 6000

If you want to support my witness, you can do it by voting for @ph1102.ctp here https://tribaldex.com/witnesses, or just scan the QR code down below...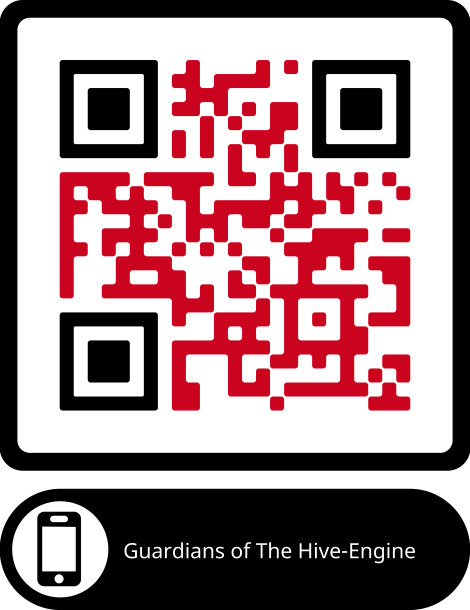 Don't forget to follow, reblog, and browse my Hivepage to stay connected with all the great stuff!
You can also find me on LEO Finance .:. Twitter .:. LBRY
Posted Using LeoFinance Beta
---
---