Crypto House on Fire .:. #MyHiveGoals 2022 Edition!
What a week we had! I'm glad that it's over! I'm in crypto for around 5 years (actively and a bit more passively), and I saw a lot of bad things happening... From Mt.Gox, through Cryptopia, the heaviest bear market in 2018 (for me), Corona dump, etc... But this one, what happened this week was definitely the most significant by the amount of money that people lost, and how fast everything just disappeared! It's incredible how a Top10 crypto project died in just 48 hours, or less...
Yes, I have lost money with LUNA... I did recover most of the UST that I had in different investments, but my LUNA is lost... It didn't feel nice to see it plummeting, but I'm glad that I didn't go heavily into it... as, for example, I'm doing with HIVE... That's probably also not a good thing, but these two things aren't comparable...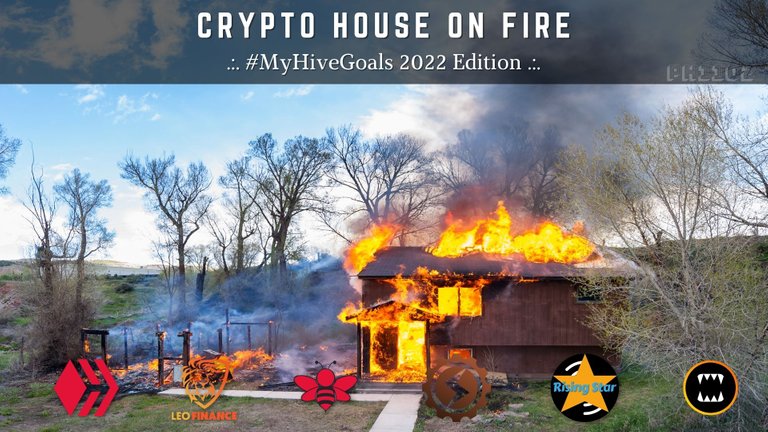 Created in Canva.com
Anyways, even with losing money, I did have a great week regarding #MyHiveGoals! Yes, Bitcoin also dropped in value, and HIVE went under 50 cents, but all of that has speeded up my HIVE accumulation! Exactly what I needed to catch up with my goals... Now, you will notice in the small spreadsheet table that the numbers didn't change a lot, but under the hood, I have accumulated a nice amount of HIVE...

So, what happened during the last day? As I said, the HIVE price went down and the opportunity was there to accumulate more... I suppose that it's still a nice time to do it as the price is still around 50 cents (not financial advice)... So during the last couple of days, I didn't sell any of my HIVE tokens, but rather exchanged a lot of other tokens into HIVE!
The criteria to do that were simple... If the price of the X token didn't go down more than HIVE, it was a clear sign that it was time to exchange it for HIVE! I didn't calculate a lot and just did it... :) Now, you will not see some huge growth in the table from the last week (I have added 152 HIVE to my Hive Power in the last 7 days)...
Instead of powering up everything, I have put some funds into diesel pools which should help with faster accumulation of HIVE! From my calculations, it should generate more HIVE that I will later on power up... So, the ORCA goal is still on! Also, I'm accumulating HIVE for the next HivePUD which I don't want to miss!

Another goal that progressed well in the past week is LEO Power! I have added over 100 LEO tokens to my stake and I will try to reach my monthly goal as I have missed it for the last couple of months... It's time to back on the tracks with LEO Power!

The WORKERBEE token price is still pretty high without any signs that it will go down in the short term... So, I didn't purchase new tokens and I will wait for some time for a better price... Maybe it will never come back, but that's also fine... Having a token that didn't lose value in the wallet isn't a bad thing... :)
Regarding my BEE POWER goal, I have added 13 BEE tokens to my stake... This goal is one of those "set and forget", that is building up itself with the curation rewards! Passive income, baby! Also, I have exchanged some of my BEE tokens to HIVE lately as it didn't lose the value that much like other tokens... As a matter of fact, the price went up indexed in HIVE!

GAMING GOALS
Another token that helped me a lot in my HIVE accumulation the past week was the STARBITS token! Lately, it has a super stable price, and even when all other tokens went down, STARBITS was going up... Not too much, but still, it was a nice view! I didn't waste my time, and I exchanges some tokens with HIVE... On the other side, even with cashing out some, I was able to do my regular RISING STAR packs openings as usual! 3 times per week, I'm opening 12 packs and giving away some cards on my gaming account (@cryptofiloz)! In the last 7 days, I have added 103 new cards to my collection!
In my opinion, the SPS tokens are undervalued at the moment, I have continued with staking the majority of the daily airdropped tokens... I'm trying to keep some of the tokens liquid, but I'm not selling for the current price... Instead, I have created sell orders for higher prices and I will wait... If it doesn't come, I will have some liquid tokens to purchase stuff in the game, so it's kind of a win-win situation...

It's time to update the numbers and put them into the spreadsheet until the next week! So, freshly updated numbers for #MyHIVEGoals, on May 15th, 2022 are: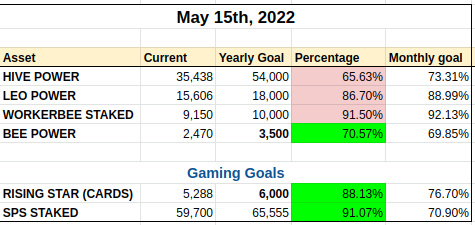 Join us in this awesome #MyHiveGoals and let's grow together! You can find the original post about the challenge by @robwillmann here.
Thank you for your time,
~ph~

The link to my initial 2022 Goals Edition is here...
These are my initial goals for 2022 created on January 2nd, 2022: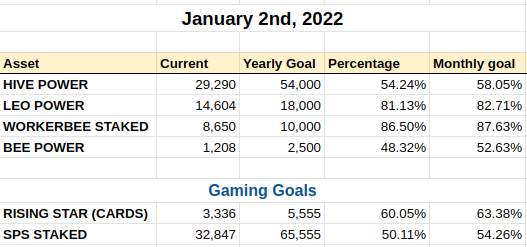 Update 06.02.2022.
BEE POWER 2500 --> 3500
RISING STAR NFTs 5555 --> 6000

If you want to support my witness, you can do it by voting for @ph1102.ctp here https://tribaldex.com/witnesses, or just scan the QR code down below...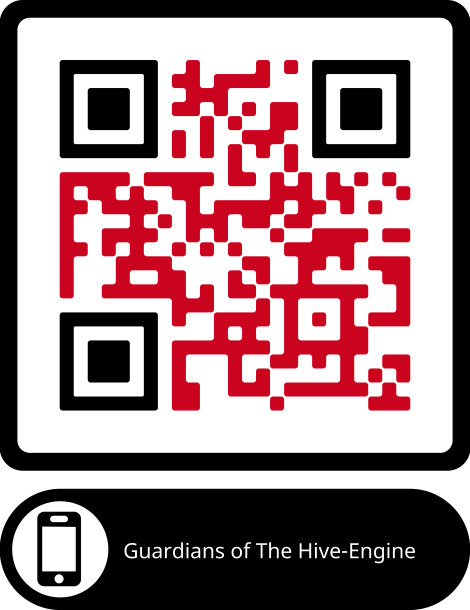 Don't forget to follow, reblog, and browse my Hivepage to stay connected with all the great stuff!
You can also find me on LEO Finance .:. Twitter .:. LBRY
Posted Using LeoFinance Beta
---
---