Tokenomics in Blockchain Games .:. Closer Look to New Rising Star Addition
I had in mind today to write a post about the movie that I have just watched, but I will keep that for tomorrow, or the day after tomorrow, or just skip it... lol... Anyways, in a talk with a friend, I have decided to keep my channel "on the topic" and talk about a kind of investing, but still, gaming, or better said about #play2earn idea in general and one specific example that I found very clever...
Now, every time I write some content I have some fears that it will backslash on me... That usually happens when people give their honest opinions about things that can hurt others... But, for the sake of the truth and better living, we have to hear bad news sometimes and as sooner we accept them, we can find a solution and move on...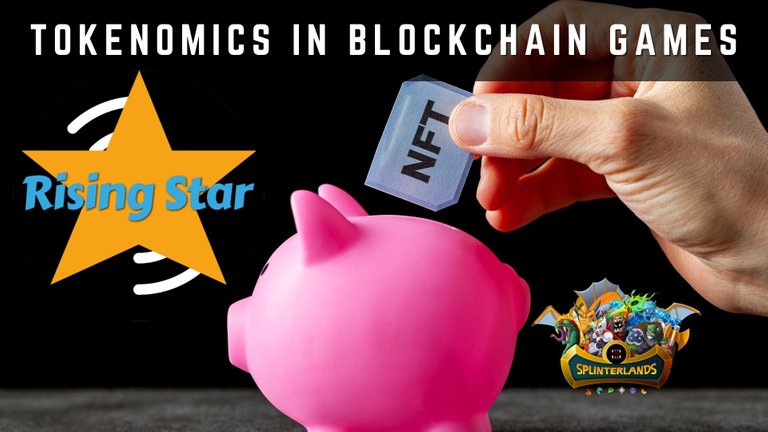 Created in Canva.com
Anyways, the topic for today is #play2earn, or if you like it more blockchain gaming, or earning crypto while you are having fun playing games... Before the "crypto era", I was playing some #play2earn games, where you would be paid in some digital currencies... Usually, you had to pay a certain amount of money to be able to play them, and then you were building up assets in the game that would eventually lead to taking some profits... If I go even more back to the past, I do remember other "investing programs" where I spent some USD that I'm not proud of, like PTS (paid-to-surf) or HYIP (high yield investment programs)... Unfortunately, some of those stuff reminds me about some of the current games (and DeFi platforms)...
The main idea was always based on a Ponzi scheme... The idea of getting rich quickly is always the easiest one to sell and that's why those things are spreading like mushrooms after the rain... So, promising high profits for the early investors to raise a lot of "volume" where earnings are great, in the mid-term APR falls a bit down, and in the long-term, the platform usually dies... I remember that I saw HYIP websites closing after just a couple of hours of existence... It was crazy to see... But, I can't deny that there is a similar image today with Defi, especially when I saw a website like https://rugdoc.io/calendar/ where you can see just a glimpse of how many projects are out there... I'm not saying that that website is bad, just saying that it reminded me of some old stuff...

To be honest, in a couple of months, most of those websites will be unavailable and closed... Only those who have the best, unique ideas will survive a long time... How long? Who knows? Bitcoin is only 12 years old! So, let's try to focus on the good stuff... I like blockchain gaming, I know that there are many games outside, but I don't have time to play them all... My favorites are Splinterlands and Rising Star, but I do check many others, and I like to inspect their main ideas and their tokenomics... That's probably my addiction... Checking tokenomics, trying to "predict" how long will the game "hold the water" before tokens sink and people lose interest... Well, these two games are a bit different from the rest regarding tokenomics...
Splinterlands is a giant... After 4 years (or is it more?) of existence, it is so complicated to understand tokenomics, especially with more than one game token and a lot of different assets that bring more value to gamers... So, I will skip SL today and focus on Rising Star... There was big news today about the latest addition to the game and I would like to "examine" why I found it very interesting from the "tokenomics aspect"... the First step would be to check the post about it and you can find it here
So, it looks like a small update, but it's a great idea for solving the problem that I was describing in the first couple of paragraphs... When you are running the game, after some time people find different ways/tricks to raise their earnings, or that happens as it should happen with high-ranked players... They should earn more... That's the point of climbing in rankings... I know that Jux (@risingstargame) would say that it's just a fun game, but why not earn some crypto if it's possible?

Back on topic... If you want to have a successful #play2earn game, you have to keep in mind two important things... The first is that people should be incentivized with "potential" earnings (that's why it's #play2earn game), and secondly, the game should be interesting and to keep it interesting, you have to innovate and tweak your game... But, let's go back to the first thing, earning from gaming is possible, but after some time and many new players jumping on board, the (game) token value usually goes down... Now, the word usually means that it is in almost 99% of cases like that... To cope with that, developers try to tweak current tokenomics by adding another token to the game, but with a different use case...
Splinterlands have DEC tokens, after that added SPS tokens, VOUCHERs, and I have probably forgotten about some from the past and present... :) The Rising Star game had STARBITS, and last year they have added STARPRO tokens, but with very limited use case... By adding this new Promote Fan Club option, the STARPRO tokens get a lot more visibility... The real beauty of successful tokenomics lies in the connection between different internal tokens, but also, different markets OUTSIDE the system... That's why you can trade STARBITS on Hive-Engine, provide liquidity in diesel pools, etc...
The game itself is heavily focused on NFTs accumulation... That means if you want to be high in rankings, you will have to have a LOT OF CARDS in your possession... And not just that, you need a lot of different cards, too as they count the most... Every month, new NFTs are printed with a limited supply, we have new missions where you can get some special cards, etc... Now, with the FAN CLUB, you will have to use a small (variable) amount of STARPRO tokens to do the special mission where you will be rewarded with NFTs... To get STARPRO tokens, you have to invest STARBITS tokens in Music Promoter, which BURNS those tokens! I suppose that you getting the point slowly...
If we go behind that, the Music Promoter itself is an awesome tool where players compete with each other for a limited amount of STARPRO tokens per day... So, in some way, players "decide" about the future value of STARPRO tokens! Burning more STARBITS tokens will help with fewer tokens in circulation and eventually more stable (or higher) token price... On the other side, having STARPRO tokens will give you a chance of having new cards that will help you with rankings and earnings in the game...

I know, I know... It looks like a huge Perpetuum mobile machine, but I like this last addition very much! It's not something that will revolutionary change the world (and the game), but it will give us more time to enjoy this game until the "next big thing"!
This post is not financial advice of any kind... It's just my view on the current #play2earn market and I hope that the future will bring us more and more quality games with unique ideas and different tokenomics!
If you are not playing these games, check them out at Splinterlands and Rising Star! Firstly, have fun, and if you earn something down the line, be grateful! I am!
Thank you for your valuable time,
~ph~

If you want to support my witness, you can do it by voting for @ph1102.ctp here https://tribaldex.com/witnesses, or just scan the QR code down below...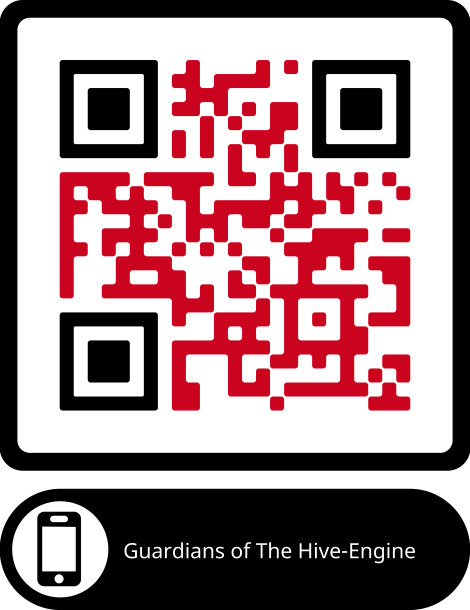 Don't forget to follow, reblog, and browse my Hivepage to stay connected with all the great stuff!
You can also find me on LEO Finance .:. Twitter .:. LBRY
---
---