BRAWL PERFORMANCE REPORT AUGUST 30, 2022 - YIELD GUILD (PH)
Hello Everyone,
This is @phantomx321, moderator and coordinator of Yield Guild (PH). A YGGSPL F2P(Free-2-play) guild established by @knightav. I started this timely blogs to show the general performance of the guild as well as each member's performance at the end of each brawl. This is for us to analyze further how we can grow as a guild and contribute as well in the Splinterlands Community.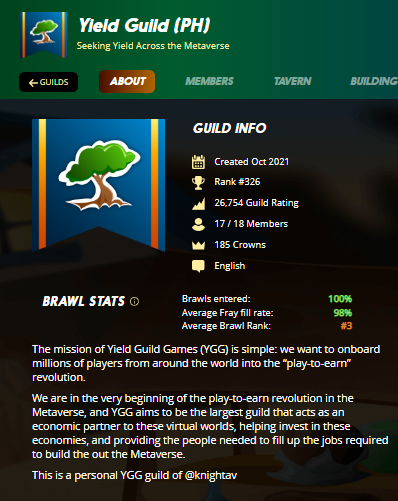 As part of YGG (Yield Guild Games) our mission is simple: we want to onboard millions of players from around the world into the "play-to-earn" revolution.. There's a lot of YGG guilds in Splinterlands but as far as the guild we have established is concerned we take high priority in onboard players from Philippines which is denoted by the "PH" in the guild name.
Here's some highlights for the Brawl ending in August 30, 2022:
1. GENERAL GUILD PERFORMANCE
Here's a quick summary for the Guild's Overall performance on the recent brawl ending August 30, 2022.

We've managed to place 5th for this time's brawl. Overall team's performance were quite low. This brawl so far is the lowest win rate we have received since we started the guild reconstruction.
2. INDIVIDUAL PERFORMANCE
Here's each member's performance for the recent brawl ending August 30, 2022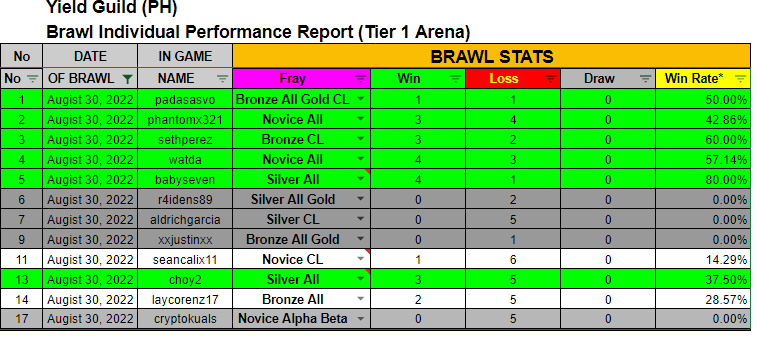 There were 13 open frays in total which 12 we're placed accordingly by each member. Out of the 12 fray 6 managed to get a win rate percentage higher than the Guild's overall win rate percentage (37.31%) as highlighted in green (@phantomx321, @babyseven, @padasasvo, @sethperez, @babyseven, @choy2 ) with @babyseven having the highest winrate percentage of 80% (4 Wins 1 Lose in a Silver All fray)
I've noticed there were a lot of players without a single win in their brawl battles. Reason of this seems to be the change of the rewards from Dec to SPS since the frays they are involved with requires rentals. We'll discuss further how to manage this problems in the future.
As mentioned from previous brawl performance report. We'll be initiating a new rule which gives preference for all top performing members of the Guild in choosing their respective frays in each brawl. Below is a summary of all the brawls we have participated.

The top 5 players as highlighted are as follows: (@padasasvo, @phantomx321, @gedeee09, @laycorenz17, @babyseven). This players will have preference on their selected frays for the upcoming brawl.
3. MEMBERSHIP NOTES
We still currently have 1 available member to onboard currently as we have removed 1 from the previous brawl. We already have one recommendation coming from @choy2 but his recommendation is still about to accept it.

We're hoping to welcome him as soon as he accepts the invite.
As part of our membership rules. We have recently applied a specific rule for joining brawls. That all members joining the brawls be able to place their battles not later than 1 hour before the battle stage ends (A final call 2 hours before the battle stage ends will be done). Anyone not following this rule will have a warning. Accumulating 3 warnings will result to Guild Expulsion.
For this recent brawl we have one member with the 1st warning @cryptokulas. I have discussed this further with him and the reason for not completing his brawls seems to be due to connection issues.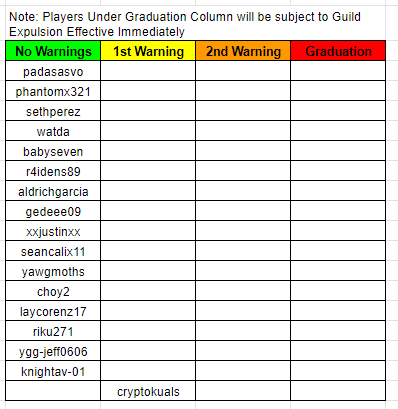 4. OTHER GUILD UPDATES
Guild Advancement Program Season 2 of YGG SPL is expected to start by September 2022. Please check for more details in the YGGSPL discord server on which program you could participate and win YGG tokens. Thanks!
Happy grinding Everyone!
Thats all for this post. :)
---
---