Card Giveaway + Small Experiment + Keep Blogging!
So last week I made my first ever blog post for Splinterlands. I'd heard about the pros of blogging about Splinterlands for awhile and decided it was time for me to do some blogging of my own. Now, one week after that post, I've received my first payout from that blog. I made roughly 4 HBD from that first post. It isn't that much money, but honestly I'm stoked that writing about a game that I love has any amount of monetary rewards at all.
Given the payouts attached to blog posts in Splinterlands, I wanted to run a little experiment to test out just how profitable blogging really is. I remember when I first bought the spellbook, I played a couple of weeks without spending any cash, just trying to organically get better in the game with the starter decks and a few rentals. Then I went on the Splinterlands official discord channel and found that people ran free giveaways all the time; all you had to do was give their blog posts a comment/like/follow, etc. Initially, I didn't see what the points was for the blogger, like why would they be giving away cards or DEC for free? Now, after seeing the payouts from blogging, I'm starting to see that this could be a win-win situation for all parties involved. So to put this theory to the test, I'll be buying one Pelacor Mercenary, right now valued at 23 cents, and be giving that away to one person who follows the rules mentioned below.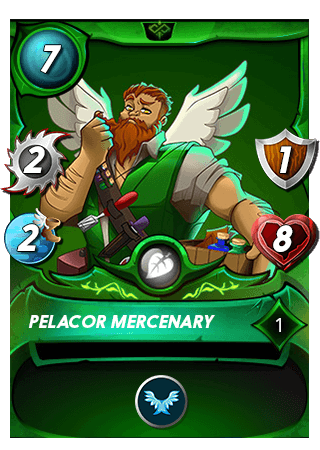 I want to be super transparent so around this time next week, I'll be updating everyone with how much cash I've earned from all the interactions with this blog post so that we can determine whether or not the giveaways are actually beneficial for all. And hey, if it is beneficial, then you can bet I'll be running more and bigger giveaways in the future.
Beyond that, I'd honestly encourage everyone to give blogging a shot. Especially if you're like me and you're very hesitant about spending lots of cash within the game, but still want to improve. Blogging could be a way to really self-fund your Splinterlands journey.
Giveaway Rules
Comment your Splinterlands username so I know who to transfer the card to.
Upvote the post
That's it! I'd appreciate a follow or if you could, check out my first blog post, but they're not required.
Since I'll wait for the payout rewards to come in first, the winner will be announced roughly one week after this post comes out.
For the newbies out there that want to get into the game, feel free to use my referral code: https://splinterlands.com?ref=phonsoswag
I get some benefits if you sign up using that, but I'll be sure to make it worth your while by either sending you some DEC or delegating some cards to help you get started. Just reach out to me and let me know.
---
---