Earnings and Expenses this season "February" - part 1 [ENG/PT-BR]

Ola galera vou compartilhar meus gastos e ganhos do primeiro quinzenal de Fevereiro 🤑
hiiiii, I'm going to share my expenses and earnings for the first fortnight of February 🤑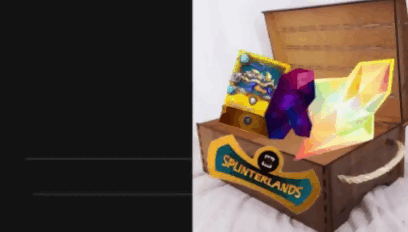 Geralmente eu gasto em alugueis com cartas um total de 350 DEC para jogar no silver isso é a media porem pode variar para baixo a 300 ou ate 600 a 800 para cima no ultimo dia da temporada ja que os usuarios acabam sendo mais ativos e eu preciso alugar cartas mais fortes, agora eu estou gastando 687 DEC e gahando 35 DEC com minhas cartas, esta bem acima do valor isso porque sao o print mostra os valores de fim de temporada que é quando alugo cartas mais caras para tentar atingir rank mais alto
I usually spend on rentals with cards a total of 350 DEC to play in silver this is the average but it can vary down to 300 or even 600 to 800 up on the last day of the season since users end up being more active and I need rent stronger cards, now I'm spending 687 DEC and earning 35 DEC with my cards, this is well above the value because the print shows the end of season values ​​​​which is when I rent more expensive cards to try to reach a higher rank

porem essa temporada eu nao consegui chegar no diamante entao permanecerei com baus gold para a proxima temporada a unica boa noticia e que eu consegui esse mes 37 baus de diamante um record, porque pelos meus calculos eu ganharia apenas 27 baus logo ganhei 10 a mais muito feliz por meus alcances este mes, agora vamos ver meus ganhos desse mes
however this season I couldn't reach the diamond so I will keep with gold chests for the next season the only good news is that I got 37 diamond chests this month a record, because by my calculations I would only win 27 chests so I won 10 more very happy for my achievements this month, now let's see my earnings for this month


By Day/Dia = 300/400 = $ 0,21/0,29 dolar
By Season/Temporada = 5250/7250 = $ 3,76/5,19 dolar



DAY 1
6 chest silver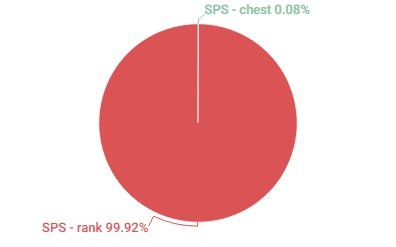 cards = Not sale yet
Chest day/Bau Diario SPS = 0.167 = $0,007 dolar
SPS battle rank/Batalhas rankeadas = 11.118 = $0,323 dolar

Agora dentro dos baus nao vem mais as cartas antigas so as novas e essas ainda nao é permitido vender logo nao é possivel calcular quanto vai ser o preço da venda
Now inside the chests there are no more old cards, only new ones and these are still not allowed to be sold, so it is not possible to calculate how much the sale price will be


DAY 2
13 chest silver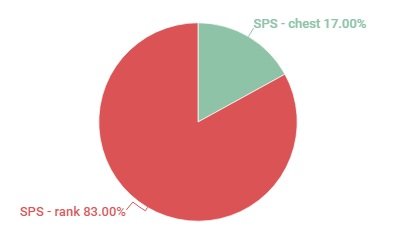 cards = Not Sale Yet
Chest day/Bau Diario SPS = 1.467 = $0,051 dolar
SPS battle rank/Batalhas rankeadas = 8.567 = $0,249 dolar



DAY 3
12 chest silver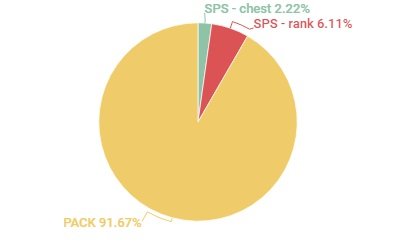 cards = Not Sale Yet
Chest day/Bau Diario SPS = 1.849 = $0,058 dolar
SPS battle rank/Batalhas rankeadas = 5.519 = $0,160 dolar
Pack = $2,399 dolar



DAY 4
10 chest silver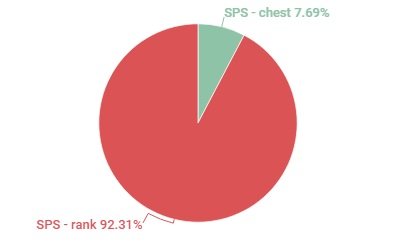 cards = Not Sale Yet
Chest day/Bau Diario SPS = 0.461 = $0,016 dolar
SPS battle rank/Batalhas rankeadas = 6.592 = $0,192 dolar



DAY 5
16 chest silver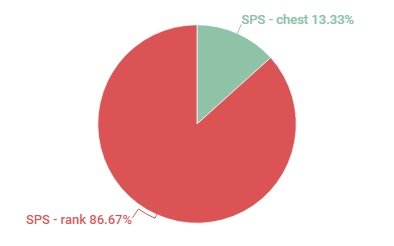 cards = Not Sale Yet
Chest day/Bau Diario SPS = 0.44 = $0,018 dolar
SPS battle rank/Batalhas rankeadas = 4.027 = $0,117 dolar



DAY 6
12 chest silver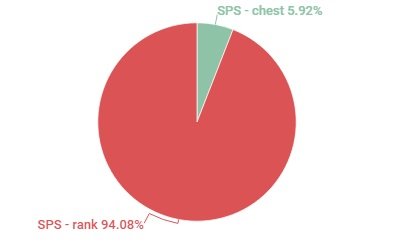 cards = Not Sale Yet
Chest day/Bau Diario SPS = 0.193 = $0,009 dolar
SPS battle rank/Batalhas rankeadas = 4.979 = $0,143 dolar



DAY 7
16 chest silver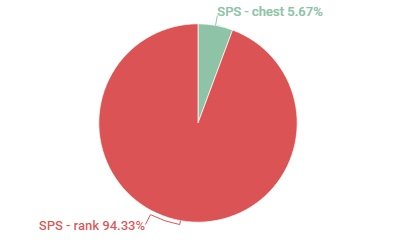 cards = NOT SALE YET
Chest day/Bau Diario SPS = 0.38 = $0,014 dolar
SPS battle rank/Batalhas rankeadas = 8.286 = $0,233 dolar



DAY 8
16 chest silver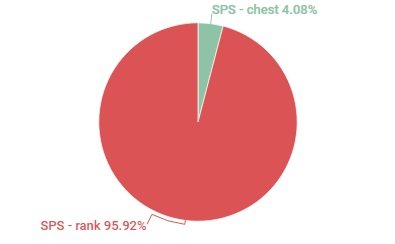 cards = Not Sale Yet
Chest day/Bau Diario SPS = 0.29 = $0,010 dolar
SPS battle rank/Batalhas rankeadas = 8.421 = $0,235 dolar



DAY 9
18 chest silver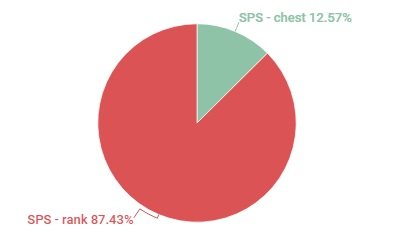 cards = Not Sale Yet
Chest day/Bau Diario SPS = 0.715 = $0,022 dolar
SPS battle rank/Batalhas rankeadas = 5.476 = $0,153 dolar



DAY 10
16 chest silver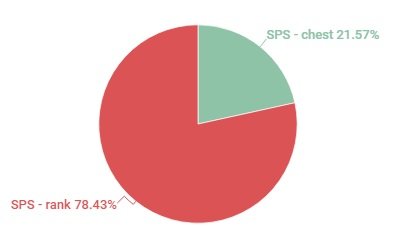 cards = Not Sale Yet
Chest day/Bau Diario SPS = 0.276 = $0,011 dolar
SPS battle rank/Batalhas rankeadas = 1.445 = $0,040 dolar



DAY 11
8 chest silver


cards = Not Sale Yet
Chest day/Bau Diario SPS = None
SPS battle rank/Batalhas rankeadas = 6.44 = $0,180 dolar



LAST DAY
12 chest GOLD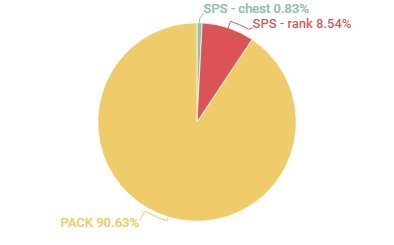 cards = Not Sale Yet
Chest day/Bau Diario SPS = 0.743 = 0.022
SPS battle rank/Batalhas rankeadas = 8.015 = $0,226 dolar
Pack = $2,399 dlar



Chest SEASON
37 chest Diamond

cards = Not Sale Yet
Chest day/Bau Diario SPS = 68.707 = $1,885 dolar
PACK = $4,798 dolar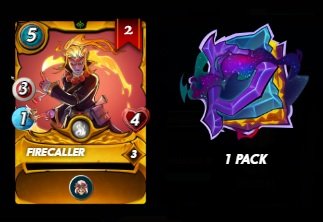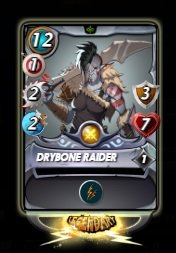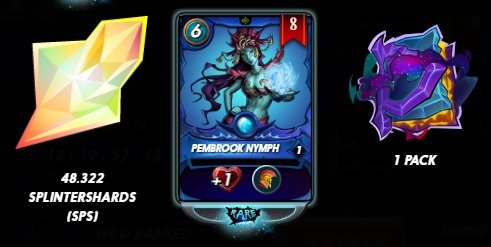 WOUUUUUUU 48.322 SPS essa foi a minha primeira vez abrindo baus diamante, nao esperava alcançar 37 deles, consegui ainda mais 2 Packs, 2 carta gold commum da nova edição e ainda uma carta lendaria Neutra fantastica estou muito feliz pelo resultado afinal saiu alem do esperado as recompensas, pena que este mes nao alancei o diamante mas tudo bem ja estou bem pelo resultado 😱
WOUUUUUUUU this was my first time opening diamond baus, I did not expect to reach 37 of them, I got 2 more packs, 2 Gold Commum letter from the new edition and a legendary neutral fantastic letter I am very happy for the result after all I expected from expected as expected rewards, Too bad this month I didn't get the diamond but that's ok I'm fine with the result 😱

TOTAL earnings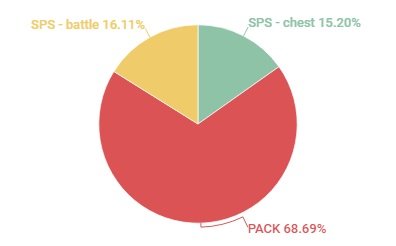 cards TOTAL= Not Sale Yet
SPS TOTAL/chest = 75.688 = $2,123 dolar
SPS TOTAL/battle = 78.885 = $2,251 dolar
PACK TOTAL = 4 = $9.596 dolar
TOTAL = 13,97 dolar
As recompensas essa temporada foi muito alem de media geralmente ganho entre 8 a 12 dolar por temporada, este ganhei 14 dolares 2 a mais🙃
The rewards this season were way beyond the average I usually earn between 8 to 12 dollars per season, this one I earned 14 dollars 2 more🙃
EARNINGS X EXPENSES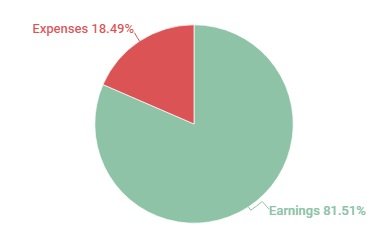 Earning 13.97 dolar - 3.17 dolar Expenses
I won = 10.8 dolar
Esse mes eu ganhei 35% a mais com relacao a primeira temporada de janeiro isso porque eu ganhei mais pack nessa temporada do que mes no anterior afinal ganhei 4 packs e na anterior apenas uma, os premios sempre será aleatorio as vezes mais as vezes menos mas o importante e ter ganhos e esse foi os meus ganhos e gastos desses mês vejo vejo no final da proxima temporada 😉
This month I won 35% more compared to the first season of January because I won more packs this season than the previous month after all I won 4 packs and in the previous one only one, the prizes will always be random sometimes more sometimes less but the important thing is to have victories and that was my earnings and expenses for this month, I'll see, I'll see at the end of next season 😉

Lembrando que existem sorteios de DEC e SPS ainda em aberto para a comunidade Splinterlands sinta se livre para partiicpar vou deixar os links abaixo me sigam para nao perder nenhum postagem ou sorteio fiquem bem!
Remembering that there are DEC and SPS giveaways still open for the Splinterlands community feel free to participate I'll leave the links below follow me so you don't miss any post or giveaway stay well!
Giveaway 1 click 👇


Join splinterlands click HERE

see you soon!

*exchange tokens*

!Oneup 
!Pizza
!Alive !Luv 
!Lolz !Pgm !Meme

whetever you use...
---
---