Earnings and Expenses this season "March" - part 1 [ENG/PT-BR]
hi galera vou compartilhar meus gastos e ganhos do primeiro quinzenal de Março 🤑
hi I'm going to share my expenses and earnings for the first fortnight of March 🤑
Geralmente eu gasto em alugueis com cartas um total de 350 DEC para jogar no silver isso é a media porem pode variar para baixo a 300 ou ate 600 a 800 para cima no ultimo dia da temporada ja que os usuarios acabam sendo mais ativos e eu preciso alugar cartas mais fortes, agora eu estou gastando 634 e gahando 51.1 DEC com minhas cartas
I usually spend on rentals with cards a total of 350 DEC to play in silver this is the average but it can vary down to 300 or even 600 to 800 up on the last day of the season since users end up being more active and I need rent stronger cards, now I'm spending 634 but I went up to 850 DEC to try to reach the diamond and earning 51.1 DEC with my cards

No ultimo dia acabei gastando mais 200 dec subindo para 850 para tentar atingir o diamante mas nao consegui e acabei ficando no caminho, fiquei apenas no ouro, porem agora vc nao cai pro rank interior vc permanece no rank o qual terminou e fica difiicl aumentando seus gastos mas preciso me adptar consegui quase 42 baus por causa de 200 focus day perdi um bau😔
On the last day I ended up spending another 200 dec going up to 850 to try to reach the diamond but I couldn't and I ended up getting in the way, I was only in the gold, but now you don't fall to the inner rank you stay in the rank which ended and it's difficult to increase your expenses but I need to adapt I got almost 42 chests because of 200 focus day I lost a chest😔


By Day/Dia = 300/400 = $ 0,23/0,31 dolar
By Season/Temporada = 5250/7250 = $ 4,02/5,55 dolar



DAY 1
5 chest silver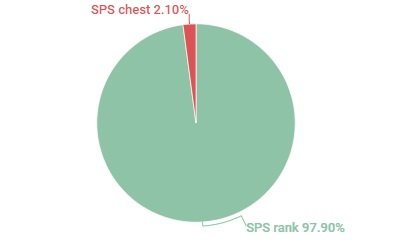 cards = 3 cards common
Chest day/Bau Diario SPS = 0.093 = $0,003 dolar
SPS battle rank/Batalhas rankeadas = 5.07 = $0,140 dolar



DAY 2
16 chest silver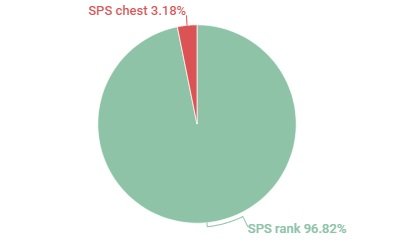 cards = 4 commom , 1 epic
Chest day/Bau Diario SPS = 0.255 = $0,009 dolar
SPS battle rank/Batalhas rankeadas = 10.23 = $0,274 dolar



DAY 3
12 chest silver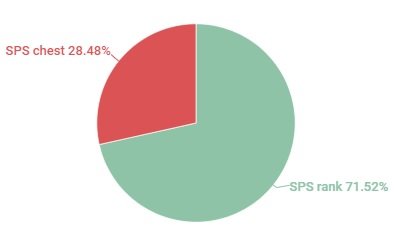 cards = 5 commom
Chest day/Bau Diario SPS = 1.674 = $0,047 dolar
SPS battle rank/Batalhas rankeadas = 4.408 = $0,118 dolar



DAY 4
15 chest silver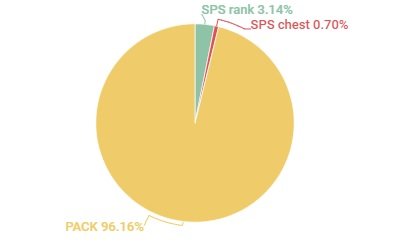 cards = 6 Common, 5 rare
Chest day/Bau Diario SPS = 1.053 = $0,029 dolar
SPS battle rank/Batalhas rankeadas = 6.137 = $0,164 dolar
Pack = $2,26 dolar



DAY 5
17 chest silver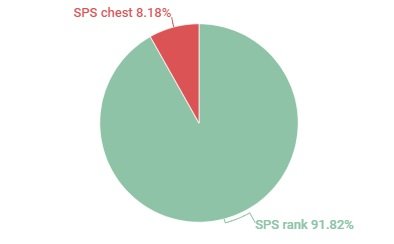 cards = 10 common
Chest day/Bau Diario SPS = 1.937 = $0,058 dolar
SPS battle rank/Batalhas rankeadas = 10.906 = $0,292 dolar



DAY 6
10 chest silver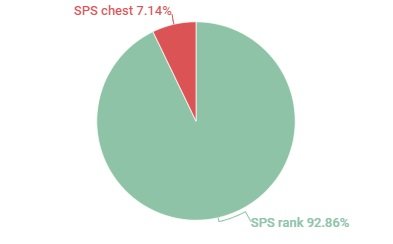 cards = 2 commom
Chest day/Bau Diario SPS = 0.213 = $0,007 dolar
SPS battle rank/Batalhas rankeadas = 3.411 = $0,091 dolar



DAY 7
16 chest silver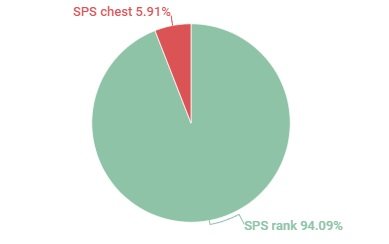 cards = 4 rare 1 epic
Chest day/Bau Diario SPS = 0.378 = $0,011 dolar
SPS battle rank/Batalhas rankeadas = 6.55 = $0,175 dolar



DAY 8
13 chest silver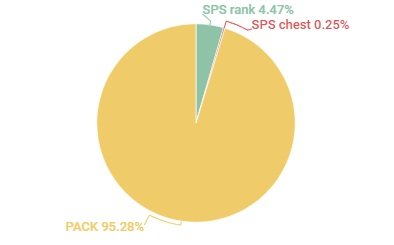 cards = 8 common, 1 rare
Chest day/Bau Diario SPS = 0.178 = $0,006 dolar
SPS battle rank/Batalhas rankeadas = 3.974 = $0,106 dolar
Pack = $2,26 dolar



DAY 9
10 chest silver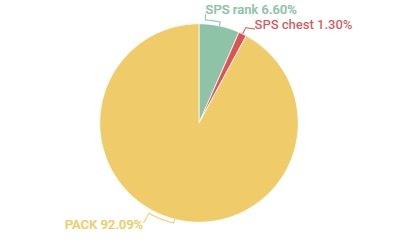 cards = 10 common, 3 rares
Chest day/Bau Diario SPS = 1.284 = $0,032 dolar
SPS battle rank/Batalhas rankeadas = 6.065 = $0,162 dolar
Pack = $2,26 dolar



DAY 10
15 chest silver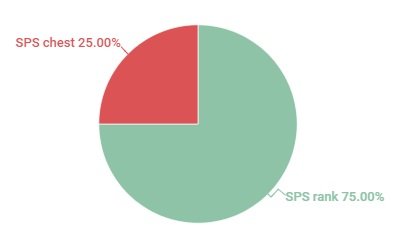 cards = 10 common, 4 rare
Chest day/Bau Diario SPS = 1.079 = $0,029 dolar
SPS battle rank/Batalhas rankeadas = 3.263 = $0,087 dolar



DAY 11
15 chest silver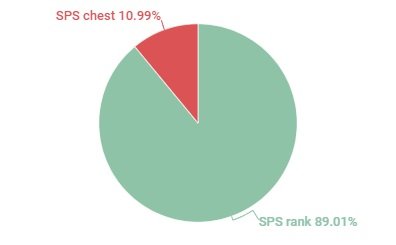 cards = 10 common
Chest day/Bau Diario SPS = 1.565 = 0.042
SPS battle rank/Batalhas rankeadas = 12.179 = $0,340 dolar



LAST DAY
15 chest silver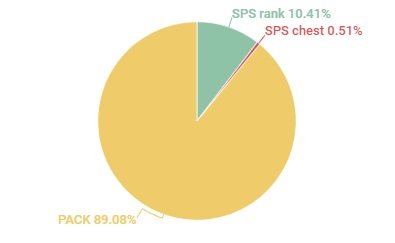 cards = none
Chest day/Bau Diario SPS = 0.352 = 0.013
SPS battle rank/Batalhas rankeadas = 9.514 = $0,264 dolar
Pack = $2,26 dolar


Chest SEASON
41 chest Diamond

cards = 40 common, 25 rare and 3 epic and 2 legendary
Chest day/Bau Diario SPS = 39.624 = $1,040 dolar
PACK = $2,26 dolar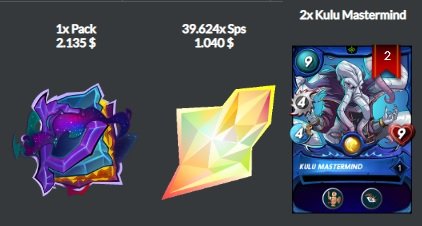 39.624 SPS muito bom, em um unico bau, essa temporada os premios foram bem divididos, ganhei 5 packs, 1 em cada dia a mesma quantidade de packs do mes passado so que ganhei mais em um unico dia porem feliz por ter pego 2 lendarios em um unico bau tive ganhos semelhantes com o mes passado porem sempre os premios serão aleatorios, espero sempre que venham boas coisas
39,624 SPS very good, in a single chest, this season the prizes were well divided, I won 5 packs, 1 in each day the same amount of packs as last month, but I won more in a single day, but I am happy to have caught 2 legendary in In a single chest I had similar earnings as last month, but the prizes will always be random, I always hope that good things come

TOTAL earnings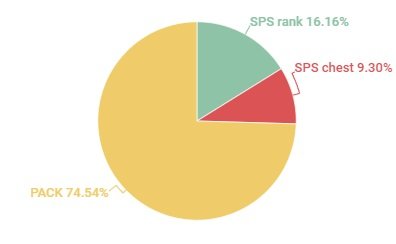 cards TOTAL= Not Sale Yet
SPS TOTAL/chest = 49.687 = $1,41 dolar
SPS TOTAL/battle = 86.311 = $2,45 dolar
PACK TOTAL = 5 = $11,3 dolar
TOTAL = 15,16 dolar
As recompensas essa temporada foi melhor que a temporada anterior ganhei 2 dolares a mais com relação ao mes passado isso pq ganhei 1 pack a mais porem o preço do pack caiu 10% mas feliz que venham cada vez mais ganhos
As rewards, this season was better than the previous season, I won 2 dollars more compared to last month, because I won 1 more package, but the price of the package fell by 10%, but I'm happy that more and more are coming.
EARNINGS X EXPENSES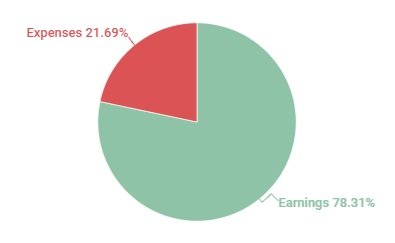 Earning 15.16 dolar - 4.2 dolar Expenses
I won = 10.96 dolar
Esse mes eu ganhei 2 dolares a mais, um aumento de 18% muito feliz, que venha sempre bons ganhos, fiquem bem pessoal! até a proxima
This month I earned 2 dollars more, an increase of 18% very happy, good earnings always come, stay well everyone! to the next

Lembrando que existem sorteios de DEC e SPS ainda em aberto para a comunidade Splinterlands sinta se livre para partiicpar vou deixar os links abaixo me sigam para nao perder nenhum postagem ou sorteio fiquem bem!
Remembering that there are DEC and SPS giveaways still open for the Splinterlands community feel free to participate I'll leave the links below follow me so you don't miss any post or giveaway stay well!
Giveaway 1 click 👇

Giveaway 2 click 👇

Join splinterlands click HERE

see you soon!

*exchange tokens*

!Oneup 
!Pizza
!Alive !Luv 
!Lolz !Pgm !Meme

whetever you use...
---
---