Share Your Battle - 🧙‍♀️ BATTLE MAGE SECRETS 🧙‍♀️ [ENG/PT-BR] Splinterlands - Reflect Magic
Bem vindo a batalha semanal splinterlands com a regra "Counterspell"
Welcome to the splinterlands weekly battle with the "Counterspell" rule
Replay - "REFLECT MAGIC" - Battle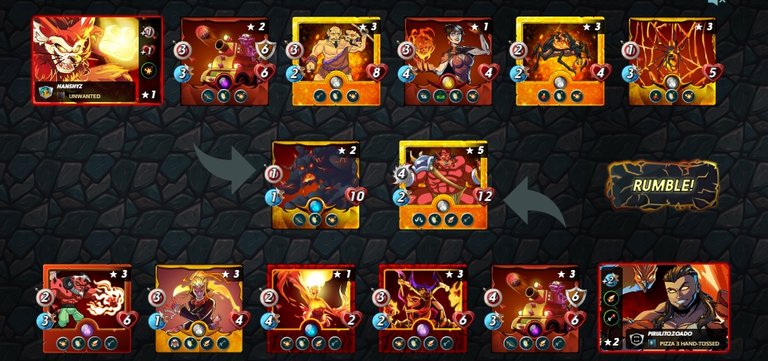 Eu gosto muito desses 2 sumoner eu acho eles otimo um ataca rapido ganha velocidade e o outro ataca dando exploses acertando varios alvos uma custa uma fortuna o aluguel ja o outro nem tanto se eu pudesse eu alugaria os 2 porem sempre evito gastar de mais as vezes as temporadas nao vem com tão boas recompensas e ai nao acabo tendo muito retorno entao decido sempre gastar a menor quantidade de DEC possivel para que assim os ganhos sejam maiores isso significa que com poucas quantidade de cartas a probabilidade de perder tambem aumenta
I really like these 2 sumer I think they're great a quick attack it gains speed and the other attacks giving explosions hitting several targets one costs a fortune the rent the other not so much if i could i would rent the 2 but i always avoid spending too much sometimes the seasons don't come with such good rewards and then i don't end up having them a lot of return so decided to always spend the least amount of DEC possible so that the gains are greater this means that with a small amount of cards the probability of losing also increases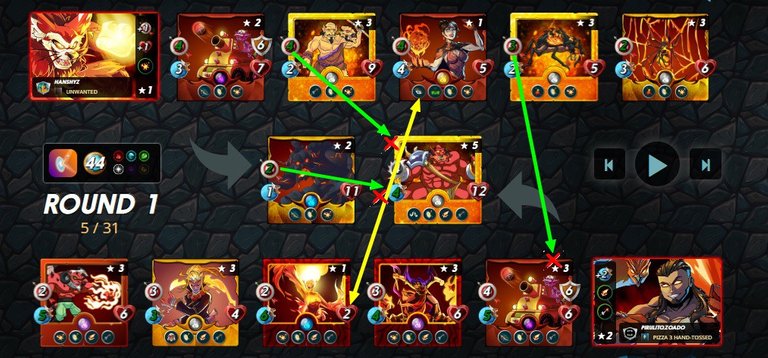 Veja que a batalha começa com a minha carta atacando a carta com habilidade "camuflagem" cuja essa habilidade faz com que esta carta so pode sofrer dano quando estiver na primeira posição porem a habilidade do meu sumoner se chama "Scattershot" e isso anula a habilidade camuflagem porque se o alvo sempre será alguem aleatorio isso significa que todos podem sofrer ataque, veja que minhas cartas tem mais velocidade que meu adversario e mesmo assim meu adversario me acertou e conseguiu matar a carta mais rapida que eu tinha isso porque a habilidade do meu oponente "oportunidade" faz com que a carta busque o inimigo com pontos de vida mais baixo, alem do que meu adversario errou 3 vezes se isso nao tivesse acontecido eu perderia a carta tank da primeira posição
See that the battle starts with my card attacking the card with "camouflage" skill whose skill makes this card can only suffer damage when it is in the first position, but my sumner's skill is called "Scattershot" and this cancels the skill camouflage because if the target will always be someone random that means that everyone can be attacked, see that my cards have more speed than my opponent and even so my opponent hit me and managed to kill the card faster than I had it because my skill opponent "opportunity" makes the card look for the enemy with the lowest life points, in addition to what my opponent missed 3 times if that had not happened I would lose the tank card from the first position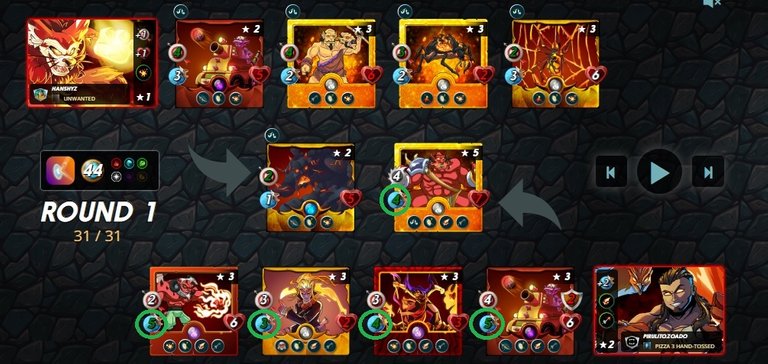 Durante o segundo turno veja que minhas cartas tem mais velocidade que todas do meus adversario isso significa que darei um turno inteiro de ataque nele para apos ele começa a atacar porem nao teve tempo acabei derrubando todas as suas cartas restando apenas uma sem ele conseguir me atacar uma unica vez
During the second turn see that my cards have more speed than all of my opponent's that means that I will give him a whole turn of attack after he starts attacking but he didn't have time I ended up taking down all his cards leaving only one without him being able to attack me only once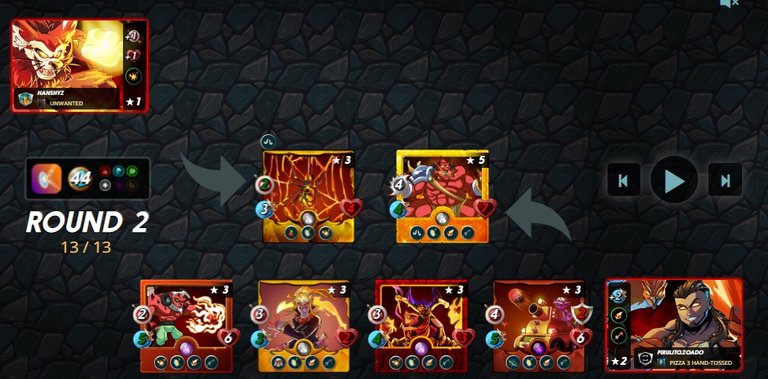 Por fim eu venci apesar de tudo com facilidade, como sempre mostrando ter mais velocidade sempre te dará um vantagem extra afinal será que é por isso que o sumoner de agua Kelya Frendul é o mais caro dentre todos os sumoner comuns?
Finally I won despite everything with ease, as always showing more speed will always give you an extra advantage after all is that why the Kelya Frendul water sumer is the most expensive among all the common sumer?

❗️ LAST TIP ❗️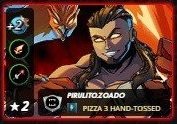 Mesmo com a partida sendo a habilidade "Magic Reflect" ja vi muitos adversarios usarem ataques magicos desde que tenham a habilidade "void" que faz com que o ataque magico recebido seja reduzido em 1 isso significa que por mais que vc ataque alguem com refletir de ataque magico isso o dano retornado nao terá dano o mesmo funciona pro void armor desde que alguem tenha a habilidade Shield para concerta os escudos a cada turno, se vc quiser vc pode melhorar a sua velociade usando 2 cartas lendarias a " Countess Sinash" e a " Spirit Miner" assim vc terá +4 de velocidade a cada turno uma otima estrategia contra ataques fisicos e a distancia agora se o usuario usar ataques magicos e sempre bom ter alguem que desvie de ataques magicos ou que receba um dano menor quando sofrer este tipo de ataque em especifico mas sempre falo quem tem um poder aquisitivo maior sempre alugará cartas melhores e asim poderá aumentar sua prababilidade de vencer, e essa foi o desafio splinterlands dessa semana, vejo vc semana que vem ate a proxima pessoal!
Even with the game being the "Magic Reflect" skill, I've seen many opponents use magic attacks since they have the "void" skill that causes the magic attack received to be reduced by 1, this means that no matter how much you attack someone with reflect of magic attack that the damage returned will not have damage the same works for void armor as long as someone has the ability Shield to fix the shields every turn, if you want you can improve your speed using 2 legendary cards the "Countess Sinash" and the "Spirit Miner" so you will have +4 speed each turn a great strategy against physical and ranged attacks now if the user uses magic attacks it's always good to have someone who dodges magic attacks or who receives less damage when suffering this type of attack in specific but I always say those who have a greater purchasing power will always rent better cards and thus be able to increase their probability of winning, and that was this week's splinterlands challenge, see you next week until next time guys!


❗️ Habilidades da partida ❗️

❗️ Match Skills ❗️
will attack first support cards, magicians or archers or that do not attack
each turn atack a random card
when atack nearby cards also take damage
do not take damage until you are in first position
attack the card with the fewest hit points
Lembrando que existem sorteios de DEC e SPS ainda em aberto para a comunidade Splinterlands sinta se livre para partiicpar vou deixar os links abaixo me sigam para nao perder nenhum postagem ou sorteio!
Remembering that there are DEC and SPS giveaways still open for the Splinterlands community feel free to participate I'll leave the links below follow me so you don't miss any post or giveaway!
Giveaway 1 click 👇

Giveaway 2 click 👇

Join splinterlands click HERE

see you soon!

*exchange tokens*

!Oneup 
!Pizza
!Alive !Luv 
!Lolz !Pgm !Meme

whetever you use...


---
---