MY JOURNEY AND IMPRESSION AS A NEOXIAN COMMUNITY MEMBER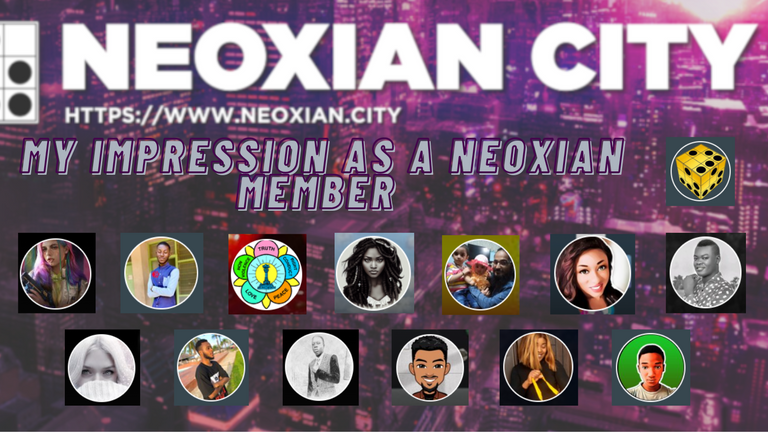 Source of Picture
Introduction
Hello Everyone!
Well, I think this is my first post about Neoxian and I think I have to Introduce my self first. Alright, My name is Silvia, I am an Engineer, my main duty is making proposal about Oil & Gas and Power Plant Project which worth Hundred Thousands of USD. It's a big project which involves lots of stakeholder like State and Private Companies. I like writing a lot so I tried to find community who has the same interest with me and I am so glad to find Neoxian.
---

My First Meet with the Neoxian Community
---

My Impression to each Member

@xawi
---

@depressedfuckup
He is a very helpful and humble person. I like the way he speaks to other. It really shows like he has lots of knowledge and deliver to other people in a very simple way. He has helped me a lot in m first week so yeah I am glad to have a friend like him.
---

@sayee
My friend from India. One thing that always makes me remember about him is : "don't forget to give something to others after you received goodness from others". A simple example is we got upvotes almost everyday so we need to share some % of that reward in the form of giveaway to others. That's pretty cool.
---

@momogrow
I think she is a smart woman as Mr. D trust her to be a city prompt curator. I barely talked to her in personal but as time goes by, I think we will have many talks in the future :).
---
@shrazi
A cool daddy with his 2 daughters. I think he is a cool man who have decent investments in Splinterlands as his collection power is around 700K. Glad to see him reached diamond league today. whenever I saw him on discord, I always want to say "Assalamu'alaiakum" :).
---

@queenstarr
My first friend in Neoxian community. He is a very kind and helpful girl. When I ask some questions about post promotion channel, she was offering her help to share my link to be put in that channel and the post got so many upvotes (around $53). We have lots of talks in DM also about many things, neoxian, pizza, splinterlands, etc. very grateful to have a friend like him.
---

@Vickoly
To me, he looks like a good Captain who cares a lot to the community. He gladly answered all of the newbie questions just like me. He is a smart guys also as Mr. D trusted him to be a detective, :). Keep up the good work, man.
---

@quduus1
We have so many talks recently, ha ha. I think he is the most frequent person I talked with. he helped a lot so I gave him little rewards and he replied with better rewards!. What a man. Thank you for having many chats with me fox.
---

@justfavour
He is one of the most helpful for me. When he knows I need some help to register my nostr, He is the first person who DM'ed me and offering his help. He helps sincerely without expecting anything in return, very great man.
---

@b0s
He often replied my chat in the general english chat and I really appreciated that. He is also a humble person in neoxian community. Ver nice to meet him
---

@olujay
He is the one who introduce me to Hive Learner. A very helpful person as He and Vickoly always answered lots of people's questions. Wish you all the best in your study, man.
---

@nkemakonam89
I think she is a very diligent and well organized woman. I also barely talked to her in personal but I wish we will have it soon.
---

@abdul-qudus
His DP makes me want to call him young man, ha ha. I think he is a smart and very good in writing. I saw his name as a winner in writing contest. pretty awesome.

Closing
Alright, I think that's my testimony about Neoxian. As the summary, I am so happy to have you all as my friends. I wish we can keep this great relationship forever. Thanks for having me in Neoxian Community guys.
Take Care and Bye~

Notes : The picture of each member was taken from their profile.
Posted using Neoxian City
---
---