Golden Katrelba Gobson's Debut on My Brawl | Splinterlands Weekly Battle Challenge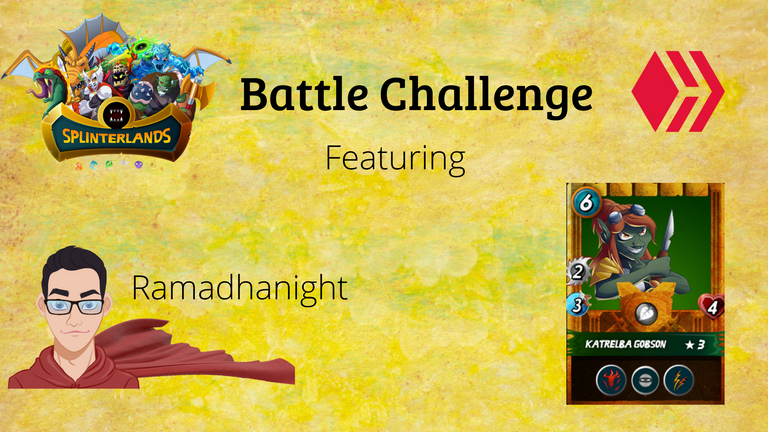 Hello guys, welcome back to Ramadhanight's Hive Blog on Splinterlands Weekly Battle Challenge's Session. For this week Battle Challenge, I want to review my battle on Guild Brawl. I finally found interesting golden gladius card after opening 3 gladius pack at once. Eventough i don't get Quora that i really want, but this common monster seems pretty good as well, it's Katrelba Gobson !

~Lore of Katrelba Gobson~
Before we start taking about the battle, let's talk about the monster first. For those who loves a story, i bring you the lore of the Katrelba Gobson
The eldest daughter of Rock Gobson, Katrelba, has gotten the city into trouble for the last time. Her last spree nearly resulted in a full-out war with the Centauri people of the north, who could easily use their astral magic to level the entire goblin city. Luckily, the centaurs are more forgiving than goblins, so when Katrelba (while flying high on poppypoof) desecrated their most sacred shrine with a band of her unruly cronies (also flying high on poppypoof), she was grudgingly released by Kron the Undying without a fight. Still, a band of Centauri messengers brought the Gobson patriarch a stern warning two days later that led him to send the reckless daughter across the sea. Knowing how tough and formidable in combat his eldest daughter was, Rock Gobson decided to enlist her as a Gladiator. It was his hope that Katrelba could be someone else's problem for a while.
Source: Splinterlands.com Lore

General Information About Katrelba Gobson
Now that we knew about the lore of this monster, let's have a look at his stats and ability. The information about this monster's stats and ability are shown below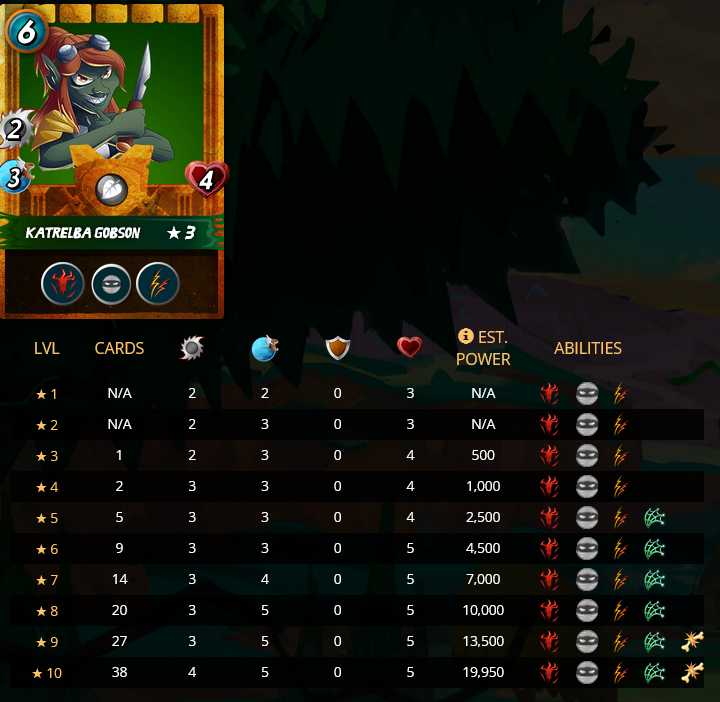 Katrelba Gobson is a common gladius earth monster with 6 mana cap which is makes him a suitable monster for medium high mana cap condition. He got the bloodlust ability which is common for a gladius monster and a sneak ability to hit enemies backline. What is not common about this monster is her double attack ability, which cause him having high dps and could break enemies armor before hit their health. This high assasination ability is very suitable with the bloodlust ability which will gave her stats improvement. She already got 2 melee attack at 1st level which cause her could deal 4 damage in 1 turn, and her damage will increased into 3 at lv 4 which cause her could land 6 damage each round, and her maxed damage is 4 at her maxed level, so she could land 8 damage each turn ! (could even more with physical damage buff).
Beside the ability that i've mentioned above, she will got snare ability at 5th level to help the team against flying monster, and she will have cripple ability at 9th level to help her against enemies with high health point and regen or supported with heal ability. Her speed is decent at early level, with just 2 at 1st level and 3 at 2nd level until 6th level. At 7th Level, her speed become 4 and since 8th level she have 5 speed. This speed mean much because eventough she could deal massive damage, as long as the hit is missed it's never become a real threat to enemies.
And just like many assasin monster out there, she has pretty low health. With just 3 health at 1st and 2nd level, she could easily killed by enemies with opportunity ability such as deepluker ! You need to place her carefully and have some decoy to prevent her got killed earlier.

Formation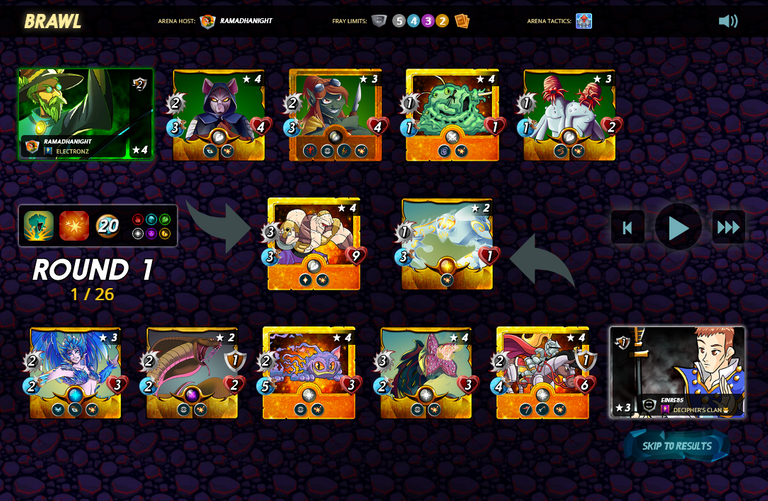 Battle Link: https://splinterlands.com/?p=battle&id=sm_NdoZwliz4qRhaFO9xrrm
---
My Lineup's Explanation :
Rules :

Before we discuss about the formation, here is the rules for this match
Stampede : Trample ability could triggered more than once and will continue to triggered until enemies monster were survive the damage. Imagine if she has the trample combined with double attack like grund !
Explosive Weaponry : All attack has blast ability ! Double attack, double blast !
20 Mana Cap : Medium low mana cap. Could suit Katrelba Gobson but will limited her team's mana pretty much.
Splinter available : All splinter are available !
| Position | Card | Ability | Strategy |
| --- | --- | --- | --- |
| Summoner | | -2 Armor | Suitable with Katrelba Gobson to help her stripped enemies armor so she could directly attack enemies health |
| Tanker | | Heal | The most favourite earth tank for bronze league (and some silver league situation as well !). Suitable with Katrelba Gobson to help her stand enemies attack from front. Got healing ability to survive longer on this battlefield with so many blast |
| 2nd Monster | | Opportunity | Decent health point for 2nd tank since there is blast ability. Got opportunity ability which suitable with Katrelba Gobson to kill enemies backline |
| 3rd Monster | | Bloodlust, Sneak, Double Strike | Main monster and main hitter for me with sneak and double attack ability. Plus she got the bloodlust which gave her stats improvement each time she eliminate enemies (which is match decider on this match). Put her on 3rd position to makes her safe from enemies assasin and the blast ability. |
| 4th Monster | | Slow | Suitable with Katrelba Gobson as a good decoy with slow ability to help the team got early start |
| 5th Monster | | Thorn | Suitable with Katrelba Gobson for help wasting enemies sneak attack and giving back damage to those enemies. |

Does My Strategy is Worked ? :
If you want to watch the battle, please click the link of battle replay i've mentioned above.
The battle scene are also shown on gif below:
On 1st round, all buff and debuff are applied. It's 5 vs 6 for me. Enemies are having scary damage with the inspire boost, but gobson are able to take down 2 enemies and trigger her bloodlust ability twice which help her to evade enemies attack. On this round, my team lose 2 monster on the back while enemies are having 3 of his monster eliminated. Now it's 3 vs 3 !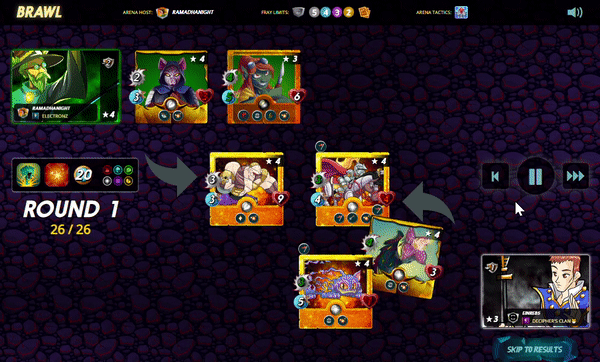 On 2nd round, gobson are able to kill another 2 enemy's monster. The golem are take care the silvershield assasin to finish the match for me.

Discuss About Katrelba Gobson :
---
What i like about Katrelba Gobson:
What i like about this monster is surely her scary offensive ability. Double strike ability help her to eliminate enemies backline and if she able to do that, the bloodlust will trigger and gave her more damage (which will applied double with the double strike ability). Now she will be hard to stop !
---
What i don't like about Katrelba Gobson:
High offensive ability mostly mean low defensive ability. This is applied to Katrlba Gobson because she got low health and decent speed which cause her easily killed on 1st round. I also hate the fact that she has to cost 6 mana, she wouldn't suitable for low mana ruleset and are not allowed to use on little league ruleset. Less flexibility !
---
When to Use Katrelba Gobson:
I suggest you to use this monster when you sure she will had a chance to land damages. Really man, you won't see her died on 1st round ! Better had a taunt monster on your team as well. If enemies love to spam damage to front monster, she will had a good chance to get your team the win as long as you use tough tank upfront.
---
When to Avoid Katrelba Gobson:
I don't recommend you to use this monster on thorn ruleset, or enemies with mylor history or any other monster with thorn ability at the back. 2nd lv cornellius would be a nightmare for her. Those situation often get her killed herself due to low health that she had. I also don't recommend you to use this monster on very high mana or very low mana ruleset because there is many monster with better stats and ability. You also need to carefull with enemies that loves high speed and opportunity ability !

Conclussion
Katrelba Gobson is very having high offensive ability with the bloodlust that is supported with double strike, but are having low defensive potentian with low health and decent speed. You need to be very carefully when using this monster to avoid getting killed on 1st round, but if she is safe, she could eliminate all enemies on the battlefield !

Final Words
Thank you for kindly read my post, i hope you enjoyed this post and could give another view about this monster. If you haven't play
#Splinterland
(the greatest battle card game), you can start join this
#Play2Earn
game using my referral link below to get a 60 Dec Bonus and A simple guide to start gain earn from this game with those DEC. (Just Dm me 😉 ).
I also had giveaway cool CL edition cards up to Epic rarity! (go check my profile, don't missed it !)
Put 3% of beneficiaries to @indonesianhiver to support all Indonesian hive blogger.
Credits
@splinterlands for the cool game
@peakmonster for the cool card rent platform
Splinterlands Indonesia Community for makes this game even fun
Electronz for the solid guild
Kyo Gaming for the cool dividers
Mrs. carrieallen for the very useful ULTIMATE Markdown Tutorial
all curators for the upvotes!
@marianaemilia , @arcange , @fengchao for keep supporting my post
@oadissin for reblogging my post
Canva and Photopea for the free photoshop
Ezgif for video to gif converter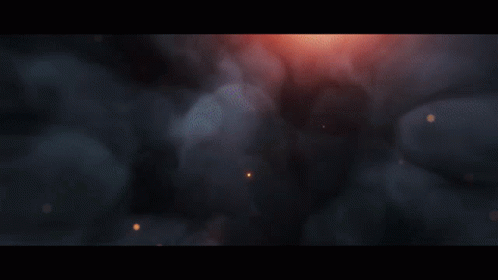 ~Thank You~
---
---