Share Weekly Battle Challenge - REGAL PERYTON !! The Game of Splinterlands
Gaming Friends,
Starting first, the one who created us, the one who provided us with food, the one who told us to follow the right path, the one who kept us well and healthy, is Allah Almighty. We all thank the Almighty Allah for keeping us all healthy and well.
Hope everyone is well and healthy. I am still well and healthy with your prayers. We pray to God for every human being to be good and healthy.
Welcome Everyone To My Share Weekly Battle Challenge REGAL PERYTON & everybody enjoy now and also watch my video from my YOUTUBE channel.
Every week I am proud to create game-play with the magic card REGAL PERYTON. REGAL PERYTON card is my favorite. If you can build the team correctly, choose the right cards, then you can win any battle match very easily. Which I battle game-play with water element and earth element magic cards.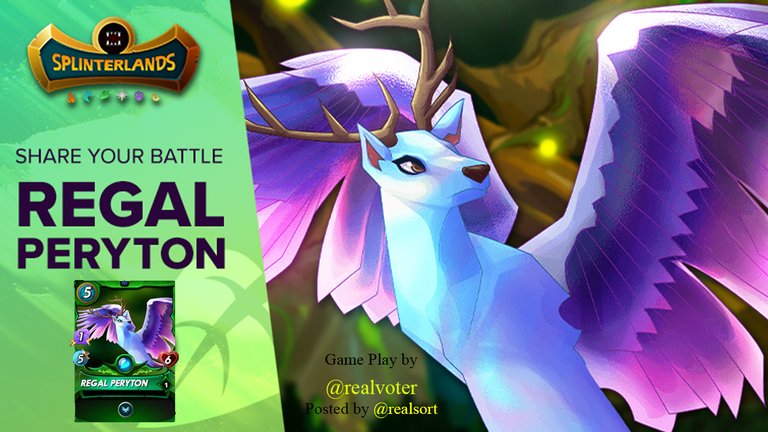 This week I have uploaded five battle matches to my YouTube channel as a gift to you, with the magic card REGAL PERYTON of Earth Element. You can understand the performance of REGAL PERYTON card by watching my video. I can tell you about the performance of this card here. But if you want to have real experience then definitely watch the video from my youtube channel and you can get real experience about the card.
If you want to buy a good gaming product by clicking on the link.
https://amzn.to/3wUv6Qd
Everyone is invited to watch my gaming video and subscribe to the channel. I want to move forward with your cooperation. For a friend, raise your hand, you will see the world will look much more beautiful.
The card was very attractive and the performance was comparable to other normal cards. This card attacks enemy cards in the same way that other normal cards attack them. A special feature of this card is - if you can increase the amount of speed, then any milli attack or ranged attack cannot damage the health of the card named REGAL PERYTON. Which you can see in my video.

There are some rules for the battle match you play or post ready with REGAL PERYTON cards. I tried to follow those rules but I can't follow the rules completely. Still, I tried my best to play the battle match according to the rules. The picture you see below is a screenshot from the challenging post.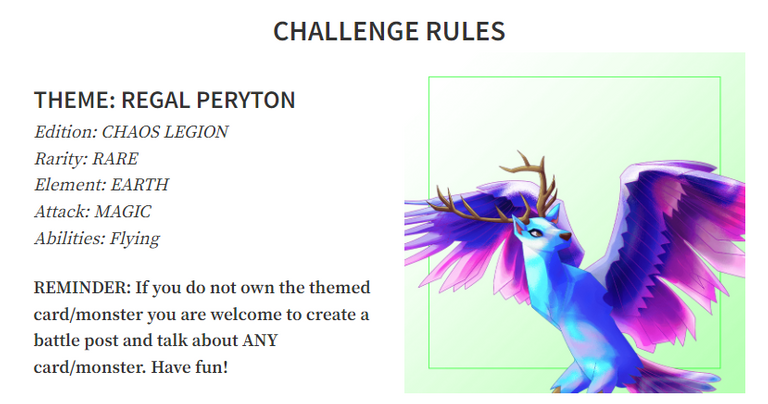 Now I try to write something about the cards that EARTH Element used. These writings will be my own personal opinion.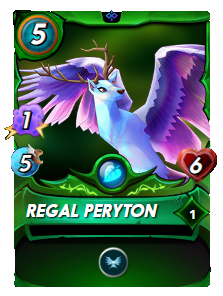 REGAL PERYTON:-
This card of earth element is very good and interesting. Just look at the card to understand its performance. Low mana, high health and interestingly this card has high speed. As a result, if you choose Summoner correctly and put this card in performance, it will give you a good result. I would rate this card 95 out of 100


I have never had a REGAL PERYTON card before. So I had to buy a card to play Battle. I have tried to explain it to you by showing it through the picture below.
I have no card
As you can see from the picture, this card is not in my card gallery. As a result I thought about purchasing the card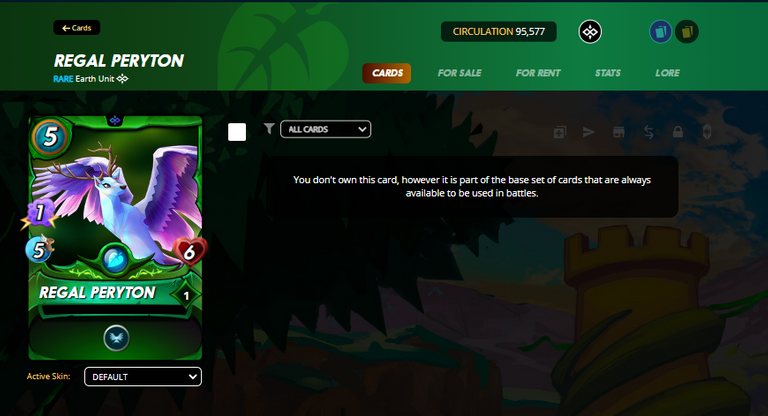 I bought a card
As I have to make challenging videos, I bought this card with 578.417 dec at market price. Which you can see in my picture.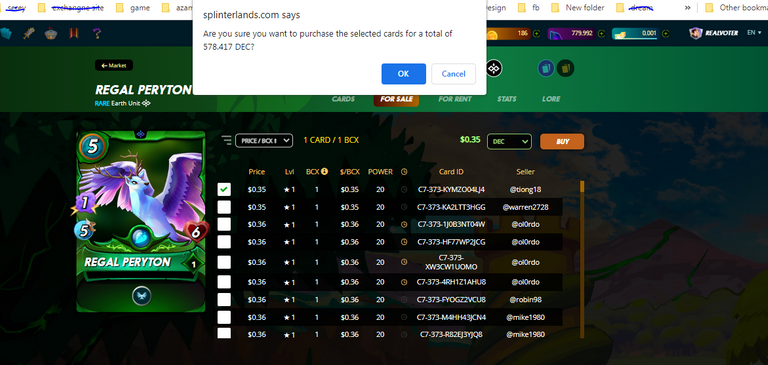 Finally I have the card
Finally the card is attached to my card gallery. Its current market price is 0.35 dollars.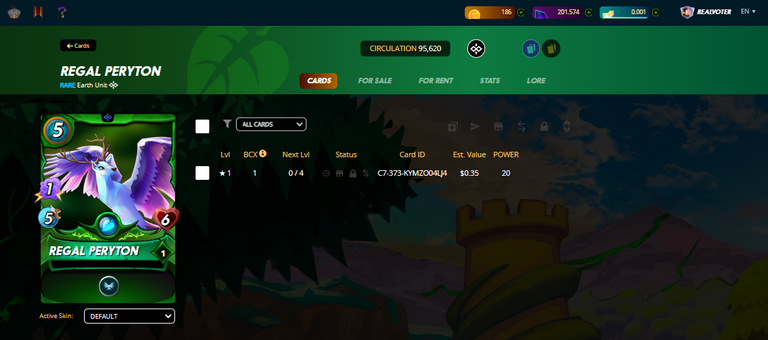 Played a battle match selecting Earth Element's Magic Summoner as my opponent. I also selected the same Summoner from my location and played a battle match. But the interesting thing is that at the end of the game two of the same cards face each other challengingly. Cards that are asked to make challenging videos are looking to deal each other to attack. Have you seen such an attack moment? If you have seen it, please comment.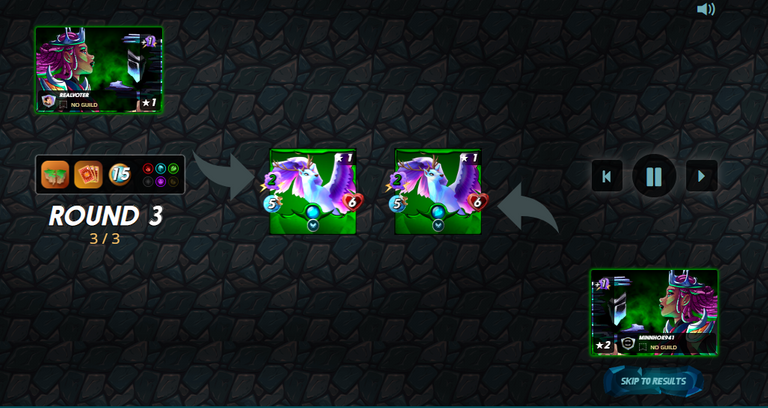 Loving the splinterlands game, I am sharing it on various social media and uploading it to my youtube channel. You will subscribe to my youtube channel and click on the bell button next to it. If you are a Splinterlands Gaming Lover.

If you want you can follow my social media. In which I always share my games
If you want to buy a good gaming product by clicking on the link.
https://amzn.to/3wUv6Qd
(Photos and gif I used in this post are taken from splinterlands.com for this post purpose only)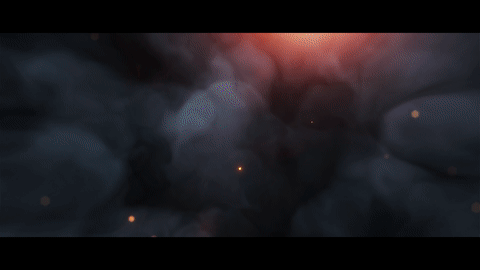 Posted using Splintertalk
---
---