Pickled Pepitonas- A Venezuelan Classic.
¡Hello Hello!
Glad to be here one more day sharing easy and tasty recipès with you all.
Today the turn is for Arca Zebra, or as we know them in my country, Pepitonas.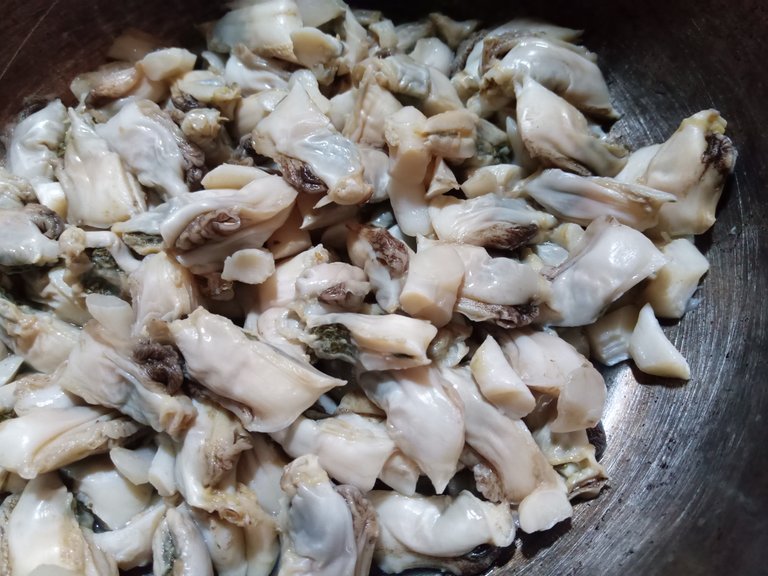 Arca Zebra is a mollusk, very versatile, and very common in Venezuelan waters, and it is found in shallow waters and attached to rocks. Pepitonas are cooked in various ways, as an antipasto or in a stew, but I like them better pickled with Soda Crackers, especially at the beach.
You know, Venezuelan beaches are not only very beautiful, but they are also colorful because of the people who serve as hosts for all the people from all the corners of the country who go to spend a day bathing with water and sunshine. The vendors commercialize amongst other things, Pepitonas and other kinds of seafood in a very funny way, using the fact that it is said that seafood is a natural aphrodisiac. You hear them yell "Vuelve a la vida, 7 potencias, Rompecolchón, Levanta Muertos..." (Come back to life, 7 powers, Matress breaker, Dead-Awaker...), funny!
Now, I wasn't introduced to them at a beach, I have an uncle who is a big big fan of Pepitonas and he made big jars of them, pickled with onions, and every time we visit him, we had them with crackers. Then as a grown-up, I had them at the beach, a different recipe and with shrimp, calamari, octopus, etc, and I love it, but, I'll stick with a simpler and cheaper homemade version. Let's go to the recipe, shall we?
Ingredients:

500 grms of Arca Zebra-Pepitonas.
4 medium-size white onions.
2 medium-size Bell Peppers
1 1/2 cups of white vinegar.
Salt
Pepper
500 ml of the pepis cooking water

Preparation:

Clean the pepis very very well, remove the thin layer they have on the borders of each pepitona. Wash them well, and cook them in a big pot with water. After the first boil, rinse them again and repeat until they are soft, you can add some lemon wedges.

When cold, drain them and place them in a big jar (if you don't have a jar, use a plastic container, as I did).

Add the onions and bell peppers sliced in julienne, the vinegar, and the 500ml of the water on which they were cooked.

Mix that well and season with salt and pepper to taste. Store it in the fridge for at least 24 hours before serving.

I haven't eaten Pepitonas for a long time and I saw heaven this time when I had them, I could smell the saltwater of a beach, I could hear the waves crashing on the shore, it was fantastic.

That's it folks, see you next time

✨✨Blessings✨✨

The Images are my property and taken with both a Redmi 6 and a Techno Spark 6Go.

The Gif Banner was made by me using Canva.
---
---