Share Your Battle - The Best Summoner of All Time? Or Maybe Not?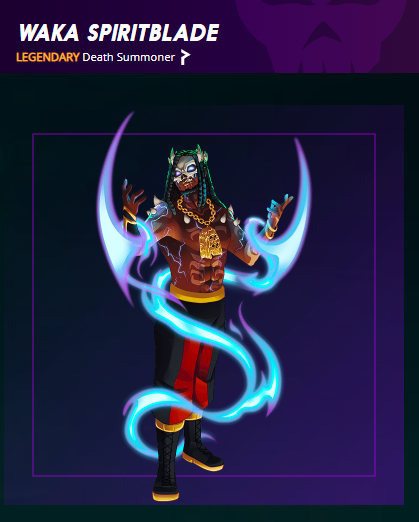 The theme for the current "Share Your Battle" challenge is Chaos Knight, but I thought of sharing another interesting card which I have recently rented to try! As you can see from the photo, it's none other the newly-launched Waka Spiritblade!
For those who are interested in the Lore of Waka Spiritblade, I have attached the little snippet from the in-game description for a read.
Waka is from a rare tribe of magical people known as Malphurs. They decorate their bodies with intricate tattoos and the bones of creatures they hunted in the swamps and forests as children. The greatest and most powerful Malphurs from each family have earned the right to wear the skull of their ancestor. This great honor further enhances their magical strength, imbuing the wearer with devastating abilities.
Waka was known throughout Praetoria as one of the greatest summoners the world had ever seen. Tens of thousands of people flocked to the arenas to see this battle mage compete and he never failed to entertain them. He became so adept at his art that he was able to stun the crowds into silence with his theatrics, drawing out battles longer than necessary, and even making it appear that he might lose, only for him to turn the tides and come back with a resounding victory. The people loved him for it, and he would often move amongst them when he was done, handing over his winnings to the poor and needy. And then, one summer's day, he suddenly vanished, leaving it all behind. There was much talk and speculation as to where he had gone and why, but always his name remained at the forefront of the people's minds.
It was only many decades later, when the Chaos Legion had invaded, that Waka was seen again, coming down from the Feral Mountains in the Wild Northeast, by a small group of refugees fleeing the fighting. He was wearing a simple robe and walked with a tall staff. He beckoned the group to follow him back into the hills and led them to a hidden canyon. Walking through a narrow pass and onto a small plateau, the people beheld a great farmstead in the lush lands below. There were fields and terraced wetlands embedded within the slopes, all irrigated from the small river than ran through the canyon, and there were long huts, enough to house many villages worth of people. It was almost as though Waka knew the day would come that the people would need to be saved.
Overtime, the community grew, and Waka gathered any lost souls he could find, bringing them to the sanctuary of hope he had created. But deep down he knew it wasn't enough and that one day he would have to take up his old mantle and face the threat of the Chaos Legion head on, before they destroyed his entire world.
---
Battle Type & Team Lineup


| Position | Card | Notes |
| --- | --- | --- |
| Summoner | Waka Spiritblade | I rented this summoner to try it out for a day! |
| 1 | Harklaw | Very reliable tank for Death in my view. Its Shield ability is useful to handle Melee and Ranged attacks. |
| 2 | Venari Bonesmith | Have placed it in the 2nd position as a substitute tank to buy time for the backline given that this was going to be long Equalizer fight. |
| 3 | Death Elemental | An average magic sniper which I would pair it will Magi Necrosi. |
| 4 | Twisted Jester | Another average ranged sniper which I have recently experimented pairing it with Death Elemental and Magi Necrosi. Hehe! |
| 5 | Riftwing | Scavenger and Flying ability would buy an incredible amount of time for Magi Necrosi to continue dealing damage. |
| 6 | Magi Necrosi | My most important card and the longer Riftwing lasts, the higher my chances of victory as it cannot be reached any other way due to its Camouflage ability. |
---
Pre-Battle: Once again, my Level 1 cards will face off with higher levelled cards. Equaliser is always a hard to predict but I was excited to let's see how Waka Spiritblade fares in this battle.


Rounds 1-2: Let's go 2 rounds at one shot! Waka Spiritblade's Poison was inflicted onto two opposing cards as Venari Bonesmith seemed to be enjoying leeching life at an early stage of the battle.


Rounds 3-4: Waka Spiritblade's Poison continued to spread as Venari Bonesmith's HP went up to 16! Harlaw continued to hold well.


Rounds 5-6: Victory seemed certain. My opponent had difficulties taking out Riftwing and it resulted in my backline inflicting a lot of damage, along with Waka Spiritblade's Poison.


Rounds 7-8: Opponent hung on to its last HP to bring the fight to Round 9. Harklaw finally got taken out and my substitute tank came on with a whooping 20 HP.


Round 9: Waka Spiritblade's Poison started the round and I won!
If you are interested to watch the battle, you can find it here.
---
Post Battle
Did my strategy work? I think Waka Spiritblade made the battle look too easy as Poison fares very well in long battles and you would need time for such damage-per-turn abilities to show its effect. Also I think my opponent shouldn't have boosted the HP so high to 12 as well.
Do I like Waka Spiritblade? Yes, but unfortunately, the prize of the card is out of reach and the rental is way too expensive. That said, if you are feeling rich and are struggling to clear a Death quest, Waka Spiritblade is the solution.
Final thoughts? To answer the question in my title, I am not sure if it's the best summoner of all time because I haven't really tried all of them yet. But Waka Spiritblade is definitely powerful! That said, it was not as overpowered as I thought it would be. Initially I was expecting easy wins just by spamming it but Poison ability is not effective during short battles, and just like Dr Blight's Affliction, there is a chance element of inflicting the ability so it's not guaranteed as well. As for Equalizer fights, I think Waka Spiritblade would be my top choice!
---
What are your takeaways from these battles? Feel free to comment below, as I am always keen to learn and improve!
As always, thanks for reading and have a pleasant day ahead!
---
If you are interested to sign up to play Splinterlands, my referral link is here.
---
---